Sweet Tat's Breakfast Stout
| Wormtown Brewery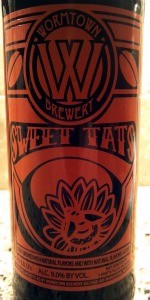 BEER INFO
Brewed by:
Wormtown Brewery
Massachusetts
,
United States
wormtownbrewery.com
Style:
Oatmeal Stout
Alcohol by volume (ABV):
9.00%
Availability:
Rotating
Notes / Commercial Description:
2010: 8.0% ABV (available only on tap and in growlers)
2011- : 9.0% ABV (available on tap, growlers, and in 22oz bottles)
Added by ppoitras on 06-06-2010
Reviews: 39 | Ratings: 180
4.18
/5
rDev
+1.5%
look: 5 | smell: 4.5 | taste: 4 | feel: 4 | overall: 4
22oz bottle purchased as a single at Yankee Spirits, Sturbridge, MA.
Poured into a stein, formed a 1 1/2" dark brown head over the opaque dark brown/black brew. Frothy head holds on and on, with lasting sticky lace. Aroma is sweet rich cake batter.
Taste starts with sweet dark malts, chocolate, coffee and vanilla in the middle, and then the coffee really comes on in the close, with a late alcohol warmth. Mouthfeel is velvet smooth, and drinkability is good. Liking this one, glad to see it in 22s.
504 characters
4.39
/5
rDev
+6.6%
look: 3.5 | smell: 4.5 | taste: 4.5 | feel: 4 | overall: 4.5
22oz bomber poured into an oversized snifter.
A: In color, it's as dark as brown can get before it becomes black. A one-inch khaki colored head soon settles into a thin slip. Lacing is sparse and thin.
S: A delightful aroma of freshly ground coffee beans wafts out of the glass. I could smell it long before I got my nose in there to sniff. Oats manifest themselves in the form of a starchy and somewhat spicy aroma. Hot cocoa and vanilla bean underneath the coffee scents. Very faint and vague darkfruit and only a suggestion of acidity. A good strong nose.
T: Rich, earthy coffee tastes open. Vanilla bean and creamy hot cocoa meld with the coffee to create a beautiful flavor combination. Oat contribution is multi-dimensional and adds starchy and spicy tastes along with a creamy impression. Dark chocolate and some acidic bitterness ride up on the palate toward the finish, along with hints of some herbal hop tastes. Long, impressive finish showcases rich coffee, layered chocolatey flavors, and maybe just a kiss of smoke.
M: Thick, but not too heavy. Very full, creamy, and fluffy. Carbonation is moderate, tight, and a bit prickly. It's nitpicking really, but the carbonation feels a tad too aggressive, and it takes away just a bit from the overall smoothness.
O: This is one amazing beer, and the best local brew I've had in a very long time. It can hold its own with the likes of Founders Breakfast Stout and Peche Mortel. I predict that this will be a highly sought after trade item once word starts to get out about this great beer and this great brewery.
Notes: Wormtown may just be the Northeast's best kept secret at this point. The few beers I've had by them have been stellar.
1,703 characters
4.38
/5
rDev
+6.3%
look: 4.5 | smell: 4 | taste: 4.5 | feel: 4.5 | overall: 4.5
Had this on draft at Stoddard's in downtown Boston, a great beer bar.
A - Pours solid black with hints of brown with a decent tan head and minimal lacing.
S - Lots of coffee and roasted malts, espresso bitterness, dry cocoa and some sweet molasses. Also some vanilla comes through
T - Bittersweet cocoa, noticeable dryness, fair amount of coffee notes and the espresso bitterness lingers throughout. Roasted malts and oats are think and faintly smokey.
M - Medium body, fairly balanced carbonation and a very dry finish.
O - All in all an excellent stout that I enjoyed very much. Look forward to getting a bottle of this one.
631 characters

4.28
/5
rDev
+3.9%
look: 4.5 | smell: 4 | taste: 4.5 | feel: 4.5 | overall: 4
A: Pours pretty much a pure black with a huge, fluffy chocolate milk colored head. Great retention. Lots of sticky lacing.
S: Loads of coffee and roasted malt jump out - even if if the glass is a few feet away. A bit of oatmeal and just a touch of cocoa in the background. Very coffee-heavy, regardless.
T: Wow, beautifully smooth mixture of coffee, roast and oatmeal up front. The oatmeal smooths out the harshness of the coffee and really makes for a great combination. As the oatmeal fades, bitter coffee carries through into the aftertaste. No real indication of alcohol.
M: Fairly heavy, but amazingly smooth and creamy at the same time.
O: Stunning combination of flavors along with the super smooth and creamy mouthfeel just makes for an incredible brew. They need to barrel age this and it could be KBS-level quality. However, if you don't like coffee, you might want to avoid or at least age it a bit. The coffee is pretty strong, especially once it warms up.
974 characters
4.33
/5
rDev
+5.1%
look: 4.5 | smell: 4 | taste: 4.5 | feel: 4 | overall: 4.5
22 ounce bomber poured into a pint glass...bottled December 2011.
A- Dark, dark brown...almost black, topped with a three finger coffee ice cream colored, extra foamy head that dissipates slowly. Medium heavy lacing left behind throughout.
S- Roasted coffee with chocolate and a hint of vanilla.
T- Holy crap! Sweet roasted coffee and chocolate. Hint of vanilla. Sinfully delicious! As it warms, just a slight hint of bitter on finish.
M- Slick, oily, and sweet. Very heavy. Medium carbonation.
O- This may just be my new favorite stout. Hope to get more ASAP! A "wow"....for sure!
586 characters

4.08
/5
rDev
-1%
look: 4.5 | smell: 4 | taste: 4 | feel: 4.5 | overall: 4
A Pours very dark from the bottle and sits black in my glass. A large light brown head forms that turns rocky and foamy that stays around for quite some time. As it goes down lots of lacing is left. This beer looks really good.
S Big coffee bean roast is prominent along with some chocolate sweetness. Smells good but isnt to strong.
T Flavors all over the place. Somewhat comparable to a FBS with big coffee bean flavor with some sweetness. Sweet chocolate comes in there too along with a hint of vanilla to make this beer pretty tasty. really nice flavors going o with this.
M Heavier side of medium feel in the mouth and a medium carbonation on the tongue. Pretty smooth and easy to drink.
O Really nice beer from a smaller brewery in Mass. I still cant believe this beer was ~$5. If you like FBS definately seek this one out
832 characters

3.78
/5
rDev
-8.3%
look: 4 | smell: 3.5 | taste: 4 | feel: 3 | overall: 4
Bottled labeled as Sweet Tats rather than Sweet Tats Breakfast Stout. Bottled in December 2011. 22oz bottle poured into a snifter.
Pours black with a light tan head that reaches about a finger or starting to recede. The creamy looking foam settles in as a very thin ring around the glass. There is no real lacing to speak of, a few small wisps here and there but even then the foam eventually slides back down the glass.
Nose isn't terribly strong. There are some light milk chocolate and even lighter coffee aromas. As the beer warms the aromas open up a bit with nice roasty notes being the main attraction. The chocolate pops up a bit more when it warms but the coffee is still a bit weaker and seems to be in the background.
The taste is definitely a step up from the nose. The characteristics are the same but they are a bit bolder. There is a good amount going on with each sip. Sweet milk chocolate comes across first but it's fleeting as big roasted notes come on and take over. Light coffee comes across towards the finish along with some vanilla that wasn't in the nose. There is a touch of roasty bitterness at the finish as well.
Medium bodied with carbonation a bit higher than expected for the style. It leads to the mouthfeel feeling a bit thinner than it should.
Overall, this is a very nice oatmeal stout and a pretty good beer overall. The mouthfeel was a bit of a letdown. If it was a bit bigger this could be a great beer. That being said, it is still really good.
1,491 characters

2.63
/5
rDev
-36.2%
look: 4.5 | smell: 4 | taste: 2 | feel: 2 | overall: 2
A- Easy to develop head, creamy appearance, but closer inspection reveals its mini and tiny bubbles closely packed. Good to decent lacing, dark oatmeal colored head. Retention was acceptable.
S- Strong licorice notes, bitter acrid grains, burnt coffee grounds, ethanol littering the edges, volatile spirit nature.
T- Blasts you in the mouth with insanely cloying bitter coffee ground and burnt grain. Really really harsh, acidic. Uncooked coffee bean mixed into the mash tun? Oh its... oh its got a harsh finish too. Its bitter of black coffee, not hops. That biting acidity that can only be described by tannins, coffee grounds, and espresso. There is some roast characteristic trying to balance it, a light sweetness as well. Doesn't really help. It hides the alcohol flavor well, at least.
M- Puckers my mouth due to the acrid and acidic nature. Full bodied. Some noticeable creaminess does break through the harshness of the beer. Carbonation bright at the beginning, but quickly blows away before the finish.
Like Founder's Breakfast Stout, but even worse.
1,068 characters

4.3
/5
rDev
+4.4%
look: 4 | smell: 4 | taste: 4.5 | feel: 4 | overall: 4.5
Delicious. Dark beautiful body with a velvety dark brown head.
Nose is a well done ensemble of dried cut oats, freshly ground dark roast coffee, and typical chocolate notes; I expect the taste and feel to follow this act.
Wonderful. Warm, full bodied, rich -not cloying or overly viscous. I love it. Oatmeal, yes. Coffee is present and accounted for, along with dark chocolate notes. Roasted/slightly burnt malts mmm, I really enjoy how the booze comes out a bit for a scotchy warmth, but doesn't have any other noticeable effect. Has a tempting hops bitterness that comes in to let you know, but fades out, leaving the rest of the stout to do its business.
If you're going to call this an oatmeal stout, it's my favorite oatmeal stout in Massachusetts. Definitely better than Ipswich, which is decent, and popular. Go Wormtown!
833 characters
4.2
/5
rDev
+1.9%
look: 4 | smell: 4 | taste: 4.5 | feel: 4 | overall: 4
had this on tap and in growlers many times last year. reviewing the bottle this year. Not happy to have to pay the "bomber premium" for it, but this one (if its as good as last year) is worth it.
pours pitch black and thick with a light mocha head that fills up 1/3 of my Duvel Tulip while leaving behind decent lacing as it recedes.
Very roasty aroma with some milk chocolate, vanilla, watery coffee, and some cereal grains from the oatmeal.
nice and roasty flavor with more of a bitter chocolate flavor with some coffee and vanilla bean, and some considerable sweetness that sneaks up. very flavorful.
medium bodied with a smooth carbonation and a roasted/bitter finish.
An excellent beer. Probably Wormtown's best, but I seem to remember a bit more chocolate/vanilla in last year's version compared to the burnt oat flavors this year.
842 characters
4.5
/5
rDev
+9.2%
look: 4.5 | smell: 4.5 | taste: 4.5 | feel: 4.5 | overall: 4.5
Picked up a case of this at the brewery. Been waiting nearly a year for this. Really anxious to age this stuff. This it will bring out more of the vanilla/chocolate/coffee. There is a difference between this batch and the first batch they released last year...is one is 9.0% ABV, not 8.0%, and is 45 IBUs. Its worth noting that THIS WAS BOTTLED YESTERDAY!!!
A - Poured into a Duvel tulip a deep, rich midnight black. There was a nice mocha one finger head that leaves nice rich side lacing. and a thick halo/cloud.
S - Rich nose of oats (lots of oats), roasted malts, coffee grounds, cocoa nibs, and vanilla skin. Light on the booze.
T - This is where its at. Nice sweet and roasty malts with sweet oats. Alot more oat than I remember, which is nice. Very good chocolate notes along with nice fresh coffee. The coffee isnt too too strong, but thats nice as it feels more well rounded. There is some nice creamy chocolate notes as well as some good hints of vanilla. There is a faint hop bitterness on the finish. Doesnt taste like 45 IBU.
M - Really nice carbonation here. Its creamy but there is some sharp carbonation at the end. The booze isnt that noticeable.
O - Overall this beer is every bit as good as I remember it being, if not better. For me the carbonation was a big issue last year, feelign almost flat. This though, even as a higher ABV, is just delicious. A definate must buy.
1,397 characters

4.6
/5
rDev
+11.7%
look: 4.5 | smell: 4.5 | taste: 4.5 | feel: 4.5 | overall: 5
First off - bottled, this is better than it was on tap by a hundred fold (and it was great on tap).
Poured a freshly-bottled bomber into a Boulevard tulip.
Beer is pitch black and poured a small, creamy khaki-colored head that was readily rejuvenated by a swirl of the tulip. I noticed gentle lacing left on the glass as I enjoyed this beer.
Aroma is very bold with big notes of coffee, vanilla, chocolate. I don't even drink coffee but wow, this smell is huge and makes me rethink that decision. There's a roasty sweetness and faint bitterness in the aroma too. Probably the best smelling beer I've come across.
Taste is just like the smell - huge. Sweet vanilla and chocolate combine with bold roasty coffee at the front. A sweet, caramel malty hop presence then takes over, leaving both a pleasant a mild bitterness and a burning desire for another mouthful. I'm not kidding, this is a massive beer and you're going to want lots.
Mouthfeel is excellent - good carbonation, medium to heavy body. Not overly filling for some reason - I see how this works as a breakfast stout.
Overall, this is world-class in my opinion. For a stout, this has massive flavor and I'd recommend it to any beer lover. Hell, I'd recommend it to non-beer lovers just to see them try and lie and explain that they don't like it. Quite impressive - glad I got my case before they sell out. I can't wait to see how this ages.
Fun experiment - give a bottle to a Guinness drinker for the holidays and watch as their mind is blown right there in front of you.
1,542 characters
4.2
/5
rDev
+1.9%
look: 4 | smell: 4 | taste: 4.5 | feel: 4 | overall: 4
Had on tap at The Publick House 7/25
Served in a tulip
A: This beer pours an opaque thick black with a one finger of mocha colored frothy head. Head recedes at a moderate pace to a film that retains the legnth of the beer and leaves sheets of lacing.
S: Nose is of hints of oatmeal, roasted and burnt malts, mild coffee, and caramel malts.
T: Taste starts with a caramel malts, light chocolate and toffee presence before burnt malts take over. Middle is filled with roasted and burnt malts and a good dose of oatmeal. Finish has a nice coffee flavoring with mild grassy hop notes.
M: Full body, light carbonation, creamy body with a dry finish.
D: Goes down easily, mild kick, good representation of the style. This is the first brew that I have had from Wormtown, and I have to say that I am impressed! Looking forward to trying more from these folks!
860 characters
4.1
/5
rDev
-0.5%
look: 4.5 | smell: 4.5 | taste: 4 | feel: 4.5 | overall: 3.5
Had on tap @ Prezo.
A: Rich creamy 1 finger head shows no signs of leaving the pitch black beer.
N: Rich dark malts, caramel, some roast, black and dark malts, a little coffee, some earthy spicy hops too, and def lots of oatmeal.
T: Starts very rich and thick right off the bat. Fluffy and smooth as well, with lots of dark malts, creamy oatmeal and slight powdered chocolate milk, some sweetness with more caramel, as well as lots of roast and coffee, slight chewy malts. All that with some bitterness from charred malts as well as some earthy spicy hops. I also get some minerality, and a touch of fresh hop pellets, like I just took a bit from a pelletized Warrior hop. A touch of tingly warming booze too.
M: Thick, rich, creamy and smooth, with good carbonation.
F: Finishes pretty bitter with more spicy hops, and quite a bit of the earthy charred malt bitterness and a little minerality that adds a touch of soy sauce. I also get a little tobacco, some dark rich fruit, lingering sweetness and caramel, but dries a bit with the bitterness. Some roast and coffee lingering too with a lot more creamy oatmeal. Leaves a little viscousy feel on the mouth for a long time, and a slight tingly warming booze.
1,215 characters
Sweet Tat's Breakfast Stout from Wormtown Brewery
4.12
out of
5
based on
180
ratings.