Buddha's Juice DIPA
| Wormtown Brewery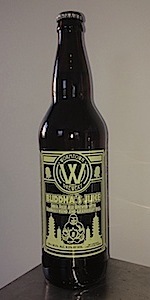 BEER INFO
Brewed by:
Wormtown Brewery
Massachusetts
,
United States
wormtownbrewery.com
Style:
American Double / Imperial IPA
Alcohol by volume (ABV):
9.60%
Availability:
Rotating
Notes / Commercial Description:
No notes at this time.
Added by rudzud on 11-30-2012
Reviews: 14 | Ratings: 132
3.53
/5
rDev
-14.9%
look: 4 | smell: 3.5 | taste: 3.5 | feel: 3.5 | overall: 3.5
Pours a clear copper, leaves a fizzy white head that dissipates fairly quickly, leaves a moderate amount of lacing on the glass.
Smell is fairly mute, light hoppy fruit aroma and that is it.
Taste is pleasantly fruity, with grapefruit and tropical fruit notes, for 120 IBU, it is very balanced and not overwhelming at all. Still cakes my tongue with a bit of resinous bitter, but certainly nothing that turns me away. Find the malt takes much backseat to the hops.
Medium light bodied, leaves very clean, but not crisp.
Surprising to find an IPA that has some balance to it's flavor, and wouldn't turn it down if I was offered some.
★
637 characters

3.85
/5
rDev
-7.2%
look: 3.75 | smell: 3.75 | taste: 4 | feel: 3.75 | overall: 3.75
Overall, lots of husky malt and leafy, resinous hops. Orangish with a little head. It is roundly malty and medicinally bitter. Medium body. A little boozy, but not terrible. Pretty decent, I'd love to try it really fresh.
★
226 characters
4.09
/5
rDev
-1.4%
look: 3.5 | smell: 3.75 | taste: 4.25 | feel: 4.25 | overall: 4.25
From a 12oz. bottle, dated 01/26/16, served in an oversized tulip.
Pours a deep, dark orange with about a finger and a half of soda-like foam. The head subsides quickly, leaving a ring of suds and very little lacing.
Smells of pineapple, lemon peel and fresh straw, vanilla, spice and lime.
There's a good, strong bready malt presence right up front, followed promptly by the pineapple juice, grapefruit and pine. The juiciness of what I'm tasting as pineapple, presumably the Buddhas hand, nearly verges on being overpowering but is rescued in the nick of time by a nice, sharp, resinous bitterness that lingers on the palate.
Medium bodied and well-carbonated.
I typically dislike, if only on principal, beer that has had fruit added to it. I bought a single bottle of Buddha's Juice (for ticking purposes, you understand) and now I'm kicking myself that I didn't buy them all. I can see myself happily drinking myself insensible with a pile of empty bottles clanking around my ankles.
★
994 characters

4.1
/5
rDev
-1.2%
look: 4 | smell: 4 | taste: 4.25 | feel: 4 | overall: 4
On tap at Plan B. Pours a translucent amber color with very little head. The aroma is sweet tropical fruits and citrus hops. Lots of lacing. Some hints of floral hops. The taste is a nice hoppy blend. Floral hops, grapefruit, pineapple, and some orange. Tropical but with a little bit of lemon. Nicely bitter. Pretty big alcohol presence. Medium bodied with an oily mouthfeel. Pretty solid Imperial IPA. Hopefully this one gets canned. Overall, I'd look for this again for sure.
★
478 characters

4.19
/5
rDev
+1%
look: 4.75 | smell: 4.5 | taste: 4 | feel: 4.25 | overall: 4
Bottled in February, so this has enough age on it to possibly affect the review. Poured from the 22 oz. bomber into a Tree House stemmed tulip.
a: Clear amber with an inch thick offwhite head which receded to thick even surface foam and dense lacing.
s; Citrus.
t: Bitter hops up front, followed by a medicinal note and then more hop and grapefruit peel bitterness, all over a solid biscuit malt base. Bitterness lingered on an otherwise dry finish. The rough edges of the bitterness naturally faded during consumption, and throughout the high ABV was very well covered,
m: Medium plus, very good body, plenty of carbonation tingle.
o: When I saw the "brewed with grapefruit peel" on the bottle of this recent Wormtown offering I immediately thought of Grapefruit Sculpin, which I found too bitterly citrus rather than flavorfully so to be particularly tasty. Same here, although this one has more substance to it and mellowed out better.
★
947 characters
4.2
/5
rDev
+1.2%
look: 4.5 | smell: 4.5 | taste: 4 | feel: 4.5 | overall: 4
Tap at Peppercorns.
Nice creamy almost 1 finger head fades slowly nice lacing, hazy grapefruit reddish orange color.
Nose big hops, spicy fruity citrus hops, some tropical fruit, guava, tangerine, sweet malts reddish candy malts, light candied orange peel hops.
Taste light bitter rind, lots of hops, spicy chewy hops, pine, etc, like chewing on a hop pellet! Some tropical fruit citrus, light grapefruit, some grapefruit pith, some guava, tangerine, bitter citrus rind, slightly astringent, but nice semi sweet malts bring a nice base and balance, light reddish caramel malt. The chewy earthy spicy hops lingering forever on the finish, light tropical fruit and citrus, pine, etc lingering, drier not really sticky, very little booze.
Mouth is fuller bodied, nice carb, just a little booze, light hop oils.
Overall nice, big hops, quite bitter but malty balance, good hop fruits and citrus, good but not amazing.
★
918 characters

4.23
/5
rDev
+1.9%
look: 4.25 | smell: 4.25 | taste: 4.25 | feel: 4 | overall: 4.25
Bottle is dated February 2014. Just hit the stores locally about 3 days ago and the brewery is less than an hour away. So probably pretty damn fresh. In fact I appear to be the first person to review the bottled version.
A: Pours a slightly hazy amber/red. Tall, frothy offwhite head. Top notch head retention and moderate splotchy lacing.
S: Quite the gamut of hop aromas. It's kinda hard to pick them all out. I get lots of citrus, grapefruit mainly. Loads of tropical fruits with pineapple, apricot and mango maybe? Spicy pine is in there too. Layers of hops, none really stand out prominently. Overall a very fruity aroma.
T: Yup, more hops and more variety. It's all over the map. Up front it's mainly the fruitiness with the grapefruit and tropical fruit. The spicy pine and resin follows shortly after into the middle. Loads of very bitter grapefruit peel in the finish, this must be the adjunct as well as the hop flavor combining. Quite bitter in the finish in general really. Long lingering bitter, bitter grapefruit skin flavor hangs around forever. Pretty dry in general, no real sign of malt.
M: Medium bodied, smooth but quite dry and bitter.
O: A beast of an IPA for sure. It's not so much the extreme boldness and sharpness of hop flavors that you get in some IPAs, in this one it's the overall strength PLUS the variety. Every sip highlights new hop flavors. The grapefruit peel addition only makes it more bitter, this is QUITE a bitter and dry brew with no malt in sight. Surprisingly drinkable due to a smooth mouthfeel however. I've never had Buddha's Hand so I can't comment on that aspect but I assume it to be some sort of fruity flavor as this beer is chock full of fruitiness.
★
1,709 characters
4.24
/5
rDev
+2.2%
look: 4.5 | smell: 4.25 | taste: 4.25 | feel: 4 | overall: 4.25
22 oz bottle was poured into a snifter.
Appearance: A one finger head was poured that reduced to a thin layer. It is a hazy orange color with good clarity and vision of bubbles coming up through the glass. Frothy lacing down the glass as the beer was drank too.
Smell: Lemony, grassy, grapefruit, citrus, and herbal hops followed by a nice malt backbone and warm boozy alcohol.
Taste: This Buddha fruit and grapefruit flavor compliment this beer really well. Awesome taste with malty sweetness, tingly bitterness, and some alcohol.
Mouthfeel: Smooth, medium to full bodied, light bitterness, warm alcohol, and medium carbonation.
Overall: This beer has grown on me over the past few years. The Buddha fruit adds nice flavors to this DIPA. Will get more before it disappears till next season.
★
811 characters
4.25
/5
rDev
+2.4%
look: 4.25 | smell: 4.25 | taste: 4.25 | feel: 4.25 | overall: 4.25
An exceptional IIPA. The buddha's hand fruit gives this beer a unique citrus aroma and flavor. Dark orange in color and very hoppy. One of my favorites.
★
152 characters

4.44
/5
rDev
+7%
look: 4.5 | smell: 4.25 | taste: 4.5 | feel: 4.5 | overall: 4.5
Incredibly flavorful thanks to what I believe comes from the grapefruit peel addition. Bitter hops but insanely drinkable. Just a great balance between the citrus notes from the fruit, hops and a bit of pine. This is a huge improvement from previous years. I can only hope this comes out year round.
★
299 characters
4.63
/5
rDev
+11.6%
look: 5 | smell: 4.5 | taste: 4.5 | feel: 4.5 | overall: 5
Wormtowns newest double ipa, this was brewed with ten plus hops including Amarillo, Centennial, Kohatu, Summit, and Simcoe. Near the end of the boil Buddha's hand and grapefruit peel was added. 120+ IBUs.
A - Poured into a standard snifter a nice hazy dark orange hue with a wonderful one finger thick and creamy white head that fades slowly to leave tons of side lacing and a thick sudsy blanket. Just excellent. Great appearance for a Wormtown.
S - Aromas of big tropical juice here with lots of light pineapple, subtle papaya, and mango. Great bitter grapefruit. Buddha's hand fruit comes out in the aroma as well, its own pithy tropical fruit aroma I've come to love in Chinese candies.
T - Taste is is a wash of hops all of which play very nicely together. Bitter pine, tropics, and faint malts are balanced nicely. I really like what each hop brings to the table. Deliciously bitter with Buddha hand peel coming out nicely in an almost chewy way. Very nicely integrated throughout the brew with the grapefruit peel really lingering on that and finish making a naturally bitter finish even more so. Again, excellent.
M - Mouthfeel is wonderful. Crisply carbonated keeps the alcohol from weighing this one down. That said its still a somewhat sipper as that 9.6% definitely hits good and hard.
O - Overall I really enjoyed this Wormtown offering. Hands down this is my second favourite new release they've had over the past 8+ months (Norm wins that category). A very delicious DIPA one of the best they've done. Definitely worth getting if one is in the area. Excellent.
★
1,590 characters

4.77
/5
rDev
+14.9%
look: 4 | smell: 5 | taste: 4.75 | feel: 4.75 | overall: 4.75
a limited yearly release...this one is unique in both it's nose and taste...brewed with Buddah's Hand and Grapefruit rind...very zesty and bright but not bitter which was unexpected...dangerously drinkable for it's 9.5% ABV...
★
226 characters

5
/5
rDev
+20.5%
look: 5 | smell: 5 | taste: 5 | feel: 5 | overall: 5
This was a perfect beer for me. I've tried a few other grapefruit infused Ipa's/IIPA's and they didn't hold up to this. Unreal hop and grapefruit aroma/flavor and the perfect malt backbone to hold up to the bitterness. I really can't say enough about this beer. Get it, pour it, Enjoy.
★
285 characters
5
/5
rDev
+20.5%
look: 5 | smell: 5 | taste: 5 | feel: 5 | overall: 5
Every year when this comes out, I am sure to grab as many growlers as humanly possible before it goes away. The Hands of Buddha fruit are very tough to get, and thus it's only released mid to late winter each year. This stuff is amazing. From the smell, to the first taste to the finish, a solid-solid brew. Make sure to grab some if you have a chance to try some.
★
368 characters
Buddha's Juice DIPA from Wormtown Brewery
4.15
out of
5
based on
132
ratings.