Kaiserdom Premium
| Kaiserdom Privatbrauerei Bamberg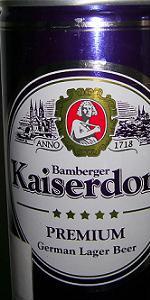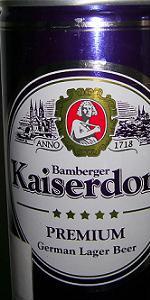 BEER INFO
Brewed by:
Kaiserdom Privatbrauerei Bamberg
Germany
kaiserdom.de
Style:
German Helles
Alcohol by volume (ABV):
4.50%
Availability:
Year-round
Notes / Commercial Description:
None provided.
HISTOGRAM
Ratings: 14 | Reviews: 10
Reviews by SleepyMonk:
2.38
/5
rDev
-23.5%
look: 2.5 | smell: 2 | taste: 2.5 | feel: 2.5 | overall: 2.5
Chilled 1 litre can poured into a large stein glass.
I only purchased this thing because it came in a ridiculously large can inside of a giant glass handled stein.
Pours a striking goldy amber color with a large foamy head. That part was good.
Thin odors of grain and grass but an unnerving mouldy type hops.
Taste was very much dominated by malt flavors as one would expect from the type of beer on offer. Mouthfeel was displayed even carbonation and a dry finish.
I'd say this will be the last Kaiserdom Premium I'll buy
528 characters
More User Reviews:
2.33
/5
rDev
-25.1%
look: 2.5 | smell: 2 | taste: 2 | feel: 3 | overall: 3
Appearance: Pours with a solid 2+ inches of rocky head which dies down within a minute to a thin foam cover. Leaves nice lacing down the glass. Color is a very pale straw yellow, very clear. Lots of carbonation.
Smell: Very little discernable aroma. Slight malt and grain smell.
Taste: Slightly on the bitter side of the sweet-bitter divide. Doesn't seem to be much malt flavor. Pretty bland, actually. Not objectionable, but not exciting.
Mouthfeel: A little light on body. The carbonation noticed on the pour doesn't stick around to excite the mouth. Slightly metallic finish, probably due to the 1-L steel can.
Overall: Not too exciting in color, aroma or taste. Goes down easily, so the 1 liter can may not be enough for some. I could do a second, but I'd rather switch to a better representative of the style.
818 characters

3.88
/5
rDev
+24.8%
look: 4 | smell: 3.5 | taste: 4 | feel: 4 | overall: 4
Pours a pale golden color with about 2" of head in the 1.2L mug that came with the huge 1L can. The head is foamy and sticks around for a while as well. Smells of munich malts and noble hops, but not too strongly of either. Also tastes of munich malts and slightly of noble hops, but mostly it's a pretty clean beer. There's a bit more sweetness than the average german lager, but not so much that it unbalances the beer. Mouthfeel is very creamy, no carbonation bite, not watery, very full. Overall, I could drink this all day, even out of the huge mug that it came with, although I don't think I would last all day.
617 characters

1.72
/5
rDev
-44.7%
look: 1.5 | smell: 2 | taste: 1.5 | feel: 1.5 | overall: 2
Appearance: Poured from a one liter can into an Irish pub style (real) pint glass on September 13th, 2010, in low altitude Galway, Ireland. Pours a thin head that quickly disappears. It's a clear light yellow colour - you can see through it - and the carbonation appears a bit excessive.
Smell: A very weak scent of one note sweet pine. Not unpleasant, but makes me think this beer will lack character.
Taste: A bland, wet taste, with a rough finish of stronger flavor. The single note is neither well-built nor well balanced. As a lager this fails, and is roughly comparable to budget American beers (some of which I hate to say may be better).
Mouthfeel: Light on the palate with a wet, moist texture. Very thin and watery.
Unrefreshing and uninspired.
762 characters

3.41
/5
rDev
+9.6%
look: 4 | smell: 3 | taste: 3.5 | feel: 3.5 | overall: 3.5
I tasted this 1 litre can on 23.08.08, best by 18.06.09.
It poured a clear light amber coloured brew with a generous foamy white head. Nice lacing left on the glass.
The smell was subdued pilsner type grassy hops.
The taste was not what I was expecting (a euro lager). It had a strong malty bitterness with some sweetness and a touch metallic.
Overall, this was a decent solid beer (an unexpected find in a Dunnes Stores, Ireland). I certainly would drink this again.
468 characters
3.45
/5
rDev
+10.9%
look: 3.5 | smell: 3.5 | taste: 3.5 | feel: 3 | overall: 3.5
Poured from a 1 liter can into a Kaiserdom 1 liter glass that came with the can.
This is a typical lager with the typical lager colour. Quite pale. Nice white rocky head with good retention that pretty much dissappears after you start drinking. OK lacing.
Smell is some grain and hops. Bit of skunk prehaps.
It tastes a little bland, some grains and it could use some more hops but it could be much worse. Definitly drinkable.
The mouthfeel is thin and watery with good carbonation.
Overall a good lager, nothing special but drinkable.
540 characters
2.08
/5
rDev
-33.1%
look: 1.75 | smell: 1.75 | taste: 2.25 | feel: 2 | overall: 2.25

3.33
/5
rDev
+7.1%
look: 4 | smell: 3.5 | taste: 3 | feel: 3.5 | overall: 3.5
Litre can, 4,7%abv. Very pale, large thick head, decent retention, also kept lacing, clear. Aroma had notes of malt and apple, nothing out of the ordinary for a Helles. Tasted hints of apple, was quite metallic, due to the can? Crisp and well carbonated, smooth and easy to drink. Will give it the benefit of the doubt, I'd imagine it is better when not from the can.
367 characters
3.2
/5
rDev
+2.9%
look: 3 | smell: 3 | taste: 3 | feel: 3 | overall: 4
Appearance - light yellowish gold, 3 fingers of head which reduced quickly.
Smell - Mild.
Taste - slightly sweet, perhaps mild grass notes, very crisp.
Mouthfeel - carbonation, crisp.
Drinkability - Best paired with spicy foods, the liter can it came in was about the right amount.
I gave this beer mostly average ratings but average German lagers are infinitely better than the domestic swill massed produced here in China, where, though nearly every mid-sized and large city in the country has its own brewery and label, they are almost all identical and on par with a skunked coors light.
596 characters
3.93
/5
rDev
+26.4%
look: 4 | smell: 3.5 | taste: 3.5 | feel: 4.5 | overall: 5
Appearance - Gold, 3 fingers of head which reduced quickly.
Smell - Mild but pleasant.
Taste - Sweeter than most lagers, with quite a strong taste.
Mouthfeel - Very good carbonation and aftertaste.
Drinkability - My 1L stein disappeared too quickly, and I just wanted more.
Overall - This is my new favourite lager. So much better than the most popular Australian lagers it's not funny.
391 characters

3.62
/5
rDev
+16.4%
look: 3.5 | smell: 4 | taste: 3.5 | feel: 3.5 | overall: 3.5
Appearance - 3.5
Poured a hand (yes a hand, I poured it from a 1L can!) of off-white head over a clear, straw body that looks moderately carbonated.
Smell - 4.0
Pretty typical Munich Helles Lager smell; sweet, musky, there is a slight lemon smell with the pale malt and laid-back hops. With warming, a nice toffee smell becomes apparent.
Taste - 3.5
Slightly metallic, which I put down to the can. Otherwise a fresh German lager, slightly sweet and quite malty upfront, grain and toffee flavours, finishes slightly bitter and quite dry. Sweetish aftertaste with some metal which detracts.
Mouthfeel - 3.5
Low to moderate carbonation and light weight in the mouth help the beer to go down smoothly.
Drinkability - 3.5
The metal taste, heavy glass and huge serve were the only things that made this beer somewhat hard to get through. Good session beer choice.
OVERALL - 3.6
I bought a 1L can of this for $15AUS and it came with a free 1L stein, so considering the cheapness, I wasn't expecting much. As it turns out, this is a competent, drinkable, albeit slightly boring lager. Much better than similarly prices Aussie macros and many more pricey euro lagers. I will buy this again - next time in a bottle.
1,226 characters
Kaiserdom Premium from Kaiserdom Privatbrauerei Bamberg
Beer rating:
3.11
out of
5
with
14
ratings