Madison Bear Garden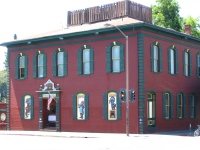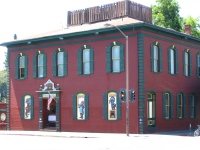 Bar, Eatery
316 W. 2nd St.
Chico
,
California
, 95926
United States
(530) 891-1639 |
map
Notes:
Reviews by Beerandraiderfan:
Beerandraiderfan from Nevada
4.08
/5
rDev
+8.2%
vibe: 4.5 | quality: 4.5 | service: 3.5 | selection: 4 | food: 4
Big ol' place in downtown Chico. Man, I've had some good times here. College crowd, college town, but not all of the 'college' crowd is college aged, alums and parents of students seem to feel right at home here.
Plenty of space, patios, two stories. Quality is great, they always have at least a half dozen, more often, a dozen Sierra Nevada offerings, and at a great price. Service, there are no servers, but hey, that keeps the prices down. How long it takes to get a drink will depend on how crowded it is, like all places.
Great burgers here, everything is tasty and cheap, can't go wrong there. Check it out.
Jan 24, 2011
More User Reviews:
WesleyCannon56 from California
4.48
/5
rDev
+18.8%
vibe: 4.5 | quality: 4.5 | service: 4.25 | selection: 4.75 | food: 4.25
Big Beer selection. Over 55 beers on tap.
Apr 13, 2016


VegasBill from Nevada
3.38
/5
rDev
-10.3%
vibe: 2.5 | quality: 3.5 | service: 3 | selection: 4
This huge bar is just off the Campus. It has four bars and many different levels, it is dirty and grimy and smells of stale beer and who knows what else. Sometimes in a place like this different bars have different beer offerings so I walked around and found SN Pils which was not at the brewery and was wonderfull, I loved it. I also found Laqunitas Censored,I should have had a second Pils. Again I got lucky and the pub was not packed and mellow for a college bar. I wanted to try the food as others meals looked so good but the dirt and grime kept me away.
When I was at the SN Brewery I sat next to a local and I asked him many questions. one was what is Chico State known for, you know like teaching or medical research. He looked me straight in the face and said partying and I said thats it and he said yep thats it.
Dec 16, 2012
o19 from California
3.98
/5
rDev
+5.6%
vibe: 3 | quality: 4.5 | service: 3 | selection: 4.5 | food: 4.5
So after high school my girlfriend (who I am still with after 8 years) went off to college (Chico) while I went off to the Navy.
I used to visit her at her apartment off of Nord Ave. as frequently as I could and we would walk down to "The Bear".
The atmosphere is what you would expect from a college town bar:
-Loud
-Everything is sticky
-Frat bros every where
Aside from all that the place is great.
The food is awesome. (Chilli cheese fries mmmm).
The beer is diverse and fairly cheap, thanks to the location of the Sierra Nevada Brewery literally right down the street. They often have beer releases that can only be found in Chico or are extremely hard to find elsewhere [Crystal Wheat etc.].
The place is very big and has an outdoor bar and lots of seating.
Now that she has graduated and we have both moved on to working full time we will probably make our way up there some day to relive the "Chico Experience".
Jun 14, 2011
mckeehn from California
2.1
/5
rDev
-44.3%
vibe: 2 | quality: 1.5 | service: 1.5 | selection: 3.5 | food: 2
Let me start out by saying that I *like* the Bear. But,
the Madison Bear Garden, is not so much a beer bar as it is a college town's party bar. It is certainly big enough with multiple bars on multiple levels. And it does have a number of good beers on tap, however, when graded objectively to the standard of a "Beer Bar" it does poorly. If you rate it is a party bar it does very well. But this isn't "Party Advocate" is it? So lets get to specifics.
Atmosphere. The theme for the Bear seems to be "What you expect to find in a house with tin foiled windows" It has multiple levels and bars, and an outside patio, and a dance floor on the upper level. Around everywhere is random stuff. Some interesting, some weird, some just junk. The furniture is usually pretty worse for wear. The place is, on any party night, which I guess is Thursday on in Chico packed with people. It is loud and normal conversation/quiet contemplation are nearly impossible. The redeeming factor is that usually there are plenty of hot members of the opposite sex getting their party on, which is usually fun to watch if nothing else.
Quality. I have had my beer prepared wrong, just about every way it can be screwed up at the Bear. Flat, over foamed, under foamed, not full, spilling, warm, with ice crystals, Sometimes multiple ways on the same beer. Kegs are usually fresh, but that won't keep the bartenders from pushing the dregs as much as possible.
Service. I usually feel like I need a flashing neon sign with fireworks to get the bartenders attention. Not really his/her fault, there's 8 zillion of us in here who want a beer now! But still, cage fighting for beer does not earn you a good service score. If you want to get eats, you order and pick up at a window, good luck trying to find a place to sit down and eat.
Selection. This is the part of the list where the Bear compares favorably. A wide variety of the local Breweries (Sierra Nevada) brews are on tap. Usually along with some other choice taps.
Food. I have eaten here many times and, it doesn't taste bad, it's cheap, it has calories. But if you don't want to treat eating like fueling a car I'd eat someplace else first.
Value. Here is another high point. College bar for a college town. Everything is about providing a fun environment for college students to enjoy, which also means keeping costs down. This place will not ruin your pocket book.
Overall impression. Like I said I *like* the Bear but for what it is, not what it isn't. If your goal is to party down with the local college crowd and have a few good beers while you do it, the Bear is likely the place for you. If your goal is to have a pleasant and memorable beer drinking excursion I would try elsewhere.
Oct 08, 2009

ThreeWiseMen from California
3.76
/5
rDev
-0.3%
vibe: 4.5 | quality: 3.5 | service: 4 | selection: 3.5
Finally stopped by this place last night with my roommate and several friends.
First off, Madison Bear Garden (or just "Bear") is fucking huge! The place has four complete bars (2 downstairs, 1 outside, 1 upstairs) totaling around 3 dozen taps. Bear serves at least ten different beers from Sierra Nevada, including their pilsner (which I had never seen before - not even at the SN Brewery). The other micros include Red Tail Ale, a couple of Lost Coast brews, and maybe another one or two from northern California breweries. The selection isn't too special, and the taps aren't too clean either. (My Summerfest tasted a little bland and weird last night.) All in all, I can't say I was impressed with the selection, but it represents the hometown brewery - Sierra Nevada - extremely well.
The vibe at Bear is very cool. The crowd is young and lively, and there always seems to be some sort of drink special or featured event. I participated in Trike Night last night and had a blast! On top of that, each section of the establishment is geared toward a different crowd. The bottom floor has a standard bar in one corner, and a micro-beer bar in the other. The second story has a dance floor, a lounge, and pool tables. And the outdoor patio is a great place to just relax, chit-chat, and have a smoke. Whatever you're into, Bear's got it.
The bartenders and servers were all young, friendly, and witty. They also wear funny outfits: a button-up shirt and tie with cargo shorts.
I'll be back.
Jul 09, 2009
1759Girl from California
4.1
/5
rDev
+8.8%
vibe: 5 | quality: 4 | service: 3 | selection: 5 | food: 4
Okay.. I'm sometimes embarassed by the amount of time I spend at the Bear when I visit Chico.
There are reasons...
1)Day time...
Cheap place for lunch. It's usually pretty good. I hear the wings are out of this world. I tend to get a bluecheese garden burger or the hawaiian garden burger with terriaki sauce and pineapple. Especially nice during the day is the happy hour which is especially cheap 11am-3pm! The selection is great! They tend to have about 8 styles from Sierra Nevada alone!
2)Happy hour.. good deals, but wait...
3)Evening... as it gets later the appetizers get CHEAP! Like unbelievably so! Even the sliders...
And the reason why I come back in the evening... The dance floor is usually ready to go with danceable music (I'm not too fussed as long as I can dance to it).. and last I checked there was never a cover.
Aug 09, 2008
flexabull from California
4.13
/5
rDev
+9.5%
vibe: 4 | quality: 4 | service: 4 | selection: 4.5 | food: 4
The "Bear" is probably the best place in Chico to go have a good burger and a beer.
The atmosphere is different during different times of the day... but mostly, it's a college bar. If you go in the late afternoon it's more mellow with a diverse crowd, later at night it fills up with college kids and gets a bit crazy.
Quality and service is good. In fact, the service is especially good considering how busy this place can get at times.
The food is good, with the burgers being the standout.
Beer selection is excellent. There are probably 35 taps spread out among the place, with usually around a dozen of those set aside for different Sierra Nevada beers.
And to top it all off... the prices are great, often you can get a pint for about a buck!
Aug 24, 2006
indysamra from Alabama
3.93
/5
rDev
+4.2%
vibe: 4 | quality: 4 | service: 3 | selection: 4.5 | food: 4.5
"The Bear" is located in the heart of chico, and CSU Chico is located in the same area, some at the nearest point, theres actually class's within 100 yards of the Bear.
The lunch menu is reasonable, but the burgers are great. Simplicity is the key here.
To drink, you can't go wrong with the local Sierra Nevada Brewery offerings. The pale ale being the most popular, however, if you like a good hefeweizen, I'd suggest the Wheat beer. (Be sure to check out the Big foot, and celebration seasonal ales)
A great spot to hang out, with a huge outdoor patio, for summer afternoons, however, for a little late night clubbing, theres a small dance floor, which doesn't stop people from getting up and having a great time.
Overall, this is probably the best place to hang out in chico, a fairly diverse crowd, made up mainly of college students.
Cheers, and bottoms up,
Indy :o)
Nov 28, 2005

NVbeer from Nevada
3.65
/5
rDev
-3.2%
vibe: 3.5 | quality: 4 | service: 3 | selection: 4 | food: 3.5
As a warning this is a college hang out as Chico State is only a block or two away. This bar has been around for a number of decades with that being said, the decor is of an old frat house and smells of stale beer. The food is general bar/pub type food and the beer selection is impressive but a large number of the beers are Sierra Nevada, thought they have a few regional brews from Butte Creek and Lagunitas to name a few. I would say if you are a younger BA you may feel more comfortable than some of our members who are a bit more mature.
May 20, 2005
Madison Bear Garden in Chico, CA
Place rating:
3.77
out of
5
with
14
ratings