Jacobins Gueuze

Brouwerij Omer Vander Ghinste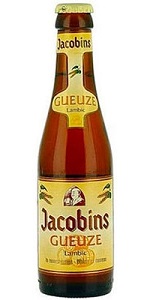 Rate It
Beer Geek Stats
| Print Shelf Talker
Style:

ABV:

5.5%

Score:

89

Avg:

3.44

| pDev:

13.08%

Reviews:

13

Ratings:

From:

Avail:

Retired (no longer brewed)

Wants

Gots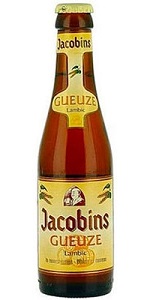 Notes:

Shilnikoff from Russian Federation
3.66
/5
rDev
+6.4%
look: 3.75 | smell: 3.25 | taste: 3.75 | feel: 4 | overall: 3.75
Bottle 250 ml | Best before end of 25-06-2016 | Bar code 5 411858 000015
Served in snifter glassware
Appearance: Light Gold | 10 mm foam head (disappeared quickly) | Almost no bubbles
Smell: Vinegar
Taste: Bread, Barley, Acid, Lemon peel aftertaste
Mouthfeel: Sharp, Sour of course
Overall: Nice Gueze, lighter (sourness) than Cuvée Des Jacobins Rouge
Jan 10, 2016

Dentist666 from Russian Federation
3.36
/5
rDev
-2.3%
look: 3 | smell: 3.25 | taste: 3.5 | feel: 3.5 | overall: 3.25
Pours rose golden with greenish hue, off-white liquid head, dissipating instantly.
Smell of apple vinegar, some pale malts. Taste is rather acidic, commonly bleak and malty, abit of apples and pears, dry and winy mouthfeel. Low carbonation, boring lambic.
Sep 27, 2014

dcmchew from Romania
3.28
/5
rDev
-4.7%
look: 3.75 | smell: 3.25 | taste: 3.25 | feel: 3.25 | overall: 3.25
Pours amber, big white head for just a few minutes, reduced to a thick sticky lace and lots of traces.
Smell of candi sugar, low vinegar, ripe grapes, cooked apple, oveerripe citrus, mixed grains, faintly funky.
Sourness delivered in the taste, at least with a short lemon zesty flash in the start. Some candi sugar and sweet grains follow, along with a bit of cidder apple/pear/grape fruitiness. Sourness comes back in the finish, alongside a bit of funk and some decent oak wood notes. Dry finish, some grass, some white grapes and the wood carries on to the aftertaste.
Medium body and carbonation.
It goes a bit too fast from sour to sweet and back again, and has some bad malty notes. Otherwise, decent for its price.
Jul 24, 2014

laituegonflable from Australia
3.5
/5
rDev
+1.7%
look: 3.5 | smell: 3.5 | taste: 3.5 | feel: 3.5 | overall: 3.5
Ppurs an amber colour, some bubbles round the edge. Head lacklustre, some cloud. Good lace. Pleasant.
Smells oxidised. Slight funk. But a lot of dark fruit. Some cardboard. Bit of a shame, could be delicious fresh.
Taste is pretty tasty. Some sour notes, a bit of funk. Belgian notes, maybe touch of cardboard but has a late barrel note; some woodiness which is nice but has notes of oxidisation. Pleasant enough overall.
Smooth, some dry notes on the back. Fair texture.
Drinks Belgian but tastes like a bottle shop owner has hung onto it a bit too much. Decent but a bit too stale compared with how it should taste.
Jul 18, 2014
StonedTrippin from Colorado
3.34
/5
rDev
-2.9%
look: 2.75 | smell: 3.75 | taste: 3.5 | feel: 2.25 | overall: 3.25
not as intense and bright as some beers in this genre, but not a bad version. the pour is really flat, like a glass of chardonnay, with no head or visible carbonation at all and a shiny white grape color. the nose is sour indeed, not so puckery or bacterial, but fruity and tart, again like a wine. the taste is pretty relaxed actually, and this beer is not nearly as complex and layered ad the usual gueuze, if there is such a thing... its sour but dry too, a little sleepy. the feel kills it for me, the light body is fine, but there is literally zero carbonation happening. its like a glass of flat pear cider or something, only sour. the rouge is a splendid beer, this one not so much when considered on the whole. cool to try it on tap at the monk on Colfax though, but I wont pay 9 bucks for one of these ever again.
Mar 15, 2013

Beerenauslese from California
3.47
/5
rDev
+0.9%
look: 3 | smell: 3.5 | taste: 3.5 | feel: 3.5 | overall: 3.5
On tap at the Zythos Festival in Belgium, March 2011. reviewed from notes.
Is this really a gueuze?
Body is clear gold, more like a lager than a gueuze in appearance. Poured with a massive head, with good retention and lots of lacing. Also, unusual for a gueuze.
Smells of wild yeast and musty, like a gueuze, but also sweet for a gueuze.
Tastes of old lambic, a bit sour, but also a bit sweet for a gueuze.
Body is light and crabonation is crisp. Has a refreshing lively mouthfeel.
A drinkable and refreshing beer. However, it is actually a lager blended with a blend of old lambics. This is an odd-ball beer, like the Del Borgo Duchessic, which is a blend of saison and lambics. This is definitely a novelty beer--I can only wonder why someone would add lambic to a lager? Like any lager, I could drink a pint of it on a warm day and the lambic adds an interesting sour taste.
Sep 24, 2011
Rifugium from North Dakota
2.75
/5
rDev
-20.1%
look: 3 | smell: 3 | taste: 2.5 | feel: 2.5 | overall: 3
First had: on tap at Eulogy, Philly, PA
Poured a hazy golden brown with a quickly receding white head. Slightly sweet aroma with some tartness in the background. A sour beer to the tongue surely, yet on the thin side. Grainy and nectar sweetness coming through. Much too light-bodied for this style. Somewhat acrid aftertaste, and not what I'd call a very drinkable beer. Approach with caution.
May 12, 2011

Gueuzedude from Arizona
3.12
/5
rDev
-9.3%
look: 3 | smell: 3.5 | taste: 3 | feel: 3 | overall: 3
Bottle date of 23.03.11; Sampled July 2010
A soft pour produces a half-finger thick, pale tanned, off-white colored head that quickly dissipates. The beer is brilliantly clear with a gold hue, when held up to the dim light it shows a light amber hue. The beer smells oxidized and cider-like with no real tartness apparent in the nose. Other out of place notes like candi sugar and some sort of kiwi like fruit are noticeable as well as some doughy malt notes. In the end this smells mostly of dusty grain and is not really overly offensive, but certainly in no way good for a Gueuze.
The beer tastes lightly tart and is not actually as sweet as I was expecting (it is more tart than I was expecting too). Having said that, the beer only seems better tasting because the aroma was so pathetic. Lactic tartness ends up being the most noticeable note here. This a a medium'ish sort of body, though it is still reasonably quaffable.
This has a much better flavor than the aroma suggested, in fact the aroma was distracting enough that it took me a while to realize the flavor wasn't complete bunk. This is still a poor example of a Gueuze.
Oct 15, 2010

biegaman from Canada (ON)
2.71
/5
rDev
-21.2%
look: 3.5 | smell: 2.5 | taste: 2.5 | feel: 3 | overall: 3
Jacobins Gueuze is a nice, soft peach colour on its bottom and has a much more toasty shade closer to its top. The surface sees a sandy white head that mostly deteriorates, leaving only fragments behind. So clean is its appearance that it's even without bubbles!
A stinky aroma - yes. An enticing aroma - no. This bouquet managed to capture half the idea of a Gueuze; it smells weird but would hardly be considered appealing (even for the style). There is no funk. There is the 'horse urine and barnyard hay' but without the curiously appealing 'funkiness' - that je ne sais quoi - that makes this tart style so charming.
The beer also has a strong and considerably off-putting flavour of rotted apples that have been doused in sugar. Ugh. This taste is accompanied by straw and lightly caramelly malts. Overall, there isn't much flavour to report (a rarity for this unique style). As in the aroma, there's some barnyard-like elements but there's very little redeeming about them.
Traditional Lambics are characterized by a very prominent sourness and delightfully acidic effervescence. Nowadays, however, most commercial Lambics are heavily sweetened so as to avoid that distinctive puckering tartness that tends not to suit modern tastes. Same on paper, very different on the palate. This can be considered a gueuze in name only.
This beer is very sugary where as it should be tart. Likewise, the mouthfeel should be highly carbonated and instead is virtually flat. In place of a sour and acidic texture it has very little of any mouthfeel (aside from a mildly cloying sweetness like that common of adjunct lagers). This doesn't really have any of the characteristics expected of a gueuze.
Brouwerij Bockor makes a fantastic, textbook Flander Red Ale, but this attempt at a gueuze is just sad. It was not an enjoyable beer - and I had it overlooking Antwerp's beautiful main square alongside some delicious cheese croquettes, so that's got to tell you something. Indeed, this wouldn't be at all memorable were it not for where I had it and how disappointed I was with it.
Aug 30, 2007
TheDM from Indiana
3.1
/5
rDev
-9.9%
look: 3 | smell: 3 | taste: 3.5 | feel: 3 | overall: 2.5
This brew poured all but no head. What little head it had was made up of large clear bubbles. It has a transparent amber body with some bubbles clinging to the side of the mug. I that an aroma of apple juice with a flat taste that contains some tartness. Not a really good brew, but not a drain pour either. I would not buy it again.
Apr 25, 2003
zerk from California
2.9
/5
rDev
-15.7%
look: 3 | smell: 3 | taste: 3 | feel: 3 | overall: 2.5
Clear with no head... looks quite a bit like filtered apple juice. Somewhat thin mouthfeel with little carbonation. Very sweet aroma and flavor, with some notes of fruit. Not very impressed by this one, especially considering the cost. About $4 for an 8oz bottle.
Sep 20, 2002
rastaman from England
2.75
/5
rDev
-20.1%
look: 3 | smell: 3 | taste: 2.5 | feel: 2.5 | overall: 3
A sweeter gueuze, and i suspect sweetened, very sweet nose, but has a bit of earthiness and tartness, but, it was a bit too sweet on the palate, i think this is obviously targeted at a wider audience. Not for hardcore beer fans, but theres enough in there to make it OK, slight sour tart flavour, but as i said too sweet.
Jul 24, 2002
Jason from Massachusetts
3.02
/5
rDev
-12.2%
look: 2.5 | smell: 3 | taste: 3 | feel: 3.5 | overall: 3
Presentation: Slender 8oz brown bottle with a freshness date stamped on the label.
Appearance: Hazy amber with a lace like Houdini, now you see it and now you don't. Sediment stays on the bottom of the bottle quite well.
Smell: Raw honey, fruity aromas of ripe tropical fruit and a mild sour note also.
Taste: Thinnish mouth feel with a light crisp carbonation, tartness is of lemon rind and the malt character is more husky grain than anything else. Mild fruitiness and honey-like sweetness. Tartness fades quickly and a dry grainy after taste is all that is left.
Notes: Lacks complexity and depth that the usual Gueuze expresses. This beer did not move me in anyway.
Apr 16, 2002
Jacobins Gueuze from Brouwerij Omer Vander Ghinste
Beer rating:
89
out of
100
with
47
ratings