Gritty McDuff's Brew Pub & Restaurant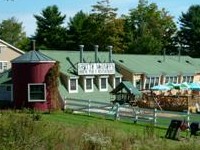 PLACE INFO
Type:
Brewery, Bar, Eatery
187 Lower Main St
Freeport
,
Maine
, 04032-1002
United States
(207) 865-4321 |
map
grittys.com
Notes:
No notes at this time.
Added by JohnnyP
Reviews: 36 | Ratings: 57
4.58
/5
rDev
+16.2%
vibe: 4.5 | quality: 4.5 | service: 5 | selection: 4.5 | food: 4
Cool place with VERY friendly staff and tasty brews. Stopped in just before my 40th birthday on a recomendation from a B&B owner in the area and I must say I had a most pleasant experience-And, I had our 15 month old daughter with! Picked up some cool local stuff from the gift shop for friends back home after some good pub grub. Tried the fine Halloween ale and a black fly stout. The waitress suggested we mix the stout with a raspberry ale for dessert-nice! Don't miss it if in Freeport, a comfy cozy place to hang your hat!
528 characters
4.78
/5
rDev
+21.3%
vibe: 4.5 | quality: 5 | service: 5 | selection: 4.5 | food: 4.5
Located right on the main drag in Freeport, down the street from L.L.Bean, it's kind of hard to miss this place. The sign is easy to see, even in the rain.
The exterior kind of looks like a converted house. Wedgewood gray siding, with some exposed log wood. They have a patio in back, with a vaguely rustic feel about the whole place. There's a gift shop to the right of the entrance, with anything and everything Gritty's, including take home beer in 12oz, 22oz, and minikeg sizes. Walking inside, the interior is spacious, but homey. The first thing you smell is the sweet aroma of mash. A mix of a rustic new england inn, a family restaurant, and an english pub. The dining area is to the left of hostess area, and the bar area is to right. We opted for the bar.
The bar area is very tavern like, with a rustic, country feel. Communal bench seating lines the left hand wall, with a beautiful brass bar on the right. All kinds of Gritty's stuff line the back bar, with 6-7 taps of brewpub fresh Gritty's beer, plus two beer engines for your cask ale enjoyment. The brewing tanks are located through a window on the end of the room. The menus look like newspapers, with plenty of little articles about Gritty's, their beer, and the brewing process. Quaint and enchanting.
The service is just spectacular. We were fortunate enough to have Scott Berry manning the bar, where we sat, and he accomodated us an any way he could. Our pints were poured expertly, he offered suggestions on the menu selections, and even allowed me a taste from the bottle of Lagavulin as an apertif. I asked if they had any unused bottle labels for my collection, and he returned with a stack, plus Greg Sansone, the head brewer. Greg was equally pleasant and accomodating, chatting with me for a few moments about beer and graciously accepting my praise before getting back to work.
Both the food and the beer were top notch. The menu covers everything from pub fare to a few fancy gourmet dishes. Their best bitter from the cask is probably worth the 5 hours from CT alone, and the excellent lobster stew was just icing on the cake. All the beer is extremely fresh, clean and properly served at the right temperature. I guess if I had to complain it would be that the halloween ale wasn't on cask yet, and they didn't have their IPA out yet. Boo hoo. The prices were also great, and definitely affordable, considering the touristy area.
This is easily one of the best brewpubs I've been to, across the board.
2,492 characters
4.15
/5
rDev
+5.3%
vibe: 4.5 | quality: 4.5 | service: 4 | selection: 4 | food: 3.5
ah! gritty's freeport. a refuge from shopping at the hundreds of llbean stores and other overcrowded outlet stores. and a fine refuge at that.
long wooden tables with benches that i think could seat 8 on a side. two rooms. one, to the right, is a smoking room with a nice bar and a view of the brewery. the other is non-smoking and has a smaller bar (5 seats or so). also there is a nice deck that i've never had a beer on as i rarely get to freeport in the short maine summer.
also a gift shop with ts, mugs and glasses, and cold and warm beer.
the beers are made right there and of fine quality. always something on cask (some for portland grittys). ALWAYS try the cask.
service is relaxed but not at all incompentent. friendly and knowledgeable without pressing or disappearing.
i believe they have the same menu as portland which consists of decent pub fare.
a must stop if in maine.
903 characters
4.5
/5
rDev
+14.2%
vibe: 4.5 | quality: 4.5 | service: 5 | selection: 4 | food: 4.5
I am so pleased that Gritty's Freeport location is riding better rating numbers than the Portland location here at BA. My beering and pub friends must have something against the great no-ceilinged mall of Freeport, because they mock my preferring the Freeport Gritty's.
I'll tell you why I prefer it: less cramped feel, more pleasant staff, and outdoor deck for warmer days. Don't get me wrong. As a big fan of Bukowsi in Boston, I know that a punky beer bar has it's place in my heart. But I can't take Bukowski's attitude seriously, and I really feel like every single person at Gritty's Freeport is psyched to serve me, with all attendant questions.
And, even when the place is crowded, it's seat yourself. Near the TV? Wanna look through the windows down at the brewery? Want a bench instead of a chair? Outside? Your choice. Nice.
Gritty's beers are consistantly outstanding, concentrating on British and Irish styles. The food menu turned away from more British fare in the past 5 years: no more steak and kidney pie, no more ploughman's lunch (sigh.) But the barley-coated sandwiches, the artichoke dip, the meatloaf with spinach wrapped into the meat still kick the patookus of places that just slide the same frozen stuff out of the box come mealtime.
1,270 characters
4.05
/5
rDev
+2.8%
vibe: 4 | quality: 4 | service: 4 | selection: 4 | food: 4.5
Karl and Nance keep moving further and further away. One might begin to take that kind of thing personally, one might. We'll go up north every year or other, have a look at 'em, see if they can still stand us, we old college friends. Portland one day, Freeport the other, it's kind of what we do. The latter involves hitting the Bean store, and mulling around some of the other shops in town, including that freaky Civil War place. And then Grittys 'cause it's an easy sell for lunchtime phenomena...
Longer if not seemingly larger than the Portland location, maybe definitely it's just the spreadoutity of it all. Split this way and that way there, the action's in what you would consider the main room, a copper topped "J" shaped bar seating a dozen on the inside wall. Roughly 10 taps on a box tower on the bar and 2 handpumps down just past there. Cooler horizontal behind the bar holding stacked glassware, and counters over shelving to both sides holding booze & more. Pedastooled shelving above on the ends to both sides of a center flatscreen. Large ceramic mug club mug rack over the bar, more mugs on the back wall. Framed Best Bitter 22 in a stained glass box, a Real Ale '98 medal, trophies and such in the windows behind the bar.
8 picnic tables & a roundy on the end adjacent to the bar, and some bar counter space on a wall of windows, overlooking a sunken brewroom holding brick lined brew kettles. Red walls, beige walls to the rear over angled curtained windows, slat red wood below.
Deck out back and lower lawn below; I think they do something down there. Grayish teal ceiling with track spots and drop lamps over the seating. Framed pics, brewery signage, mirrors & trays, mug club Olympics pics, a collage of Gritty's kids which I hadn't really noticed before, hanging murals, and the giant map of Maine to remind you that you're so barely into the state. Taps written on a dry erase board on the end of the bar near a flatscreen there, and another to the rear over the brewroom. Other room, way down at the other end, holding 9 picnic tables & 3 roundies in the center running an "L" around a similar shaped bar to that on the other side. Smaller, tighter, not as lively, me thinks.
Lunching today, chili, yes, is good, yes, and the always amazing barley coated chicken sandwich, crispy crunchy goodness. Every time we go there, my friends mock me and pretend that they don't have it on the menu anymore because they know I eat it every time we're there and how I look forward to it. This sandwich is religion and may have saved my life. And I ain't goin' nowhere 'til I get me one of them blueberry-meth crisp dessert things, lovely. Food was good, as usual, everyone enjoyed their meals. And a beer or two. Started with the Black Fly Stout 'cause I do, and then had a Pale Ale, both were tasty.
Food's good, beer's good, no problems on the service side, and they've got a decent crowd here. Freeport and having been Beaned, we go Gritty.
***Revisit 6 years later on my every year or two's getting back up to Maine, lunchin' Freeport. Chowder of the day is Haddock & corn, was real tasty. Haddock is apparently, a fish, just so you know. And now I'm looking for the bestest chicken sandwich from ever; it used to be called the barley coated chicken sandwich, and was just that, but they renamed it the brewer's sandwich, 'cause I guess he liked it too. I don't see it on the menu and am freaking the fuck out, you know, on the inside. No, wait, it's here, they renamed it again, it's now called the chicken stacker. They need to stop screwing with me and changing its name up every few years. Seriously, I got all a-scared, but all is well now. And it was awesome, just like I remember it being.
7 house beers (Pub Style, Black Fly Stout, Best Brown, Best Bitter, 21 IPA, Raspberry Wheat, Sebago Light) and 2 seasonals (Strong Oatmeal Stout, Scottish) and 2 beers on cask (Blackfly Stout, 21 IPA). The Strong Oatmeal Stout (SOS), at 6.5%, you really get the alcohol; still it's nicely oaty and reeeeal smoooth; the 21 IPA, nice hoppiness, but oh, had a bit of butter to it; and the Scottish, seemed real light, but it was on the heels of the Black Fly Stout, so it's tough to say for sure.
Still Gritty's.
4,237 characters
4.45
/5
rDev
+12.9%
vibe: 4.5 | quality: 4.5 | service: 4.5 | selection: 4.5 | food: 4
Great destination spot or for just passers-by. Enjoyed by the locals and the 'Flatlanders' (the Out-of-state-folks).
Much larger than the Portland Gritty's. Very beer-hall-like atmosphere in a long building with large, long wooden tables. Two bars, copper glore. Big outdoor porch with big, open and green backyard. A few unobtrusive televisions. Complete with brewery and 'brewtique" for all your Gritty's needs. Our sever was great, even though he was also the barman. Everyone had fresh brews and plates and smiles on their faces.
Naturally, the beer is fantastic. Cask seasonals and the regular line-up. The food selection was good, although different from Portland's. More pizza (brick oven, I think), but a few less vegatarian options (the brewing-grain veggie burger was absent). Always great fish/seafood, the clam chowder was amazing.
Anyways, a great place that materializes Gritty's quality and style. Visit, then repeat. Cheers!
968 characters
Gritty McDuff's Brew Pub & Restaurant in Freeport, ME
3.42
out of
5
based on
11
ratings.