Chocolate Oatmeal Stout
| Lefty's Brewing Company
BA SCORE
78
okay
15
Reviews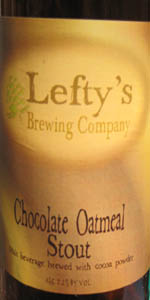 BEER INFO
Brewed by:
Lefty's Brewing Company
Massachusetts
,
United States
|
website
Style:
Oatmeal Stout
Alcohol by volume (ABV):
7.20%
Availability:
Year-round
Notes / Commercial Description:
No notes at this time.
Added by ppoitras on 08-27-2010
Reviews: 15 | Ratings: 37
3.87
/5
rDev
+19.8%
look: 4 | smell: 4.5 | taste: 3.5 | feel: 2.5 | overall: 4.5
Picked up on a whim from Russell's in Amherst from a brewery I'd never heard of. Like the other offering I had, it was nothing special.
A - Poured into my Duvel tulip a thick rich deep dark brown with a one finger light tan head that slowly faded to leave a mocha halo and thin cloud.
S - Light chocolate and roasted malts. Its all very light though and subtle. Really should be more assertive. Then, as the beer really warms up it gets more intense and smells more like flour and chocolate, yep, chocolate cake. Light nutty aromas too
T - Similar to the nose with roasty sweet dark malts and some light oat flavours. There is some light subtle chocolate notes and the ABV is slightly noticeable too.
M - Overall it is a bit thin. Not quite as thick and creamy of a stout as I would like.
D - This stuff is big time drinkable. For the ABV it goes down gulps at a time. Probably due to the thin, slightly watery mouthfeel. Still cant believe how this smell went from lackluster to wow with some warming. I never listen to brewers "keep refridgerated" labels, but this sucker around 60 degrees really opened up on the nose.
★
1,126 characters
3.53
/5
rDev
+9.3%
look: 3.5 | smell: 3 | taste: 3.5 | feel: 4 | overall: 4
22oz bottle purchased at Ryan & Casey Liquors, Greenfield, MA.
Poured into an imperial pint glass, formed a 1/2" beige head over the clear reddish brown brew. Head falls gradually, with good lacing. Aroma is chocolate with an underlying fruitiness.
Taste begins with chalky chocolate flavor, a quick tartness in the middle, and a more full chocolate flavor to close, with balancing hop character. Mouthfeel is pretty smooth, and drinkability is good as well. This one doesn't quite come together as well as I would hope, but overall, not a bad brew.
★
557 characters
3.3
/5
rDev
+2.2%
look: 4 | smell: 3.25 | taste: 3.25 | feel: 3.25 | overall: 3.25
Im sampling a cellar temp 22 oz bottle poured into a snifter.
The beer pours a dark cocoa brown color with no light passing through the glass. A creamy tan foam of about 2 cm rises up with a gentle pour. This foam recedes slowly to a sturdy surface layer and sticky edge of foam. Some sticky lattice clings to the glass after each sip creating some strings of slowly sliding bubbles.
Aroma is fairly subdued but there is some roasted malt and a bit of sweet chocolate. No hops or booze detected and definitely not very complex.
First sip reveals a very fine carbonation and average body. The texture is smooth and silky, but i general I thought the beer would have a little more umph to the body.
The flavor is all malt with some chocolate and a little brown sugar, I also get hints of roasted malt. No hops and no booze anywhere in this beer.
IN general this beer is less robust than I had hoped it would be and I admit to being a little disappointed with the brew. That being said, the beer isnt flawed or bad, it just leaves me desiring more from the flavor and body.
★
1,075 characters
1.47
/5
rDev
-54.5%
look: 3 | smell: 1 | taste: 1.5 | feel: 2.5 | overall: 1
This bottle was clearly infected.
a: This had a black body and it was carbonated to the point that it was difficult to pour.
s: Odd, earthy, hard water plus vegetable smell with a bit of sour fruit.
t: More of the same, though I did taste a bit of roasty chocolate. I've had infected beer before, but none with a vegetable note this strong.
m: Thin and fizzy.
o: Drain pour unfortunately. Too bad, I was really looking forward to this one.
★
444 characters

3.92
/5
rDev
+21.4%
look: 3.5 | smell: 4 | taste: 4 | feel: 3.5 | overall: 4
A friend picked up a few bottles of Lefty's for me out in western MA. This was bottle number 1 of 4 different styles. Poured into a regular pint glass. Dark brown body, but when held to the light, it's very dark auburn color. Moderate sized head, but it disappears quickly. Some lacing at the top. Smell had a nice cappuccino aroma to it. Flavor was likable but very subtle. There was some nice notes of chocolate and coffee, but it all was very mild. The mouthfeel was average, but I would have liked it a bit thicker for a stout. A slight bit thin for the style. I have no idea how this beer is 7.2%; could have fooled me. A easy beer to drink and nothing too palate challenging. A nice intro to this smaller MA brewery.
★
722 characters

2.95
/5
rDev
-8.7%
look: 3.25 | smell: 3.25 | taste: 2.75 | feel: 2.75 | overall: 3
This beer is supposed to be 7.2% but it drinks almost like a session ale.
Looks ok. Black or dark beown in color with a mocha color head that is unfortunately a bit fizzy for what i want in an oatmeal stout.
Aroma is some dark malts and moderate bakers chocolate.
Taste falls flat. It should have more depth and body from the oats. Very one dimensional in just offering some simple chcolate malt presence. Thin and mild tasting.
Mouthfeel is thin and a touch fizzy.
Overall this beer drinks like a chcolate session beer but it should taste like its ABV. Uninspired. I ended up pouring half the bottle out as I lost interest and felt it wasn't worth it.
★
659 characters

3.25
/5
rDev
+0.6%
look: 3.75 | smell: 3 | taste: 3.25 | feel: 3.5 | overall: 3.25
A: Pours a jet black color from the 22oz. bottle into pint glass with a half inch tan head that settles out to a layer of bubbles quickly.
S: Roasted and charred grains without as much depth as I was hoping. Semi-sweet chocolate aroma comes through with some notes of raisins and dried plums. Hops are not detectable in the aroma.
T: Some bitter roasted and burnt malt flavors meet up with a semi-sweet chocolate flavor. It is not such a clean and discernible chocolate flavor. The use of cocoa powder makes it a bit chalky. The sweet and bitter are in balance though. Also some dark fruity esters pull up the sweetness a bit. Hops bring the bitterness into balance but are hard to get a read on their flavor with all the roasted flavors.
M: Full body with light but ample carbonation. Some noticeable alcohol burn is a bit much for this style.
O: It is a decent beer that gets better as it warms up and can satisfy a malt lover but I question if it will satisfy one who loves good chocolate because the chocolate flavor is a bit chalky and not to the level it could be for a Chocolate Oatmeal Stout. It is enjoyable to drink in fulfilling my Stout desire but I would not buy it again.
★
1,185 characters

3.32
/5
rDev
+2.8%
look: 3.75 | smell: 3 | taste: 3.5 | feel: 2.75 | overall: 3.5
a: Very dark clear ruby with a two inch thick tan head which receded to rocky surface foam and patchy lacing.
s; Mildly of alcohol.
t: Chocolate up front followed by a moderate hop bite. Bitterness initially lingers on the sides of the tongue. Slight wateriness. Later alcohol becomes more prominent.
m: Light to medium with smoothness but watery notes, some carbonation tingle.
o: A lightweight for a stout. The chocolate flavor boosts it somewhat. Drinkable but lacking heft. Samuel Smith's Organic Chocolate Stout is worlds better.
★
544 characters
1.64
/5
rDev
-49.2%
look: 3 | smell: 1.5 | taste: 1.5 | feel: 2 | overall: 1.5
upon opening, its a slight gusher with foam protruding out of the bottle before i even get to pour it. more head than body pours into the glass. the body is not quite an opaque brown with mahogany coming through when held up to the light. the head is a light khaki that settles and laces okay.
aroma is of sour cherries. some lactic acid, some malts... but I'm thinking this is not what was intended. no chocolate, roast, or stout aromas that I would expect.
a bit of a roasted malt flavor comes through, but is quickly overtaken by many off-flavors. burnt plastic, a bit metallic, plenty of sourness. again, no chocolate flavors nor oatmeal smoothness.
I have had intentionally sour stouts and unintentionally sour stouts, and all of them have worked better than this.
fuzzy light/medium bodied beer with a watery finish and a sour aftertaste.
I'm assuming its an infected bottle. bought out of the store's cooler. the store is only 20 minutes from the brewery. placed directly into my fridge when I got home. As far as I can tell it was handled impeccably. It didn't taste like it, however.
Being a new brewer, I'll cut Lefty's some slack and try their beers again. maybe. but both of the beers I have tried so far have gone down the drain.
★
1,249 characters
3.84
/5
rDev
+18.9%
look: 3 | smell: 4 | taste: 4 | feel: 4 | overall: 3.5
This poured out a little weak. A small amount of head that dissipates quickly but leaves a thin layer across the top. A very dark brown with a deep red hue.
A bunch of chocolate and milky sweetness (but not milk chocolate) A small amount of dark fruity hops.
Tastes of very dark fruity chocolate. I can't put my finger on the fruitiness but there is more than just a chocolate sweetness here. A medium dark roast middle that finishes with a light bitterness and astringency that gets stronger the longer you wait between sips.
Thick body. A light milky texture. This would be good on a nitro-tap for sure.
★
610 characters
3.32
/5
rDev
+2.8%
look: 4 | smell: 3.25 | taste: 3.25 | feel: 3.5 | overall: 3.25
Pitch black with minimum white lacing around the glass.
Smells of banana, mild coffee and chocolate.
Tastes watery with mild notes of coffee and chocolate. I tasted banana as well.
Mild bitterness and mild carbonation.
★
218 characters

3.8
/5
rDev
+17.6%
look: 3.5 | smell: 3.5 | taste: 4 | feel: 3.5 | overall: 4
Appearance- 3.5 Dark opaque brown almost black but glows brown at the edges when held to the light. Huge khaki head that disappears somewhat quickly unfortunately.
Smell- 3 Sorta weak but Im getting bitter chocolate and malts.
Taste- 4.5 A mellow chocolate/caramel taste, reminds me of a more robust brown ale. You can taste the malts, in the truest sense of the word, and I like that.
MF- 3.5 Pretty high level of carbonation for a stout but still full bodied as a stout should be.
Overall- 4 Lefty's has succeeded again in their efforts to make a highly drinkable fairly priced (4 and some change) beer. I would recommend this one to beginners for sure OR to some veterans that like to have a few moderately priced "plan B's" on deck at all times.
★
756 characters
2.36
/5
rDev
-26.9%
look: 3 | smell: 2 | taste: 2.5 | feel: 3 | overall: 2
A - Poured an opaque black with reddish/brown tint on the edges. Got over 1/2 a glass of foam on the first pour, not sure why. Frothy cappucino head with good retention. No real lacing.
S - Nose is mostly cocoa under a heavy scent of off-putting metallic and adjunct-ness. Strong musty smell. Had to be something with the glass? Not appealing.
T - Some cocoa and slight bitterness from the roasty malts. A bit of lingering bitter dark chocolate in the finish. Flavors are slightly muddled under similar off-flavors from the nose. Oats lend a creaminess, however underwhelming and an afterthought.
MF - Some creaminess and thickness from the oats. Overall it's a bit disappointing. Fairly thin. High side on carbonation. Not great.
O - My first drain pour. Everything was off. Fairly sure it was a bad bottle. Even tried cleaning my pint glass and pouring again. Too bad, I liked the idea of a cocoa/oats combo.
★
915 characters
4.27
/5
rDev
+32.2%
look: 3.5 | smell: 4 | taste: 4.5 | feel: 4 | overall: 4.5
Found at Stan's in Athol. Kinda stood out and thought I would give it a shot at $5.
Poured into a a pint glass. Very dark brown, nearly black with a 2.5cm tan head. Dissipated quicker than I would have liked to see and had littl lacing.
Aroma-Chocolate notes were definatly there in this rich smelling beer. Also noticed a sort of chaulkiness that may have been attributable to the oats. It should be clear this chaulk note added a pleasant balance which sweetend out the chocolate.
Mouthfeel-Very smooth, medium-full body with a nice little touch of carbonation that keeps the beer from being to slicky.
Taste-The chocolate comes out even more in this beer and the chaulky note becomes more of a roasted character which again balances out the beer really nicely. There also seems to be some sort of fruitiness hiding out in the beer which is so subtle, yet a great touch.
Overall-This was a nice suprise, I would definatly recomend the beer and look forward to trying more from Lefty's Brewing Co. For those i the area that come across it give it a try.
★
1,059 characters
3.5
/5
rDev
+8.4%
look: 3.75 | smell: 3 | taste: 3.75 | feel: 3.5 | overall: 3.5
Had on-tap at Taylor's Tavern in Greenfield.
A- 3.75 It had a nice black color that was maybe not as dark through as I might like but it didn't look too thin. The head subsided rather quickly but wasn't all too big to begin with, good pour.
S- 3.00 I could smell a little bit of chocolate but not a whole lot, the smell might have been the weaker part of the beer.
T- 3.75 The taste definitely was better than the smell, lots of chocolate and that fantastic oatmeal stout taste. The flavor was present and accounted for. It might not be the best I've had since the booziness of the beer came through a bit but it was really tasty.
M- 3.5 The mouthfeel was great and full but as others have mentioned the carbonation was more present than I was expecting. I can forgive that though since it's not a real problem for me and the mouthfeel is definitely pretty good for a stout but short of outstanding.
O- 3.5 It's not the best stout that I've had but it's local and far from bad. I'd definitely buy it again and would recommend it to others even if it isn't my top pick.
★
1,073 characters
Chocolate Oatmeal Stout from Lefty's Brewing Company
78
out of
100
based on
15
ratings.