Miel Sauvage

Bayou Teche Brewery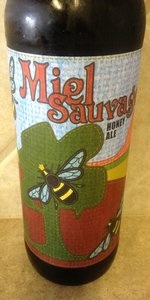 Write a Review
Beer Geek Stats:
| Print Shelf Talker
Style:

ABV:

9%

Score:

Avg:

3.98

| pDev:

7.79%

Reviews:

14

Ratings:

From:

Avail:

Fall

Wants

Gots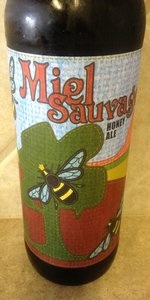 Notes:
3.96
/5
rDev
-0.5%
look: 3.75 | smell: 4 | taste: 4 | feel: 3.75 | overall: 4
there appear to be several versions of this and all with varying alcohol contents, but i believe the original is whiskey barrel aged, and that the wine barrel edition and others are special editions. we definitely had the whiskey one, different label than is pictured here though, but im not sure if there is one without barrels at all, or if this is the right listing for the whiskey barrel aged one. in any event, its nice beer, we dont see enough braggot around, and this is a nice example of the style. it has a deep caramel color and a short tan head, an aroma of intense floral honey and all the sugar that goes with that, but also a long cooked almost barleywine malt base, and the interesting part, the whiskey barrels, which have robust corny sweetness, lightly charred oak, and lots of vanilla to them, its quite an appealing aroma, albeit boozy and sweet as the come. the flavor is great, surprisingly though i get the malt before the honey, and it very much has a barleywine quality to it, rich and sweet and bready, with the honey right there behind it, orange blossom and light citrus to it, field flowers, raw and waxy. the barrels are all at the end, but a nice way for it to finish, the mellowness of the oak and the whiskey, and that classic vanilla note is brilliant with the honey. quite alcoholic, especially as it warms, but the flavors come together really well and i think this is a cool take on this style. im not sure the wine barrel would be as good with these flavors, but i would be really curious to try that edition...
1,549 characters
4.23
/5
rDev
+6.3%
look: 3.75 | smell: 4.5 | taste: 4.25 | feel: 3.75 | overall: 4.25
Poured at 50°F from a 22oz bottle (2015 vintage) into a snifter. Consumed on 31Mar16.
LOOK: A fingers worth of off-white foam is formed after pouring. The short-lived head quickly recedes to a line within 25 seconds. Burnt orange in color with a high amount of cloudiness. There is a moderate amount of small, rising bubbles. Lacing is moderate in quantity and thick.
SMELL: Very strong aromas of sweet honey entangle with mild figs, plums, oak, and vanilla aromas along with subtle whiskey aromas and hints of sour green apple.
TASTE: Strong flavors of honey and mild oak and vanilla flavors first carress the taste buds leaving a delicious first impression of a barrel aged honey beer. Mild whiskey, fig, and plum flavors immediately trail as both vanilla and oak flavors grow slightly stronger. Hints of sour green apple finish off the taste profile as all previous flavors maintain.
FEEL: Full-bodied and moderately carbonated. Goes does somewhat smooth while also clinging to the back of the throat like syrup. Finishes with a mild, but pleasant dryness. A mild alcoholic warmth can be felt as it goes down the throat.
NOTE: A honey bomb of a Braggot. I can't emphasise enough how much I love the taste of honey. Some Braggots are mild with their honey, but not this one. Although mild, I still thought the whiskey could have been toned down a bit, but this was still delectable.
1,387 characters

3.71
/5
rDev
-6.8%
look: 4 | smell: 3.5 | taste: 3.75 | feel: 3.75 | overall: 3.75
First had this barrel-aged Honey Ale poured from 22-oz. bomber into red solo cup and then into snifter. Was dubious about the style, but "Wild Honey" is perhaps the finest example of what Bayou Teche does best: recreate rare French/Belgian styles.
248 characters
4.01
/5
rDev
+0.8%
look: 3.5 | smell: 3.75 | taste: 4.25 | feel: 4 | overall: 4
Opens with a bit of a gush plus amber color and cream colored head. Pretty good head retention and lacing
S Figs and barrel
T. Follows the nose, honey and Bourbon notes up front. Dryness, figs, pears, honey sweetness as this warms. Finishes dry, sweet, with some nice barrel notes plus a little raisin
MF. Fairly thick with slight carbonation
Drinks a little slow but packed with flavor. Nice take on the style
428 characters
4.36
/5
rDev
+9.5%
look: 4 | smell: 4.25 | taste: 4.5 | feel: 4 | overall: 4.5
Pours hazy, copper, with 1/3 inch head and high carbonation. Taste is honey, toasted malt, light raisin, and vanilla. Super malty treat. This is arguably my favorite beer from the brewery and easily my favorite in a bomber format. Really hits the spot. I will be getting this one again.
291 characters

4.43
/5
rDev
+11.3%
look: 4 | smell: 4.75 | taste: 4.25 | feel: 4.5 | overall: 4.5
April 26, 2015
22 oz. bomber, snifter
A – Deep, rich copper to light brown, a little big hazy. A half inch of off-white to light tan bubbly head with moderate-low retention.
S – This one smells like the barrel it aged in, boozy with bourbon, vanilla, and caramel-toffee prominent. Some fruity sweetness, like Madeira, probably some contribution of honey. Smells like a barrel-aged English barley wine. Little in the way of hops, yeast.
T – A lot of rich sweetness, honey, caramel, raisin, with a touch of nuttiness. Along with vanilla, an impression of real maple syrup. Hops are very low, slightly spicy or woodsy.
M – Fairly rich, moderate-heavy in body. Carbonation is moderate-high, thick and sudsy. The sweetness is all very rich and not at all cloying. Licking my lips after the drink I get leftover sugar/honey. Only a touch of bitterness on the finish. Juicy, not at all dry.
O – Not at all what I expected from a braggot, likely primarily due to the barrel aging. Comes off more as an old ale or English barley wine. Fantastic beer, barrel character is awesome, definitely a slow sipper.
1,124 characters
4.61
/5
rDev
+15.8%
look: 4.5 | smell: 4.75 | taste: 4.75 | feel: 4 | overall: 4.5
Excellent. Deep brown Old Ale-ish color with a head that stays forever. Great lacing. Aroma is subtle honey with definite bourbon barrel. Taste is the same. Got for a bargain at $2.99 for bomber. More left in the store, will go back for more.
242 characters
4.08
/5
rDev
+2.5%
look: 4 | smell: 4 | taste: 4.25 | feel: 3.75 | overall: 4
On tap at the Avenue Pub. This keg was aged in Jack Daniels barrels.
A: A dusty amber, almost the color of a barleywine. A one-finger off-white head that lingers. Thick lacing.
S: Honey notes with a bourbon background. Sweet, cloying (but in a nice way).
T: The honey slides in like a deadly little bee. Sweet, smooth, dangerous. Just the right amount of sweetness. Highly drinkable. The barrel aging gives it a nice bourbon kick on the finish. This was the hit of the 5th Anniversary party, for sure.
M: Medium with medium carbonation.
O: One of the Teche's best offerings, next to Loup Garou. A terrific braggot. Great for a nice afternoon on the balcony, awaiting the parades. Terrific.
714 characters
4
/5
rDev
+0.5%
look: 4 | smell: 4 | taste: 4 | feel: 4 | overall: 4
Pours out to a thick beige head and minimal lacing but good retention. Color is a hazy, deep copper. Aroma is esters, honey sweet, vanilla and floral. Flavor is strong on honey and vanilla and sweet malts. Mouthfeel is full and thick. Overall a great braggot.
259 characters

4
/5
rDev
+0.5%
look: 4 | smell: 4 | taste: 4 | feel: 4 | overall: 4
Quite a good braggot. A nice strong honey flavor combined with a nice bitter hoppiness. It's not a light, sweet honey either, but a good dark, flavorful honey. The whole thing is deepened and rounded by aging in "spirit barrels". Quite flavorful, not too sweet, and a lovely almost vinous aroma. Very satisfying, doubly so to share a bottle with my wife for Mardi Gras!
369 characters

3.74
/5
rDev
-6%
look: 4 | smell: 3.75 | taste: 3.75 | feel: 3.5 | overall: 3.75
A - Pours a dark red mahogany with a light tan one finger head. Not much lacing to speak of.
S - Noticeably sweet with the honey. The "spirit" barrel, as said on the bottle, does give off light oak, vanilla and whiskey.
T - The taste pretty much mirrors the smell except that the "spirit" barrel is more front and center with the sweet honey taking a back seat. Like said in an earlier review,
M - Medium bodied and low carbonation. It has a wet finish and I can see how some might see how the sweetness might be cloying.
O - It's probably one of the best beers I've had from Bayou Teche so far. It's unique, refreshing and gives me the whiskey flavor I like.
664 characters
4.44
/5
rDev
+11.6%
look: 4.25 | smell: 4.5 | taste: 4.5 | feel: 4 | overall: 4.5
I love this beer. It was the first barrel aged beer I tried from Bayou Teche, which also got interested in their other beers. I little strong up front, but it quickly fades to the honey sweetness, mixed with the whiskey barrel finish. To me, it's a nice balance, which makes it very easy to drink. I would drink this regularly if I could.
342 characters

4.65
/5
rDev
+16.8%
look: 4.5 | smell: 4.5 | taste: 4.75 | feel: 4.5 | overall: 4.75
650 ml bottle poured into a Parish Brewing tulip.
This is my first braggot. Not much carbonation on the pour, but it is a beautiful dark ruby red color. It is translucent and leaves almost no lacing, just a ring of foam around the edge. The smell is sweet, but not like those artificially sweetened beers. A strong honey scent dominates this beer, the whiskey barrel is not so prominent but still present and balances the honey very well. Slick but not sticky on the palate. And again, not too much carbonation but it works well. I usually don't like lightly carbonated beers but this one is the exception... The taste is almost the same as the smell but with a little more of the whiskey barrel shining through. This beer was one of my favorites if not my favorite from Bayou Teche so far. I will definitely get another bottle to save and one to send as an extra on a future trade. Highly recommended...
905 characters

3.57
/5
rDev
-10.3%
look: 3.75 | smell: 3.5 | taste: 3.5 | feel: 4 | overall: 3.5
Sweet smelling, noticeable honey but not too sweet, which is a plus. The whiskey barrel is mild, but strong at the same time. Hard to explain, but its less whiskey barrel, but more whiskey...and I can't shake the idea that the whiskey smells cheap. Same thing translates into the taste really. Not syrupy, a solid medium body and good feel. Aside from the sometimes strong spirit notes, the fermented alcohol is fair,y well hidden, mostly in the taste. It's unique, refreshingly not cloying. I think I'll get another bottle to age, this might be a much better beer a year or more down the line.
594 characters
Miel Sauvage from Bayou Teche Brewery
Beer rating:
89
out of
100
with
68
ratings