LA-31 Boucanèe
| Bayou Teche Brewery
BA SCORE
78
okay
33
Reviews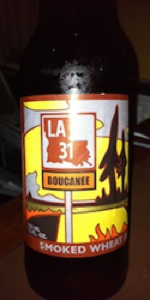 BEER INFO
Brewed by:
Bayou Teche Brewery
Louisiana
,
United States
|
website
Style:
Smoked Beer
Alcohol by volume (ABV):
4.50%
Availability:
Rotating
Notes / Commercial Description:
LA-31 Boucanèe is our acknowledgment of the importance of the wild cherry tree to south Louisiana. Using cherry-wood smoked wheat we craft a surprisingly delicious and unique ale.
Added by utah44 on 03-21-2011
Reviews: 33 | Ratings: 123
3.55
/5
rDev
+7.3%
look: 3.5 | smell: 3.5 | taste: 3.5 | feel: 4 | overall: 3.5
i see I'm not the only one to get this beer from optimator13. It's good beer, thanks man!
Light peachy-amber colored, clear, lots of nice tiny rising bubbles, head and lace were nothing special, but it's not bad looking at all.
Plenty of smoke smell and a little bit of wheat and malt.
Tastes pretty good, although smoke is most of what you're getting. Wheat and malts accent, much like the smell. Just a touch of fruitiness finishes it off.
Feel wise I like this one, it's got a nice smoky aftertaste, a light body, pretty smooth and ample carbonation, and it's easy to drink.
Overall it's not bad at all. Light for a smoked beer but very drinkable.
★
656 characters

3.23
/5
rDev
-2.4%
look: 4 | smell: 3.5 | taste: 3 | feel: 3.5 | overall: 3
A big thanks to Evan (optimator13) for this great extra. Cheers!
Appearance – Pours a copper penny color into a tulip. Very little head is achieved and there is literally zero lacing.
Smell – Slight smoke, a hint of sweetness, and pale malts.
Taste – Similar to the aroma – mainly smoke. A hint of hops and fruity sweetness but mainly smoke.
Mouthfeel – Medium bodied, lighter carbonation, crisp.
Overall – I say this to myself with each smoked beer I try…I just can't seem to get into/appreciate this style. This one was a bit easier for me to handle since it was a lighter style beer, but I still can't seem to enjoy it.
★
645 characters
3.39
/5
rDev
+2.4%
look: 2.5 | smell: 3.5 | taste: 4 | feel: 2 | overall: 3
A: It's hard to compare the appearance to other smoked beers, because they can vary. By the standards of any other beer, this one has no head at all, and is very hazy. The color is dark shade of amber.
S: The scent is a bit odd. It has a mellow wood-like smell to it, but I can't place it. It doesn't smell like oak. I can definitely pick up a smoky scent...like a smoked jerky.
T: Wow, this is a really smoky beer! It really has more than just a "smoked grain" flavor to it. It has more of an actual smoke flavor...like smoked sausage. This is like smoked sausage in a bottle. I've had other smoked beers before, but none like this. I think the originality really warrants a 5.0, but there seems to be something lacking in the back...like some background bitterness or something to add to the body. Really, though this is cool. I don't pick up any wheat at all.
M: The mouthfeel is pretty thin. It's fairly robust at first, and seems to hold its own about 1/3 way through the drink. It doesn't linger in the mouth much though.
O: Overall, I scored it average because it's a really cool beer, but it could be better.
★
1,120 characters
3.45
/5
rDev
+4.2%
look: 3.5 | smell: 3.5 | taste: 3.5 | feel: 3 | overall: 3.5
Poured into a Sam Adams Perfect Pint glass
A: Amber color; a clear yellow/orange. Half finger head that leaves way too soon.
S: Sweet, smoky; wafts of burning cedar
T: Smoke all the way, but not overpowering. Light, very drinkable.
M: Light, smooth; low carbonation
O: Not an overpowering smoked beer. A good entry from Bayou Teche. Maximize with a burger or cheddar.
★
372 characters

3.8
/5
rDev
+14.8%
look: 3.5 | smell: 3.5 | taste: 4 | feel: 3.5 | overall: 4
12oz bottle shared by Vito at the Copper Mine on 7/24/11 thanks amigo!
Appearance: Pours a slightly hazy radiant orange with little to no crown, retention, or lace.
Smell: Smoked tomato juice and a dash of wheat.
Taste: Same as nose but a bit less tomato juice.
Mouthfeel: Thick side of thin bodied with fairly low carbonation for a wheat beer.
Drinkability: Easy to knock back if it wasn't for the not so appealing smell/taste.
★
433 characters
3.15
/5
rDev
-4.8%
look: 3 | smell: 3 | taste: 3 | feel: 3.5 | overall: 3.5
So they bottled this beer, and I can review it in the comfort my own home. So what I got is a yellow to orange color. I definitely smelled smoke but not the wood smoke I actually wanted, it just lacks the gameness I get out of most smoke beers. The head dissipated as fast I poured it. The taste was very light smoke, with a slight wheat fruitiness. Overall It was a average to good beer that I wouldn't care to buy a six pack of.
★
430 characters

3.27
/5
rDev
-1.2%
look: 2.5 | smell: 3 | taste: 3.5 | feel: 3 | overall: 3.5
A - Amber/orange in color, upper clarity, light off white head.
S - Smoke aroma is light, but pleasant. There's a bit of sweetness along with a bit of fruitiness and maltiness.
T - Nice level of smoke, some tangy hops, light maltiness and some breadiness.
M - Slightly crisp, and lighter in body.
O - Not really impressed, though I'm looking forward to trying this when I see bottles around. Hopefully the smokiness is more pronounced and the wheat characters are more noticeable.
★
487 characters

3.85
/5
rDev
+16.3%
look: 3.5 | smell: 3.5 | taste: 4 | feel: 4 | overall: 4
I'm not a fan of smoked beers, especially porters, or wheat beers, but this beer turned out to be quite different than my expectations. Appearance was a slight golden color with an small head. Smell was malty wheat with a bare hint of smoke. Taste was slightly sweet, malty and smokey. The smoke taste didn't overwhelm and was quite agreeable. The malts and hops were well-balanced. Mouthfeel was crisp and dry. Overall this was a very drinkable beer and one I would consider for regular rotation. i just hope it will soon be available in a bottle.
★
548 characters
LA-31 Boucanèe from Bayou Teche Brewery
3.31
out of
5
based on
123
ratings.