Cocodrie
| Bayou Teche Brewery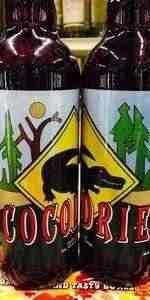 BEER INFO
Brewed by:
Bayou Teche Brewery
Louisiana
,
United States
bayoutechebrewing.com
Style:
Belgian IPA
Alcohol by volume (ABV):
8.00%
Availability:
Rotating
Notes / Commercial Description:
No notes at this time.
Added by kingmaker on 08-13-2013
Reviews: 11 | Ratings: 73

2.81
/5
rDev
-27.2%
look: 3 | smell: 2.5 | taste: 2.75 | feel: 3.25 | overall: 3
From a 12 oz bottle.
Look: Golden body with an average head.
Aroma: Not particularly attractive aroma.
Better but not appealing flavor. Mild bitterness.
157 characters
3.56
/5
rDev
-7.8%
look: 4 | smell: 3.5 | taste: 3.5 | feel: 3.75 | overall: 3.5
Poured from a brown 12 oz. bottle. Has a cloudy dark golden color with a 1/2 inch head. Smell is of malts, fruits, yeast. Taste is light hops, malts, spices, a touch of fruit. Feels medium bodied in the mouth and overall is a solid beer.
237 characters

2.6
/5
rDev
-32.6%
look: 2.5 | smell: 2.5 | taste: 2.75 | feel: 2.5 | overall: 2.5
Pours a mostly clear golden color with white head. Citrus and floral notes on the nose; follows onto the palate. Medium bodied. Finishes with citrus and floral as well. Decent, but nothing to write home about.
209 characters

3.73
/5
rDev
-3.4%
look: 4 | smell: 3.5 | taste: 3.75 | feel: 4 | overall: 3.75
Pours clear and bright with a stream of bubbles and a thin but uniform white head. Nose is voluptuous. Pils malt gives lots of bread to the nose. Crackery. hops are vivid and fruity. They are embedded in this beer and ripe. They have a lot of spice and that is earthy and almost dank. Softly sweet alcohol accents the citrus and spice. Hops are floral nad have a light herbal. Taste is is like a fanfare of textures. Pils malt greets the palate with lots of bread and flavor. the hops are vivid. They seem to bring a tremendous amount of earth and spice that is almost dank but not quite. carbonation tingles lightly and it finishes with only a little warmth from the abv and a touch of bitternes to balance.
717 characters

3.88
/5
rDev
+0.5%
look: 4.25 | smell: 3.75 | taste: 3.75 | feel: 4.25 | overall: 4
A: Hazy golden hue topped with 1.5 inches of white foam which fades down to a swirl across the top and a quarter inch along the glass
S: A great deal of bready Belgian yeasts foremost. Wheat, coriander, orange, a touch of apple. The backend has a touch of indistinguishable hops.
T: The same spices kick in quickly giving way to a touch of fruit before yielding to a standard pilsner. It leaves a taste of stale hops.
M: Light body, crisp with moderate carbonation, very easy to drink especially given the high alcohol, finishes dry.
O: Its a good warm weather higher alcohol beer. I wish the hops were more present considering how much they hopped it. The pilsner malts made it a bit strange, but the Belgian yeasts were spot on
733 characters

4.21
/5
rDev
+9.1%
look: 4.5 | smell: 4 | taste: 4.25 | feel: 4.25 | overall: 4.25
12oz Brown bottle with twist off cap and best by date of 01/26/15. Poured into a tulip glass
Appearance: Pours a clear gold with 1 and 1/2 fingers of white head and great lacing
Smell: Yeasty phenols
Taste: Starts off with belgian-yeast spice and then the hops come forward in the middle leading to and citrus and piney finish
Mouthfeel: Medium with good attenuation and finishes quite dry
Overall: I'm impressed, a triple and an IPA are too very different styles and this beer manages to balance both quite nicely. There almost no hop presence in the aroma but only comes forward in the finish. Provides great balance between two different ends of the style spectrum.
679 characters
4.5
/5
rDev
+16.6%
Poured from 12 oz into snifter.
Pours a dark, clear gold with fine white head and good lacing.
Smell is light pilsner malts, spicy and fruity belgian yeast, and a bit of fruity hops.
Taste is mild but very pleasant. The light maltiness gives way to a nice bit of spice from the yeast, and is carried away by the slightly bitter, earthy hops.
Feel is creamy and medium body with thin but full carb - much bigger feeling beer than I expected.
A lot of the beer is in the front half, but this really leaves me coming back for more. Nice and full for a tripel, although like other reviewers mentioned the IPA is underplayed. The ABV is very well hidden - I could pound these pretty easily. This would be a great easy drinking high ABV summer beer. I really enjoyed this, but was expecting a tripel rather than an IPA (hadn't seen "IPA" on bottle until I poured it.)
866 characters

4.53
/5
rDev
+17.4%
look: 4.5 | smell: 4.5 | taste: 4.5 | feel: 4.75 | overall: 4.5
Poured from a bottle that I believe says "151109" (for last November). Yellow gold, unfiltered (opaque) wheat beer look, with a bright white, fluffy head that dissipates to a bubbly, unevenly laced line. Smell is a little grainy at first, but as the beer warms and opens up the citrus and complimentary phenol(?) smell shines through. Taste is very bright, creamy, with an earthy citrus splash that has a bright Belgian-yeast finish. Hides the alcohol as if this was half the strength that it is. Very filling beer, extremely refreshing, and deceivingly alcoholic. Competitive pricing and made in the south as well. Would love to try other Belgian-inspired IPA's or beers in general. I really enjoyed the balance and almost tropical-like pairing of the yeast and citrusy hops. Will drink again.
794 characters
4.9
/5
rDev
+26.9%
look: 4.75 | smell: 4.75 | taste: 5 | feel: 4.75 | overall: 5
Beautiful. Dense foam, lovely lacing. It has a very cloudy golden body. Smells floral, almost like basil. it's great but doesn't smell alot like it taste. The taste has got something different about it. Hard to say much besides 5/5! Great great great!
251 characters

3.84
/5
rDev
-0.5%
look: 4 | smell: 3.75 | taste: 3.75 | feel: 4 | overall: 4
Poured from a 22oz. Bomber into a pint glass
A: Hazy light brown with nice finger width of head that dissipated quickly
S: A slight citrus smell with heavy malt, didn't know this was a belgian IPA
T: Almost no hops, but very smooth and a touch sweet, was disappointed in this brew
M: Good carbonation and very smooth
O: A little disappointed in this, for a Triple IPA i got almost no hops, would not buy again.
415 characters
4.24
/5
rDev
+9.8%
look: 4.25 | smell: 4 | taste: 4.5 | feel: 4.25 | overall: 4
A: beautiful golden color, hazy, hefe look to it. S: classic Belgian banana, cloves, but not over the top. T: well balanced bittering and maltiness. Boozy burn at the finish.
174 characters
Cocodrie from Bayou Teche Brewery
3.86
out of
5
based on
73
ratings.