Pistol Whip'd
| Noble Ale Works
BA SCORE
81
good
11
Reviews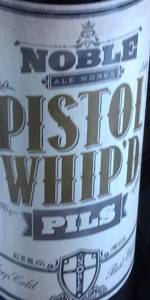 BEER INFO
Brewed by:
Noble Ale Works
California
,
United States
noblealeworks.com
Style:
Czech Pilsener
Alcohol by volume (ABV):
4.20%
Availability:
Rotating
Notes / Commercial Description:
No notes at this time.
Added by Halcyondays on 11-05-2012
Reviews: 11 | Ratings: 69
2.04
/5
rDev
-42%
look: 3.5 | smell: 2 | taste: 1.5 | feel: 4 | overall: 1.75
I really enjoyed this beer but it was truly not a Czech pilsner. If this were a IPL or some other brand of crazily hopped up lager I would be raving about it. I will seek it out again but I really cannot score this beer well because it resembles its stated style in no way.
273 characters

2.95
/5
rDev
-16.2%
look: 3 | smell: 3 | taste: 3 | feel: 3 | overall: 2.75
Picked up this 1pint 6 fl oz brown glass bottle with standard label art and unbranded pry-off cap yesterday at my local Cap N Cork in low altitude Los Feliz, Los Angeles, California for $5.99 USD. Served into a flared stem-snifter/tulip hybrid glass. Reviewed live. Expectations are above average; I loved Noble's Naughty Sauce. Reviewed as a Czech Pilsner because it identifies as such on the label. 4.5% ABV according to the label.
Served cold - straight from me fridge. Side-poured with standard vigor as no carbonation issues are anticipated.
A: Pours a one finger wide head of beige colour. Decent thickness. Low creaminess. Little lacing as the head recedes. Retention is about average - 2-2.5 minutes.
Body colour is a predictable yellow-copper. Translucent; transparent. No yeast particles are visible. No bubble show. Typical vibrance.
Overall, it looks like any other pilsner.
Sm: Definitely has more of a hop presence than is conventional for the style; it's an herbal floral hop character that rings unique. And it's complemented nicely by the crystal malt/pilsner malt body. Some lime fruit is surprisingly present. A biteen grainy. No yeast character or alcohol is detectable. Overall, it's a generally appealing if quite nontraditional aroma for the style. I'm wary of the lime and hops, but I'm optimistic. Mild in strength.
T: It's got your standard saaz hop and grainy pils malt build, with some extra unconventional floral hop presence as well as some strangely integrated lime. I appreciate the experimentation, but this is not how a great czech pilsner is constructed. Fairly balanced with attempts at complexity, but that's missing the mark; czech pilsner is a style that revels in the elegance of simplicity, subtlety and balance. Here we find not a respectful accolate, but a supercilious American brewer intent on adding his/her influence to the style. It doesn't work. This isn't a style you brew to reinvent. The glossy crap doesn't fly. That said, it's a pleasant beer to drink and it's inoffensive. But Jaysus do they get the style wrong.
Mf: Smooth and wet. Lightly artificial. Decent thickness and body. Not oily, harsh, gushed, or boozy. Suits the flavour profile generally well. Adequate carbonation. Execution isn't great for the style, but it's above average.
Dr: Quite drinkable, but it's brazen attempt at adding a unique touch to the style actually ends up bringing it down. I always applaud experimentation, but this just plain misses the mark. Nice try, Noble, but it's not a great beer. Wouldn't get it again at this price, but I do think there's a market for it. It'll scratch the pedestrian's pils itch, but it's largely unimpressive if you're familiar with the style. Quite common.
C
2,741 characters
3.24
/5
rDev
-8%
look: 4.5 | smell: 3 | taste: 3.5 | feel: 3.5 | overall: 2.5
On-tap at Beachwood I,
A: Pours gold with a soft medium white head. Excellent lace throughout.
S: Mild grassiness, some solid hop character, fairly light overall.
T: I thought this was much more like a German pils when I tasted it, but they call it a Czech-style, so I will review it as such. Real nice grassy and herbal noble hop character, but really no true Saaz flavour. The bready pils malt is good. A solid effort, just taking it as pils by itself.
M: Light-bodied, crisp carbonation, creamy at times, refreshing.
O: As a Czech pils it's not that good. As a simple cosmopolitan pils, you don't know where it's from it's good. Give me some more Saaz notes, and I'll be a happy camper.
704 characters

3.33
/5
rDev
-5.4%
look: 4 | smell: 3.5 | taste: 3.25 | feel: 3 | overall: 3.25
Pours a very hazy, dark straw color with golden yellow edges and a massive three finger pillowy white head that very slowly settles into a thick, lasting ring. Possibly over carbonated taking a long time to settle leaving streaks of soapy lacing behind.
Earthy aroma with pungent weed, resinous oils and floral buds. Fresh cut grass, pine needle and spruce tip along with a prominent dank weed character. Subtle citrus/tropical fruit presence along with bready yeast and light fruit esters. Pale biscuit malt with cracker, apple, pear and banana.
Medium body with tight carbonation but not as strong as I feared. Crisp earthy hop bitterness lingering over the sweeter notes and pale malt into a slightly dry finish. Spicy, grassy hops with resinous pine needle followed by bread, biscuit and light fruit sweetness. Some apple and pear toward the finish but lacking some of the tropical/citrus fruit found in the nose. Carbonation is too strong but otherwise it's crisp, well balanced and easy to drink with decent hop bitterness.
1,038 characters
3.52
/5
rDev 0%
look: 3.75 | smell: 3.5 | taste: 3.5 | feel: 3.5 | overall: 3.5
On tap at Noble Ale Works in Anaheim, CA.
Pours a hazy yellow with a foamy bone colored head that settles to a partial film on top of the beer. Foamy swaths of lace form around the glass on the drink down. Smell is of malt, grain, and citrus zest. Taste is much the same with a bready flavor on the finish. There is a mild amount of hop bitterness on the palate with each sip. This beer has a lower level of carbonation with a slightly crisp and medium bodied mouthfeel. Overall, this is pretty good beer that is basic but quite drinkable.
541 characters

3.53
/5
rDev
+0.3%
look: 4 | smell: 4 | taste: 3.25 | feel: 3.25 | overall: 3.5
This one felt a little hollow for a Czech pils, lacking enough of that bready malt backbone the style demands, and finishing crazy dry. They say they hopped this with Motueka, and that only reinforces my continued suspicious of lagers/pils that try to use new wave hop varities. Not saying it can't be done, but it seems to be a dicey proposition. Just doesn't work here. 'Course, those hops do smell nice, so I guess there's that.
431 characters

3.59
/5
rDev
+2%
look: 3.5 | smell: 3.75 | taste: 3.5 | feel: 3.75 | overall: 3.5
Pours a pale gold colour, with a trickle of bead. Head is white, pretty nice with decent lacing left behind. Looks alright.
Smells citric, somewhat metallic. Some nice caramel malt on the back and a touch of paint. Mostly refreshing and pleasant.
Drinks more metallic. Quite a resinous and spicy hop pervades most of it, with lemon pith, rocket and lemongrass notes. A little bit sharp, like the malt takes too much of a back seat in the middle. Refreshing enough, and pleasant enough for the most part though.
Swills around OK, bit of hop pull on the back. Not bad.
Decent enough beer, but not perfect. Could use a bit more balance.
637 characters
3.59
/5
rDev
+2%
look: 3 | smell: 4 | taste: 3.5 | feel: 3.5 | overall: 3.5
22oz bomber purchased from K&L Wine Merchants in Redwood City, CA.
Pours a pleasant golden colour, mostly clear but with a hint of hazing to it. Head forms a bubbly white froth to begin with and settles down to a lagery film that still leaves decent lace. Overall, it looks okay without being particularly exciting.
Nose is very pleasant, but a little strange, with citric hops coming forward making it smell almost indistinguishable from an APA or IPA. No, not quite: there's a greenness to it, and a sharper vector to the hop character which turns it slightly herbal and with a little hint of coconut. Grain is almost unnoticeable, which is fine. As it warms, I get that coconut character more strongly. It's quite nice.
Taste is clean, but lacking a bit of bitterness and lacking crispness towards the back. Clean, light, slightly fruity entry gives way to a slightly sweet emptiness towards the back. This is punctuated with a little carbonation, but that coconut character comes back in the finish, making it seem sweeter and less crisp than it wants to be. Not bad, though, and I do like the flavours in the hops.
I think the feel could use a little more carbonation: it would help with the crispness and help accentuate the hops a little more.
This isn't bad stuff: it's certainly a flavoursome, refreshing and very drinkable brew. I'm perhaps looking a little bit too pedagogically for certain "pilsner" elements that this falls down a little on, but really, it's a very decent brew.
1,496 characters

3.75
/5
rDev
+6.5%
look: 3.75 | smell: 3.75 | taste: 3.75 | feel: 3.75 | overall: 3.75
Pours a very pale yellow straw color, smells immediately of lemongrass and floral hops. Not a whole lot of pils malt in the flavor which is a disappointment; crisp and dry and very light mouthfeel. Not a miss, but not a hit either.
231 characters

3.81
/5
rDev
+8.2%
look: 3.5 | smell: 3.75 | taste: 4 | feel: 3.5 | overall: 3.75
Color is an amber-tinged golden in the pint shaker, with a modest amount of foam. Quite spritzy on the tongue. A pleasant hoppy, resiny nose.
This seems more substantial than the less-powerful ABV would suggest. A mouth-filling malty sensation with just enough sweetness. Quite sharp after a few sips, but the resiny hops provide a tangy, aromatic flavor. Bitter aftertaste but more biscuity overall. Though the hops may not seem so European, this is a more complex quaff though perhaps more of a light Pale Ale.
Another strong entry in the Low-Alcohol Flavor Challenge. On tap at Pizza Port in Ocean Beach.
610 characters

3.92
/5
rDev
+11.4%
look: 4 | smell: 4.5 | taste: 3.75 | feel: 3.5 | overall: 3.75
a: hazy burnt yellow with some light brown notes in the middle. very large - 5 + finger soapy white bubbly rocky head
s: tons of sweet grains, lemongrass, pepper, vanilla, sweet citrus, grassy hops. something like a bubble gum cardboard.
t: very clean. vanilla, pilsner malt, grassy hop bitterness (more than id expect). there is a sweet spice in here that i can't put my finger on - like a sweet coriander, maybe. tons of fresh dough in here too. finishes with sweet grainy malt, earthy hops and just a hint of sweet citrus
m: light, but on the fuller side of light- with a lot of carbonation
o: more flavor packed in here your normal pilsner, ill say that. a little more bitter than expected, but the sweetness cuts it nice, and i like the hint of citrus mixed with the dough. its clean, but the large amount of carbonation makes it a little heavy to be extremely refreshing though. still a nice lighter beer, but nothing special
935 characters
Pistol Whip'd from Noble Ale Works
3.52
out of
5
based on
69
ratings.