Chocolate Truffle Stout
| The Porterhouse Brewing Company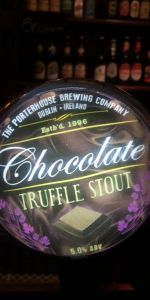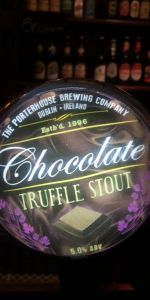 BEER INFO
Brewed by:
The Porterhouse Brewing Company
Ireland
porterhousebrewco.com
Style:
American Stout
Alcohol by volume (ABV):
5.00%
Availability:
Spring
Notes / Commercial Description:
No notes at this time.
Added by wl0307 on 03-26-2006
HISTOGRAM
Ratings: 14 | Reviews: 7
Reviews by ChrisCage:
4.6
/5
rDev
+17.6%
look: 4 | smell: 4 | taste: 5 | feel: 4 | overall: 5
This review is from written notes taken while on vacation in Dublin, Ireland Apr '09....just found the notes now!
A- This looks much like the big 3 Irish stouts with the following exceptions....it's got more of a clearness to it with dark brown hues and a hint of red in it. The head is thick, creamy and darker....taupe colored.
S- There was amazing semi-sweet chocolate aromas, which in my opinion made it smell just like hot chocolate. There was also muted roasted coffee, toffee and burnt toast mixed in there as well.
T- This was even better than the aroma let on! There was rich milk and dark chocolate on the front of the palate, followed up with well balanced hop bitterness on the finish. The coffee and burnt malts also show through well. The alcohol was well hidden and the aftertaste left behind lasting bitter tastes.
M- There was slightly higher than expected carbonation, but it was fine bubbles, keeping this a smooth drinking brew. It reminded me of eating a chocolate mousse dessert. The body is more medium bodied, as opposed to the big 3.
D- I would drink this all night no problem! I had this with Irish smoked salmon bruschetta and it balanced out the flavors nicely. This is a perfect dessert beer, but also excellent to have with food. I highly recommend and was a highlight of my beer experiences in Dublin!
1,337 characters
More User Reviews:
3.97
/5
rDev
+1.5%
look: 4.25 | smell: 4 | taste: 4 | feel: 3.5 | overall: 4
4.15
/5
rDev
+6.1%
look: 4.5 | smell: 4.5 | taste: 4 | feel: 4 | overall: 4
A - a deep black with a brown creamy head on the nitro tap.
S - you really think you are about to have a wonderfully flavored stout, not a bad proposition in the land of Irish Dry stouts everywhere. You pull a DEEP molassess and literally chocolate truffles out of the nose of this, immediately, and by anyone who gets near it, experienced or not.
T - to die for. The chocolate tags on this are strong without being overpowering, really, a beautiful add on to a dry stout, without feeling as if it is a powder just dropped in on top of the rew. It is IN THERE, nt on top, masking it. Really, a wonderful brew.
M - mouthfeel is where I think this goes wrong just a bit. If they were to make this a bt higher in ABV, and a bit less dry, (I know, it's Ireland) like an Russian Imperial, it would be remowned as world-class. However, the fact that they didn't...
D - ...makes this a wonderfully sessionable beer, on multiple occasions for many hours as you asway to the traditional and newer music being played in the brewpub.
A helluva beer for a helluvan establishment. If you are ever in Ireland on the east coast, seek this place and this brew out. You will not be disappointed.
1,193 characters
4.04
/5
rDev
+3.3%
look: 4 | smell: 5 | taste: 4 | feel: 3 | overall: 3.5
Arrives in a pint glass, rich black with a solid tan head. Gives a snootful of dark chocolate and sweet dark molasses from 6 inches away, truly intense aroma. Flavor is gently dominated by the chocolate, leans a little toward chocolate flavor extract, but nothing definitive. The rest of the beer is solid enough, a good stout with full malt and roasted barley, pleasantly not sliding into the treacly sweet zone that can make it seem like work ti finish the pint. While I suppose this could be considered a "chick" beer, the "chick" should be one that already likes stout.
573 characters

3.48
/5
rDev
-11%
look: 4 | smell: 3.5 | taste: 3.5 | feel: 3 | overall: 3.5
On tap in Templebar Porterhouse. Thick creamy nitro head with a dark black color. Chocolate aroma. Flavor is an odd mix of a mild stout and strong chocolate flavoring. Not a great balance of the two; I've certainly had tastier chocolate stouts, usually with a little more oomph. I got the impression that this was overly mild and watered down. Not a bad beer, but I've had more enjoyable examples.
397 characters
3.55
/5
rDev
-9.2%
look: 3.5 | smell: 3.5 | taste: 3.5 | feel: 3 | overall: 4
On draft at the Porterhouse Independent Beer Festival.
Pours nitro-black with a tawny head. Chocolate ganache nose. Chocolate and some roastiness in the malts, a cocoa powder middle and slight twig and mint hops to close. Dry finish, light, creamy.
Too thin and one-dimensional. Biggest accomplishment is making the nose smell of truffle and not just chocolate.
I know people go crazy for this every spring, but I just can't get on board.
And why is this in as an American Stout? Body and roast malts (not to mention being made in Ireland) put this as a twist on a Dry Irish.
580 characters

4.05
/5
rDev
+3.6%
look: 4.25 | smell: 4.25 | taste: 4 | feel: 3.75 | overall: 4
I had this one several time on tap in the porterhouse on Parliement st. in Dublin. A large pint of this stout can make you quite satisfy, it's a very nice irish dry stout enhanced by the chocolate
196 characters

3.73
/5
rDev
-4.6%
look: 3.75 | smell: 3.75 | taste: 3.75 | feel: 3.5 | overall: 3.75
3.48
/5
rDev
-11%
look: 4 | smell: 3.5 | taste: 3.5 | feel: 4 | overall: 3
Tasted today by half-pint at the Porterhouse in Covent Garden, London. The beer is a seasonal brew produced b/w January and March only.
A: dark brownish colour with tawny hints, coming with a typically thick and frothy tan head coming from a nitro-tap. Very moderate carbonation.
S: chocolate/cacao powder abounds, along with rich aroma of vanilla powder, dark malts, and a faint touch of treacle; aromatic yet very straight-forwardly chocolatey. Compared with Meantime Chocolate Beer, this beer really is "simple-minded".
T: chocolatey bitter-sweet edge underlined by light-bodied stout, leaving a faintly sour-bitter stout-ish finish. Full-stop.
M&D: silky smooth, medium-bodied, and rather balanced; it's quite tasty, but compared with other stouts and porter by the same brewery this one really is a bit disappointingly simplistic and lacks characters. And I still maintain that Meantime Chocolate Beer is way ahead of this beer in the game in terms of complexity and depth--maybe it pairs well with some chocolatey desserts (quite obviously, innit?).
1,061 characters


Chocolate Truffle Stout from The Porterhouse Brewing Company
Beer rating:
3.91
out of
5
with
14
ratings