Mega Monster Imperial IPA
| Gilgamesh Brewing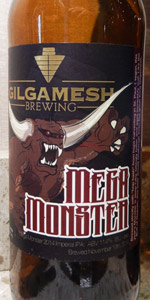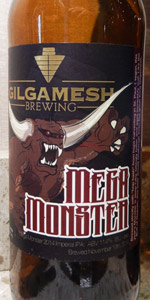 BEER INFO
Brewed by:
Gilgamesh Brewing
Oregon
,
United States
gilgameshbrewing.com
Style:
American Double / Imperial IPA
Alcohol by volume (ABV):
9.80%
Availability:
Rotating
Notes / Commercial Description:
No notes at this time.
Added by msubulldog25 on 07-12-2010
HISTOGRAM
Ratings: 14 | Reviews: 6
None found.
More User Reviews:
3.58
/5
rDev
-7%
look: 4 | smell: 3.5 | taste: 3.5 | feel: 3.5 | overall: 3.75
22oz bottle of Gilgamesh Brewing's Mega Monster, brewed on November 2nd, 2015 (but new to me). This one describes itself as an India Barley Wine, clocking in at 11% ABV, and features a seriously badass looking Minotaur on the label. The color is amber red, lightly hazed, with a nice thick foamy head. Aroma has the nutty, grape and prune aroma of barley wine, and not much to recommend it as a DIPA. As for the flavor, well, "infinitely bitter" may be an exaggeration, but I would not be surprised if this tipped the scales over 120 IBU. It's complemented by a load of malty sweetness though, and the result is actually quite enjoyable, if not exactly transcendent.
671 characters
4.25
/5
rDev
+10.4%
look: 4.25 | smell: 4.25 | taste: 4.25 | feel: 4.25 | overall: 4.25
Hazy golden orange with three fingers of dense bone color head. Rings of lace.
Smell is massive malt sweetness.
Taste is also thick rich sweet malts with a slightly delayed big hop bitterness.
Mouthfeel is heavy with ample carbonation. Finish is medium dry and bitter.
Overall a big beer. Proceed with caution. The bottle says India Barley Wine.
11%abv. and infinite IBUs. Brewed Nov. 2nd, 2015.
397 characters


3.98
/5
rDev
+3.4%
look: 4 | smell: 3.5 | taste: 4.5 | feel: 4 | overall: 3.5
On tap at the Belmont Station Fringe Fest.
MM pours an unexpected, surprising dark brown color with fairly good head retention and considerable sticky lacing all around. The nose is not at all what I typically expect in a DIPA, showing milk chocolate and dry citrus and not much else. On the palate, however, this DIPA is a palate buster (or at least a bruiser), showing moderately sweet flavors of chocolate, vanilla and coffee, which then explodes into a tidal wave of brutally hoppy bitterness. It completely wipes out the moderately sweet midpalate, leading to a dry and bitter finish. Mouthfeel is full and very smooth (the beer has almost a creamy consistency), apparently due to fairly low carbonation in this beer. Drinkability is hard to describe. This beer has an impressive amount of flavor, but the combination of noticeable alcohol and over the top hoppy bitterness make drinking this bad boy very slow going.
A very interesting beer from Gilgamesh. This beer really pushes the envelope stylistically, and is the sort of experiment in brewing I don't see too many other places outside the NW. Interestingly, as the beer warmed up, the chocolate and coffee flavors became increasingly more prominent, and the hoppy bitterness seemed to subside a bit (either that or my palate was so pulverized I had experienced sensory overload).
1,345 characters

3.71
/5
rDev
-3.6%
look: 4.25 | smell: 3.75 | taste: 3.75 | feel: 3.5 | overall: 3.5
This pours a dark reddish amber with plenty of foam in the shaker. Aroma is an intense fruity hop with some vegetable funk.
The flavor is just not what you'd expect from an IPA. Malty, yes, but there's a nutty and musty flavor that surprises. Then after a wash of sweetness, the bitter hops take over. This makes me think of a DIPA flavored with candied fruit. I guess that would be sort of a Christmas ale, though the only spice is sort of a chocolate note. Lots of roasted dark flavors and figs.
This makes a nice nightcap, though the hops open the eyes a little. From the 22 oz bottle purchased at a supermarket in Portland.
629 characters
3.41
/5
rDev
-11.4%
look: 3.25 | smell: 3.5 | taste: 3.5 | feel: 3.25 | overall: 3.25

3.86
/5
rDev
+0.3%
look: 5 | smell: 4 | taste: 4 | feel: 4 | overall: 3
On tap at f/stop Fitzgerald's in Salem, served in a snifter.
A - one finger of off-white head that dissipates quickly. Dark crimson in color with thick-as-hell lacing.
S - piny, fruity, bitter hops; heavy malt; and smoke.
T - sweet malts up front, almost balanced by a bitter, smoky, hoppy finish that seemed slightly overwhelming. Tastes more like a strong ale/barleywine than an IPA.
M - medium-bodied, moderately carbonated, and very smooth.
D - as I previously mentioned, this was more like a barleywine than an IPA. The bitter, smoky aftertaste and the readily-apparent alcohol make this a sipper. Were it bottled, I'd like to age it -- maybe mellow it out a bit. Very interesting and very good; I'd definitely get it again.
734 characters
4.49
/5
rDev
+16.6%
look: 4 | smell: 4.25 | taste: 4.75 | feel: 4.25 | overall: 4.5
3.87
/5
rDev
+0.5%
look: 3.75 | smell: 3.5 | taste: 4 | feel: 4 | overall: 4

4.08
/5
rDev
+6%
look: 4 | smell: 4 | taste: 4.25 | feel: 3.75 | overall: 4
4.05
/5
rDev
+5.2%
look: 4.75 | smell: 4 | taste: 4 | feel: 4 | overall: 4
Malty, dark copper color, mild bitterness
41 characters
4.1
/5
rDev
+6.5%
look: 4 | smell: 4 | taste: 4.5 | feel: 4 | overall: 3.5
On tap at Belmont Station Fringe Fest OBF week.
One finger tan head, quick dissipation with minimal lacing. Dark brown body with some carbonation visible. Pretty big hoppy nose, resiny, but balanced by significant malt presence, good dose of sweetness. The taste is pretty malty upfront, more chocolate than caramel, followed by a huge frickin' hop attack in the middle, grapefruit rind, and an assertive hop finish which reached its zenith about 30 seconds after imbiding, a real hop creeper. Medium body and mouthfeel, pretty smooth despite high ABV, not sticky. Changed character as it warmed the late hop attack mellowed out a bit-darn! One huge hoppy beer, the use of hop pollen added to the overall ambiance and enjoyability. Highly recommended for all hop heads.
770 characters
Mega Monster Imperial IPA from Gilgamesh Brewing
Beer rating:
3.85
out of
5
with
14
ratings