Spring Maple Belgian Blonde Ale
| Lake of Bays Brewing Company
BA SCORE
82
good
11
Reviews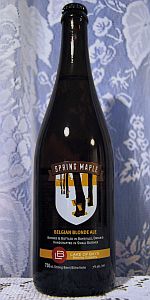 BEER INFO
Brewed by:
Lake of Bays Brewing Company
Ontario
,
Canada
lakeofbaysbrewing.ca
Style:
Belgian Pale Ale
Alcohol by volume (ABV):
7.00%
Availability:
Spring
Notes / Commercial Description:
No notes at this time.
Added by Phyl21ca on 03-11-2013
Reviews: 11 | Ratings: 30

3.26
/5
rDev
-5.5%
look: 3 | smell: 3.25 | taste: 3.5 | feel: 2.5 | overall: 3.25
Veiled maple color with dense activity. Slightly creamy beige 2 finger head, lasting around 5 minutes, with faint lacing. Flavors of maple, caramel candies, wheat, sweet grains, banana yeast, floral and leafy herbal spices. Thick syrupy feel, highly sugary, with soft hops. Thick oily medium body with faint carbonation. Medium strength finish, lingering peppercorn, vanilla, with syrupy sweet grains and maple. Too oily, a little flat, boozy, and lacking some freshness. Feels like mead, minimal Belgian feel, but it gets better while it warms. The flavors are good, while too sugary. Overall above average quality craft.
622 characters
3.89
/5
rDev
+12.8%
look: 4 | smell: 3.75 | taste: 4 | feel: 4 | overall: 3.75
750ml bottle, an ironic tipple in Alberta right now, where hell has apparently frozen over, and not just because there's a ton of fresh snow on the ground in early May.
This beer pours a hazy, medium golden yellow colour, with three fingers of puffy, loosely foamy, and well bubbly off-white head, which leaves some sudsy crossing electron beam lace around the glass as it slowly abates.
It smells intriguingly of bready, pastry-like sweet caramel malt, strangely green, but all the same enticing Belgian yeast, gritty and fruity maple syrup, and a bit of earthy, floral, and slightly perfumed hops. The taste is a big ol' maple glaze Timbit smack to the sweetness receptors of my palate, before the underlying grainy caramel malt registers, along with some kicked-back Low Countries yeast, and more plain, but supportive earthy, leafy, and floral hops.
The carbonation is light and fluffy in its playful and well-distributed frothiness, the body a sturdy middleweight, and mostly smooth - nothing stepping in to spoil the fun - with a small airy creaminess arising as things warm. It finishes far on the off-dry side, both the maple syrup and near-equally sweet malt going tête-à-tête to test my remaining sugar-tolerant tastebuds.
Overall, a rather enjoyable, if a tad skewed and Canadianized version of yer typical strong-ish Belgian pale ale (one where the 14-proof boozy-booze is pretty much AWOL). On their own, both the maple and malt are generally moderated, but together, they get a little handsy in the sweet-ums department. Worthy of a try, especially if you seek a further bit of confectionery in your spring brews.
1,638 characters

3.89
/5
rDev
+12.8%
look: 3.5 | smell: 4.5 | taste: 3.75 | feel: 3.5 | overall: 3.75
750 ml bottle served cold into a pint glass. This one has been aging awhile,in a fridge since last summer. It's a little past its best before date (Aug 31, 2014), but gave it a shot. Purchased for about $11 CDN if I recall correctly.
Appearance - Bright and clear rich golden color. Lots of lively bubblesimal head which doesn't last long and leaves behind a small soapy collar.
Smell - Peach and maple syrup out the wazoo! Both aroma potent and work well together and remain in place when the beer is cold or as it warms.
Taste - A bit yeasty and then the maple syrup comes in with reat effect. Flavor fades away quickly. Slightly thin tasting with a moderately bitter finish. Flat aftertaste. Despite all that the peach and maple syrup work quite nicely.
Mouthfeel - Slightly dry finish after a mouthful of a well carbonated beer. Body is neither really full or lacking.
Overall - The great nose is the high point of this beer for me, which is otherwise quite a solid Belgian Ale. One of my first beers with maple syrup included in the way that it is which was surprisingly good. One of the best from lake of Bays that I've experienced.
1,145 characters

3.65
/5
rDev
+5.8%
look: 3.5 | smell: 4 | taste: 3.5 | feel: 3.25 | overall: 3.75
750 mL bottle from the LCBO, best before Aug. 31 2014. Served slightly chilled.
This pale ale pours an attractive, translucent golden-blonde colour, topped with one finger of soapy, short-lived white head. A narrow collar and some wisps on the surface are all that remain. The aroma is very sweet, with lots of caramelized sugar, maple extract, honey and some vanilla notes. Altogether that probably sounds like a bit much - and really, it is. Still delicious; very dessert (or breakfast)-beer-like.
There is a modest range of enjoyable flavours here, but as a whole this one just doesn't mesh very well. The bulk of the profile is very saccharine, with the bready malts and banana/honey nut notes soon giving way to maple extract, woody bark and vanilla. The finish borders on spicy, with a bitter, slightly yeasty aftertaste. Medium in body, with a slick feel on the palate and moderate carbonation that doesn't really approximate the feel of a true Belgian ale. The 7% abv is well-hidden, but the overall sweetness still becomes tiring without something to munch on hand. Fans of that Banana Bread beer from Wells might like this one.
Final Grade: 3.65, a B grade. I'm not sure what to think of Lake of Bays' Spring Maple Belgian Blonde Ale. I don't find it dislikeable, and I've heard it pairs greatly with a plate of pancakes, waffles, sausages, and stuff of that sort - a very reasonable assertion. This one improved as it warmed, but in the end it still didn't blow me away (especially given the price point). One of their more creative efforts - I strongly encourage Lake of Bays to try and get next year's batch of this stuff out by Shrove Tuesday.
1,660 characters

2.46
/5
rDev
-28.7%
look: 1.75 | smell: 2.5 | taste: 2.5 | feel: 2.5 | overall: 2.5
I think this poor beer is suffering from an identity crisis - it just isn't sure what it is.
Uninspiring to look at. Pours a short white head that immediately dissipates. What's left is apricot orange and looks like apple juice. Utterly dull.
Nose is a bit confused. You can clearly smell the maple. The Belgian blonde is present - yeast and bread. There is also a spicy or slightly sour note. It just doesn't seem to me to all hang together particularly well.
Taste is predominantly a blonde in character by way of the Belgian yeast. Malty sweet, noticeable maple taste and the unique sweet character of honey. Finishes spicy and with some bite. But in the end it is unfortunately just a collection of stuff without harmony and doesn't quite work. Not something I'd look for or recommend.
792 characters
3.63
/5
rDev
+5.2%
look: 3.75 | smell: 3.75 | taste: 3.5 | feel: 3.5 | overall: 3.75
Special thanks to cattersley for the terrific box of boozy goodness.
A: Tangerine pour and perfectly clear with just a slight cap of tight white foam. Active streams of bubbles race up and pooling at the surface, suggesting a prominent carbonation snap.
S: Oaky smoothness with a solid maple scent and a mellow smooth vanilla base note. Belgian yeasts present throughout, sweet vanilla bread of brioche and pale raisins.
T: First wash of pale malts and sweet honeys and maple syrup followed quickly with Belgian yeasts and breadiness with smooth vanilla. Followed up with spices and white pepper - some mind hops and solid bread profile lingers pleasantly.
M: Snappy carbonation tingles and highlights the breadiness. Overall very smooth and suggestive of an oaked chardonnay, but with a light to medium viscosity.
O: A smooth ale that offers the familiar aroma and taste of a Belgian, but with a little extra smoothness & maple sweet. Some notes in the flavour are reminiscent of a artificial maple extract, however the Belgian yeasty notes make up for that.
1,068 characters

3.7
/5
rDev
+7.2%
look: 3.5 | smell: 4 | taste: 3.5 | feel: 3.75 | overall: 3.75
Appearance: It has a nice clear golden/orange color to it. It has a small white head that dies down somewhat fast and leaves little lacing.
Smell: The aromas definitely give out hints of Belgian yeast, bready malts, spices, honey and mapple Syrup.
Taste: Like the aromas, it has mapple and honey, Belgian yeast, alot of breadiness and faint peppery spices.
Mouthfeel: It has a high carbonation with a nice overall balance and feel.
Drinkability: It's a very smooth drinkable beer accompanied with decent flavors and aromas.
530 characters

3.69
/5
rDev
+7%
look: 4 | smell: 3.75 | taste: 3.75 | feel: 3.5 | overall: 3.5
Spring Maple has a beautifully iced pineapple flesh tone. Given the sap-like density - though technically clear, hardly a shadow can be made out on the other side - I'd believe it came from a tree; given the bright colour, I'd assume it was a palm tree. As per any beer with the word "Belgian" in its name, it has a head seemingly manufactured to withstand hurricane winds.
The bouquet has every bit (and even more of) the strength the 7% alcohol listed on the label prepares you for. It features a super concentrated earth and herb flavour that is complimented by sweet maple syrup and vanillin and peachy, bubblegum fruit esters of the Belgian yeast. It is either appealing or repelling depending on your mood and tolerance for big, loud beers.
Spring Maple has a ripe fruit core that consists primarily of apple and pear, though the yeast provides complex latticework of gentle spices and other, bubblegum-y and banana-y fruit flavours. The malt comes across as being very grainy and cereal, very dry and straightforward, brightened only by the yeast notes mentioned above. It tires over the course of a 750ml.
A note for people in this for the maple syrup: beware the yeast! Rest assured, this is not exactly the sweet, syrupy beer you might assume (at least not on first draw). Belgian yeast has savory breadth and spicy volume and paves over the bran biscuit and grain textures. That said, the spicy/fruity taste gradually shrinks in stature, revealing more of a smooth, sappy finish.
I've taken two things away from Lake of Bays Spring Maple: 1) Belgian yeast and Noble hops do not make the best use of maple syrup, and 2) Lake of Bays is capable of more than just your run-of-the-mill ale. While I wouldn't want them to repeat this experiment, this offering did give me the confidence that whatever they decide to brew next should be worth buying.
1,862 characters
2.83
/5
rDev
-18%
look: 3 | smell: 3 | taste: 2.5 | feel: 3.75 | overall: 2.75
A - Pours a pale golden colour, finger of head with little retention or lacing.
S - The maple comes through alongside a heavy dose of bready malts, honey and grassy hops.
T - Bready malts dominate alongside a touch of maple and honey, grassy hops and a sour lemon and sourdough bread flavour. The Belgian yeast flavours clash with the maple notes making for a muddled flavour profile.
M - Medium bodied, smooth and a touch of dryness.
O - It's not often that I find a beer is a bit of a mess, but I can't say that I enjoyed this brew. I struggled at the end and found that the flavours simply clashed making for a confusing beer that just didn't work. Certainly not worth the price tag, and not something I would buy again.
727 characters
4.15
/5
rDev
+20.3%
look: 3.75 | smell: 4.25 | taste: 4.25 | feel: 4 | overall: 4
750mL bottle into goblet.
Best before Aug 2013
Clear apple juice pour. Half finger, tight bubbled head that is super short lived. Lacing is minimal.
Cracking the bottle and throwing it away my fingers are sticky from maple syrup. With the glass a couple feet from my nose maple syrup is lingering to my nose in short bursts. Up close I get grapes, apple skins, a touch of pepper, Belgian yeast and maple in the background.
Starting off with raisins and grapes, sweet and some tart. Belgian yeast, slight spiciness and a smooth maple syrup. There is some cinnamon. This is refreshing for a maple infused beer.
Light body, good carbonation, sticky on the lips.
662 characters
2.49
/5
rDev
-27.8%
look: 3.75 | smell: 2.25 | taste: 2.5 | feel: 2.25 | overall: 2.5
Bottle: Poured a dirty beige color ale with a medium head with good retention and minimal lacing. Aroma of maple syrup and grainy cereal is not the great mix. Taste is also dominated by woody maple syrup notes which kind of clash with the grainy cereal notes with lightly sweet undertones. Body is about average with good carbonation. Not the most pleasant beer with multiple flavours which don't balance each other.
418 characters
Spring Maple Belgian Blonde Ale from Lake of Bays Brewing Company
3.45
out of
5
based on
30
ratings.