River Walker Summer Ale
| Lake of Bays Brewing Company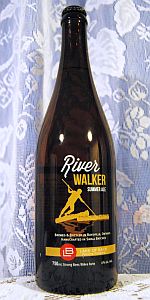 BEER INFO
Brewed by:
Lake of Bays Brewing Company
Ontario
,
Canada
lakeofbaysbrewing.ca
Style:
Fruit / Vegetable Beer
Alcohol by volume (ABV):
6.00%
Availability:
Summer
Notes / Commercial Description:
No notes at this time.
Added by Sammy on 06-09-2013
Reviews: 9 | Ratings: 36

3.94
/5
rDev
+6.8%
look: 4 | smell: 3.75 | taste: 4 | feel: 4 | overall: 4
Purchased at the LCBO for around that $3.00 mark or so for a 473ml can. Served at 4deg C in a draught glass
A- Opens well and pours a 1" high white head that lasts for a couple of minutes before film out. Nice light to medium gold colour and unfiltered. Translucent
S- Nice funky scent
T- Has a bitter bite to it. Nice fruity base. Light yet full bodied. Has a nice depth to it but not complex. Interesting to say the least
M- Dry
O- Nice brew. I like the refreshing nature of the brew. Will buy again
Food Pairing
This nice little brew went well with...... Light flavored sushi. Not spicy but savory
Enjoy
615 characters
3.94
/5
rDev
+6.8%
look: 4 | smell: 3.75 | taste: 4 | feel: 4 | overall: 4
Appearance - Pours a clear golden straw with two finger of bubbly white head.
Smell - Bready and biscuity malts, lemon, ginger root, spices, grassy hops, and wheat.
Taste - Lemon, ginger and spices lead in, followed by bready/biscuity malts, wheat and grassiness from the hops. Very refreshing combination.
Mouthfeel - Medium bodied with moderate carbonation. Dry, spicy finish.
Overall - A well-crafted summer ale with some unique flavours. The lemon, ginger and spices are well showcased. Bring on patio season!
517 characters

3.51
/5
rDev
-4.9%
look: 3.25 | smell: 3.5 | taste: 3.5 | feel: 3.75 | overall: 3.5
750 mL bottle picked up at the LCBO; bottled on Apr. 23 2014. This is the only Lake of Bays seasonal that I have not yet tried, as the price tag caused me to shy away from it last year - but with the hot weather beaming down on us right now, a spiced summer ale with ginger and lemon peel sounded like it might really hit the spot. Served slightly chilled.
This ale pours a bright, clear golden-blonde colour, generating one finger of frothy white head that wilts relatively quickly over the next minute or two, leaving a loose collar and a thin ring of lacing behind. Looks like like your typical blonde ale, but the aroma is a little more along the lines of what I was expecting - spicy ginger and lemon-orange citrus are quite noticeable, with some grainy, bready malt sweetness underneath. Somewhat yeasty, with slight suggestions of clove.
Not a bad brew at all, but nothing special in my opinion. Bready malts and toasted wheat sweetness provide the backbone, with more attention-grabbing notes of ginger, lemon and orange citrus soon sweeping across the palate. It's more spicy toward the finish, with clove and pepper alongside some mild ginger heat. Bitter, slightly drying aftertaste that lingers briefly. Medium-bodied, with moderate carbonation and a pleasant overall feel on the palate.
Final Grade: 3.51, a B grade. Lake of Bays' River Walker Summer Ale is a serviceable spiced brew, offering up an enjoyable trio of sweet wheaty malt, Belgian yeast and spicy ginger accents. I don't mind this beer and will have no trouble finishing the bottle off, but in all honesty I think I had this one pinned down accurately last year - overpriced and not all that memorable. I don't think I'd buy this again, and given the unnecessarily high price point, I doubt it would be one of my first recommendations to anyone seeking out a ginger beer for the summer months.
1,875 characters
3.32
/5
rDev
-10%
look: 3 | smell: 4 | taste: 3 | feel: 3.75 | overall: 3
Serving Type - 750ml bottle poured into a small pint glass
Appearance - Pours a bright golden colour...slightly darker than a typical adjunct lager. On top sits about a finger of bright white head with moderate retention. A decent amount of lacing clings to the glass.
Smell - Lots of ginger. Some light citrus...orange and lemon I think. There's also some light grain/lemon bits present as well.
Taste - Following there head, getting mostly ginger and citrus. Lots and lots of ginger. Now I'm not opposed to big flavors and off balanced beers...but this much ginger is producing some off noes which I'm not really enjoying. There's quite a bit of spice present as well.
Mouthfeel - Medium carbonation, medium body.
722 characters

3.72
/5
rDev
+0.8%
look: 4 | smell: 3.75 | taste: 3.5 | feel: 3.75 | overall: 4
Appearance: It has a nice clear golden straw yellow color to it. It has a nice white head that dies down moderately and leaves little lacing.
Smell: The aromas definitely give out hints of citrus/lemon, ginger, peppery spices and some breadiness.
Taste: Like the aromas, it has a some ginger, lemon/citrus zest, some peppery spices, a slight earthiness and some bready notes.
Mouthfeel: It has a med/high carbonation with a nice overall balance and feel.
Drinkability: It's a very smooth drinkable beer accompanied with decent flavors and aromas. Very refreshing on a hot summer day.
590 characters
4.02
/5
rDev
+8.9%
look: 4.25 | smell: 4 | taste: 4 | feel: 4 | overall: 4
750ml bottle poured into a mug. ABV 6%.
A - Poured a clear gold with a 2cm white head, everlasting cap, very good lacing.
S - Light grains, citrus zest, lots of spice, earthy.
T - Light sweetness, citrus, ginger, other spices, bitter hops in the finish.
M - Medium-heavy carbonation, medium body, slight creaminess, prickly, drying finish.
O - The ginger gives this pale ale a nice kick. Great beer overall.
412 characters
4.22
/5
rDev
+14.4%
look: 4 | smell: 3.75 | taste: 4.5 | feel: 4.25 | overall: 4.25
Finally picked this up after seeing it on the shelves many times. It's consider a fruit beer under categorization here but it comes across very much like a wit bier or wheat wine. I poured this at a very cold temperature given the idea that if this is supposed to be a summer beer, it should be quite chilly imho.
Appearance is sort of a hazy amber with light lacing and good head retention.
Nose is a bit muted, probably because of the very cold temperature. Picking up a sort of citrus/apricot thing going on.
Very smooth body, medium bodied but still refreshing.
The ginger comes through strong in flavour but not in bite like many craft ginger beers can be. Lemony citrus. Mild hop presence and bitterness. Apricots again
Overall a very refreshing quality beer that I recommend chilling to the bone for the best experience. Would definitely buy again for a trip to the cottage. Hot weather patio beer.
913 characters

3.62
/5
rDev
-1.9%
look: 3.75 | smell: 3.5 | taste: 3.75 | feel: 3.5 | overall: 3.5
Bright and blistered golden, River Walker looks like it's been working in the sun all day and forgot to put on sunscreen. Its complexion is immaculately, sparklingly clear - even condensation on the glass can't blur this beer! It has a well-lathered mousse that looks as though it'd make a good shaving cream. Looks most appropriate for a summer seasonal.
River Walker smells bigger than it actually is (and bolder than you'd expect a summer seasonal to be). It's as if the part of the label listing alcohol percentage was printed upside down (6% instead of 9). Belgian yeast is to blame; normally this brand of spicy, in-your-face potpourri is found in much more aggressive beers, the kinds that teeter along double-digit strength.
On the palate, however, flavours of clove and pepper and the intense notes of dried herbs that accompany them are soothed over by lemon candy, grapefruit and under-ripe pear. Only a trace of ginger root can be found; yeast is this beer's only source of zest. It drinks kind of like a lemon drop martini but without the sweetness. Slightly empty but very suitable for warmer weather.
I can't help but remark how similar this tastes to Lake of Bays' spring seasonal, Spring Maple. So far as I can tell it's the same base beer, or at least the same beer at heart: a simple blonde ale, enlivened by Belgian yeast and slightly accented by a seasonal ingredient (maple syrup in the spring, lemon and ginger in summer). It's a decent formula, though depthless.
River Walker is said to have been inspired by the log drivers who worked the rivers and lakes in the far North of Ontario. Forgive me, but I have some trouble believing that these were the type of men to drink beer infused with ginger and lemon (although they were reportedly great waltzers so then again who's to say). In any case, I'm sure they'd find themselves pleasantly surprised by just how good and refreshing a beer it is.
1,925 characters
3.4
/5
rDev
-7.9%
look: 3.5 | smell: 3.5 | taste: 3.5 | feel: 3 | overall: 3.25
Passable beer, something different for sure. some taste but I do not know if ginger and lemon went well together. Somewhat astringent and so-so drinkability. Virtually no sign of hops. Light orange with a little head. On tap at Tequilla Bookworm. So-so drinkable.
263 characters
River Walker Summer Ale from Lake of Bays Brewing Company
3.69
out of
5
based on
36
ratings.