The Porterhouse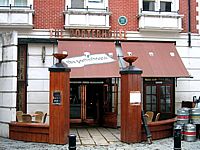 PLACE INFO
Type:
Bar, Eatery
21-22 Maiden Lane
London
,
England
, WC2E 7NA
United Kingdom
+44 20 7836 9931 |
map
porterhousebrewco.com
Notes:
No notes at this time.
Added by Todd
Reviews: 14 | Ratings: 19
3.75
/5
rDev
-4.3%
vibe: 4.5 | quality: 4 | service: 3 | selection: 4 | food: 3.5
I am shocked I have not reviewed this place before. I have been here many times and met up with my old college roomate here the other day. A very cool looking place with copper piping almost everywhere, I once heard there was £2M worth of copper in the place but who knows. . . that sounds like a lot to me. The pub is separated into different floors and rooms which I am finding difficult to explain but can give it a very cozy feel if you find the right nook or a more social feel when you are in a more open area. It can get very packed on the weekends so I don't go then. The beers are all kept rather well and being that they have mostly their own beers on tap they do a good job of making sure they are tip top, No cask here though which would be nice as I believe some of their beers would be GREAT on Cask. Service is pretty average, you always have to wait even if the place is empty and the staff are adequate enough. I have definitely had to ask for correct glassware on occasion though. Food is better than average but not by much. I don't think I ever will go there again to just get food, but a snack with beer is nice enough. the value for the area is fine. This is the kind of place I find myself going with non beer geeks who are visiting and they all seem to like it.
1,286 characters
4
/5
rDev
+2%
vibe: 4 | quality: 4 | service: 4 | selection: 4 | food: 4
This 3 level Dublin-based pub is one of the largest boozers, area-wise, that I've had the pleasure to visit during my on-going London Pub Crawl series. It was awarded the CAMRA/English Heritage award for conversion to pub use in 2002.
Neatly tucked away on narrow Maiden Lane, you first come upon a large garden patio (smokers paradise) preceding the fancy pants double-door entrance. The doors lead to a dramatically vast interior anchored by an immense wooden L bar. It's sort of like stepping inside a massive old wooden ship that a band of flamboyant, beer-loving pirates invaded, and then decorated.
The stairway down to the left leads to the basement level where the restrooms (more on them later), TVs and an entertainment stage are the focus. To the left of the bar, a wide stairway leads to a quite foyer nook halfway up the stairs. The top level provides you a more spacious seating area. Extensive (and expensive) wood and brass-trimmed brewery-related piping and plating run throughout. Even the hanging light fixtures are brass-trimmed. A very cool brass clock hangs over the upstairs balcony and can be viewed from most any place in the top floors. The wall nooks and windows are lined with Porterhouse beer bottles and knick knacks. It must be a bitch to keep clean!
It's a bit cluttered. I'm trying to spy the tap handles, but all the little doodads and bric-a-brac catch my eyes, forcing me once again to concentrate on the task at hand…deciding which beer to try next.
The seating choices are varied enough to suite any individual or group needs. Hang out near the bar on simple wooden stools, or relax upon cushioned leather armchairs and/or coach-style benches, or just stand around gawking, beer in hand. Choice is yours. Enjoy your surroundings early in the day, before the after work crowd arrives…unless you enjoy mob scenes. In that case, arrive at 7pm (1900) on a Friday night.
The on tap selections are brewed mostly by Porterhouse and poured under pressure. There are always a couple of "Real" ales and guest beers (Erdinger on this day) available. I can highly recommend the Plain Porter and the Turner's Sticklebract Bitter on cask. Lovely stuff! There are plenty of bottled selections from the wonderful world of Beerdom plus a solid selection of wines and mixed drinks for the folks not very interested this review.
The food menu is fairly extensive. A mix of pizza, burgers, fish & chips, standard Irish and gastro-pub food is available. The best option might be the fresh Rock Oysters. ½ dozen for 7 pounds is a very fair deal by London standards.
Now to the restrooms as promised; My wife felt a little uncomfortable going to the lady's room because a group of guys were hanging out by the door. We're sure they meant no harm, but creating a little separation between the restrooms and the lounge area would be smart.
All-in-all, an interesting pub with a bounty of very good beers to try.
Place Porterhouse on your 'Should' visit London Pub list.
3,016 characters
3.68
/5
rDev
-6.1%
vibe: 2.5 | quality: 4 | service: 3 | selection: 4.5
OK now this is a bit pricey just like every where in London but still you get quality/value for money and one of London's best selections of beers.
There is Doppelbock, Weizenbock and some Belgian Triples. There is also Califormian steam beer, Samichlaus and many others. I go there just for the selection since the food does not look that great and neither does the clientele.
It also tends to get packed quickly and very noisy. Location is good since it is right next to covent Garden and you can get everywhere from there. Nonetheless well worth a visit!
559 characters
4.13
/5
rDev
+5.4%
vibe: 4 | quality: 4 | service: 4 | selection: 4.5 | food: 4
This is the London arm of the Porterhouse Brewing Co. - supposedly Ireland's biggest independent brewer. It has the full range of Porterhouse's own brews comprising three stouts, three lagers and a handful of others including the monster Brainblasta and the Porterhouse Red.
If there isn't enough to choose from in their own range there is also an extensive menu of bottled beers from around the world with many of the finest examples of various styles to be found.
I've visited the Porterhouse both in London and Dublin and I have to say, I found the beer in Dublin far better - I believe they brew it all in Ireland and ship it over to the London pub so maybe the travelling doesn't do it too much good. Nevertheless, the beers are still good and a better selection than most pubs - and there are usually good guest ales on tap as well.
The menu consists of good pub grub and the atmosphere is good - almost constantly busy and the layout is something out of an Escher painting.
Always worth a visit when you're in London.
1,028 characters
3.89
/5
rDev
-0.8%
vibe: 4 | quality: 4.5 | service: 3 | selection: 4
The Porterhouse didn't look like much from the photograph in my copy of CAMRA's London Pub Walks. But it is really, really unique - the interior is like no pub I've ever seen, split between five or six floors and semi-floors, with all sorts of nooks and crannies bound up in a labyrinthine interior design or brass, steel, and wood. Reminiscent of Erector sets, the whole place has a pleasingly twisted layout and aesthetic, like an M. C. Escher drawing or a setpiece from a Jules Verne story. The reason it only gets a 4 from me for atmosphere is because it gets really, really crowded and loud - no doubt an inevitable symptom of its singular awesomeness and its proximity to Covent Garden and Charing Cross. Get there early and get out early.
Service is a tad surly, but that's understandable in light of the crowds. Though they have a remarkably interesting lineup of house-brewed beers as well as an extensive bottle selection, don't expect to talk beer with the barmen - they're busy. But the beers are very nice; there is only one real ale, the TSB, but you're sure to enjoy the other brews on offer, ranging from the brewpub's own excellent oyster stout to unexpected offerings from America and Belgium such as Goose Island IPA and La Chouffe.
Definitely worth a visit - and repeat visits after that. Easy to find near Charing Cross.
1,343 characters
2.68
/5
rDev
-31.6%
vibe: 3 | quality: 2.5 | service: 1.5 | selection: 4 | food: 2.5
My first impression of the place was good: nice interior, good beer selection, alright atmosphere. However by the end of the evening I was wishing I had gone somewhere else.
The layout is complex with mezzanine and sub-mezzanine levels spiraling above the ground floor area. There are small bars serving each little area but each one has a very limited selection compared to the main bar downstairs. If the nearest bar doesn't have what you want you have to find your way through the maze of stairs and levels to the main bar, which can be near impossible when crowded.
The beer selection does look impressive on first glance. However a large bulk of the selection is cheap lagers made to look fancy because they're from a foreign country. San Miguel from Spain, Kronenbourg from France, Stella from Belgium etc. And the beers that did look interesting where hard to get because they didn't have half of them in stock. House beers were standard - not bad but nothing exceptional. And it was a shame they only serve one, the TSB, on cask.
Service was awful. We were there when it was very busy - during an England match - but even so trying to get someone's attention whilst they're chewing their fingernails staring into space was hard.
1,245 characters
3.7
/5
rDev
-5.6%
vibe: 4 | quality: 3.5 | service: 3.5 | selection: 4
The only Irish pub I'll use in London.
A; It varies greatly from day to day and also at what time you get there, normally full of a good mix of Londoners and tourists enjoying themselves. Modern in design, but not plastic or cheap in any way.
Q; All the beers I tried were fine, not great, but better than most for Covent Garden.
S; They have trouble when it is really full, which is often. Otherwise no problems.
S; Good selection, their own brews of course, but others also, plenty of variety in styles and nationalities.
Covent Garden is not a cheap place to drink, this is a little bit more though. I don't go out of my way to come here, but if in the area, I'll pop in and have a couple, you should too!
723 characters
3.66
/5
rDev
-6.6%
vibe: 3.5 | quality: 4 | service: 3 | selection: 4
The Porterhouse was pretty close by our previous stop, The Harp, so it wasn't too long before RichLightWeight and I had another beer in our hands.
The Porterhouse runs high on the Irish brewpub theme, but it is tastefully done and thankfully devoid of little plastic leprechauns and shamrocks so often seen in the faux efforts, though the PH is the real deal. The design of the interior is first class, high quality materials have been utilized all over in the creation of a sprawling multi-level interior that is festooned with thick woods, copper, antiques, steel fittings and a lot of by-gone bric-a-brac including glass encased empty beer bottles from all over the World that form one whole wall. Intriguing décor is one that I could have walked around all day such was the interest level that it invokes.
The service is the 'look at me aren't I pretty' sort of affair. LOTS of identically dressed robotic servers, yet the service seemed a little slow, this is all the more annoying when you see groups if inactive chatting servers huddled together in gaggles like women do outside toilets. Still when they get around to serving the mere mortals it is quick, albeit without much conversation or even a smile.
Beer range is the highlight here and the whole reason for heading into the darkened warren past the bouncers outside. Serves a super varied range of Stouts, Porters, Lagers and other brews such as Pale Ale and Wheat beer, sadly most of them seem to be served on Nitro dispense. I didn't notice any Cask beer or even a Handpump, but RichLightWeight informed me that the Porterhouse definitely had both. The Oyster Stout which I ordered was very good, no doubts about that. In fact, all the beers are imported from the Porterhouse in Dublin, Ireland (hence the Beer Bar designation) and are of the best quality ingredients, but then they should be, because Brendan Dobbin was involved with most of them. I first came across his excellent beers at the equally legendary West Coast Brewing Co. in the very early 90's. West Coast Brewing had an inspiring California sunshine & beach inducing name, so did their beers like the infamous Yakima Grande Pale Ale, but it was actually situated in a shite-bombed barb-wired Pub called the Kings Arms in Chorlton-on-Medlock, Manchester; it all resembled a US military compound in Iraq, but Brendan Dobbin is certainly a very talented brewer and it is nice to see that he is heavily involved with the creation of the Porterhouse beers. A range of interesting bottled beers support the drafts, though the range is good, it is very expensive, far out of my thin wallet range.
Well, what to say about the Porterhouse overall? A nice enough place and a decent range of true to style beers, but honestly, there is just something missing here for me. *Soul*. Given the excellent high quality well-designed interior and the superb range of well kept beer I should love this place - but I really didn't take to this place at all. It was crowded and full of people who want to be seen rather than drink good beer, and that's fine, the Porterhouse is not just there for boring old farts like me to drink beer. From the penguins on the door, right down to the nightclub feel inside, it exudes image over content, which may be a little unfair, but that is how it feels to me, but as I say, perhaps I'm just an old git. That said, and my personal foibles aside, the Porterhouse definitely has great house beer, but it Nitro, and over-priced and I just cannot put up with all the posing around to get it, especially at the prices.
Worth a visit at least once, definitely for the beers, or even if you're on the pull - but I will not be in a hurry to get back here.
Last Visit: Saturday 24th June, 2006.
3,767 characters
3.9
/5
rDev
-0.5%
vibe: 3.5 | quality: 4 | service: 3.5 | selection: 4.5 | food: 3.5
A young and "colouful" Irish pub in the Covent Garden area, serving really decent stuffs... four stous/porters, four lagers, three ales and one hefe-weizen, plus recently added Kolsch they have around 12 house beers on tap, almost all are really decent and tasty, esp. the XXXX Stout, Plain Porter and Oyster Stout, way above the quality of lacklustre Guiness IMO. Hefe-weizen and Kolsch are both very nice too, beating quite a few German authentic stuffs I've had. Also on tap regularly are Fruli strawberry and Anchor Steambeer. They have a wide selection of world beers, too, though in my opinion the beer list is not good at all, with lots of commercial and macro stuffs and very little really hard to find else where, and all at rediculously high price. I'm never there for bottled foreign beers for that reason, only for fresh house nectars.
The place, which I've visited frequently since moving to London 15 months ago, is a hit and miss atmosphere-wise. In the afternoon up until, say 6pm during weekdays it can be really pleasant and relaxing drinking in there, with no loud music, large but interestingly arranged sitting plans, decoration of lots of beer bottles on the wall display shelves and many other stuffs, making it a lovable place really... But at night, esp. on the weekend evenings, the place becomes a totally different place, crowded, smoky, with incredibly loud music shouting from the speakers right behind the main bar, it's not accessible and rather like a dancing club, if only lighting was dimmer and all people were standing. Sometimes on early Sunday evenings there's live Irish music performance in a "traditional way", with performers themselves occupying a square table drinking and playing almost like for themselves. I like it, much better than overly loud club music later on at night.
An ultimate place for decent (non-macro) Irish brews in central London, but nothing is cheap there~~ And I'd rather use it more like a local pub (i.e. drinking in the afternoon). Recommended.
2,022 characters
4.3
/5
rDev
+9.7%
vibe: 4 | quality: 4 | service: 4 | selection: 5 | food: 4.5
Checked out the Porterhouse for lunch after a long morning at the Tower of London. It's actually only a short walk from several different tube stops, although it's closest to Covent Garden.
The interior is quite large with countless levels that seem to morph into one another. Lots of seats all over the place. The main bar is U shaped then on one end there's an extension with some seats. When I went downstairs to the bathroom I noticed there was even another level with another bar.
The beer selection was one of the best I saw in London. It's a brew pub and beer bar at the same time. So they have their own brewpub beers on tap as well a bottle menu with nearly 200 bottles from all around the world. The menu was very neatly organized with small little descriptions about beers as well. The brewpub beers were quite tasty and they even offered them in a nice sampler. 3 stouts, 3 ales, or 3 lagers. I just did the trio of full pints.
The food was also surprisingly good. The bar had "oyster bar" written all over it, so I had to try out a half dozen. Coming from Boston I'm used to some of the best oysters up and down the coast, so… they were good, but not great. The rest of the menu was very tasty though. A nice selection of burgers, sandwiches, salads and other main entrees. Definitely not your typical London Pub Grub, but a nice break. The cranberry and Brie sandwich was outstanding.
Simply put, this is not your typical London pub at all. The food is great; the beer selection is outstanding. It makes a nice little breather if you need a break from the cask beers and bangers and mash. Well worth checking out.
1,648 characters

4
/5
rDev
+2%
vibe: 4 | quality: 4 | service: 3.5 | selection: 4.5
This is an Irish themed pub located near Covent Garden. The interior is quite large, with 3 or 4 levels (hard to say for sure since the levels are built around many short staircases winding around the exterior walls, somewhat reminiscent of an Escher drawing). Lots of wood (floors, tables, stairs, etc.), some sky-lights, some TVs over the bars, a beer bottle collection adorning all the walls, brass railings and some marble floors.
12 beer taps, many of them offering nine Porterhouse brews from Ireland, including the Oyster Stout, Wrasslers 4x Stout, Plain Porter, Turner's Sticklebract Bitter, Porterhouse Red, An Brain Blasta, Hersbrucker, Temple Brau, Chiller (3 stouts, 3 ales, 3 lagers). At least 170 bottled beers from around the world. They have a nice 20+ page beer menu with good information about each beer including the ABV% and price.
The night I visited (Sunday) the place was very busy. There was a group of patrons (?) playing musical instruments near the front entrance. Seems to be a very populat place, and although the prices are a bit high, even for London, it is definitely worth a visit for the very good beer selection.
1,154 characters

3.7
/5
rDev
-5.6%
vibe: 3.5 | quality: 4 | service: 3 | selection: 4 | food: 4
Semi-Chain microbrew restaurant right in the heart of London. Very urban crowd and the "clubhouse" for all the Irish in London. At least it seemed that way on a Sunday night. Food was good quality but standard pub fare. Service was polite but not very informative. Copper is predominant everywhere and the place is huge, especially for London. If this place was in Boston, New York or Chicago it would be heaven but its London and it doesn't feel quite right. Worth the visit if your nearby but not an abolsute must stop when in London. Stouts were very good as you would expect.
579 characters
3.7
/5
rDev
-5.6%
vibe: 3.5 | quality: 4 | service: 3 | selection: 4 | food: 4
A pretty nice little beer bar just near the centre of Covent Garden. A nice (if a bit expensive) bottled beer selection greets you behind the bar, Beers from the big beer producing countries (Belgium, Germany) are here, including some trappiste beers, German Wheats, witbiers, pilseners etc. And a few American micros from Rogue, Anchor and Brooklyn. They also have there own beers (brewed at the Porter House in Dublin i think) available on draft, stout, pilsener, bitter, porter are styles coming to mind that they brew. All there own beers are pretty nice, pretty true to style, but nothing completely out of this world. The food is also pretty nice aswell.
660 characters

4.83
/5
rDev
+23.2%
vibe: 4.5 | quality: 5 | service: 4.5 | selection: 5 | food: 5
Went to England in October and made it a point to seek out a great brewpub. Unfortunately, nobody could direct me to one and there weren't any listed in Beer Advocate at the time--though there are now (and I did search when I got to London but with so much great beer, who pays attention to places that brew their own? How unfortunate). Anyway, the Porterhouse Brewing Company was listed in Beer Advocate, so I decided to seek it out. They had a great selection of 9 beers (3 stouts, 3 ales and three lagers) that are brewed in Ireland specifically for the Porterhouse (there are a few Portehouses in Ireland and this one in Great Britain). Anyway, they were all good to exceptional, though I don't think any were out of this world with the possible exception of the Oyster Stout . On top of these beers, they carried (at my count off the menu) about 170 bottled beers from places all around the world (including, to name a few, Cuba, Corsica, Cyprus, Kenya, Lebanon, Namibia, Nepal, New Zealand, Nigeria and Norway).
So, I had a very enjoyable sampler followed up with a couple of bottled beers. One which was very interesting is an American beer (believe it or not!) called Cray Ed's Chilli Beer (4.5% ABV). It even had a hot chilli pepper in it. The beer was spicy hot but not too hot. A really enjoyable change of pace.
The Restaurant was decorated with all kinds of beer paraphenalia. Coasters, beer bottles and the like from around the world. Many different levels with several bars and plenty of tables. The service was excellent and the food was really good. The beef stew was out of this world. I can't say a bad word about this place (besides all of the cigarette smoke, but those Brits really love their cigs---just like I love my beer, gotta have it!) This place was so enjoyable, we went back again the night before we left. Don't miss it!
1,854 characters
The Porterhouse in London, GB2, United Kingdom
3.92
out of
5
based on
19
ratings.