Dismiss Notice
Extreme Beer Fest:Los Angeles
Join us December 9th in Los Angeles for the ultimate throwdown of craft beer creativity!
Learn more...
Dismiss Notice
The Publick House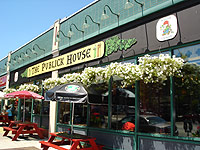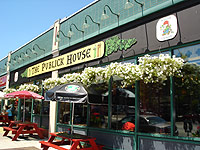 PLACE INFO
Type:
Bar, Eatery
1648 Beacon St
Brookline
,
Massachusetts
, 02445-2101
United States
(617) 277-2880 |
map
thepublickhousebeerbar.com
Notes:
No notes at this time.
Added by doerickson
PLACE STATS
Reviews:

262

Ratings:

pDev:

9.01%
HISTOGRAM
Ratings: 359 | Reviews: 262
4.7
/5
rDev
+5.9%
vibe: 5 | quality: 5 | service: 4 | selection: 5 | food: 4.5
Let's get this out of the way right away.
This is not an Irish pub. This is not an Irish pub. This is not an Irish pub.
OK? Got it?
It's got a spiffy (gaelic) name -- which we are told means "soul mate."
It's also "the beer bar of the moment" in the Boston area. It's in an upscale area in Brookline, right on Beacon Street with a number of high-level restaurants around it.
I am not sure if any of them can hit the level that Anam Cara operates on, and I *know* that none of them can hit its excellence in beer. In fact, it has the facets to be the best beer bar in Massachusetts and New England and deserves its place in the tops in the country.
Food first. I had the squid rings, nicely done with hot peppers and other garnishes. Perfect. Not greasy at all, not even at the botton. A broiled scallop appetizer was right there as well. I sampled a few other things including one of the few meatloaf plates that ever merited a $15 pricetag and some terrific fried chicken. Yes, there's comfort food and fancy food, too.
It's all done in dark wood tones. Nice rail tables, gorgeous bar. Drop-down bigscreen. Outside seating. Your kids will be comfortable here. There are lots of families with kids.
How do you know a place knows beer? When it tailors the glass to fit the beer it's serving. At one point, we probably had 12 people and seven or eight kinds of glassware at our table.
What's another way you know a place knows beer? When it has serious Oktoberfest beers during Oktoberfest.
The tap line is simply amazing. Stone Brewing, Dogfish Head, Cisco -- among others. Usually, I walk into a bar and there are -- at most -- three beers I "must have." I had four dufferent beers here, and there are at least that many left on my "must-have" list.
No. 3 in the least of how you know a place knows its beer? The menu has beer suggestions.
Did I mention one of the owners is a brewer?
I walked into this place after hearing a boatload of hype.
It lived up to everything!
But it's not an Irish pub!
Update: Have been back several times. Have not changed my opinion.
Was there yesterday afternoon (Oct. 25). Very busy, but they kept up, including with a large party and an almost full house. More than a half-dozen of us were there for the beer, and although I would have never expected it, the beer selection has gotten better. Staff continues to impress.
2,405 characters
4.78
/5
rDev
+7.7%
vibe: 4.5 | quality: 5 | service: 5 | selection: 4.5 | food: 4.5
Well, it's quite something to visit a great BeerBar for the first time & revel in its splendor. It is a pleasure to do it with a traveling beer drinking friend, my good buddy 'xlperro'. BUT! - It is really quite the treat, when it's done as part of the pre-Stammtisch AoBF2 Bash, in the presence of so many legendary BeerAdvocate buddies, with whom I had so longed to meet. I was NOT disappointed by the Bar, or the BA's, in fact, it was quite overwhelming.
The Bar itself is towards the end of the Green 'C' Line, Washington Square if I remember rightly. I just knew the Anam Cara would be great as soon as I walked in. For me it felt like it had all the attributes of a great Belgium Bar; slightly dark, brownbar walls, some stain-glass Church-like windows, Breweriana, Domestic & Foreign Beer Posters, Adverts, about 25 Taps, a range of varied Glassware & Bottled Beers. It immediately gives the place a "quality beer establishment feel". The bar is to your left as you enter, with a wooden floor & a few Tables in front - where the BA Clan were all sat. Beer range is, as everyone else has said, extremely good. I really enjoyed the Rapscallion - Mmm. The lower level to the right, is nearly all Tables & a bit Dining orientated.
Talking of which, the Fish n' Chips were outstanding (Thanks JohnnyP!), the Fish was especially well cooked, white, chunky, fleshy & fresh - the Chips were proper as well, none of that French or Frozen crap - they're home made. They even gave me some Malt Vinegar to accompany the Salt - without me even asking.
The thing that *really* impressed me was the Service; it was quite simply, First Class. It was crowded & busy on our visit, & later on with JohnnyP & xlperro's gymnastics, a little rowdy, but in a very friendly reunion kind of way. Nevertheless, service at the crowded bar, sometimes two or three deep, was always cool, courteous & you were never served out of order – something that is very customer friendly because it always makes you relaxed & less pushy, knowing that if you wait your turn, you will be duly served. That's rare these days, but welcomed. Very professional, & even at demanding times, accommodating Staff. They more than earned their Tips on our visit.
I entered with One Great Friend – & Left with an Army of them.
A night I will long remember...
...& this was even before the Stammtisch!!
Sheer Bloody Brilliance, I am DEFINITELY coming back here.
Just try and keep me away.
Last (? Latest!!) Visit: 12th September 2003
2,524 characters
4.05
/5
rDev
-8.8%
vibe: 4.5 | quality: 4 | service: 4 | selection: 4 | food: 4
Hey, I might as well jump on the Anam Cara bandwagon too. I don't think there's a lot more to add to the previous comments. AC is very comfortable and inviting. The exterior is adorned with detailed woodwork and windows with hanging flower baskets like the classic pubs of the UK and Ireland. Outdoor seating is available (of course weather permitting). Over the last half dozen visits, the service and quality has been consistently very good. Although, last night it seems that there were three individuals sharing the bartending duties with no one person consistently there, leaving some holes in my service as well as other patrons'. I enjoyed several pints of the Cisco Whale Tale Pale and some fish and chips. The fish and chips were tasty and the portion adequate but probably not worth the $13 they charge for them. On another recent occasion, I had an old bottle of Schneider Edel-Weisse served to me (2001 expiry). But the staff is human after all and those are minor complaints and nothing that would prevent me from returning. Overall AC is a great place to enjoy an eclectic mix of draught and bottled beers. It's one place that's made working in Boston this summer a pleasure.
1,192 characters
4.5
/5
rDev
+1.4%
vibe: 5 | quality: 4.5 | service: 4.5 | selection: 4.5 | food: 4
If this is an Irish bar take me to Ireland. When you first walk up to the place you notice a couple of tables outside for out door seating. The inside is very gothic and at the same time inviting. Its kind of like you stepped into an old bar that's been there for hundreds of years. There is seating on two different levels. The bar is located on the top level and is an L shape with about a dozen seats or so. The bottom level has about ten tables or so. Everywhere you look you will see beer paraphernalia on the walls. They have an excellent beer selection with about 20 to 30 beers on tap and even more in the bottle. They have hard to find American beers along with an extremely good selection of Belgian and German beers. All beers served in the correct glass and at the correct temperature. The food is not bad with a very diverse menu that even suggests a beer with what every your eating. It is right of the C line. It is a little ways out of the city but it is a must visit while in Boston.
1,001 characters
4.5
/5
rDev
+1.4%
vibe: 4.5 | quality: 4.5 | service: 4.5 | selection: 4.5 | food: 4.5
Very impressed when we were here yesterday for a Stammtisch meeting, it was our first time.
Lots of Celtic/church like details, primarily in all the arches. Nice light walls, a ton of dark wood, beer ephemera, what else can you ask for?
The beer list was very nice, I would wish that there were more pilsners or helles, or at least different ones. Other than that, good selection of East coast American styles. Nice bottled selection broken into beer styles. Specialty glasses to go with many of the beers, and the beer temp was really good.
Food was good: my clam chowder was piping hot.
I will come back here again, hope we have more BA functions here. It was nice, new, clean, and non-smoking. My only suggestions would be more different pilsners and cask beer, which I am told will be coming.
I could find no faults at this place! :-) pat
857 characters
4.65
/5
rDev
+4.7%
vibe: 4.5 | quality: 5 | service: 4.5 | selection: 4.5 | food: 4.5
This has to be one of the most comfortable, non-pretentious bars in the Beantown area. The selection, while not the largest, is certainly one of the best. The Wolnzack Burgerbrau 60% Rye is by itself worth a visit. Pauler Hefe Weizen, McNeill's Duck' Breath Bitter, Arrogant Bastard, Sam's Summer, Carlsberg, Hoegaarden, Magic Hat #9 and Cambridge Brewing Saison are but a few of the draft selections. It's always great to see fresh specials from the Tap and Cambridge! Lots of Abbeys, Trappists, Lambics and Gueze for the Belgian fans and Lagers and Hefe-Weizens for the warmer days. There are also plenty of English style ales to enjoy. The taps are well cared for, so everything tastes as it should. I plan the visit at least 6 times a year to enjoy their seasonal entries and also to sample more of their food. Speaking of food, this is pure bliss comfort food. Try the Mac & Cheese w/ sausage!
898 characters

4.58
/5
rDev
+3.2%
vibe: 4.5 | quality: 5 | service: 4 | selection: 4.5 | food: 5
Anam Cara is located on Beacon St. at Washington, right on the Green Line. The Beacon St. front is glass windows. There was one TV showing sports. The bar itself is relatively small, and most of the establishment has table seating (more geared towards being a restaurant than a desination bar, perhaps). The bar is brown wood, and the decor is reminscent of the inside of a church or monastery, complete with some stained glass, carved wood moldings, and some gargoyles above the bar.
I counted 22 taps including Guinness, Tetley's, Murphy's, Belhaven, Boddingtons, Paulaner Hefeweizen, Harp, Harpoon, Sam Adams, Magic Hat, Sierra Nevada, Rapscallion, and Coors Light. They also offered 22 bottles including Newcastle, Samuel Smith, Lindeman, Chimay Red, Allagash, Anchor, etc. For the most part, beers were served in the appropriate glass. The bar also seemed well stocked with Irish Whisky.
It is a comfortable place, and other patrons praised the food, which I did not try. At least one of the bartenders was from Ireland and said they like suggestions regarding beers.
8/31/03
I have been back serveral times since my initial review. The place has just gotten better and better with an even larger beer list and a bit more atmosphere. Their use of the proper glasware (glasses and coasters often matching the exact beer) is a great touch. I also got a chance to try the food, which is quite good. Great place! (Scores modified to reflect these recent visits.)
9/15/03
Have had food there a couple of times now. Very, very good. Had some Venison Stew on special the other night - delicious!
1,608 characters
4.83
/5
rDev
+8.8%
vibe: 5 | quality: 5 | service: 4.5 | selection: 5 | food: 4.5
A beautiful Irish pub. They have at least six nitro taps from across the sea plus some other very good selections on tap including a few Sierra Nevada and Magic Hat brews. The service was great even though they seemed to be understaffed. They really know how to pour the nitros so stop in and grab a few pints. Oh and the whole no smoking thing is awesome! I can't wait until May when all of Boston adopts it.
409 characters
4.88
/5
rDev
+9.9%
vibe: 5 | quality: 5 | service: 5 | selection: 4.5 | food: 5
This is an Irish-themed pub, very tastefully done. Good selection among the 24 taps, and a very interesting array of bottled beers. The bartenders pour the best pint of Guinness to be found around Boston. I've had several of the appetizers, all of which were outstanding, particularly the scallops and the ribs. The Sunday Irish brunch is supposed to be great as well. There's live music some evenings (although I'm not sure which ones). And a nice bonus is that Anam Cara is located in smoke-free Brookline, so your beer doesn't taste like you're drinking from an ashtray. Just a great place to park yourself for a few beers. Definitely check this place out.
660 characters
The Publick House in Brookline, MA
Place rating:
4.44
out of
5
with
359
ratings