Fenwick Beer & Wine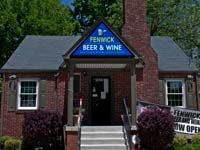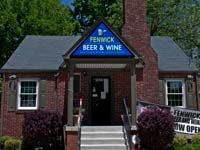 PLACE INFO
Type:
Store
1327 Fenwick Ln
Silver Spring
,
Maryland
, 20910-3553
United States
(301) 650-5770 |
map
fenwickbeerandwine.com
Notes:
No notes at this time.
Added by BDub519 on 04-05-2010
PLACE STATS
Reviews:

13

Ratings:

pDev:

15.87%
HISTOGRAM
View: Place Reviews
Ratings: 15 | Reviews: 13
4.65
/5
rDev
+23%
The first time I stopped in Fenwick Beer & Wine, another customer came in just behind me. He asked the owner (Suman) if they had any Landshark Lager or Bud Light. Suman very politely replied, "no, we don't" and suggested the man try something tastier that the store had to offer. Unfortunately, the man was in no mood to be "converted" and left in a huff. It was at that moment, I instantly became a fan.
Despite Montgomery County's arcane restrictions, Suman has built a decent stock of beers. You can get six-packs or cases of some of the larger craft brewers: Sam, Dogfish Head, Flying Dog, Lagunitas, just to name a few. One shelf is full of the more expensive six-packs like Weyerbacher, 21st Amendment, Butternuts, etc. Finally, the last set of shelves features the large selection of Belgian, British, and U.S. beers in 350ml bottles. I was surprised to see some African beers for sale in single 12oz bottles.
And if you don't see a beer that you are looking for, don't be afraid to ask. If they are available in Montgomery County, Suman is willing order it for you. Upon my request, he ordered some Climax Nut Brown Ale (in 1/2 gal growlers!).
Before we would have to drive into DC to fulfill our craft beer and Belgian beer urges. But now we are so happy to have a store in our neighborhood with a fairly large variety.
1,332 characters
4.6
/5
rDev
+21.7%
The first time I walked into this store my reaction was that I wanted to buy their entire stock. The owner Suman is dedicated to his craft and offers a VERY large selection of beers with imports from several different continents. The store itself isn't all that large but it doesn't really matter all that much. Living in Maryland I can honestly say that I could find prices a bit cheeper crossing into the DC line, however I would rater spend the extra couple dollars here and support a local business that is dedicated to its craft especially since the store owner can't buy directly from the source, that being said his prices are fair. So if you live in the MD DC area and love beer, give this store a try.
P.S. If They don't have what your looking for in stock they can and will order it for you if its in their distribution circui. One more thing to note is that their wine selection is exceptional as well.
914 characters
4.58
/5
rDev
+21.2%
vibe: 4 | quality: 4.5 | service: 5 | selection: 4.5
Fenwick has a great selection of beers from around the world (and wine). Its the best store in Silver Spring / Takoma Park hands down.
I have a hard time going in and not spending at least 30 minutes looking over all their wonderful beers. I have found most of my favorites there, and when I havent, the owner was very willing to try and get them for me.
The owner is approachable and informed. I came in with a list of beers from BA top 100 and he sat down with me and told me what he had and what was coming.
Oh yeah, they have a free beer (sometimes wine) tasting every Friday.
584 characters
4.1
/5
rDev
+8.5%
vibe: 3.5 | quality: 4.5 | service: 3.5 | selection: 4.5
Fenwick's is a quaint little "boutique" beer (and wine) store located a few blocks from Silver Spring's Metro Station (Red Line). From outside, it appears to be a normal house situated on a generic block in this ultra-generic suburb of Washington, DC.
Walk through the double doors, grabbing a current copy of "Mid-Atlantic Brewing News" on the way, and you enter into a tight space, crammed with stacks of sixers ad cases spread out in no particular order. The beer is stacked somewhat arbitrarily with no logic or reason. That said, what beers are stacked represent a wide range of well-known craft brewers from aroun the country. One promising sign: no sign of any BMC crap. Does Stella Artois count?
If you can squeeze around the stacks to the rear corner on the left, you can get to two metal shelves holding a really fine selection of bombers - and a wide variety of bottles in all sizes and of all ranges of style. Plenty of Belgians are here for your salivation. Fenwicks offers a well chosen arsenal of bombers, to say the least. (Just had to work in that phrase. Forgive me)
One caveat: the exorbitant prices. A sixer of Troeg's will set ya back about $15.00, including Maryland's jaw-dropping 9% tax! Damn! To be fair, however, this is Maryland, a state dominated by left-wing zealots who just want to tax you until your rectum bleeds and then tax the blood.
They also carry New Belgium for $4.99. Still, I was impressed. While I cannot envision myself making too many visits here (since I truly despise Silver Spring), I will most certainly recommend Fenwick's to those who live here (if you call this living) or to any poor bastard unfortunate enough to find themselves here and looking for some decent beer.
1,727 characters

3.98
/5
rDev
+5.3%
vibe: 3.5 | quality: 3.5 | service: 4.25 | selection: 4.5
I stopped in here today as I was in the Silver Springs area. It's primarily a beer shop with a small wine selection. The vibe is standard bottle shop. Service was good as the person working the store offered a few times to assist me, if he could.
The selection was one of the better ones I've seen in the area.
Overall, if you are in the area, I recommend stopping by because you might find something you won't other places. I visited several shops in the area and this was the only store I bought anything. However, as others have pointed out the majority of stock is sitting out on the floor at room temperature, which immediately rules out hoppy beers for me. However, if that does not deter you the age of the hoppy beers will.
Even with those last two caveats, I recommend stopping in here.
801 characters
3.94
/5
rDev
+4.2%
vibe: 3.5 | quality: 4 | service: 4 | selection: 4
I lived in Silver Spring for a few years and this place was my go-to beer store, simply right around the corner from my apartment. The had beer or wine tastings almost every Friday, which was a bonus. The IPA stock can be somewhat old and the prices are kind of high, but can't really blame them too much because they suffer from the Montgomery County regulations. The owner and his wife are super friendly people who are willing to help you out when they can.
460 characters

3.9
/5
rDev
+3.2%
vibe: 4.5 | quality: 3.5 | service: 4 | selection: 4
I will begin by saying that this review may be a bit biased. There is a soft spot for me here, mainly because I greatly appreciate a respectable beer store located in my immediate vicinity, especially one that offers an above average selection of craft brews.
First off, don't let the outside of Fenwick Beer and Wine serve as a deterrant. Despite its being located in what looks like someone's home, replete with a three room interior and hallway (mindful of the groundfloor of a family residence), this is a beer and wine store. The beer is located in the front left room. That approximately 12 by 12 space is crammed with a very respectable presentation of high quality craft and foreign brews. Six packs and cases are mainly comprised of American offerings. Good representation of regional brews (including usual suspects like Dogfish, Clipper City, Victory, and Flying Dog) along with the requisite national craft breweries (a full run of Sam Adams styles, several from Sierra Nevada including regulars and seasonals), and larger breweries from other parts of the country (Oskar Blues, Lagunitas, Stone, Boulder, and Abita). Pretty decent accounting for good German, British, and Belgian breweries as well. Many of these could be called regulars (Schneider and Sohn, Spaten, Erdinger, Warsteiner, Sam Smiths, Urthel, Dupont, St. Bernardus, and others.) Single large bottles run the gamut from regulars to slightly obscure. Several from the Bruery, Brooklyn, Stone, Southern Tier, Ommegang, Corsendonk, and Unibroue join more rare brews from St. Feullien, Koningshoven, Bournem, and some others. On the whole, not the most comprehensive selection, but pretty good nonetheless. And the stock is always improving. The owner is committed to bringing in a wider variety of beers and so far has greatly expanded his product from the store's early days. My selection rating will probably be upgraded in coming days with more additions.
One concern that I have with Fenwick's products is related to the interior dynamic of the shop. The beer is located in a section of the house/store that has quite a bit of light exposure. There are several windows with light coming from a variety of angles. Although there are shades in the room, quite a bit of light still comes through, possibly compromizing beer in green or clear bottles. As a result, I will probably never buy non-brown bottled beer from the store until this situation changes. Also-and I'm assuming that due to space restrictions-none of their beers are refrigerated. I have yet to experience any quality issues with beers (all that I've checked are within suggested date codes), but the light issue could be a problem for some.
Service is very good. I've met the owner a couple of times and he is very friendly and knows quite a bit about his products. He is also very enthusiastic about owning a beer store that caters to lovers of craft brews and is committed to excluding American macros from his selection in the interests of promoting better beer. The weekly tastings are also a huge plus. Very nice touch.
On the whole, Fenwick Beer and Wine is a nice addition to the local beer scene. Its location and independant, small-sized status also make it attractive as a neighborhood craft beer (and wine) store. All local BA's should check this place out and consider becoming patrons due to its mission. Glad it's here.
Review Edit 2.20.11: Fenwick has further developed their inventory of craft beer offerings, as promised by the owner, since its early days. Selection score has been amended accordingly.
3,572 characters

3.85
/5
rDev
+1.9%
vibe: 4 | quality: 3.75 | service: 4 | selection: 3.75
My current go-to shop. This is the best place to purchase beer in Silver Spring. Pretty laid back, owners/staff are very friendly and helpful. AWESOME selection of Maryland and DC beer, other stuff isn't so great. They have to go by Montgomery County rules, so I give them a bit of pass. A little pricey, but given location, seems ok. Check dates, though, especially on IPA type stuff. You can find some real gems on things that could do with some age here and there. I'd skip it for most imports
496 characters
3.8
/5
rDev
+0.5%
vibe: 3.5 | quality: 4 | service: 4 | selection: 3.5
A very small unassuming store that is laid out fairly easily. However, there is a lot to see and everything is out in the open but it doesn't seem like much is organized very well. It's clean though however, reading the handwritten prices is sometimes difficult.
Speaking of prices it's Montgomery county so this is not a bargain to shop here. Selection is a little better than average but there are other places to go to find these items for much cheaper. Some regular 6 pack items are also ridiculously expensive. I am also guessing there are some items here that have been around for some time (there were some Southern Tiers I saw released last year that were still on the shelves here). Also for imports here, there's a good selection of UK brews here also compared to other places.
There was though a nice find here for me, I've been wanting a Houblon La Choufe glass but figured I'd have to pay through the nose to get one, but there was one here and I quickly grabbed it.
Service is fine and cordial and the staff is nice. I think the county though is going to raise alcohol taxes which makes for another hard sell of this place but time will tell. This place though will do ok in a pinch, but don't expect to find something really obscure here.
1,256 characters
3.73
/5
rDev
-1.3%
Good customer service as should be expected with a small store. Prices are....Montgomery county, but the selection is fairly good for the county.
146 characters
3.4
/5
rDev
-10.1%
vibe: 4 | quality: 3 | service: 3 | selection: 4
I was in Silver Spring and my friend had told me about this place, which had a large selection of beers. It seems to be situated in a house. It was cramped with beers all over the floors and along the walls. Everything was warm, so don't expect to find any refrigerated (bad news for hoppy beers).
The selection is one of the better ones, but it is Montgomery County. The prices here are astronomical, to say the least. Don't forget there is an additional 10% state liquor tax that is slapped on top of that. Their selection of bombers is good and I can find some stuff that I usually only see in the bigger stores like Corridor or State Line.
It's worth stopping by, but I'm concerned about the quality of the beers. Hoppy beers kept at room temperature is not a good thing.
777 characters

2.99
/5
rDev
-20.9%
vibe: 4 | quality: 3 | service: 2 | selection: 3.5
I drove all the way out to this place from Virginia searching for a beer to give to a fellow BA (who was coming into town) and was told the day before from a telephone conversation that they actually had. Well, I showed up and guess what?
This place is located right smack dab in downtown Silver Spring. Nice surroundings, nice parking, etc.
Atmosphere: This place is impeccably clean from top to bottom: floors, windows, restrooms... the whole nine yards!
Quality: Yep.... this place has all the local stuff, but that's about it.
Service: Sigh... I'm now tainted here because I drove 50 minutes for a beer that I was told (adamantly, mind you) was on the shelf. It most certainly wasn't. Still, the guy apologized profusely, I took a look around to see if there was something I wanted, then I was on my merry way.
Selection: All the local DC stuff was here, but not much more. This was a small store, with very limited capacity.
Value: OUTRAGEOUS! For example: While browsing, I saw bombers of DFH Theobroma going for over $16! Also, all of the Southern Tier and Smuttynose items went for much, much higher than I've ever seen them go before. Ridiculous!
If you live in this area and you're in a pinch, shop here with caution. However, don't drive great distances like I did just to be disappointed.
1,309 characters
2.81
/5
rDev
-25.7%
vibe: 3 | quality: 2 | service: 3 | selection: 3.5
I want to like this beer store as the selection "can be" impressive, the owner goes out of his way to assist with your selection, and they usually have a few of the most recent releases available at the counter. However, as has been stated in other reviews, the prices here are downright outrageous (at least $1 more than your average MoCo beer store) and, if you're not extremely careful, you'll end up buying a product that's well beyond it's "best by" date. Take this example - 6/26/14 visit to FB&W, grab a bottle of Maine Beer Mo Pale Ale, which was front and center on the bomber shelves and on sale for $6.99. Great deal, relatively speaking, blinded me to the fact that the bottle on date was 8/13/2013... almost a year old pale ale, sitting under fluorescent lights "aging" at room temp - seriously?!?! Entirely my fault, but really feel like I shouldn't have to double and triple check to make sure I'm buying a quality product. For the record, this is the second time this has happened to me when buying beer from FB&W (you'd think I would have learned the first time...) - FW Union Jack 6-pack for $16.99 - ridiculous price and the 6-pack I grabbed with 7 months old...noticeable reduction in taste/quality. For these reasons, I have a hard time recommending this beer store.
1,287 characters

2.6
/5
rDev
-31.2%
vibe: 2 | quality: 3 | service: 2 | selection: 3
Situated near Silver Spring metro (~2 long, long blocks). This store looks like it is in a little cottage. I was able to squeeze my car in their little parking lot. Walked in and half of the store had overpriced six packs of beers that I can get much cheaper at Whole Foods or Total Wine (I guess they have the upperhand in the area due to accessibility but I believe there's a Whole Foods nearby). The other half of the store has a decent wine collection. The beer bombers seem decent priced to me however. Staff did not approach me asking me if I needed assistance. Music in the background sounded like techno. Interesting place but will not visit again.
656 characters
Fenwick Beer & Wine in Silver Spring, MD
Place rating:
3.78
out of
5
with
15
ratings