Six Years

Hill Farmstead Brewery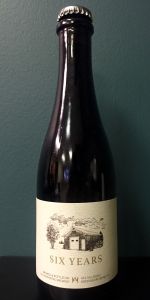 Write a Review
Beer Geek Stats:
| Print Shelf Talker
Style:

ABV:

not listed

Score:

92

Avg:

4.34

| pDev:

9.22%

Reviews:

14

Ratings:

From:

Avail:

Retired (no longer brewed)

Wants

Gots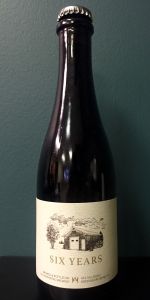 Notes: Brewed September 2010, this burgundian ale was aged for 50 months in oak wine barrels. Bottled in November 2014, this beer has been nearly 6 years in the making.

Six years! How quickly the landscape of the brewery, and beer has changed from a single building and with just myself and a vision to its present state. All the while, the beer we refer to as Six Years, was evolving - released to you as a symbol of our temporal existence.
StonedTrippin from Colorado
4.25
/5
rDev
-2.1%
look: 4.25 | smell: 4.25 | taste: 4.25 | feel: 4.25 | overall: 4.25
a special beer and i am thankful to have had this shared with me so generously! its really old now, bottled in 2014 but brewed in 2010 before spending some 50 months in barrels, some seriously extended ageing! it presents itself as a flanders red to me, between red and brown in the glass, murky with some fine sediment but also giving rise to over a half inch of tan fizzy airy head, lively for its age. the aroma is sharply acidic, bacterial and relatively intense, red wine all day, fruit vinegar, raspberry and cherry and tons of caramel and oak, good complexity but perhaps a bit more acidic than it needs to be, also potentially a product of its age. the flavor here is awesome, insane woody maturity to it, lactic sourness, clean citrus, cocoa, earthy malts and minerals, vanilla and maple, port wine, musty bretty weirdness, and a cool fruitiness beyond the wine. i fully expected a somewhat thicker texture, but this is light in feel for how woody and mature it is, poppy and fizzing like a soda in the glass and without all that much body, tannic and astringent but not at all heavy to me. a slow sipper because its so sour and so fancy, when its gone its gone i suspect, and so i enjoy it very patiently, making sure i get maximum pleasure out of this once in a lifetime bottle. i love this brewery, and it was awesome to be treated to some rare ones by my new beer homie! if you have one of these still, drink it soon, i cant imagine there is any improving left to do here in the cellar...
Mar 12, 2018
Alieniloquium from Florida
4.3
/5
rDev
-0.9%
look: 4 | smell: 4 | taste: 4.5 | feel: 4 | overall: 4.5
375 mL bottle. Deep red body with a medium off-white head. Smells of acidic red wine. Oak. A touch of vinegar and maltiness. Tastes pretty sour. Really strong red wine flavor that builds throughout. Sweet malts that come off as dark fruit get cut by some vinegar sourness. Strong oak presence. Dry finish. Medium heavy, but not sluggish. I did not expect this to be this good.
Jan 29, 2017

jhavs from New York
4.47
/5
rDev
+3%
look: 4 | smell: 4.5 | taste: 4.5 | feel: 4.5 | overall: 4.5
Bottle poured into two snifters.
Brown with a red/purple tint. Thin, tan head rings the glass.
Tons of oak, deep red wine grapes, and dark sweet fruits.
Complex and layered flavors, rich red wine lingers behind layers of funk, slight vinegar acidity, funk, and candied figs.
Moderate carbonation and high side of medium body.
Deep flavors, none subtle, but all remaining balanced.
Jan 02, 2017
parris from Massachusetts
3.78
/5
rDev
-12.9%
look: 4.5 | smell: 4 | taste: 3.5 | feel: 4 | overall: 3.75
Drinks kind of like a mild Belgian dark ale. Certainly an interesting beer, not at all what I was expecting. Prunes, toffee, maybe a hint of acidity. It improved as it warmed. Fun beer, but probably wouldn't go out of my way for another.
Jul 21, 2016

SinjaminBentek from Nebraska
5
/5
rDev
+15.2%
look: 5 | smell: 5 | taste: 5 | feel: 5 | overall: 5
375ml Bottle poured into a snifter
Appearance - Light red hue.
Smell - Vinous, sweet, very nice.
Taste - Sweet, tart, balanced, very complex. Extremely enjoyable!
Mouthfeel - Medium to high carbonation, medium to light body.
Overall - On the sweet side of the most complex things Shaun has done. No flaws...
Jul 15, 2016

Sabtos from Ohio
4
/5
rDev
-7.8%
look: 4 | smell: 3.25 | taste: 4.25 | feel: 4.25 | overall: 4.25
Hues of purple brown and ruby with a tan ring of bubbles.
Grape is tamped down by acetic vinegar and heat that make the nose foreboding.
On the tongue is a more complex and smooth experience. I get mixed nuts, spice, cherry, all woven into a slight acetic, but restrained sting. Some soft oak emerges.
Semi-dry finish.
Jul 10, 2016

jwjon1 from Pennsylvania
3.11
/5
rDev
-28.3%
look: 4 | smell: 3 | taste: 3 | feel: 3.5 | overall: 3
While I appreciate the time and effort that went in to this beer, it was a fairly lackluster flanders. Bottle at the source. And a pricey one at that.
The hallmark zippy acidity was not present, and if you told me this spent 3 months in barrel vs 4 years, I'd not second guess it: not much of an oak presence.
Always look forward to trying Hill's special releases, but this is one I'd pass on if offered again. Save the $$ and trade bait--go for a Jacobins. Or even Rodenbach classic. Yeah, I said it.
Jun 23, 2016

edthehead from New York
4.67
/5
rDev
+7.6%
look: 4.75 | smell: 4.5 | taste: 4.75 | feel: 4.5 | overall: 4.75
Had at HF served from a bottle into a stem glass. Beautiful beer with A brown half finger head that goes away after the first few minutes. Really nice oak barrel and wine tones throughout, on the nose and taste. Must be from the years of wine barrel aging. Exceptional!
Jun 23, 2016
PHBoiler from Illinois
4.43
/5
rDev
+2.1%
look: 4.25 | smell: 4.25 | taste: 4.5 | feel: 4.5 | overall: 4.5
Beautiful oak. Some vanilla & grape skin. Tart red grapes. Some oxidized cherry juice. That unmistakable Flanders sharpness. A hint of cheese funk. Figs and bing cherry skins. Impressive given the time in oak.
Jun 13, 2016
AlanBeerMan from Vermont
5
/5
rDev
+15.2%
look: 5 | smell: 5 | taste: 5 | feel: 5 | overall: 5
It's been a while since I've reviewed a beer on here, but HF pulled me back in with this one!
A: Dark, rich red when held up to a light source.
S: Very vinous. Oaky, dark candied fruits, balsamic and funk.
T: Just perfect. Again, opens vinous and oaky. There's a lot of classic, balsamic Flanders character here, but it doesn't veer off into overly-acetic territory like many American examples do. Tons of dark candied fruit -- fig, plum, currant, etc. -- supported by a pleasant level of dusty spicebox and leather character. Notes of sherry, but not in a badly oxidized way. This is really an incredibly complex beer. One to mull over. I split a 375ml bottle three ways, and it still took me the better part of a half-hour to finish my pour.
M: Drying on the palate, but not overly thin or chalky. A little prickly.
O: I'm really kicking myself for being out of state when this was released. I'm lucky and grateful to have had a friend willing to share his bottle!
Jun 10, 2016

Skrip from New Jersey
4.46
/5
rDev
+2.8%
look: 4.25 | smell: 4.5 | taste: 4.5 | feel: 4.25 | overall: 4.5
375ml bottle poured into a Hill Farmstead taster.
A~ dark red in the center fading to pink around the edges. no head and no lacing.
S~ holy oak! tons of oak and a lot of sweet dark fruits. figs, dates, and red/black currants all wrapped in leathery brett.
T~ follows the nose, a little sweeter here and extremely complex! every sip changes from sweet fruits to caramel malt to a little balsamic all staying within that leathery oaky goodness!
M~ little dry with nice carb. and extremely smooth!
O~ definitely one of the most complex HF brews to date! i'm honestly not sure how well this will age since its already been conditioned in bottles since 2014 before it was released but hey i'll give it a go! i definitely want to revisit this down the road, the way this brew changed with every sip is gonna make things interesting! if you're tired of the beer out there this will surely change your mind!
Jun 08, 2016
DevinK from Connecticut
5
/5
rDev
+15.2%
look: 5 | smell: 5 | taste: 5 | feel: 5 | overall: 5
Let me preface this by saying I'm not normally the biggest fan of sours, much more of a BA Stout or IPA guy, but figured while up on my journey to the "beer Mecca" I might as well grab this gem to try it out, and had some friends grab it for me to try and trade with.
It was well worth it, we opened the bottle to get a break from all the IPAs we had been drinking that weekend and suffice to say, we were all extremely impressed. I think this beer, more than most other sours I have had, has a nice complexity to it and abundance of flavors. Sometimes I think sours are just that, sour with very little depth to it, but this one had it all.
May 31, 2016

JStampler from Pennsylvania
4.96
/5
rDev
+14.3%
look: 4.75 | smell: 5 | taste: 5 | feel: 4.75 | overall: 5
Look: Dark Red/Burgundy but when put into the sun, it shines through bright red.
Smell: Sweetness and fruit on the nose with a bit of oak.
Taste: More tart than sour and certainly not mouth puckering but the balance is perfect. So much oak wine flavor in this which mellows the tartness and gives it tons of complexity. Dark fruit and Oak shine. I could drink this all day, every day.
Feel: Full mouthfeel makes it richer than your typical light bodied sour. The heavy fruit and oak put this in a league of it's own among sours/wilds.
Overall: This beer is beautiful and the length of time it spent in the barrel is apparent. It's certainly ready to drink now and I can't imagine that it could get any better with age, but I'd certainly like to find out.
The most impressive aspect of this beer to me is the quality product made due to such patience. Most breweries would have pulled this from the barrel a year or more earlier and bottled and sold it right away. The fact that they had the confidence to let this sit as long as they did and then let it mature in the bottle shows how much Shaun really wants his stuff to be perfect the day it's released.
May 31, 2016

swimdudemdr from New York
4.49
/5
rDev
+3.5%
look: 4.75 | smell: 4.5 | taste: 4.5 | feel: 4.25 | overall: 4.5
My initial response was "What the heck is a Burgundian style ale?" After thinking about it, I came to expect that Six Years would be similar to a cooking wine, like a burgundy or marsala. My predictions were not totally far-fetched. This review is based on the ~3oz sample I had at the brewery yesterday (5/26)
Look: Red/purple with khaki head. Fairly opaque, but not cloudy. 4.75
Smell: At first, a sweetness takes over, almost like concord grape. As I sniffed more, there was a tart complexity, similar to how a Tawny Port might smell. Quite welcoming. 4.5
Taste: Sweet, with a slight tartness. Sour is not overpowering as you could imagine a 6 year old beer might be. I rather liked it. Again reminds me of a Tawny Port. 4.5
Feel: TBH I don't entirely remember the feel of this beer, but there was something left to be desired. I had hoped it to be perfect and felt that it was lacking something. 4.25 since I can't remember
Overall: I am torn about this beer. It was a fine beer, but I'm not sure that I need to drink it again any time. I think the most appealing thing about it is the stigma, that is was aged in oak for 50 months is astounding and merits a lot of credit to Hill Farmstead for producing a beer that stood the test of time so well. 4.5
May 27, 2016
Six Years from Hill Farmstead Brewery
Beer rating:
92
out of
100
with
64
ratings