Flora Peach/Pear

Hill Farmstead Brewery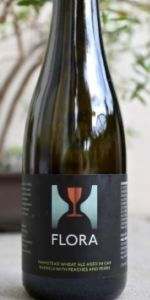 Rate It
Beer Geek Stats
| Print Shelf Talker
Style:

ABV:

5%

Score:

97

Avg:

4.53

| pDev:

6.18%

Reviews:

11

Ratings:

From:

Avail:

Retired (no longer brewed)

Wants

Gots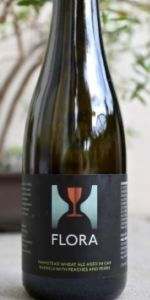 Notes: Flora is the wine barrel-aged version of Florence (1915-1967), our grandfather's sister as well as the name of our Farmstead wheat ale. A few barrels were selected—a portion of the beer was aged further on Vermont dessert pears, while another portion was aged on ripe northeast peaches. The independent threads were blended, resulting in a complex, delicate and slightly tart Bière de Table—an ale we would proudly have shared with Florence.

Sabtos from Ohio
4.23
/5
rDev
-6.6%
look: 3.5 | smell: 4.25 | taste: 4.25 | feel: 4.5 | overall: 4.25
Clear pale gold with no head, aroma is funky blue cheese, hay, barnyard and pear.
Taste brings more tart peach that's sweet and fruity with a touch of oaky, woody pepper in this crisp, perfect body that finishes semi-dry. White grape accompanies a little sting before a white wine exhale.
Dec 09, 2018

ArkyVaughan from New Jersey
4.74
/5
rDev
+4.6%
look: 4.5 | smell: 4.75 | taste: 4.75 | feel: 4.75 | overall: 4.75
On tap at FoFA 2018. I have a few of the fruited Flora over the year, but I think this one was the best I've had so far. Was in the top 3 for my favorite beers at the festival behind Residency 1 and Elaborative 5.
Aug 07, 2018

kevanb from Illinois
4
/5
rDev
-11.7%
look: 4 | smell: 4 | taste: 4 | feel: 4 | overall: 4
375ml bottle, poured into a Hill Farmstead oversized wine glass. Enjoyed on 2.3.17, reviewed from Tasting Journal.
The beer pours a bright golden color, hazy with little activity and a fizzy white head lots of large, loose bubbles, no height, no retention and virtually no lace. The aroma is quite acidic, peach fruit, funky with lots of bugs, lemon peel with oak and pale grain with a strong minerality that lingers. The flavors are more interesting, plenty of peach and apricot flavor, very floral and very tart and crisp. The oak barrel creeps up, very smooth, almost chewy and bringing out a nice subtle earthiness before the acidity and the sour bugs explode towards the finish with pear juice adding to the tartness and the characteristic Hill Farmstead well water flavor and soft pale grain. The mouthfeel is okay, coating, very lively and bubbly, crisp and dry with sour puckery finish.
Verdict: A good expression of fruit on the Flora base, but this suffers a bit from being overly acidic and not carrying enough of the base saison. The bugs and funk are nice, but just overpower the fruit from the beer and the pear is almost lost completely until the finish with just a pinch of tart earthy juice. A bit more balance and layering would've taken this to new heights.
Aug 29, 2017
PHBoiler from Illinois
4.35
/5
rDev
-4%
look: 4.5 | smell: 4.5 | taste: 4.25 | feel: 4.5 | overall: 4.25
The highlight of this beer is the pear on the finish that comes out more as it warms. The peach is fairly prominent up front and really kicks up the opening tartness. A little aggressive on the tartness for how I enjoy HF beers. Even as a small format, this was best shared. Not acidic but fairly tart.
Aug 21, 2017

Skrip from New Jersey
4.34
/5
rDev
-4.2%
look: 4.25 | smell: 4.5 | taste: 4.25 | feel: 4 | overall: 4.5
375ml bottle poured into a Hill Farmstead taster.
A~ clear gold on the first pour, got way hazier as the bottle went down. hardly any head and no lacing at all.
S~ tons of peach! like peach yogurt, followed by a little pear, white wine barrel funk and a little wheat on the finish.
T~ follows the nose but with more pear and way more acidicness here. more wheat and a little black pepper on the end.
M~ nice carb. but a little harsh from the acidicness.
O~ despite the harshness this is still one of my favorite fruited Flora's but only because i'm a sucker for pears haha! maybe I waited too long to pop this one but if it was smoother it would probably be a top ten for me!
Mar 15, 2017
stephenjmoore from Maryland
4.35
/5
rDev
-4%
look: 4 | smell: 4.5 | taste: 4.5 | feel: 3.75 | overall: 4.25
Pours a pale straw color with no head; not even a hiss of carbonation when opened. Aroma is big on tree fruits; peaches and pears come through along with big oak and some earthy funk. The flavor is very fruity, slightly tart, slightly sweet, very dry. The lingering fruity sweetness is uncanny, really like fresh fruit that was pulled from the tree. Feel is very dry, no prickly carbonation, lingering sticky residue. An exceptional beer that may not have been carbonated as much as it should have been, but the oak and fruit combo is incredible.
Jan 28, 2017

Damian from Massachusetts
3.83
/5
rDev
-15.5%
look: 3.25 | smell: 4.5 | taste: 3.5 | feel: 4 | overall: 3.75
Drank from a 375 ml (12.7 fl. oz.) bottle purchased at Hill Farmstead Brewery, Greensboro Bend, VT
Bottled 2016 06 22
Served in a tulip
Big thanks to my friend Bill for grabbing me this bottle.
The slightly hazed, ultra pale straw yellow liquid was topped by a finger tall cap of fizzy, bright white froth that dissolved within seconds. No head retention or lacing whatsoever. The beer soon looked completely flat.
Really interesting aroma. Super crisp and bright. Lots of dry white wine character. Somewhat musty and funky. Moderately fruity and tart. Underripe peaches were noticeable. Wheaty with subtle lemon notes. Hint of sweetness.
The flavor profile was definitely more tart and acidic than the nose. Almost a touch sharp. Wheaty. Quite dry. Some white wine notes appeared on the back end and in the finish. Lemony notes lingered after the swallow. Overall, fairly simplistic.
The mouthfeel was lighter bodied. Fizzy and quite bubbly. The liquid contained a fine, zippy effervescence that dissipated as the beer sat.
Hill Farmstead makes some of my favorite saisons on the planet, but this peach/pear version on Flora was a bit disappointing. The peach was only noticeable in the aroma and the pear was completely nonexistent. Furthermore, this beer contained hardly any of signature farmhouse notes Sean manages to pack into so many of his other amazing saisons. Without reading the bottle notes, I definitely would have mistake this for a golden sour ale, and a fairly mediocre one at that.
Dec 04, 2016
Shogun250 from Vermont
4.75
/5
rDev
+4.9%
look: 4.5 | smell: 5 | taste: 4.75 | feel: 4.25 | overall: 4.75
I am surprised at some of the lackluster reviews to this point. Out of Flora BBR, Flora B/B, Flora Plum I think this is my new favorite. Great blend of pear on the nose then peach on palate. Thought the sourness integrated well with the beer and flavors changes as it warmed. Had this twice and think this beer has so much going on and you get so many different flavors. BBR and B/B have some medicinal stuff going on and plum is pretty sour which I like but might over power everything else.
Nov 30, 2016

Jwale73 from Rhode Island
4.24
/5
rDev
-6.4%
look: 4 | smell: 4.25 | taste: 4.25 | feel: 4.25 | overall: 4.25
Bottle 2/22/2016. Pours a pale, milky yellow with a thin head that dissipates towards the shoulders. Nose expresses citrus, brine and cork. Taste follows nose with the addition of peach skin and lactose. Mouthfeel is light in body with a mild-medium acidity and a pleasant, even carbonation. Overall, very nice and unassuming. Not overly complex, but delicious.
Nov 23, 2016
earljones199 from New Hampshire
4.33
/5
rDev
-4.4%
look: 4.5 | smell: 4.5 | taste: 4.25 | feel: 4.25 | overall: 4.25
Pours a deep yellow with a little cloudiness.
Smell is overwhelming tart peach with a little of the base beer peaking through.
Taste is all super tart peach and sharp brett.
This beer is a little too tart right now.
I really liked this beer and would love to see how it tastes in a few months.
Oct 14, 2016
Alieniloquium from Florida
3.74
/5
rDev
-17.4%
look: 3 | smell: 4 | taste: 3.5 | feel: 4 | overall: 4
375 mL bottle. Hazy pale yellow. No head. Smells of strong sour peach. Oak. Maybe some pear. Light acidity. Tastes more of pear, but peach sourness overtakes it. Wheat. A little white wine permeates, but peach is strongest. Low carbonation. Pretty light. I think the sourness overwhelms the Flora.
Oct 11, 2016
Flora Peach/Pear from Hill Farmstead Brewery
Beer rating:
97
out of
100
with
65
ratings