Civil Disobedience Citrus

Hill Farmstead Brewery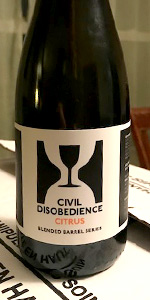 Write a Review
Beer Geek Stats:
| Print Shelf Talker
Style:

ABV:

not listed

Score:

90

Avg:

4.06

| pDev:

9.11%

Reviews:

13

Ratings:

From:

Avail:

Retired (no longer brewed)

Wants

Gots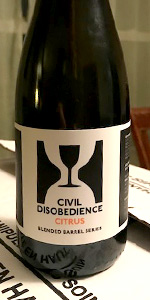 Notes: Comprised of Arthur and Florence, which were aged in barrels for between 10 and 24 months and then conditioned atop a variety of fresh organic citrus for many months. Bright, lightly tart and delicate, this enlivens the memory of spring citrus as we wend our way towards cooler temperatures.

Civil Disobedience, our nonviolent protest against the homogenization of flavor, comes in the form of a spontaneous, circumstantial and unpredicted series of beer releases. We relinquish control in favor of an anarchistic collaboration of microbial activity. This is the expression of our conscience, our opposition to oppression and an act of creative freedom.

Sabtos from Ohio
4.29
/5
rDev
+5.7%
look: 4 | smell: 4.25 | taste: 4.25 | feel: 4.25 | overall: 4.5
Lightly foggy pale amber with a short bubbly white head settling to a persistent blanket with a short ridged collar.
This is way better than I was expecting, and not as sour as I'd heard others describe it to be. Maybe it mellowed with time, but it's beautifully expressive and vibrant of woody funk with a very unique citrus character that reminds me of spiced orange and Spree, as well as other fruits like apple, passion fruit and pear. With time the woodiness even develops into a sort of cedary humidor characteristic. So unique.
The tingly, tart medium-light body finishes cleanly and just dry. After time the citrus becomes more puckering, but it's wholly from the flavor and not any increasing acidity.
May 30, 2019
Alieniloquium from Florida
3.58
/5
rDev
-11.8%
look: 4 | smell: 3.5 | taste: 3.5 | feel: 4 | overall: 3.5
375 mL bottle. Golden body. Smells of tangerine and lime. Acidic and a bit of white wine. Tastes of all citrus up front. Quite tart. Lemon and lime with some faint orange. White wine in the back end. Dry and oaky finish. Some sort of citrus flavor lingers that I can't place. It's not what I expected. All citrus and not much subtlety. Not the best from HF, but it's still a good beer.
Jul 09, 2018
angrybabboon from Massachusetts
3.85
/5
rDev
-5.2%
look: 4 | smell: 4 | taste: 3.75 | feel: 4 | overall: 3.75
Consumed 6/17/18
A: Deep gold with some yellow and orange highlights - nicely clear - pours with a medium sized white head, fades to a few wisps and a small collar, leaves some streaks and spots of lacing
S: Aroma seems more reminiscent of a cocktail than a beer - tons of citrus, with loads of orange, grapefruit, and lemon rinds, zest, and some juice - ripe undercurrents of saison and barrel funk - some lactic notes, but the emphasis is on acid - acidic funk and some citric acid - some sharp barrel - smells somewhat boozy, but I'm pretty sure it isn't, but again... it kind of smells like a mixed drink with a lot of triple sec of something along that line
T: Sharp citrus for days - tons of citrus, with a lot of orange, grapefruit, and lemon zest, rind - floral citrus and some spicy citrus - again, the amount of citrus is intense, as the name of this beer implies - some saison funk, with some notes of pepper - some light lactic funk notes, but it's mostly acid - lots of barrel and oak - puckering sour and tart notes - some light sweetness, with lingering acidity
M: Medium body, low carbonation, sharp acidity
O: Yo dawg I heard you like citrus
This is quite possibly the weirdest Hill Farmstead beer I have ever had... At least to the extent that it does not taste like a "typical" Hill Farmstead beer. It's a citrusy cocktail. It's worth a try, but I don't think I need to try it again.
Jun 17, 2018

kevanb from Illinois
3.43
/5
rDev
-15.5%
look: 3.5 | smell: 3.5 | taste: 3.25 | feel: 3.75 | overall: 3.5
375ml bottle, undated, "A blend of barrels aged on a blend of citrus" stamped on the label, poured into a 12oz wine glass.
The beer pours a very bright golden color, clear with a faint haze and a foamy finger of white head, loose bubbles that has good retention and yields plenty of soapy lace. The aroma is very citrus forward, tangy and tart, strong lemon rind, grapefruit juice, yuzu and lime, it's kind of all over the place with a bit of underlying saison, wine like acidity and funk with a bit of grain. The flavors are very peculiar, incredible amounts of citrus, strong and bitter rind, earthy but with bright and tart lemon, yuzu and grapefruit, excellently expressed, fleshy and ripe with some seediness and some wine like oak and funky floral character. The mouthfeel is interesting, moderate carbonation with a crisp and lively body, tart and dry that feels very soda like and finishes with a bite.
Verdict: An interesting saison from Hill Farmstead, extremely tart and citrus forward with hardly any saison base to be found. The citrus comes across a bit harsh and acidic, one dimensional and it tastes and feels a bit like a soda rather than a beer.
Apr 14, 2018
Phyl21ca from Canada
4.1
/5
rDev
+1%
look: 4 | smell: 4 | taste: 4.25 | feel: 4 | overall: 4
Bottle: Poured a bright yellow color ale with a medium white foamy head with OK retention and light lacing. Aroma of tart notes with some oak and some 5-alive citrusy notes. Taste is a mix tart notes with light acidic notes also noticeable with some oak presence with fresh citrusy notes reminiscent of 5-alive. Body is about average with good carbonation. I actually quite enjoy this one and I like how the citrusy flavours offset some of the acidic notes.
Jan 16, 2018

BoldRulerVT from Vermont
4.1
/5
rDev
+1%
look: 4.25 | smell: 4.25 | taste: 4 | feel: 4.25 | overall: 4
Poured from the bottle into stemmed HF glasswear.
Pours a nice light honey color, slightly hazy with pone finger of tiny bubbly head.
Aromas are a ton of citrus, lemon peel, candied lemon. Good yeast zest in background.
Flavors are much like a lemon drop/limoncello. Also good yeast here.
Mouthfeel was excellent.
Overall, nice beer and maybe a bit too much citric acid for my palate.
Jan 03, 2018

jhavs from New Hampshire
4.45
/5
rDev
+9.6%
look: 4.25 | smell: 4.75 | taste: 4.25 | feel: 4.5 | overall: 4.5
Bottle carefully poured into fluted snifter.
Big fluffy cloud head just off of pure white. Yellow straw with a hint of haze. Head settles and leaves a lot of clingy lacing and whispy collar and foam islands.
Aroma is full of citrus layers. Lemon zest, orange rind and juice, lime. Background of grassy grain and light hint of yeast and wood.
CItrus is definitely the defining characteristic of the flavor. All the bases covered, get lemon/lime/orange/grapefruit in all forms (juice, rind, zest, pith). Base farmstead brew keeps the flavors balanced and clean.
Moderate carbonation, soft, medium body.
Lots of layers of flavor, a nice addition to the CD line.
Nov 30, 2017

Tommo from Texas
3.26
/5
rDev
-19.7%
look: 3.5 | smell: 3 | taste: 3.25 | feel: 3.25 | overall: 3.5
Maybe this will age well, and i will revise. Bottle bought at HF, poured into a HF tulip. The Nose is a huge punch of really nice citrus and funk, however the flavor is all Rind. The body is medium, and the carb is solid. However, The overwhelming, absolute tone of this beer is orange rinds, its gross.
Nov 27, 2017
GreesyFizeek from New York
4
/5
rDev
-1.5%
look: 4.5 | smell: 3.75 | taste: 4 | feel: 4.25 | overall: 4
This one pours a slightly hazy light yellow, with a small fluffy head, and lots of lacing.
This smells incredibly pithy, with a huge Meyer lemon aroma, some clean herbal spruce, lemon candy, bready funk, and grassy funk.
The lemony citrus character is absolutely dominant here. It's not balanced and delicate affair Shaun Hill is usually known for, but it's still tasty. It almost kind of has a pine-sol taste to it, but I think that's the acidity, sweetness, and spruciness of the lemons, which definitely seem to Meyer lemons. There's not a ton of underlying funk- it's a bit bready and slightly grassy, but doesn't have the expressiveness I'm used to.
This is light bodied, and fairly juicy, with a good level of carbonation.
This is fairly good, but nowhere near the level of wizardry Hill Farmstead is known for.
Nov 13, 2017

Skrip from New Jersey
3.44
/5
rDev
-15.3%
look: 3.5 | smell: 3.25 | taste: 3.5 | feel: 3.5 | overall: 3.5
375ml bottle poured into a Lambiekstomper Geuze tumbler.
A~ dull light cloudy yellow with no head and no lacing.
S~ very chemical like, almost like kitchen/bathroom cleaner... i can pick out a few citrus fruits such as grapefruit, orange, lemon and lime. seems great but the mixture gives off an off putting aroma.
T~ sadly the same as the nose kind of medicinal, a little acidic, slight bready saison yeast and a little white pepper. i'm really searching here though its hard to get past the cleaner like flavor.
M~ nice carb but clawing, coating the mouth in sugar.
O~ i really thought i would love this... maybe we had a bad bottle? we all thought it had that cleaner thing going on and it seems like most people don't mind the clawing sugar aftertaste/feel but i got the same thing from Clover. with all that said this is still very drinkable but i can't see it getting any better just more acidic... unless we had a bad bottle of course!
Oct 25, 2017
Hyptochrons from Massachusetts
4.4
/5
rDev
+8.4%
look: 4.5 | smell: 4.5 | taste: 4.5 | feel: 4 | overall: 4.25
beautiful golden straw color with a thing white head that recedes quickly leaving little lace. aroma is oaky, funk, subtle tartness and pithy citrus. more of this coming through clean on the palate... picking up lemon, grapefruit, orange peel, hay, peppery earthy note, grainy, big oak. light bodied, very enjoyable!!
Oct 20, 2017
SadMachine from New Jersey
4.67
/5
rDev
+15%
look: 4.5 | smell: 5 | taste: 4.5 | feel: 4.5 | overall: 4.75
Pours a bright, vibrant gold with a medium sized white head that dissipates to a collar that leaves some lacing.
Holy citrus Batman! This just absolutely explodes with aromas of lime, lemon, and underripe orange. It's like they are all being zested directly into your nose! Some sweet orange and barnyard funk in the background, but make no mistake, this is ALL about the citrus!
The flavor is just more of the same! Really tart, lightly sweet limeade that us ultra fresh squeezed is the closest I could come to a direct comparison. There's some bright lemon, a touch of bitterness, and just a hint of funk. The wine barrel peaks its head out as it warms. This just continues to feature the citrus as promised by the name!
The mouth feel is medium, with excellent carbonation. A lot of puckering tartness, and a little drying bitterness on the finish.
This beer declares what it is on the label, and follows through with near flawless execution! Just phenomenal! As long as you enjoy citrus you should seek this out!
Oct 16, 2017

Stevedore from Oregon
4.56
/5
rDev
+12.3%
look: 4.25 | smell: 4.5 | taste: 4.75 | feel: 4.25 | overall: 4.5
375ml bottle. Served in a Hill Farmstead stemmed glass. Pours a slightly cloudy, pulpy golden orange body, one finger thick white head, perfect retention, lots of lacing. Smell is rich pulpy orange flesh and touch of grapefruit, light wheat, mild-moderate acetic tartness, a bit of white vinous character, lemon peel, light funk. Not too heavy on the Brett, lots of fruity citrus aromas abound. Flavour is ridiculous as in taking a bite into a freshly peeled grapefruit that has been briefly soaked in pulpy orange juice, wheat and slight grainy sweetness balanced with a moderate lemony acetic tartness, bit of white vinous character, orange pulp, touch of leather and hay, with a grapefruit pulp and zest bitterness on the backend. Wonderful, complex and as full of citrus as advertised. Mouthfeel is medium bodied, soft and slightly more carbonated than typical Hill saisons, which isn't a bad thing. Lots of grapefruit pulp and zestiness on the backend, a little bit like a grapefruit soda made with freshly squeezed grapefruit juice. Something like that. It's unique, and I found this to have more "juice" than Juicy, to be honest. Wonderful citrus-heavy saison that I can imagine Mimosa tasting like.
Oct 16, 2017
Civil Disobedience Citrus from Hill Farmstead Brewery
Beer rating:
90
out of
100
with
77
ratings