Works Of Love 2015: Cigar City 2015

Hill Farmstead Brewery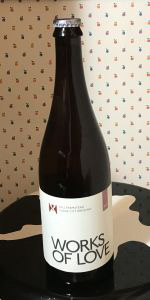 Write a Review
Beer Geek Stats:
| Print Shelf Talker
Style:

ABV:

not listed

Score:

93

Avg:

4.33

| pDev:

5.54%

Reviews:

7

Ratings:

From:

Avail:

Retired (no longer brewed)

Wants

Gots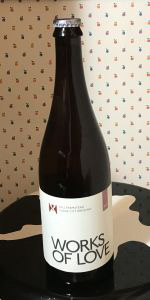 Notes: A wort consisting of American malted barley, wheat, oats, and hops was rested for 48 hours in the open late fall air in our coolship, and then inoculated with lager yeast. After fermentation, the beer was transferred to French oak barrels for nearly 14 months. After extended bottle conditioning, this beer is now ready.

Please note that this beer is highly carbonated; therefore, we recommend serving this beer around 40ºF/4ºC.

hops_for_thought from New York
3.87
/5
rDev
-10.6%
look: 4.25 | smell: 3.5 | taste: 4 | feel: 4.25 | overall: 3.75
Poured from a bottle (bottled Jan2017) into a Belgian glass
L: clear copper with a faint white head, fades after a bit. Very effervescent though, almost champagne-esque
S: musty, barnyard wild ale funk going on here. White wine grapes, oak, hay, grass, slight lactic-acid tartness. A slight peppery note as well? Wet blanket funk grows as it warms, plus a crayon wax aroma that I don't think is... good? Quick research indicates caprylic acid, more digging to be done
T: clean, tart flavor with a slight bit of funk but not much. That white wine character leads, tart green apple, slight grassy/hay note. Much less funk on the swallow than the nose. Gets more acidic as it warms. Medium finish
F: medium/light body, medium/high carbonation, decently drying
O: a nice beer, serious barn nose with a slightly cleaner swallow. The waxy aroma grows as it warms, which I'm not 100% a fan of
Jun 19, 2020

bobv from Vermont
4.45
/5
rDev
+2.8%
look: 4 | smell: 4.5 | taste: 4.5 | feel: 4.25 | overall: 4.5
750 ml. bottle.
Moderate pour into a Hill Farmstead tasting glass yields a 1/2 inch white head over a bright golden body with no lacing. Head dissipates to nothing in a few minutes. Nose of grass, hay, slight funk, yellow grapefruit, pink grapefruit, and oak. Tart citrus flavors with a touch of sweet citrus. The oak asserts itself to my liking after it warms a bit. Nice feel with a tart finish of citrus pith and oak. Cheers to Shaun Hill and his collaborators for a wonderful wild sour!
Mar 18, 2019

Sabtos from Ohio
4.18
/5
rDev
-3.5%
look: 4 | smell: 4 | taste: 4.25 | feel: 4.25 | overall: 4.25
Glowing burnt orange with a fuzzy off white blanket that quickly dies to a smooth, still surface.
Smell is woody funk with slight blue cheese paired with sharp citrus marmalade and black pepper.
Sharply tart, crisp and tingly, just before being too sour, the medium body tastes of red grapefruit, lemon and orange juices for days, with a lightly sharp and funky complexity that has a sort of white oakiness before finishing just semi-dry. It avoids straight up acetic acid while also having a sort of sherry vinegar character in the background. I mean it just tastes like...the wild air.
Jan 14, 2019
GreesyFizeek from New York
4.83
/5
rDev
+11.5%
look: 4.75 | smell: 4.75 | taste: 5 | feel: 4.5 | overall: 4.75
This one pours a dark-ish rustic looking orange color, with a small fluffy head, and lots of lacing.
There's so much going on here- there's lots of barrel- old white wine, pear, vanilla, and dry oakiness. There's also kiwi, and orange citrus, and lemon peel/rind, and all sorts of vague but tasty fruitiness. It smells so complex.
This is absolutely incredible, and one of the best Hill Farmstead beers I've had in a while. There's so much funky and fruity complexity here- it tastes like fruit was added, but there's nothing but spontaneously fermented goodness here. All of the fruits above are present, along with a long and intense oakiness that works really well here. I am floored by this.
This is light bodied, crisp, and funky and sour for a long time. There's a wonderful softness to the mouthfeel here.
This is one of the absolute best beers in the Works of Love series. This is SO good.
Dec 16, 2018

TheDoctor from Canada
4.14
/5
rDev
-4.4%
look: 3.75 | smell: 4 | taste: 4.25 | feel: 4 | overall: 4.25
Serving: Bottle
Brewed: Nov-2015
Bottled: Jan-2017
A:
Pours a clear brass color with a finger of white head that practically vanishes. No retention to speak of; no lacing. (3.75)
S:
Musty tartness. Vinegar-esque with some cinnamon and hay. (4)
T:
Thin, sharp, rising sourness with a little underlying funk.  (4.25)
M:
Thin body with moderate carbonation and a twitchy-tart-twang finish. (4)
O:
This is a nice sour, but as usual I am kind of at a loss for how to describe it. It has a faint hint of earthy barnyard character to it, but is predominately a beer with a thin, bright, clean, citric tartness that crescendos on your tongue until you're left with that lovely lingering tingle at the back corners of your mouth and the mouthwatering sensation that accompanies it. The most intriguing part to me with beers like this is that even though there is a simplicity to the profile that makes it easy to just say, "meh, it's sour", there is more depth to the overall beer than you will find in a lot of fruited sours or kettle sours and that speaks to the importance of going through the pain in the ass of using a coolship, etc. It is fairly drinkable and is quite enjoyable. (4.25)
Nov 04, 2018
Roguer from Georgia
4.45
/5
rDev
+2.8%
look: 4 | smell: 4.5 | taste: 4.5 | feel: 4.25 | overall: 4.5
Very sour nose; not tart, not fruity, but absolutely sour! Caramel, tannins, and vinegar feature prominently.
On the palate: wow, exceptionally sour! Apple cider, vinegar, oak, and caramel combine in a wonderfully sour package. Puckering on the palate, but otherwise very smooth.
No indication of lager yeast, but that's likely due to the strong sour notes. A wonderful beer!
Oct 24, 2018

kevanb from Illinois
4.36
/5
rDev
+0.7%
look: 3.75 | smell: 4.5 | taste: 4.25 | feel: 4.5 | overall: 4.5
750ml bottle, brewed in November 2015 and bottled in January 2017, poured into a 2018 Hill Farmstead FoFA stemmed glass.
The beer pours a lightly cloudy amber color, orange hues with a fizzy white head that dissipates quickly. The aroma is great, tons of funk, earthy and somewhat herbaceous, floral, buggy with nice citrus and beautiful oak profile, soft wine character but the wood and funk really shine. The flavors are wonderful, beautiful earthy funk, dry leaves, horseblanket, soft oak, light cereal grains, bright citrus peel, white grape that's a bit vinous and tart. The mouthfeel is good, crisp and lively medium body, coats well and finishes with a dry and tart bite.
Verdict: A very good Wild Ale from Hill Farmstead and Cigar City. There are a lot of lambicesque qualities to this beer, excellent funk expression and the barrel character is mild and adds nice complexities. The balance is good and the acidity is kept in check, very good stuff.
Oct 05, 2018
Works Of Love 2015: Cigar City 2015 from Hill Farmstead Brewery
Beer rating:
93
out of
100
with
27
ratings