Samuel

Hill Farmstead Brewery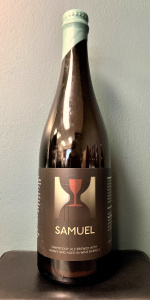 Rate It
Beer Geek Stats
| Print Shelf Talker
Style:

ABV:

6%

Score:

Avg:

4.68

| pDev:

4.7%

Reviews:

13

Ratings:

From:

Avail:

Rotating/Seasonal

Wants

Gots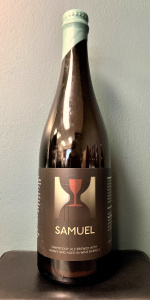 Notes:
Samuel Hill (1820-1899) was my great-great-uncle, brother of Ephraim, and a widely accomplished individual. He served in the Union army at the Battle of Gettysburg. An early agricultural innovator, he held several patents for milk cooling and cream separation; if you've visited our taproom, you've likely seen a reproduction of that patent on display. He moved a house, midwinter, with horses from North Greensboro to Greensboro Village and also helped build the first road from Greensboro to Greensboro Bend.
I spent more than 6 years contemplating such a beer that might be worthy of Samuel's name. In an attempt to honor this intrepid relative, I realized that his namesake beer must be comprised of the same nuances that defined two of my favorite beers: Le Sarrasin and Vera Mae. We set out by crafting a base of buckwheat, spelt, Vermont wildflower honey, and the same hops used in both Vera and Sarrasin. Following shifting seasons of rest in wine barrels and more than a year of bottle conditioning, we are finally able to present a beer that is more than 9 years in the making and worthy of Samuel's name.
GuyFawkes from Illinois
4.6
/5
rDev
-1.7%
look: 4.5 | smell: 4.5 | taste: 4.75 | feel: 4.5 | overall: 4.5
Original release bottle; drank 6/26/21 @ the Seventh Tee.
The nose was like a fine, elegant white wine with farmyard funk; the flavor had a bit more sourness, but was never puckering.
A wonderful mix of European and American wild notes; this is a special beer.
Jun 29, 2021
Alieniloquium from Florida
4.34
/5
rDev
-7.3%
look: 4 | smell: 5 | taste: 4.25 | feel: 4 | overall: 4
750 mL bottle. Lightly cloudy golden. Smells of strong white wine, honey, and sweet florals. Tastes of honey, white wine, and florals. Pleasant light tartness. Faint herbal and earthy yeast flavors in the background. Medium body. Soft malt profile. Excellent all around. I don't know that it's miles better than their other BA saisons, but this is really nice.
Mar 14, 2021

SierraNevallagash from Maine
4.55
/5
rDev
-2.8%
look: 4.25 | smell: 4.75 | taste: 4.5 | feel: 4.5 | overall: 4.5
Batch 2 - consumed 02/05/21 - split with jrc1093
Pours a straw yellow colour - clear, with a slight particle fog, and a bright eggshell white head that stays around, bubbly, and leaving spotty lacing behind. Visible effervescence.
Nose: Ultra-clean, rustic dusty grain emerges beneath a bright, vibrant lemon, wet hay, straw, green apple - a bit of hyacinth floral flower pedal, with some hearty grain character underneath. Vinous influence is evident, but tucked in, not surrounding. There's a deep, musty funk element that grips ahold, charging through the delicate base with wet dead leaves, petrichor, wet stone, and a big funky wet green pasture note, complete with the resident cows.
Palate: Bright vibrant acidity opens up with twisted lemon and a sweaty brett tang - sharper on the Hill Farmstead acidity scale, but friendly and never aggressive. Dusty cracked grain and a subtle interwoven honey sweetness lay beneath a rapidly evolving symphonic display of barnyard funk complexity - horseblanket, wet hay, limestone minerality, aged honeycomb, and a panoply of complex musty earthy tones spiral together, reaching a singularity of bold, almost concentrated funk character, highlighting that robust, slight savoury quality - speared by shimmering bright lemon and lime zest, Asian pear, green apple, apricot, and dry, fruity, and floral white vinous character. Dry tannic oak envelops the funk, subduing the brighter notes, and reaching a dry, but colourful finish with lingering white grape, grain, and an oily, citrus pith bitterness that persistently whispers in the background.
Mouthfeel/Body: Samuel is crisp, bright, and composed, with an underlying roundness that leads to something between light and medium-bodied. The sheer robust saturation alone contributes presence. Acidity is tightening, but neither puckering nor very dry, with an inherent wetness about it. Effervescence is fine, ample, and spritzy, while the finish sees an oily cling so persistent, it's nearly waxy.
Overall: Samuel seems to stand at the pinnacle of its niche. With a depth of funky complexity and a seemingly endless revelation of layers all seamlessly knit together in perfect harmony, it really does lend an almost lambic element to the junction of old world and new world saison. It's a beautiful beer, and one I feel privileged to have shared and enjoyed.
Feb 07, 2021

jrc1093 from Connecticut
4.43
/5
rDev
-5.3%
look: 4 | smell: 4.75 | taste: 4.25 | feel: 4.5 | overall: 4.5
Bottled on 4/23/19; consumed on 2/5/21
Pours a lightly fogged, pale honey gold body sporting a steady stream of soft effervescence and capped with a briefly-formed quarter-finger of plush, eggshell-white foam; a paper-thin island of cap, moderate, creamy collar, and haphazard display of dense, webby/spotty lacing remains.
Aroma is initially brightly horsey, a musty lemon acidity contrasting orange oil-imbued lavender perfume into rounded, delicately lactic funk; a touch of white grape and evocative nuances of farmland pasture peak into floral spice and an almost savory, dusty, worn leather over the middle; spent vanillin tones evolve into honey in waves on the back end, with stone cellar, wet buckwheat and full-bodied grains supplementing tones of finished leather, honey, and a clean minerality surging through the close.
Taste opens with a lemony funk sporting a tinge of horse blanket, with honey and tangerine impressing a distant sweetness before a grassy tone overtakes the mid-palate; petrichor shapes notes of damp stone cellar, dusty, old leather, green apple, and wet grains on the back end and through the finish.
Mouthfeel features a body just shy of medium displaying a texture uniquely wet though quickly tightening to a seamless acidity; semi-chalky grit phases into a moderate tartness juxtaposed by a casual, background bitterness over the mid-palate, while the back end of the palate displays oily, nearly waxy characteristics into the back end, peaking with a brightness past the finish.
Beginning with the allure of attenuated funk, a revelatory depth emerges, peeling back layers to the most evocative heart of the style; fruits, herbs, minerals: a biome of natural senses interplay in an almost unrivaled fashion.
Feb 06, 2021

VelvetExtract from Massachusetts
4.5
/5
rDev
-3.8%
look: 4.5 | smell: 4.5 | taste: 4.5 | feel: 4.5 | overall: 4.5
Bottle. Pours pretty like every one of the Hill Farmstead sour saisons. Hazy glowing yellow and a big, fluffy head. Aroma is tart and layered. Flavor was very well rounded and tart. I love the level of sourness and they finish so clean. Great beer.
Dec 06, 2020

Phineasco from Massachusetts
4.93
/5
rDev
+5.3%
look: 5 | smell: 5 | taste: 5 | feel: 4.75 | overall: 4.75
The beer pours a clear straw yellow with a thin fizzy head. It's highly carbonated with lime zest, minerals, musty funk, subtle wine, with a bone dry finish. Excellent beer.
Apr 11, 2020
Duffman79 from Connecticut
4.94
/5
rDev
+5.6%
look: 5 | smell: 4.75 | taste: 5 | feel: 5 | overall: 5
This beer is simply amazing. Light straw color, with the perfect amount of carbonation, and a super crisp and clean flavor. This is probably the best beer I have ever had. Need more.
Dec 02, 2019
JLK7299 from North Carolina
5
/5
rDev
+6.8%
look: 5 | smell: 5 | taste: 5 | feel: 5 | overall: 5
Hill Farmstead is the best in the world. Period. Drinking it aged almost a year and this is without question a "WOW" beer. SO good! Kudos to Hill, offer this more!!!!!
Nov 30, 2019
Montanabeerz from Montana
4.86
/5
rDev
+3.8%
look: 4.5 | smell: 4.75 | taste: 5 | feel: 5 | overall: 4.75
I've had wine barrel vera mae once before and I'd say that's a really good comparison to this beer. Basically a perfect mixed culture barrel aged saison. Lemon and honey shine through in the taste and it finishes super smooth and dry, not acidic at all. Really outstanding.
Nov 03, 2019

Stevedore from Oregon
4.59
/5
rDev
-1.9%
look: 4.25 | smell: 4.5 | taste: 4.75 | feel: 4.5 | overall: 4.5
Four bottles consumed on-site at Hill Farmstead Brewery throughout the course of the same day during the anniversary week, May 22, 2019. Served in a stemmed glass.
I'll note that our servers had variable ways of pouring the beer. Shaun Hill himself refused to pour any sediment, leaving it at the bottom of the bottle. Other staff would pour the sediment into each glass. This review is essentially going to focus on the non-sedimented pour, which is supposedly what Shaun Hill wants us to experience- but I'll put in a few notes about differences. Read on-
Appearance- the difference in pour clarity is astounding. First pour from Shaun is golden yellow body, good clarity, one finger frothy white head, good retention, bit of lacing that sticks around for a good while. Other pours were more cloudy and hazy, having more of a peach coloured body. Pretty astounding, wish I could upload photos for my review to show you guys the difference.
Aroma- Clear pour was relatively clean. Mild-moderate acetone, light leather, stonefruit, mild damp oak funk, vanillin, light green apple, white vinous character. It is as every bit aggressive as Tete de Cuvee 2016. Rich, full-barrel aroma. The sedimentous pours provided a bigger fruity presence, light apricot flavours adding more tartness. Hard to argue with either method here.
Flavour- Clear pour was an absolute delight- light green apple and moderate acetone, vanillin, moderate acetic acidity, light grainy funk, oak, touch of biscuit, dry white vinous character along with a mild apricot stonefruit tart flavour. Lots of complexity to it, slightly dry and more crisp acetic acidity compared to the sedimentous pour which provided more of a moderate stonefruit flavour to it, a bit more minerality to it. I can see why Shaun prefers this to be poured clear- it has a more discrete presence of flavour to it, a crisper and drier expression of stonefruit and barrel. The sedimentous pour was a bit more muddled, while it bought a bit more stonefruit to the table, it also blurred the remainder of the beer somewhat. That being said, a separate pour of the dregs at the bottom of the bottle did taste pretty amazing.
Mouthfeel- medium bodied, crisp and just a trace bit of acetone dryness on the palate. Good carbonation. It was easy to both sip and aggressively drink down my multiple glasses. This is certainly a beer to take a moment of and consider, but also to enjoy. I figure that's what the brewer's vision for it is.
Overall- A fairly impressive barrel-aged saison which I think is distinguished by its relatively forward barrel character with vanillin and acetone. In my opinion, this compares very closely to Side Project's offering- Tete de Cuvee- which sports a similar oak-forward acetone character to it. I doubt I'll ever be able to do a side-by-side, but in my memory, they are pretty close.
May 24, 2019

jhavs from New York
4.74
/5
rDev
+1.3%
look: 4.25 | smell: 4.5 | taste: 5 | feel: 4.5 | overall: 4.75
Onsite pour, half of bottle into HF goblet.
Bright straw color, foamy full off white head. Sticky lacing covers the glass.
Aroma is grassy, citrus zest and oaky eart with a hint of funk.
Flavor has crackers grain, tart, slightly sweet, earthy grass and hay.
Some fruity flavors including light grape and floral berry.
Everything is balanced and clean, dry, nothing over powering.
An excellent and exciting brew.
May 22, 2019

kevanb from Illinois
4.61
/5
rDev
-1.5%
look: 3.75 | smell: 4.5 | taste: 4.75 | feel: 5 | overall: 4.5
750ml bottle, dated December 12, 2017, poured into a gray Hill Farmstead oversized wine glass.
The beer pours a hazy lemon color, golden hues with a thin white head, hardly any retention with a few spots of lace clinging to the glass. The aroma is excellent, super funky, lots of earthy and grassy qualities, strong buckwheat and pale cereal grains, dead leaves, pine resin, musty oak, light vinous acidity, citrus peel and a bit of vanilla. The flavors are fantastic, super dry and grassy, limestone, citrus peel, cereal grains that are softer and sweeter with some heartier flax and buckwheat grain, musty oak, light char, vanilla and white grain. The mouthfeel is good, lively and crisp, vibrant texture with a medium body that finishes easily with a tart bite.
Verdict: An excellent saison, complex, bright, balanced with an incredible funk profile. The wine profile is wonderful, layered perfectly, just a great beer.
Mar 16, 2019
Hyptochrons from Massachusetts
5
/5
rDev
+6.8%
look: 5 | smell: 5 | taste: 5 | feel: 5 | overall: 5
appearance is a glowing straw color with dense and creamy bright white head. aroma is so wine forward, huge white grape, tannins and oak, bright fruity acidity of green apple peach skin, and lemon, complimented by scents of hay, mellow earthy funk. palate follows the nose but with extreme complexity bringing huge vinous notes, gape flesh and musty grape skin, tanic quality, oaky character hinting at vanilla, incredibly bright and crisp fruity character, hay and some mellow barnyard qualities, grainy bread, tart apple, and lemon throughout. insanely dry, delicate, and crisp. overall this is beyond words really, the best beer ive ever tasted, and by quite a margin. 5+++
Feb 23, 2019
Samuel from Hill Farmstead Brewery
Beer rating:
96
out of
100
with
38
ratings