Samuel
| Hill Farmstead Brewery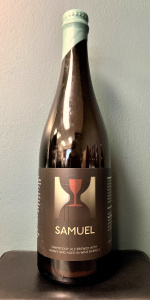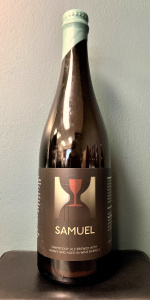 BEER INFO
Brewed by:
Hill Farmstead Brewery
Vermont
,
United States
hillfarmstead.com
Style:
Belgian Saison
Alcohol by volume (ABV):
not listed
Availability:
Rotating
Notes / Commercial Description:
Samuel Hill (1820-1899) was my great-great-uncle, brother of Ephraim, and a widely accomplished individual. He served in the Union army at the Battle of Gettysburg. An early agricultural innovator, he held several patents for milk cooling and cream separation; if you've visited our taproom, you've likely seen a reproduction of that patent on display. He moved a house, midwinter, with horses from North Greensboro to Greensboro Village and also helped build the first road from Greensboro to Greensboro Bend.
I spent more than 6 years contemplating such a beer that might be worthy of Samuel's name. In an attempt to honor this intrepid relative, I realized that his namesake beer must be comprised of the same nuances that defined two of my favorite beers: Le Sarrasin and Vera Mae. We set out by crafting a base of buckwheat, spelt, Vermont wildflower honey, and the same hops used in both Vera and Sarrasin. Following shifting seasons of rest in wine barrels and more than a year of bottle conditioning, we are finally able to present a beer that is more than 9 years in the making and worthy of Samuel's name.
Reviews: 4 | Ratings: 16

4.59
/5
rDev
-0.6%
look: 4.25 | smell: 4.5 | taste: 4.75 | feel: 4.5 | overall: 4.5
Four bottles consumed on-site at Hill Farmstead Brewery throughout the course of the same day during the anniversary week, May 22, 2019. Served in a stemmed glass.
I'll note that our servers had variable ways of pouring the beer. Shaun Hill himself refused to pour any sediment, leaving it at the bottom of the bottle. Other staff would pour the sediment into each glass. This review is essentially going to focus on the non-sedimented pour, which is supposedly what Shaun Hill wants us to experience- but I'll put in a few notes about differences. Read on-
Appearance- the difference in pour clarity is astounding. First pour from Shaun is golden yellow body, good clarity, one finger frothy white head, good retention, bit of lacing that sticks around for a good while. Other pours were more cloudy and hazy, having more of a peach coloured body. Pretty astounding, wish I could upload photos for my review to show you guys the difference.
Aroma- Clear pour was relatively clean. Mild-moderate acetone, light leather, stonefruit, mild damp oak funk, vanillin, light green apple, white vinous character. It is as every bit aggressive as Tete de Cuvee 2016. Rich, full-barrel aroma. The sedimentous pours provided a bigger fruity presence, light apricot flavours adding more tartness. Hard to argue with either method here.
Flavour- Clear pour was an absolute delight- light green apple and moderate acetone, vanillin, moderate acetic acidity, light grainy funk, oak, touch of biscuit, dry white vinous character along with a mild apricot stonefruit tart flavour. Lots of complexity to it, slightly dry and more crisp acetic acidity compared to the sedimentous pour which provided more of a moderate stonefruit flavour to it, a bit more minerality to it. I can see why Shaun prefers this to be poured clear- it has a more discrete presence of flavour to it, a crisper and drier expression of stonefruit and barrel. The sedimentous pour was a bit more muddled, while it bought a bit more stonefruit to the table, it also blurred the remainder of the beer somewhat. That being said, a separate pour of the dregs at the bottom of the bottle did taste pretty amazing.
Mouthfeel- medium bodied, crisp and just a trace bit of acetone dryness on the palate. Good carbonation. It was easy to both sip and aggressively drink down my multiple glasses. This is certainly a beer to take a moment of and consider, but also to enjoy. I figure that's what the brewer's vision for it is.
Overall- A fairly impressive barrel-aged saison which I think is distinguished by its relatively forward barrel character with vanillin and acetone. In my opinion, this compares very closely to Side Project's offering- Tete de Cuvee- which sports a similar oak-forward acetone character to it. I doubt I'll ever be able to do a side-by-side, but in my memory, they are pretty close.
2,861 characters

4.74
/5
rDev
+2.6%
look: 4.25 | smell: 4.5 | taste: 5 | feel: 4.5 | overall: 4.75
Onsite pour, half of bottle into HF goblet.
Bright straw color, foamy full off white head. Sticky lacing covers the glass.
Aroma is grassy, citrus zest and oaky eart with a hint of funk.
Flavor has crackers grain, tart, slightly sweet, earthy grass and hay.
Some fruity flavors including light grape and floral berry.
Everything is balanced and clean, dry, nothing over powering.
An excellent and exciting brew.
424 characters

4.61
/5
rDev
-0.2%
look: 3.75 | smell: 4.5 | taste: 4.75 | feel: 5 | overall: 4.5
750ml bottle, dated December 12, 2017, poured into a gray Hill Farmstead oversized wine glass.
The beer pours a hazy lemon color, golden hues with a thin white head, hardly any retention with a few spots of lace clinging to the glass. The aroma is excellent, super funky, lots of earthy and grassy qualities, strong buckwheat and pale cereal grains, dead leaves, pine resin, musty oak, light vinous acidity, citrus peel and a bit of vanilla. The flavors are fantastic, super dry and grassy, limestone, citrus peel, cereal grains that are softer and sweeter with some heartier flax and buckwheat grain, musty oak, light char, vanilla and white grain. The mouthfeel is good, lively and crisp, vibrant texture with a medium body that finishes easily with a tart bite.
Verdict: An excellent saison, complex, bright, balanced with an incredible funk profile. The wine profile is wonderful, layered perfectly, just a great beer.
926 characters
5
/5
rDev
+8.2%
look: 5 | smell: 5 | taste: 5 | feel: 5 | overall: 5
appearance is a glowing straw color with dense and creamy bright white head. aroma is so wine forward, huge white grape, tannins and oak, bright fruity acidity of green apple peach skin, and lemon, complimented by scents of hay, mellow earthy funk. palate follows the nose but with extreme complexity bringing huge vinous notes, gape flesh and musty grape skin, tanic quality, oaky character hinting at vanilla, incredibly bright and crisp fruity character, hay and some mellow barnyard qualities, grainy bread, tart apple, and lemon throughout. insanely dry, delicate, and crisp. overall this is beyond words really, the best beer ive ever tasted, and by quite a margin. 5+++
677 characters
Samuel from Hill Farmstead Brewery
Beer rating:
4.62
out of
5
with
16
ratings