Dismiss Notice
Dismiss Notice
Damon (Bourbon Barrel Aged)
| Hill Farmstead Brewery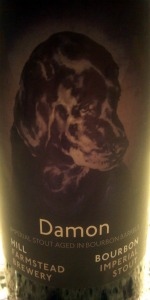 BEER INFO
Brewed by:
Hill Farmstead Brewery
Vermont
,
United States
|
website
Style:
Russian Imperial Stout
Alcohol by volume (ABV):
10.50%
Availability:
Rotating
Notes / Commercial Description:
Damon (1993-2004) The time spent with loved ones, now lost, seems to affect our mind and body perpetually: memories happen upon us, unsuspectingly, and bring about tears of fond remembrance. Damon was our brother – devout and patient in an age of busyness and distraction. In his honor, we crafted and conditioned this Imperial Stout in bourbon barrels from our favorite distillery. We still reflect, daily, upon our Damon and his scruffy chin of grey – of his loyalty and his love.
Aged in Blanton's bourbon barrels.
Added by Jason on 01-10-2012
Reviews: 86 | Ratings: 630

4.53
/5
rDev
+2.5%
look: 4.5 | smell: 4 | taste: 5 | feel: 4 | overall: 4.5
Chilled, set out for about 15 minutes and poured into a HF tulip...both the bottle and tulip provided by jedwards (badass). Bottle #639.
A - Pours black with a very slow rising, minimal head. The head never really develops and remains as lingering lacing throughout. Returns upon some sifting. The lacing retention keeps it looking good.
S - Traces of oak, chocolate and dark fruits. Nothing is too strong at all. Nice, but muted.
F - Slight oak, vanilla, cocoa, dryness from the oak that has some sweetness to balance, and then a nice cocoa/vanilla finish. Wow. There is complexity yet so much balance and smoothness.
M - Thicker side of medium, low-medium carbonation, very silky. Although the body feels so nice, it is still a little light on the tongue.
O - HF does it again. I'm having a tough time figuring out the difference between this as an RIS and Birth as a Porter. The only real difference in the two are the flavors....and a little bit in the appearance. Fantastic all around. I wish I had a case of this.
★
1,025 characters
4.57
/5
rDev
+3.4%
look: 4 | smell: 4.5 | taste: 4.5 | feel: 4.5 | overall: 5
Waited in line for a few hours outside of Hill Farmstead to get this beer. Was the first person in line. Few in the cellar and one to crack now, the day before Kate Day. Poured into my Duvel tulip. Bottle 799/864
A - Pours a deep, rich almost oily black colour. Definately is clear, I could see that in the stream, but as it collects in the tulip it is inpenitrable by light. There was a half finger deep dark mocha head but that disappeared rather quickly to leave a very, very thin halo.
S - Aroma is very rich and inviting. Some sweet malts, nice chocolate roast. Lots of rich mellow bourbon on this one. Clearly a good bourbon with some nice earthy vanilla wood. There is some slight alcohol burn on the end.
T - Very smooth and mellow. Nice roasted malts and chocolate. Dark chocolate. Dark chocolate that is wonderfully intermixed with smooth good quality bourbon. Nice bourbon and oak along with some vanilla. There is a very slight warm booze bourbon finish to it.
M - Mouthfeel is very nice. Rich, creamy, thick and silky smooth. Practically no bourbon heat at all on the finish but all the nice bourbon qualities.
O - Overall, yet another excellent limited release from Hill Farmstead. Their stuff is well worth seeking out. Delicious beer that will only improve even more with age.
★
1,297 characters

4.55
/5
rDev
+2.9%
look: 4.5 | smell: 4.5 | taste: 4.5 | feel: 5 | overall: 4.5
Bottle shared by yourefragile because he thinks I'm fragile, poured into a Hill Farmstead becher because that's the only HF glass I have and drank through a straw because there was a baby on my head at the time, all of this actually happened.
Beer is black with a nice tan head of small bubbles, moderate retnetion, low carbonation, some lacing, looks nice.
Aroma is interesting, not as bourbon forward as one might expect but excellent because I can smell both the bourbon and the yeast, mild roast, sweetness, chocolate perhaps?
Beer is medium in body, creamy, sweet, mildly oaky and bourbony, tastes nice, an interesting beer. I commented that it is slightly Black Albert like and people didn't disagree. I'd have it again, a very nice beer.
★
747 characters

4.65
/5
rDev
+5.2%
look: 4.5 | smell: 4.5 | taste: 4.5 | feel: 5 | overall: 5
From 02/25/12 notes. Big, big thanks to yourefragile for sharing a bottle of this one. Had several pours of this on tap at EBF earlier in the month and it was one of my favorites of the fest. Bottle number 578/864.
a - Pours a dark brown, almost black color, with two inches of dark tan head and moderate carbonation evident.
s - Smells of sweet chocolate, bourbon, oak, roasted malts, vanilla, and a tiny bit of citrus. Really liking the mix of sweet chocolate, vanilla, and bourbon in the nose. Really great.
t - Tastes of sweet chocolate, roasted malts, bourbon, vanilla, wood/oak, toasted malts, coffee, light dark chocolate. More vanilla then the nose, and still nice and sweet. Awesome.
m - Medium body and moderate carbonation. Very smooth and creamy with no heat at all. Easy to drink out of the bottle and easier to drink on tap.
o - Overall this is up there at one of Hill Farmstead's best beers in my opinion. I've loved some of their hoppy beers but it's really nice to see that they can do a great RIS as well. A little sweet (which I like), and nice bit of bourbon mixing with chocolate and vanilla, well worth checking out. One of my favorites from EBF and the other day.
★
1,191 characters
4.67
/5
rDev
+5.7%
look: 4.5 | smell: 5 | taste: 4.5 | feel: 5 | overall: 4.5
finally feeling physically well enough to have this one that has been calling my name for a week. beautiful-looking bottle with classy black wax and an understated logo that depicts Shaun's late dog. whipped out the brand-new Hill Farmstead tulip for this one.
Pours a viscous black with a smallish head (though normal for a barrel-aged stout) that is a rather dark mocha leaving behind a bit of lacing. The head sticks at one-finger in height for several minutes as I let the beer warm in the glass. bottle #436/864.
from feet away I smell the dark malts, chocolate and bourbon. bringing this up to my nose I get a rushhh of oaky bourbon mixed with dark cacao, a bit of black licorice, chocolate liqueur, loads of vanilla (straight vanilla bean and vanilla extract) some molasses sweetness and some dark roasted espresso.
starts off with some boozy bourbon, but is quickly taken over by a rush of chocolate (dark, dark cacao) that smooths the beer out beautifully. lots of vanilla, mocha, espresso, molasses, a bit of black licorice. finishes with a bit of alcohol warmth on the gullet. warming brings out more vanilla and some burnt caramel.
perfect body. creamy, subtle carbonation and a slightly syrupy feel left throughout the mouth with a sweet aftertaste and an understated warmth.
mmmm. Not the perfect beer, but tremendously balanced and full of flavor. Glad I have two more of these. I think they will age beautifully.
★
1,434 characters
4.65
/5
rDev
+5.2%
look: 4.5 | smell: 4.5 | taste: 4.5 | feel: 5 | overall: 5
2011 black waxed 500 mL bottle. 578/864. Thanks to Ashley and Tucker for hooking us up with this gem.
Pours a viscous dark chocolate with a large, frothy yellowish light tan head. Excellent retention, fading to a collar and spotty film. Thin streaks and dots of lacing.
Smooth, subtle aroma of roast malt, black licorice, coffee, vanilla, and bourbon in the finish.
Flavor is sweet and smooth with a subtle blend of black licorice, bourbon, mild oak and vanilla. Incredibly balance and blend between the base stout and the barrel and well restrained alcohol presence.
Medium thick, smooth body with light carbonation and an everlasting chewy, licrorice finish.
Wow, Genealogy was amazing and Damon is as well. Both are distinct from most other stouts in their malt profile and while HF has not released many stouts yet, they are going to destroy this style just as they have IPAs. Boom!
★
892 characters

4.62
/5
rDev
+4.5%
look: 4 | smell: 4.5 | taste: 4.5 | feel: 5 | overall: 5
Huge thanks to yourefragile for sharing this bottle. No Hill Farmstead tulip; damn my early packing. Bottle number 578/864.
Pours near black with a good tan head and some spotty, streaky lacing on the way down. The nose carries a great dose of bourbon and chocolate with some very mild roast in the background. Flavor has big bourbon and oak with some accompanying vanilla. Medium body with smooth carbonation. Über smooth. Really fantastic. Just a touch of booze for warmth. Fantastic.
★
488 characters

4.83
/5
rDev
+9.3%
look: 5 | smell: 4.5 | taste: 5 | feel: 4.5 | overall: 5
Poured into a Portsmouth tulip. Thick pitch-black body with a thin dark-tan head. Looks beautiful. Leaves some nice lacing on the glass. The nose is packed with cocoa, bourbon, wood and vanilla. Smells amazing. Roasty with a touch of booze. On the tongue its sweet bourbon and vanilla up front, but then finishes with a wave of dark chocolate and some dry, earthy, dark malt bitterness on the tail end. The 10% abv is noticeable, but doesn't get in the way of taste or enjoyment. Very drinkable for a barrel aged imperial stout. The body is smooth and creamy with light carbonation. Overall, this is phenomenal, but Hill Farmstead never disappoints. Damon is drinking excellently now, but I'm sure it will hold up or even get better in the years to come. Beautiful.
★
769 characters
4.43
/5
rDev
+0.2%
look: 4.5 | smell: 4 | taste: 4.5 | feel: 5 | overall: 4.5
Thanks to Mike for this bottle the night of the release. Out of my Hill Farmstead steamware.
A- Pitch black with a nice light tannish/mocha colored head. Reduces to a ring around the edge of the glass.
S- Lots of dark malt, molassas, and good amount booze. Chocolate, vanilla, bourbon, and nice caramel roasted malt.
T- Extremely smooth and rich. Chocolate, some sweetness, oaky bourbon, and again some vanilla. Still quite boozy, but very good. Nice roasted malt after taste, chocolate and caramel. A very well balanced blend of flavors, though the heat is a bit off putting.
M- Smooth and silky,great body without being overboard thick. Perfect carbonation for the style in my opinion.
O- While this is still a bit hot and boozy, it shows a ton of promise and is already quite good. It really is well balanced, and the mouthfeel is already pretty perfect. With some age, I think this one should mellow out nicely.
-GFunk
★
929 characters

4.41
/5
rDev
-0.2%
look: 4 | smell: 4.25 | taste: 4.5 | feel: 4.5 | overall: 4.5
Batch #1 from 2011, bottle #501 of 864. 500ml bottle poured into HF stemmed wine glass. Thanks Alex (Ataraxia) for bringing this to our HF stout tasting. Split three ways, reviewing live, have had this several times but first time doing full review.
A- Pours a dark black, thin mocha head, some faint spotty lacing.
S- Dark fruits, chocolate fudge, integrated bourbon, light woody oak. Average aroma strength, great complexity.
T- Chocolate fudge, milk chocolate, slight oxidation, very well integrated bourbon, some light dark fruits, hints of oak and vanilla, finishes with more chocolate fudge, some espresso, and a faint hint of dark fruits. Awesome complexity with great balance.
M- Medium bodied, extremely smooth, minimal carbonation, extremely drinkable.
O- This beer is awesome and probably my favorite of the HF stouts. Compared to batch #2, batch #1 has a lot more fudge and with age it has a nice light dark fruit presence and very slight oxidation. I wouldn't age this anymore as its already slightly falling off but it's still tasting fantastic.
★
1,064 characters

4.21
/5
rDev
-4.8%
look: 5 | smell: 4 | taste: 4 | feel: 4.5 | overall: 4.5
was uber excited to get to try this guy at the extreme beer fest last weekend. went back for seconds and thirds! hopefully i'll be able to get a bottle at some point.
anyway, it pours jet black with a small tan head. smelled just how a ris should...not too much bourbon on the nose which is fine by me, i like it to be present, but subtle. tastes great. again, not too much bourbon but enough to notice...lots of roasty malt character in this one. low carbonation, but it's from a keg so no idea how the bottles will turn out. this was one of my favs of the fest along with wide awake and gorilla warfare. bottoms up
★
616 characters
Damon (Bourbon Barrel Aged) from Hill Farmstead Brewery
97
out of
100
based on
86
ratings.