Civil Disobedience #4
| Hill Farmstead Brewery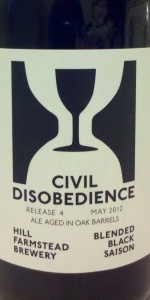 BEER INFO
Brewed by:
Hill Farmstead Brewery
Vermont
,
United States
hillfarmstead.com
Style:
Saison / Farmhouse Ale
Alcohol by volume (ABV):
8.00%
Availability:
Limited (brewed once)
Notes / Commercial Description:
A blended black farmstead™. A blend of 5 beers from four select oak barrels.
Added by yourefragile on 05-27-2012
This beer is retired; no longer brewed.
Reviews: 31 | Ratings: 180
4.42
/5
rDev
+5.2%
look: 4 | smell: 4.5 | taste: 4.5 | feel: 4 | overall: 4.5
thanks to Joeybones3, shared this with the local crew on 8/8.
a - poured brown with a thin foamy head ans streaky lacing that slid down the glass.
s - oak, some sour cherry. smells really nice.
t - sour, saison, black malts. oak. some earthiness in the background. sour cherries with a hint of chocolate.
m - pretty smooth. even balanced tart. finishes off nicely.
o - overall, wonderful sour dark saison. some saison qualities, but mostly black malts soured.
★
464 characters

4.47
/5
rDev
+6.4%
look: 4 | smell: 4.5 | taste: 4.5 | feel: 4.5 | overall: 4.5
Presentation: 750 mL bottle opened by myself. I got this at the release a month or so back. Served chilled and poured into my Kate the Great tulip.
Appearance: Apparently chilling this so thoroughly worked well as I got zero gush (as can be the case with some HF beers I have found). Not quite black, more like dark brown. Pours a substantial three finger head that holds very well. Extremely light and cloudy.
Aroma: Some coffee and char upfront, but really nice fruit, green apple and tart lemon in particular, breaks up the monotony nicely. There is definitely an oak component in here as well. Some earthy and funky tones really balance this out well.
Taste: The dark malt notes hot first, but the sour kick of green apple and lemon really brighten this up quickly. Plenty of oak tannins throughout. The earthy quality from the yeast really brings this together. This is definitely a Hill Farmstead saison. The balance of sour and funk really reminds me of a lot of Shaun's other beers.
Mouthfeel: Light, full carbonated and smooth. Very refreshing.
Overall, black saisons can be hit or miss with me, but this one is probably my favorite of that style. Great balance of the dark malt and saison yeast plus really nice oak notes. Incrediby balanced and really refreshing. This was a really pleasant surprise. I could drink this all day and not get sick of it.
★
1,370 characters

3.91
/5
rDev
-6.9%
look: 4.5 | smell: 3.5 | taste: 4 | feel: 4 | overall: 4
Thanks to Mac for the trade.
Pours dark brown with a high tan head, translucent - no floaties. Smell is subdued, some notes of grass and minerals but not much more; opens up a little as it warms, but stays mild. The taste also seems a little one-note at first, just some mild sourness with a tannic, fruity finish, but as it warms there's more depth, with a faint savoriness to it as well as the more evident herbal and vegetal notes. It's well carbonated, a little oily. A very nice wild beer, in some ways reminiscent of an oud bruin.
★
537 characters

4.53
/5
rDev
+7.9%
look: 5 | smell: 4.5 | taste: 4.5 | feel: 4.5 | overall: 4.5
Served in a Hill Farmstead wine glass.
The beer is opaque, a deep, dark shade of chestnut brown. The head is over an inch thick, receding quickly and settling in at around a half inch. Copious lacing all over the vessel.
The aroma is funky, earthy. Notes of wine are evident from the start. Tart fruit, perhaps currants.
Great flavor. Everything comes together beautifully. Delicious. What a complex and fantastic beer. Lots of tartness and wine barrel notes. Dark fruit character.
Medium bodied and smooth. Lingering sour, lactic, tart feel on the palate.
Overall, yet another fantastic brew from Shaun and the folks at Hill Farmstead.
★
641 characters
3.95
/5
rDev
-6%
look: 4 | smell: 4 | taste: 4 | feel: 3.5 | overall: 4
2012. 750ml opened on July 29, 2012.
Slow gusher. CD4 pours dark brown, with faint burgundy hues on the edge of the glass when held up to the light. It yields four to five fingers of lightly tanned head. A little overcarbonated, but settles down after a few minutes.
Features a disobedient nose of jammy cabernet grapes, tannic oak, eucalyptus, some miscellaneous plummy dark fruit, and Belgian saison yeast. Subdued sourness.
The front of the palate is a little flabby, featuring a hint of roast, currant, cabernet grape, lemon, and substantial oak. Fruity, with a pleasant sourness — you have to search a little bit to find the saison base. The mid-palate reintroduces the heavy, tannic oak found on the nose, and CD4 finishes dryly, curtly, with just a pinch of pepper.
Medium, medium-thin in body with middle-of-the-road carbonation.
This grows on me over time, but I wish I had held my one bottle a little longer. An ambitious beer that just misses the mark for me, if only because of the quality of Shaun's other saisons.
★
1,036 characters
4.58
/5
rDev
+9%
look: 5 | smell: 4.5 | taste: 4.5 | feel: 5 | overall: 4.5
Poured into a Hill Farmstead glass revealing a finger or two of tan head over dark brown body. Caramel and smoke on the nose along with a bit of lemony funk and a stone fruit floral essence. Taste is slightly tart and evocative of grilled unripe plum with some smoke and woodiness on the finish. Earthy underneath. Lively carb on the tongue, medium-bodied. Overall very refreshing and deliciously complex.
★
405 characters

4.2
/5
rDev 0%
look: 4.5 | smell: 4.5 | taste: 4 | feel: 4.5 | overall: 4
Poured into some Hill Farmstead stemware. A finger's worth of lightly-tan head rests on top of a murky dark brown body. Nice lacing on the glass. Black currants, cocoa and a hint of smoke on the nose. Earthy oak notes in the background with a touch of soured grape. The flavor is a nice continuation of the nose and brings out some soured cabernet notes and grassy earthiness. The body is smooth, almost creamy, with appropriate carbonation and a refreshing level of sourness throughout. Overall, an excellent black saison. Slightly reminiscent of Russian River's Consecration.
★
581 characters
4.35
/5
rDev
+3.6%
look: 4 | smell: 4 | taste: 4.5 | feel: 4.5 | overall: 4.5
Thanks to Shaun for this one.
Pours a light creamy head covering, slight hazy dark murky brown colored beer with decent lacing.
Nose has a nice creamy dark malt aroma, hint of lactose like with bits of chocolate and caramel. Light dark saison malts underneath with saison spices as well, lots of vanilla oak, light lactic sour and hint of wild funk.
Taste starts with light bitterness the quickly turns to malts. A hitn of a metallic twing, light vanilla oak and creamy brown malts, lots of tartness with light lacto and other funk, hint of chocolate like porter malt, light tart berry flavor too, long tart berry fruit profile that lingers a while, and some fluffy malt to round it off. Finish is a bit drier, long lingering tart berry flavor, hint of dark saison spices and dark malts, and just a bit of funk.
Mouth is fluffy, good carbonation, med to fuller bodied.
Overall awesome! Great malts, saison flavors, dark malts, tart berry, and nice funk. A well made beer with lots of good flavors and still very drinkable. Wonder how it will age.
★
1,051 characters
4.35
/5
rDev
+3.6%
look: 4.5 | smell: 4.5 | taste: 4.5 | feel: 4 | overall: 4
This review is aka "Look at me, I'm an idiot reviewing a beer on draft and from a bottle". As long as you let me BA, as long as you let me... 750 mL bottle shared with Dyan.
Pours a clearish dark brown, muddy mahogany with a large, retentive light tan head. Thick streaks of bubbly lace cascade down my HF wine glass. Similar to Jimmy, this has a complex nose that is pulled in seemingly divergent and incompatible directions: lemon, oak, vanilla, dark fruit, Belgian yeast, citrus rind, plum and apple all mingle in each whiff. Body is medium thin with moderate carbonation, thin throughout, with a dry oaky finish. The bottle has a much more prevalent fruity presence than I recall from draft samples. Cherry, honey and red grape hit the front of the palate before the oak and barrel dry out the finish which still has a residual vanilla like sweetness. Darn, this is a complex and distinct dark saison that will be interesting to age.
★
938 characters
4.2
/5
rDev 0%
look: 4.5 | smell: 4.5 | taste: 4 | feel: 4.5 | overall: 4
Thank you, Michael.
A very dark brown with reddish highlights, a dense, brown head with excellent retention and nice lacing, this is a nice looking beer. The nose is great! Fruity (plums, raisins, currants), red wine, a nice roast, moderate saison funk and a nice yeast character. Moderate oak presence, lending some vanilla notes as well. Adding the yeast lends a cheesy component to the nose. Most excellent.
The palate opens roasty, mildly lactic, fruity and vinous. This is surprisingly well integrated, with a nice lemony and lactic sourness. Currants and dark fruits are present, and are livened up by the base saison. Medium-light in body and moderately carbonated, this feels quite nice on the palate. Drying on the finish with vanilla, oak and roast with just enough of the saison pepperiness, this is fantastic stuff. Highly recommended.
★
849 characters
4.23
/5
rDev
+0.7%
look: 4.5 | smell: 4 | taste: 4.5 | feel: 4 | overall: 4
On tap at the hill farmstead release for civil disobedience 4 and Jimmy. Poured into my hill farmstead tulip.
A - poured a dark brown hue with a two finger fluffy mocha head that leaves sticky side lacing and a very nice blanket.
S - Aromas of funk and sour vinuos barrel ans possibly some light char.
T - Taste is slightly funky with alot of sour funky barrel notes. Nice and vinegary with good grapeskin
M - Mouthfeel was solid with good funk and light chocolate very tart and nice.
O - Overall this beer was pretty tasty. Nice chocolates and funk here. Delicious.
★
571 characters
Civil Disobedience #4 from Hill Farmstead Brewery
4.2
out of
5
based on
180
ratings.