Fear And Trembling
| Hill Farmstead Brewery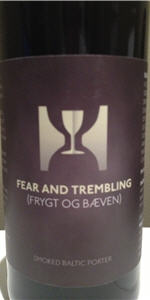 BEER INFO
Brewed by:
Hill Farmstead Brewery
Vermont
,
United States
|
website
Style:
Baltic Porter
Alcohol by volume (ABV):
9.30%
Availability:
Rotating
Notes / Commercial Description:
Fear and Trembling was Hill Farmstead's first collaboration—a Baltic-style porter brewed with malt that was hand smoked over maple wood by our Danish friend, and former colleague, Anders Kissmeyer. This batch was brewed with malt that was hand-smoked over a blend of native woods, then fermented in the traditional way, with lager yeast, and conditioned in stainless steel.
Added by MasterSki on 01-21-2013
Reviews: 65 | Ratings: 368
4.51
/5
rDev
+6.4%
look: 4.5 | smell: 4.75 | taste: 4.5 | feel: 4 | overall: 4.5
Bottle poured into a Hill Farmstead stem.
Pour: Splashy black with a nice two fingers of foamy tan head. Nice lacing, and the head hangs around for most of the glass.
Smell: Lots of roasted chocolate and coffee up front, and a clean char. Some smoke, but not a ton. Like burnt oak.
Taste: Not as smokey as the nose would lead you to believe. Lots of dark roasted coffee and some milk chocolate. Smoke comes through mostly on the finish, with vanilla, roastiness, and a clean smoke.
Mouthfeel: Very nice and creamy. Carb is just right on this one. The smoke isn't over powering, but half a bottle was plenty for me.
Overall: Well executed, and one of the few smoked beers I have enjoyed.
★
694 characters

4.49
/5
rDev
+5.9%
look: 4.25 | smell: 4.5 | taste: 4.5 | feel: 4.5 | overall: 4.5
Bottled January 2013, 500 ml bottle into a tulip glass.
A - Pours a dark, dark brown body. Just a shade below black. Two fingers of mocha foam settles to a one finger cap of long lasting foam. Excellent lacing and moderate retention.
S - Smokey malts, ham, chocolate, coffee and a nice mineral bite. The smell is just phenomenal, smokey and rich with just enough sweetness and bitterness to keep things in check.
T - Starts off smokey and savory. Smooth milk chocolate and bitter coffee beans come to the rescue to provide some balance. Finishes with lasting ash and sweetness. This is a top notch smoked porter. Very delicious with the perfect level of smoke.
M - Medium bodied and creamy. Moderate level of carbonation.
O - I'm not a big fan of smoked beers, but this is right up there with Alaskan Smoked as the best I've ever had. Really great stuff.
★
861 characters

4.07
/5
rDev
-4%
look: 3.75 | smell: 4.25 | taste: 4 | feel: 4.25 | overall: 4
Appearance: dark, not black, light brown head, finger, light edges.
Aroma: smoke, but a burning wood smoke, not a meat smoke, chocolate, nutty, caramel.
Taste: smoky and charred, woody, chocolate, caramel, sweet and bitter.
***quite good. Have grown to prefer a meatier smokiness, as opposed to a woody smoke, but its still great. Very drinkable.
★
349 characters

4.59
/5
rDev
+8.3%
look: 4.25 | smell: 4.5 | taste: 4.75 | feel: 4.5 | overall: 4.5
A friend brought me back a growler from VT. Poured into stemmed glasses. Dark brown body with light beige head. Tons of smoke aroma up front. Taste was a great blend of smoke, chocolate, and wood. Very nice body, which was perfect for a Baltic Porter, but smooth enough to make an over 9% beer very drinkable. Overall, a pleasure to drink and quite a treat, so thanks to Joey G.
★
378 characters

4.24
/5
rDev 0%
look: 4 | smell: 4.25 | taste: 4.25 | feel: 4.25 | overall: 4.25
The beer pours a deep murky black with an inch of tan head that dissipates and thinly blankets. The nose is smokey, but sweet, reminiscent of a s'more (thanks tom for the analogy) minus the gram cracker. The taste presents an initial caramelized sweetness with a modest infusion of smoke, metal, and fruit. Err I'm not sure what "hand smoked over native woods" means exactly, but I'm hoping to try a beer aged on one of Darren's stellar looking chairs at some point. This is a very drinkable Baltic porter with great fruity/caramel sweetness, smooth, thick body, yet is supremely smoky and saturates your palate without dominating it. This is a great beer, but not a "definitely must try this" beer (and the 0.5L size is the perfect size for 2 healthy samples).
★
761 characters

4.4
/5
rDev
+3.8%
look: 3.75 | smell: 4.25 | taste: 4.5 | feel: 4.5 | overall: 4.5
500ml bottle poured into HF stemmed glass.
A- Pours a dark brown that appears an opaque jet black in the glass. Fairly minimal mocha head that quickly recedes to leave a fairly still top and some light spotty lacing.
S- Smoked beechwood malt, a bit of smoked ham blended with rich chocolate and coffee. Very nice balance and fairly aromatic that you can smell while pouring the beer into the glass.
T- Creamy rich chocolate, espresso, finishes with a nice malty smokiness that isn't too overpowering. Not as smokey as the aroma. Extremely nicely balanced with a nice lightly smoky chocolate lingering aftertaste.
M- Creamy, smooth, very easy drinking, nice carbonation for the style, almost perfect feel for a baltic porter.
O- This was a fantastic baltic porter that definitely lived up to my expectations. This isn't the smokiest baltic porter but the balance between the smoked malt and the luscious chocolate is spot on in my opinion. This is another grand slam by HF and a must try for any smoked baltic porter fan.
★
1,027 characters
4.27
/5
rDev
+0.7%
look: 4.5 | smell: 4.25 | taste: 4.25 | feel: 4.25 | overall: 4.25
Poured from the growler into a tasting snifter.
The beer pours a dark mahogany with a layer of light tan head that leaves a thick ring around the pour. In the nose I'm getting smoke and dark fruit along with a malt sweetness and some roasted malt. The taste follows from the smell. I'm really liking the smoke and there is just enough sweet malt to back it up. The mild dark fruit notes and the roast work well with everything else. The finish is smokey and bitter. The body is medium with smooth carbonation and a dry finish.
★
527 characters

4.41
/5
rDev
+4%
look: 4.25 | smell: 4.5 | taste: 4.5 | feel: 4.25 | overall: 4.25
Presentation: 500 mL bottle from the brewery. I also had this on tap at the brewery as part of the sampler. Chilled and poured into a Russian River tulip glass. Enjoyed over an hour or so.
Appearance: Dark brown to black in color. A slow forming, medium brown head that holds well and turns into a nice lacing.
Aroma: Cocoa beans, caramel and really nice, subtle smoke tones throughout. All the flavor of the malt is there without any astrigency or burnt character. More sweet than bitter in the nose. Extremely well rounded.
Taste: Really rich, well rounded smoke character. Really imparts an almost smoked meat character throughout. Strong caramel backbone with a touch of coffee balances out the smoke and really makes this tasty and drinkable. The balance of smoke and sweetness is really on point.
Mouthfeel: Medium bodied with a touch of creaminess. Surprisingly strong bite of carbonation.
Overall, another great porter from Hill Farmstead. So much flavor, complexity and balance in such a drinkable beer. The smoke is almost perfectly balanced with sweetness from the malt. It definitely fits into the category of a smoked beer more than a baltic porter for me. It is a great beer no matter how you classify it though.
★
1,231 characters

4.31
/5
rDev
+1.7%
look: 4.5 | smell: 4 | taste: 4.25 | feel: 4.75 | overall: 4.5
550ml bottle poured into a Dogfish snifter.
A~ black as night with a sandy colored head.
S~ smokey up front, following with dark malts and a hint of vanilla.
T~ mmm...! and i'm not one for smoked brews. almost follows the nose, smoke and maple syrup up front, dark malts and some bitterness on the finish.
M~ i'm in love with how this feels (no homo lol) amazingly thick and syrupy with a crazy smooth finish.
O~ i haven't had too many darker brews from HF but this one is definitely my favorite so far. and thats really saying a lot cause i normally don't like a "smoked" beer. i would definitely drink again!
★
615 characters

4.48
/5
rDev
+5.7%
look: 4.75 | smell: 4.25 | taste: 4.5 | feel: 4.25 | overall: 4.75
Waited in the February Vermont cold for two hours for this here brew.
A: As to be expected considering the type, Fear and Trembling pours a deep, silky black with a caramel head--even with the growler having been open for over 24 hours.
S: Overwhelming smoked malt overtones.
T: Taste is predominantly maple and smoke dominated. It is true to the style for sure, and is without doubt the best baltic porter I've had.
M: Neither especially syrupy or heavy nor weak or watery.
O: This masterpiece of Hill Farmstead was undoubtedly worth the numbingly cold wait in line and $18 it took to get in my possession--something I cannot say about many other beers.
★
660 characters
4.89
/5
rDev
+15.3%
look: 4.75 | smell: 5 | taste: 5 | feel: 4.5 | overall: 4.75
One of the best smoked porters I've ever had.
Appearance is dark, thick, and a dark caramel head
Aroma is very smokey...especially the first sniff
Taste is smokey, bitter, and chocolately
I enjoy many of Hill Farmstead's beers. This is one of my favorites.
★
258 characters
4.43
/5
rDev
+4.5%
look: 4.25 | smell: 4.25 | taste: 4.5 | feel: 4.5 | overall: 4.5
A-dark brown black color with a nice tan head and good lacing
S-dark roasted malt, smoke, brown sugar, chocolate
T-dark roasted malt, chocolate, hints of espresso, brown sugar, all beautifully enrobed in smoke.
F-medium to full body with moderate carbonation, silky smooth and creamy
O-not usually a huge fan of smoked beers, but this is so well-balanced and has a great flavor profile that I will be drinking more
★
419 characters
4.16
/5
rDev
-1.9%
look: 4 | smell: 4.25 | taste: 4.25 | feel: 3.5 | overall: 4.25
750 mL growler poured into a snifter.
Appearance - Pours a deep brown, almost black. Nice khaki head and good wisps that regenerate with every swirl.
Smell - Quite smokey, but it has a sweet caramel aroma with it. Deep roasted malt blends with the smoke.
Taste - Pleasant amount of smoke. Caramel throughout snifter the darker malts come through in the back. Bitter and very Smokey in the finish. It gives it an interesting finish for a lager, but it's rough.
Mouthfeel - Overly bitter. Nice until the very end, but excessively bitter.
Overall - Missing the HF magic. Never been the biggest fan of smoked beers and while the smoke improves the Baltic Porter, it's rough in the end.
Edit: Had this out of the bottle and it was much better. Smoother finish.
★
761 characters
4.53
/5
rDev
+6.8%
look: 4 | smell: 4.75 | taste: 4.5 | feel: 4.5 | overall: 4.5
Holy smoke Batman! Fills the class with a dark and sexy black body and capped by a nice bit of dark mocha colored head. First whiff is beautifully smokey character thats more on the campfire side of things but has some bacon/meaty quality as well. The underlying porter comes across a bit sweet on the nose with chocolate and brown sugar notes.
First sip reveals a great balance of smoked beer and porter qualities. Most other smoked porters I've had seem to seriously lack on the smoked side of things but this one gets right up there with a big but not overpowering woody smoke flavor. And of course, as one would expect from HF, even without the smoked malt this porter would be among the best. Creamy and a bit sweet but not cloying at all. Chocolate and maple notes pair well with the smokey character. Nice full-bodied mouth feel but it's scary how easily this beer goes down at 9% ABV.
★
893 characters
4.3
/5
rDev
+1.4%
look: 4 | smell: 4.5 | taste: 4.25 | feel: 4.25 | overall: 4.25
750 mL growler.
Pours a dark, clearish brown with a light brown head. Nose of smoked malt, cocoa, vanilla; more sweet than bitter. Smooth flavor of a rich porter that is complemented by the smoked malt and not overwhelmed by it. I liked Holger Danske but I'd think if that was too much smoke for someone, this would be an agreeable compromise with the fuller, richer body and sweeter dark fruit and cocoa like flavor.
★
418 characters
Fear And Trembling from Hill Farmstead Brewery
4.24
out of
5
based on
368
ratings.