Sebago Brewing Company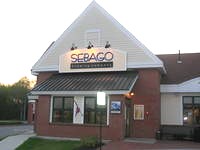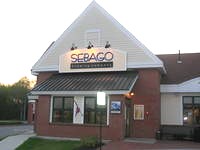 PLACE INFO
Type:
Brewery, Bar, Eatery, Beer-to-go
65 Portland Rd
Kennebunk
,
Maine
, 04043-6742
United States
(207) 985-9855 |
map
sebagobrewing.com
Notes:
No notes at this time.
Added by morebeergood on 04-09-2010
HISTOGRAM
View: Beers | Place Reviews
Ratings: 10 | Reviews: 5
Reviews by slander:
3.68
/5
rDev
-3.2%
vibe: 3.5 | quality: 3.5 | service: 3.5 | selection: 4 | food: 4
Vacation motoring up and out; did some time, saw some stuff. Got out of Vermont good and early, ran New Hampshire singing loud REM, and headed back northeastish, into Maine. Bottled coolships in a bit, but unvisited Sebago 'bunk for lunch now, 'cause I'm a bit peckish and hotel buttered toast ain't holding me. And I've got nothin' but time...
Stand alone in a strip mall parking lot, as opposed to an old brick complex on a 4 syllable named river, as more often does up out. You pass the shirt & shwag stuff displayed in the corner and a brewroom behind glass as you enter. They don't actually brew here, but fill the tanks from a tanker truck (spied it out in the parking lot and saw the hose show).
'U' shaped laminate wood topped bar with a rounded lip, horizontal slat wood base and tiled foot box; seating for 2 dozen+ on highback chairs. Bar island in the middle with an 8 tap horseshoe tower suspended from the ceiling on center, with small flats over cupboardings to both sides holding booze & pint glasses stacked. Another small flat on the end, and larger flats on the walls all around. Slat boat bow overhang with sunken spots, and curvy track spots up front and off the bar A single handpump in front of me on the bar to be investigated.
Crème colored walls with a wood trim, and some inner brick red painted pieces. Narrow vertical windows with smaller square ones above. Tile floorings & carpeted areas. A black drop ceiling in parts and rounded to the rear; strung track lighting back there and drop martini glass lamps. Kitchen open to the rear below a big brick wall. Seating off the front and side of the bar. A dozen tables & boos, another pair and a bar counter on the far side, and 20 more on the back and side side mix & match. Also, a small outside penned up garden with 8 tables.
5 year round (Frye's Leap IPA, Boathouse Brown Ale, Lake Trout Stout, Runabout Red Ale, Saddleback Ale), 3 seasonals (Hefeweizen, Paters Bier, Trekker Pale Ale), and a cask offering (Trekker Pale Ale). They don't do a sampler proper, but a 5oz sample glass runs $1.25 (best deal in town), so I had at a few of them; Frye's Leap IPA, 6%, meh, cascade, centennial, and something else, shows something almost fruity as it warmed; Lake Trout Stout, 4.7%, nitro, smooth, oaty, dry, creamy, pretty good; Boathouse Brown Ale, 4.2%, dark color, light maltiness, didn't really do anything as it warmed; Paters Bier, 5.3%, some spicy Belgian notes, quite nice, this one is the hero; Trekker Pale Ale, 6.1%, on cask, and it was just okay.
And the aforementioned lunch. Seafood chowder (shrimp, haddock, crab & scallop), a bowl, good stuff, twice as good as a cup. And the salmon BLT wrap. Good wrap (kind of hard to hurt that kind of thing), and served with cole slaw. Had been toying with the jumbo lobster roll, but let us not jump right in, eh?
Pretzel rods in pint glasses for the chomping along the bar. I may have eaten some of them. Server served; asked for stuff and got stuff, thank you. Beers, got at about half of them; the Pater and the Oatmeal were the best of the lot, and I caught a good meal. Really all I needed just now.
3,167 characters
More User Reviews:
4.4
/5
rDev
+15.8%
vibe: 4 | quality: 4.25 | service: 4.75 | selection: 4.25 | food: 4.75
3.49
/5
rDev
-8.2%
vibe: 3.75 | quality: 3.25 | service: 3.75 | selection: 3.5 | food: 3.25
3.41
/5
rDev
-10.3%
vibe: 2.5 | quality: 3.75 | service: 3.75 | selection: 3 | food: 3.5

3.78
/5
rDev
-0.5%
vibe: 4 | quality: 4 | service: 4 | selection: 3.5 | food: 3
Not far from the highway and nestles in a range of touristy areas in Kennebunk lies on of Sebago's locations. Typical pub scene when you walk in, but plenty of natural light and very clean. You can sit at the bar, or go around to a fairly large and open table seating area. The staff was very helpful, and very knowledgable about the beers that Sebago makes. Pretty standard happy hour deals, including on their beers and food. Growlers are not available, but they do have bottles you can buy to go, usually having most of what's on-tap available either in 4 and 6 packs, or in bombers in some cases. They had 6 tap lines going with their normal flagships, as well as two rotating for seasonals and their single release series. The food was decent and not overly expensive, and the menu is typical of most pub fare. Nothing super-outstanding upon my visit, but a good option to have if you are looking around for some beer and grub around their many locations.
960 characters
4
/5
rDev
+5.3%
vibe: 4 | quality: 4 | service: 4.5 | selection: 3.5 | food: 4
Stopped here with Artied2 and Al H on 06AUG11, during our Old Boars Hockey Tourney weekend.
Found easily off of Rte 1, right off the road near the entrance to one of the all-too-many mini-malls. It's a modern, nondescript brick and wood building, with parking and entry to the rear, off of Route 1.
Through the foyer and hallway, you can note the serving tanks through some windows on the left, in a cold room. Straight ahead to the island bar. Sit anywhere on any side, or at one of many tables on the far, front side of the building. Or, head to the right where you'll find some booths set up in a bright, airy room. You may also venture directly outside to a small patio fronting Route 1. We pahked at the bahr, and partook of some of the 7 on-tap brews made on premises. I had the IPA, which was solid and tasty. The blonde and brown were well-received, too. Our server was friendly and attentive, as well as displaying the minimum bier-knowledge a bier-geek appreciates. Food was decent, though not earth-shattering, and prices were not too bad, vacation-area be damned. Pretty good, overall, though I'd prefer their Gorham locale if I had to choose. Zum Wohl!!
4 rDev +4.2%
vibe: 4 | quality: 4 | service: 4.5 | selection: 3.5 | food: 4 | $$
218
1,254 characters

3.34
/5
rDev
-12.1%
vibe: 2 | quality: 4 | service: 3 | selection: 3.5
My wife and I made the drive over to Sebago on the second night (Sun) of our long weekend in Kennebunkport. The brewpub is located in a nondescript shopping plaza, right at the front near the main road. Looks like an IHOP from the outside. Inside, it looks like an Olive Garden. There is no brewpub feel to this place at all. A very cold and generic feel to this place. Reviewed the beer menu on the chalk board, with about 8 to choose from. Ordered the barrel aged stout, but of course was informed by the waitress they were out and forgot to erase that. I went with the normal stout and my wife had the wheat. I do really enjoy the beers that Sebago makes; all quality stuff. Beers were $5.75 each. We decided to head out after one beer, to hang out in a place with a bit more character. I wanted to get a bomber of stout to go, as they were $4. I had to order it at the bar from the bartender, then a waitress had to get a manager to unlock the walk in cooler. Kinda slow process. Though I will give props to the manager for pointing me towards a good local bottle shop. Good beer here, but not worth the short drive in the end.
1,131 characters

4.15
/5
rDev
+9.2%
vibe: 4 | quality: 4.5 | service: 4 | selection: 4 | food: 4
I;ve always liked Sebago, and was happy to see they opened up in Kennebunk. I hope they continue the trend south and open a brewpub in York or Kittery.
The Kennebunk brewpub has been in operation for about two weeks, and is located right on Route 1. Easy to find. As you enter, the bar/lounge is directly in front of you and the dining area is off to the right. Brick, earth tones, well-lit. Tables and chairs are blond wood. TVs in the lounge area. Mostly booths in the dining area, some tables for two at the windows.
On my visit there were seven beers on tap: Frye's Leap IPA, Boathouse Brown Ale, Runabout Red Ale, Lake Trout Stout, Northern Light Ale, Full Throttle DIPA (the seasonal selection, to be replaced soon by the hefeweizen), and Milestone Ale (from the single batch series). I had a couple Milestone Ales, which were excellent.
The menu is pretty extensive, and fairly typical. I usually have a salad, because I think they do salads well. The Chipotle Chicken salad was great.
Our server was attentive and efficient.
A nice addition to Kennebunk.
1,063 characters
Sebago Brewing Company in Kennebunk, ME
Brewery rating:
3.75
out of
5
with
1,965
ratings