Your Black Heart Russian Imperial Stout
| O'Dempsey's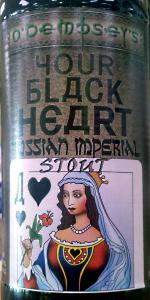 BEER INFO
Brewed by:
O'Dempsey's
Georgia
,
United States
odempseys.com
Style:
Russian Imperial Stout
Alcohol by volume (ABV):
8.00%
Availability:
Year-round
Notes / Commercial Description:
No notes at this time.
Added by elgiacomo on 11-08-2011
Reviews: 56 | Ratings: 196
3.63
/5
rDev
-7.9%
look: 3.5 | smell: 3 | taste: 4 | feel: 4 | overall: 3.5
Appearance: Pours a thick, black body with a slow-growing, didn't-get-there, short-lived, cafe head.
Smell: Roasted malts scattered with distilled alcohol and some portions of dark chocolate, though not quite as much that plays in the taste. Faint, underlying resinous hops and dark fruit esters with some late-breaking graham cracker.
Taste: Squares of dark chocolate fused to black coffee-accented, hard roasted malts and joined by sweet burnt caramel. Plump grape dark fruitiness. A small pinch of Captain Black pipe tobacco. Hop flavor is somewhat masked by the heavy maltiness, but the bitterness comes through abetted by a bit of astringency from the roasted grains and egged on the alcohol. Another thoughtful round of roast, chocolate, and dark fruits nearing the enduring finish.
Mouthfeel: Medium-plus body. Medium carbonation.
Overall: A fairly decent imperial stout. Some time in the cellar may benefit this one.
928 characters

3.64
/5
rDev
-7.6%
look: 3 | smell: 4 | taste: 3.5 | feel: 4 | overall: 3.5
[Best served in a Snifter]
Pour was a deep dark black with an average sized (1-2 finger) medium brown creamy head and had fair lacing.
The aroma was of burnt bread malts, a mild resin hop and a leathery yeast with notes of bitter-sweet chocolate, molasses, roasted coffee and had a pronounced alcohol presence.
Taste was malty sweet and very lightly bitter with a mild notes of chocolate and molasses at first with a nice bitter strong coffee flavor, a hint of smoke and a strong alcohol finish. The flavor hung around for a long duration with the taste of coffee and alcohol left to settle on the taste buds.
Mouthfeel was very full in body and dry yet creamy in texture with a soft carbonation.
Overall a nice and strong flavored Imperial Stout with the coffee and chocolate flavors blending very well with the high alcohol finish.
839 characters
4.58
/5
rDev
+16.2%
look: 5 | smell: 4.5 | taste: 4.5 | feel: 5 | overall: 4.5
Beer/Brewery – Your Black Heart Russian Imperial Stout/O'Dempsy's
City/State- Atlanta/Georgia
STYLE – Russian Imperial Stout
ABV –8%
IBU – 90
DATE – 03 JAN 2012 (Beer # 3 in the 365 new beers tried in 2012)
SERVING TYPE – 12 oz Bottle
GLASSWARE – Tulip glass
APPEARANCE – Black as the blackest night. No light passes through the beer. Thick frothy head cocoa in color maintaining at ¼ inch with wonderful lacing!
AROMA- Nice aromas of cocoa and roasted coffees
TASTE – Tart but rich with the roasted flavors and a nice smoky flavor lingering in the back
MOUTHFEEL – Creamy but Thin for a Russian Imperial Stout but not too thin, the carbonation leaves are perfect
CONCLUSION – By far my favorite beer form O'Dempsey's! It is great to see the small guys tackle such a big brew and pull it off!
-JH-
828 characters

3.93
/5
rDev
-0.3%
look: 4.5 | smell: 4 | taste: 4 | feel: 3 | overall: 4
Big thanks to BulbMan for this Southern treat
Blackest black, opaque, thick and billowy four finger brown head, and, eventually, crazy lace coating the Alchemist pint glass. Take a picture, this is how a stout should look.
Roasty malt, bitter chocolate, milk chocolate, hints of coffee, some herbal bitter in there, the nose is not strong, but it is quite enticing.
Wow definitely some English yeast in this baby, tart and tangy, bitter roast, deep burnt caramel, coffee, bitter chocolate, some toast and herbal dank in the mix, with a real deep bitter roasty finish making up the rest of the flavor profile. Not as sweet as many others in this style, but quite tasty.
Thin for style, but perfectly low carb, quite creamy, with a finish that is tasty, but not in the way of the crazy clinging dank, molasses, and bitter of many fine offerings of this style.
I like this, but I could see a lover of some of the major players in this category thinking it isn't thick nor full flavored enough. Very tasty, and I'm glad I got to try it.
1,038 characters

4.15
/5
rDev
+5.3%
look: 4 | smell: 4 | taste: 4.5 | feel: 3.5 | overall: 4
-Appearance 4.0: Poured out a gorgeous jet black with a half-inch, amber colored head. Head slowly dissipated, but a creamy foam stuck around the edges.
-Smell 4.0: Striking, acerbic smell of hops and deeply toasted grains. Very concentrated and sharp. Promising.
-Taste 4.5: Slightly sour at first, but this is followed by a delicious taste of a mix of toasted grains, chocolate and coffee. There is a slight burning sensation to the throat and then an aftertaste of grains and hops. Long, toasty & chocolaty finish. Delicious.
-Mouthfeel 3.5: Level of carbonation is good, but some may find the slight burning sensation a bit off-putting (I did not).
-Overall 4.0: Excellent Imperial Stout. I would consider this a more than acceptable substitute for Old Rasputin. Highly recommended, even if the label is a bit goofy looking. ;)
836 characters

3.73
/5
rDev
-5.3%
look: 4 | smell: 3.5 | taste: 4 | feel: 3.5 | overall: 3.5
12oz bottle. Recent release, so very fresh. Served at cellar temperature.
Pours black with a one finger light brown head that leaves some nice spots of lacing and holds a good creamy cap.
Aroma is initially some coffee and chocolate notes, but then moves to some dark fruits, bread and heavily roasted malts with a noticeable hop presence. Good to very good strength.
Flavor is coffee, chocolate, dark fruits, roasted if not burnt malts, some hops but not as much as the aroma. Moderate sweetness and a little alcohol on the finish.
Mouthfeel is medium-plus bodied, sticky and somewhat creamy but at times has sharp carbonation. A little thin for the style though.
A good Imperial Stout, very drinkable with the relatively low ABV. Not as big, rich or robust as others in the style, however. Still, I enjoyed it and wouldn't mind sitting on a bottle for 6-12 months to see what it would do with some age.
909 characters
Your Black Heart Russian Imperial Stout from O'Dempsey's
3.94
out of
5
based on
196
ratings.