Scandinavian Spruce Ale

Eskilstuna Ölkultur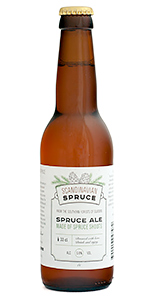 Write a Review
Beer Geek Stats:
| Print Shelf Talker
Style:

ABV:

5.6%

Score:

Avg:

3.09

| pDev:

11.33%

Reviews:

4

Ratings:

From:

Avail:

Year-round

Wants

Gots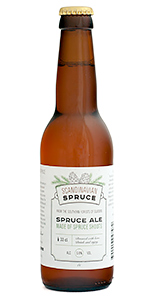 Notes: This ale is brewed at Klackabacken in Önnestad from water, pilsner and carapils malt and then boiled with cascade hops and spruce shoots before it's fermented with Saison yeast. Because the Ale is unfiltered it might be a bit turbid but it will get clear if kept upright in the fridge for a couple of days. Keep dark and cool.
Reviews by metter98:
metter98 from New York
3.64
/5
rDev
+17.8%
look: 3.75 | smell: 3.5 | taste: 3.75 | feel: 3.75 | overall: 3.5
A: The beer is hazy pale yellow in color and has a moderate amount of visible carbonation. It poured with a half finger high white head that died down, but consistently left a thin head covering the surface and some lacing down the sides of the glass.
S: Light to moderate aromas of spruce tips are present in the nose along with notes of yeast.
T: The taste follows the smell, and starts off with flavors of spruce tips and has underlying notes of pilsener malts and hints of yeast.
M: It feels light- to medium-bodied on the palate and has a moderate amount of carbonation. The spruce lends a slight bit of prickliness to the finish.
O: This beer has a pleasant dose of spruce in both the smell and taste. It's prominent, but not overpowering.
Serving type: bottle
Apr 04, 2016
More User Reviews:

oberon from North Carolina
3.28
/5
rDev
+6.1%
look: 3.25 | smell: 3.25 | taste: 3.25 | feel: 3.5 | overall: 3.25
Pours into a small tulip glass a slight hazed lighter golden with huge over flowing white head,heavily carbonated.Yeast notes dominate the nose,slightly phenolic with only a hint of spruce showing thru.Dry on the palate with mildly spicy yeast flavors,there is an underlying spruce component but it really is subtle.Kinda forgettable was hoping for a hidden gem,it wasn't.
Aug 12, 2017
bark from Sweden
2.44
/5
rDev
-21%
look: 3.25 | smell: 2.25 | taste: 2.5 | feel: 1.5 | overall: 2.75
Bottle. Best before January 1st 2015.
The colour is gold-amber (15 EBC), the liquid is clear. The four finger head is off-white and compact; it sinks slowly leaving no lacing.
The smell is sweet and sticky. Citric hops, glue and solvents. Perfumed notes of fibreboard and spices.
The taste is sour with aggressive sweetness and some fruity hops. Spicy saison-yeast and perfumed fatty flavours. Medium to full body. The aftertaste sour, too, and quite Belgian with distinct yeast notes, spices and hot alcohol. The finish is quite short with perfumed notes of fresh wood and fresh exotic fruits.
The carbonation is extremely strong, it almost hurts my mouth. The large bubbles are long-lived. The liquid is dry.
This would have been an interesting take on the saison style, if it hadn't been for the sourness and the over-carbonation. The spruce shots? I don't know if I could notice them.
Nov 21, 2014
dbrauneis from North Carolina
3.57
/5
rDev
+15.5%
look: 4.25 | smell: 3.5 | taste: 3.5 | feel: 3.75 | overall: 3.5
A: Pours a relatively clear medium apricot in color with moderate to heavy amounts of active visible carbonation rising quickly from the bottom of the glass and faint pale golden yellow colored highlights. The beer has a three finger tall dense fizzy pillowy foamy white head that reduces to a few small to medium sized patches of thin film surrounded by a large patch of very thin film covering the remainder of the surface of the beer and a thin ring at the edges of the glass. Moderate amounts of lacing are observed.
S: Moderate aromas of slightly spicy/peppery saison yeast over the top of lighter aromas of spruce tip and a light aroma of pale + bready malts. Light aromas of citrus/lemon + pine hops.
T: Upfront there are light to moderate flavors of bready + pale malts with a hint of grainy sweetness. That is followed by slightly stronger than moderate flavors of slightly spicy/peppery saison yeast and light to moderate aromas of spruce tips. Finally there is a light flavor of citrus/lemon + pine hops which imparts a light amount of bitterness which fades pretty quickly leaving a lingering yeastiness in the finish.
M: Light to medium bodied with moderate to heavy amounts of carbonation. Effervescent like a champagne.
O: Easy to drink and enjoyable with the spruce trip presence being a little more subtle than in other beers. Interesting with the saison yeast presence which was a little stronger than anticipated. Alcohol is well hidden.
Dec 17, 2017

DucksFan16 from Alaska
2.73
/5
rDev
-11.7%
look: 3.75 | smell: 2.5 | taste: 2.75 | feel: 2.5 | overall: 2.75
12/03/2016
Overcarbonated, spruce is not even noticeable on the nose, and very faint on the finish.
Dec 04, 2016

JamFuel from Sweden
3.11
/5
rDev
+0.6%
look: 3.75 | smell: 3.25 | taste: 3 | feel: 3 | overall: 3
Aug 26, 2016
Chico1985 from Massachusetts
3.02
/5
rDev
-2.3%
look: 4 | smell: 3.25 | taste: 3 | feel: 2.5 | overall: 2.75
Aug 31, 2016
aztraz from Sweden
3
/5
rDev
-2.9%
look: 3 | smell: 3 | taste: 3 | feel: 3 | overall: 3
Dec 30, 2015
fosters9 from New York
3.25
/5
rDev
+5.2%
look: 3.25 | smell: 3.25 | taste: 3.25 | feel: 3.25 | overall: 3.25
Nov 06, 2017


Beerbom from California
3.13
/5
rDev
+1.3%
look: 3.25 | smell: 3.25 | taste: 3 | feel: 3 | overall: 3.25
Mar 02, 2016
Heeenrik from Finland
3.39
/5
rDev
+9.7%
look: 3.5 | smell: 3.75 | taste: 3.25 | feel: 3.25 | overall: 3.25
Dec 29, 2015
Scandinavian Spruce Ale from Eskilstuna Ölkultur
Beer rating:
80
out of
100
with
13
ratings