Tony's Darts Away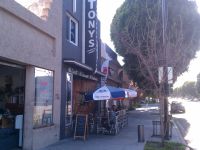 PLACE INFO
Type:
Bar, Eatery
1710 W Magnolia Blvd
Burbank
,
California
, 91506-1873
United States
(818) 253-1710 |
map
tonysburbank.com
Notes:
No notes at this time.
Added by tyanow on 04-13-2010
Reviews: 51 | Ratings: 81
4.78
/5
rDev
+6.5%
vibe: 4.5 | quality: 5 | service: 4.5 | selection: 5 | food: 4.5
Of course, AFTER I move out of the Valley, it get's it's very own legit craft beer bar! I shan't complain. No sir...because it's worth the trip back.
This is it, folks. 100% quality selection, service and even bar food. The interior is a refurbished dive bar (that used to be called Darts Away...hmm), and the make-shift wooden paneling of the bar and layout of the place definitely hint back towards it's beginnings, of which the non-pretentious, kick-back attitude still exude from: the dart board and pool table are now joined by boxes of games like chess and connect four; the walls and uncovered air vents decorated in brewery's bumper stickers.
Do not be fooled by the decorum, however. The IPA-centric (like the Golden State, they focus on Cali-made beers and food) beer selection will make any hop-fan's eyes tear up...possibly run like a faucet, as it is constantly rotating a wide variety of California IPA's; some of which - I'm going to say it - I had never heard of before visiting this last time. This is not to say that the other half of their tap menu (as well as their 2 cask engines) don't offer equally rare and interesting craft beers. The selection is all-in-all everything a beer geek would want and the service (esPECIALLY the management) are right there with you. Takes one to serve one.
Food wise, I'm a huge fan. They keep it simple with local, organic sausages and salads and make pains to cater to the ever-increasing vegan/veggie crowd. I am neither of these, but I have many beer loving friends who are...and I very much appreciate that TDA doesn't stop thinking past its (admittedly) excellent focus on beer.
It get's wicked crowded between 8 and 10 almost every night: so get there early, or be prepared to stand around some friendly people while sipping your first beer waiting for a table to clear. Believe me, tho...it's worth the wait!
1,875 characters
4.63
/5
rDev
+3.1%
vibe: 4.5 | quality: 4.5 | service: 4.5 | selection: 5 | food: 4.5
Tony's Darts Away is the new player on the block in Burbank. There is no other place that can even come close, though. The taps are the best selection around for miles and miles. The idea of stocking only California brewed beers in kegs only is revolutionary and genius. Tony and his crew are some of the nicest and well educated people in the business. Since they opened I have learned so much more about beer and brewing that I consider Tony's Darts Away my home away from home.
If you have not been, you are missing out. It is definitely a pleasure to hear a keg blow out and know that a different beer will be on tap next.
I have had the great pleasure of meeting Lee Chase there and learning about his Blind Lady Ale House in San Diego. That was very cool.
See you at Tony's...
786 characters

4.5
/5
rDev
+0.2%
vibe: 4.5 | quality: 4.5 | service: 4.5 | selection: 4.5 | food: 4.5
Finally what Burbank has been waiting for, it's very own beer bar. Having been to the original Tony's Darts Away, I can say we didn't lose much but we gained a whole hell of a lot. The focus is on beer, fresh beer from California. At first I was a little disappointed by this concept of "limiting" the selection to CA only, but I soon realized the greater goal: focus on having local beer as fresh as possible. And that for sure is not a bad thing. The atmosphere is good and only getting better. The beer books are an awesome touch for the beer lover and noob alike. It's cool to read and learn about beer while you're doing the field research. Pool table is a bonus but it can be hard to play when the place gets a little crowded and you can still run into the old timers from the original Tony's which is always a fun experience. The food, while limited, is great. Although they don't have the wings the original did, they make up for it with their beer selection. Service is good, most of the staff still seems to be learning but the place is only a couple of months old. My favorite part is the half pint. I love it, every bar should have it and I'm glad Tony's does. I'm excited to see how this place will develop over time.
1,230 characters
4.36
/5
rDev
-2.9%
vibe: 4.5 | quality: 4.5 | service: 4 | selection: 4.5
So much has been said about this new Burbank bar that I decided to drive from Orange County to see whats up. TDA is well lit from the street at night, so finding was not a problem. There's plenty of parking on the street.
Well lit interior, pale colored wood all around, board games to play with friends, beer books waiting to be read, a pool table, a dart board, and a large bar decorate the interior of TDA. It's very clean, and very inviting. Nearly everyone there was around the age of I (I'm 24).
The foucs, as others have stated, are strickly California beers on-tap and cask. There are two cask engines to go along with the 30-odd rotating taps. Lots of IPA's on the menu, running about 15 total, while the rest are filled with "Not IPA's". There are beers from AleSmith, Stone, Ballast Point, Coronado, Eagel Rock, Bootlegger's, Kern River, Craftsman, Firestone, MateVeza, Anchor, Marin, Sierra Nevada, and Rubicon, including lots of "harder to find" kegs. It's a great concept.
Unlike other places, TDA serves an honest pint. They take an English pint glass (about 20 ounces), fill it to a certain point in the glass, and serve it. Your beer may not be filled all the way to the top, but you're still getting the pint of beer you paid for. Most of the beers are around $5 a pour. Other pieces of glassware are also used, including a half-pint.
The bartenders seemed to have a grasp on beer knowledge, and were quick to keep glasses full of beer. A small selection of food is served as well (sausages, fries, salads, onion straws), but I wasn't hungry. Maybe next time I'll experiment.
TDA is a fun place for the beer drinker. The craft beer bar scene in LA just got another great addition, in an area that's been adding them at a furious pace over the last few years.
1,784 characters
4.95
/5
rDev
+10.2%
vibe: 4.5 | quality: 5 | service: 5 | selection: 5 | food: 5
As a Portland native and long time beer lover, I can without
hesitation, suggest Tony's Darts Away as the top beer bar between San Francisco and San Diego. And I put it up against any SF or SD place too.
Where do I start? How about the beer... They have 39 beers on tap including two beer engines and three nitro taps. All of the beer is on draft. It is all from California and it is all incredible. No concession Bud Light in bottles or Guiness on tap.
The sign prominently reads: All craft, all draught, all California and this place delivers. Honest Pint certified, beautiful large pours, super cheap prices, rotating selection to keep the beer geeks swarming and about 10 resident taps that keep regulars happy.
There is nothing wrong and everything right about this neighborhood pub.
Food is very good and has a ton of vegan stuff. Atmosphere is beer bar
perfect. Simple, easy to relax, comfortable, games, jukebox.
The best thing about this place might be the vibe. Staff is well
trained and passionate about beer without being pretentious or pushy at all.
Mwah - I heart Tony's.
ps. just got a private message from a fan of this bar asking why I had given them $$$$. My mistake, Tony's is very inexpensive.
1,215 characters
4.5
/5
rDev
+0.2%
vibe: 4.5 | quality: 4.5 | service: 4.5 | selection: 4.5
UPDATE - visited on Thursday night July 1st at 8:00pm; there were no tables and no spots at the bar. Tony's is a victim of its own success. I was in line between people who wanted to know what the best pilsener on tap was. Not really full-on beer geeks, obviously, but I applaud that more and more people are moving into the world of craft beer.
Get a clue, LA entrepreneurs: we need more places to have good beer in the San Fernando Valley, where over ONE MILLION PEOPLE live. That's more than the population of many urban areas with their own thriving craft beer scenes. Besides Tony's, what do we have? A couple of BJ's, a Gordon Biersch, Fox and Hounds, McG's, Laurel Tavern (ack) and Blue Dog. COME ON!
Anyway...
___
Tony's, I love you. This is a beer lovers' place, like Father's Office used to be (BEFORE the Office Burger). It compares favorably with other LA area haunts (I'm looking at you, Verdugo).
I can't fault the place in any way except to suggest more bar staff. The wait for a beer can range up to ten minutes at peak times.
But it's beer worth waiting for. While not a menu full of beer pron, the solid and changing lineup is skewed towards local and regional brews.
To sum it up, Tony's is the ideal neighborhood bar: clean, friendly, a good hang spot, average prices, great craft selection (with no PBR style concessions on draft), awesome staff. The crowd when I visited was actually drinking and interested in beer - surprising in a good way based on the their being youngish studio-type employees.
Ample, free street parking and freeway close location are just the icing on this cake.
My new favorite place in greater LA metro for a brew.
1,671 characters

4.28
/5
rDev
-4.7%
vibe: 4.5 | quality: 4.5 | service: 4.5 | selection: 4 | food: 3.5
Its location emphasized by a large TONY'S sign on a stretch of Magnolia Blvd before the 5 freeway. This place is easy to find and the ensuing parking concern is equally remedied by ample residential space.
Once inside of Tonys', the layout is surprisingly uncluttered. Large windows near the front along with a few wooden tables that are adjacent to a large bar that spans nearly half the distance of the rectangle shaped space. Wooden tables line the perimeter, and towards the back of there is a pool table and a couple of televisions for your viewing pleasure. The walls are adorned with craft brewery advertisements; a nice touch.
A big plus is the number of things there are to do at Tony's. There is a rather extensive beer library that you can peruse through while enjoying one of over twenty different tap selections (most being served in 16oz true pints) for a very inexpensive price range of between $4.50- $6. There is billiards, also there are a few additional games (gotta have darts right?) that I can not comment on because I didn't check them out (I brought my own games).
Food is good but not something to go out of your way for. Sausages and fries, not bad, rather keeping it simple, but hey beer doesn't need to be complex all of the time!
The crowd is mainly hipsters in their late twenties to a hodgepodge of people in their early forties. Everyone seemed to be friendly (hey at least there weren't any angry drunks), and as the sun set a few rays illuminated the bar through the windows which was a pleasant surprise.
Tony's is everything a neighborhood beer bar should be in my opinion.
1,615 characters
4.63
/5
rDev
+3.1%
vibe: 4.5 | quality: 4.5 | service: 5 | selection: 4.5 | food: 4.5
Wow, what did we we do to deserve this? The new Tony's DA is a dream come true for the residents of Burbank and the surrounding area.
The most remarkable quality of the new Tony's DA is the genuine passion, excitement and enthusiasm the new owner and his staff share for exploration into the complex art of craft brewing, - particulary focusing on a diverse spectrum of unique and quality brews originating from our home state of CA.
In addition to the "earth conscience" efforts to only drink fresh, local beer from CA, the new Tony's DA serves a wide assortment of interesting sausage sandwich combinations (Vegan+regular) as well as a couple of solid, fresh Salad options and a hand-made Orange Cream soda made by a brewery in OC called ??
Overall - a GREAT place to have in town and well worth patronizing on a regular basis.
P.S. Did I mention that the owner has two deluxe dog beds right out front for your dogs to hang out in while you stop in for a beer at your local Burbank beer bar :)
998 characters
4.33
/5
rDev
-3.6%
vibe: 4.5 | quality: 4.5 | service: 4.5 | selection: 4 | food: 4
Ahh Tony's. Thank you for existing.
A wonderful concept that I love and embrace... a no-frills bar dedicated to local brew with quality food in a relaxed atmosphere.
As you probably know, there's 30 odd taps (and pretty soon a couple casks and a few nitro taps) of all-California beer.... and that's it (there's some California root beer on tap as well). No bottles. Food, at least currently, consists of sausages, salads, and a few fried items (sweet potato fries, onion "strings" and homemade chips). Sausages are served with a myriad of side options. Extremely solid. Prices are great (topping off at around $6 for a real 16oz pint of beer, glasses only for the truly strong stuff). Bar pool table and a dart board (with honest to goodness nice darts) round it out. Selection tilts heavily towards IPAs (no problem there) but could stand for a bit of evening out on the back end (although it was already superior in terms of range of selection on my second visit).
I'm a bit biased knowing (well, knowing might be a bit strong, but at least a passing acquiantance) with the GM and friends with one of the bartenders, but I love the vibe of the place. There seemed to have been a couple early growing pains but there's always a crowd of staff around so it stands to reason that any bumps in the road will smooth out before long.
Good food, comfortable atmosphere, great beer, awesome concept, excellent people... not sure what more you could ask for? Certainly making my life difficult as I have increasingly less time to spend out at beer bars as more great places keep opening in the LA area. Hats off.
1,611 characters
4.75
/5
rDev
+5.8%
vibe: 5 | quality: 5 | service: 4 | selection: 5 | food: 5
Not only do they have over 30 California beers on tap, they are only $4.50-$6.00 for a real pint. They also do flights and half pints which in nice. The food is awesome, especially the sweet potato fries. They even have vegan food that I could actually swallow.
They have a good mix of tables and bar seats. There's a pool table and a dart board of course and 3 tvs. Not only do they have books you can check out, they have games to play like Connect Four and Trivial Pursuit. Its a good place to have lunch and they allow children up until a certain time. Not only the best bar in Burbank probably my favorite in the San Fernando Valley.
638 characters
4.7
/5
rDev
+4.7%
vibe: 5 | quality: 5 | service: 4 | selection: 5 | food: 4.5
This place is a beer lovers paradise, there are a load of beer books you can read there or barrow, on every thing from cooking with beer and home brewing to rating beer. I like the fact they have half pints and there pint glasses are actually 16 fluid ounces. I also like that they are keeping it local all the bees are regional from within the state. Last night I had Old Godfather Barley Wine-Style Ale from Speakeasy, I couldn't believe they had it there. They are putting in 2 cask ales I cant wait to try those. Over all its a wonderful place.
548 characters
Tony's Darts Away in Burbank, CA
4.49
out of
5
based on
81
ratings.