Tony's Darts Away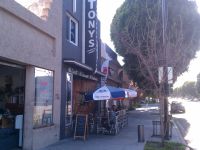 PLACE INFO
Type:
Bar, Eatery
1710 W Magnolia Blvd
Burbank
,
California
, 91506-1873
United States
(818) 253-1710 |
map
tonysburbank.com
Notes:
No notes at this time.
Added by tyanow on 04-13-2010
Reviews: 51 | Ratings: 81
4.9
/5
rDev
+9.1%
vibe: 4.5 | quality: 5 | service: 5 | selection: 5 | food: 4.5
Tony's is one of those locations that you go to if you know you love IPA's. And really, if you're in California how can you not enjoy a good IPA. That's what we're good at.
The joint has a wide selection of craft beers that you generally won't find in many places in a 10 mile radius. I know if I'm up for Pliny, there's a 90% chance that I will find it here.
The food selection is mainly a variety of different types of hot dogs as well as a good selection of vegan options (their other site Mohawk Bend is more vegan friendly)
They have board games so you can kill time and slip your drink. The place uses proper glassware as well as pours a proper pint. Prices are all around pretty decent.
699 characters

4.93
/5
rDev
+9.8%
vibe: 5 | quality: 5 | service: 4.75 | selection: 5
I stopped by here on a trip to the LA area. Great craft beer selection. I came by just to try Pliny the Elder, which I can't get anywhere near where I'm from. They had tons of beers on tap, and the food looked great. Most were ordering a 4 beer sampler kinda deal. We sat around and watched the NFL game on TV at the bar, but if we had got there 20 minutes later we would've had to wait for a table. Cool place.
411 characters

4.94
/5
rDev
+10%
vibe: 4.5 | quality: 5 | service: 5 | selection: 5
Had read about this place some time ago and decided to invite a few co-workers. Everyone in our group of 10 agreed what great place this is. Each one of us have different tastes in brews, Pils to Stout. The sweet lady poured perfectly and explained the various pours and glassware to my pils buddy. Take a look at the beer book library. My hefe boss even dug this pub. I would guess there 15 to 20 bar stools and table seating for 40. Without a parking lot, you'll find free street parking on the two cross streets. We were there at 4 on a weekday afternoon, so parking was very easy. Yes, PTE was available!
608 characters
4.95
/5
rDev
+10.2%
vibe: 4.5 | quality: 5 | service: 5 | selection: 5 | food: 5
The world needs more places like Tony's Darts Away. Its welcoming, unassuming, and has a purpose without being too in your face about it.
They have the best beer selection. It's not the biggest list, but they hit on every cylinder. As a hop head, I like that they split the list into IPA and Other.
Where else can you drink Pliny The Elder, Sculpin, Denogginizer, Torpedo, Hop 15 in the same night and only try about 1/4 of their IPA list? AMAZING!!!
The Other list is always super solid too. Hand pumps, nitro faucets and big pours for cheap prices.
The food is great and the service is second to none.
If you haven't been to Tony's, go in the afternoon or on a slow week night. Weekends get pretty busy in there. My one complaint is that it gets hot in there when it's crowded.
785 characters
4.95
/5
rDev
+10.2%
vibe: 5 | quality: 5 | service: 5 | selection: 5 | food: 4.5
When I moved from Glendale to Long Beach on January 1st, I was sad to leave my family and friends to chase the almighty dollar thinking, it's only an hour away, it's not like I'm moving out of state.
I miss all of them but not nearly as much as I miss Tony's. This was my home away from home. I was back there last night for the first time in 2011 and I am seriously thinking of moving back to LA.
People talk about the beer and the food and games all the time but what makes this place so great is the people. Paige is the manager, she is the best. Always friendly and smiling and brimming with beer knowledge to share or current events to discuss. Keith is one of my favorite bartenders ever but he only works a shift or 2 a week. The owner, Tony, is there a lot of the time and he always takes the time to say hi even though it seems he has a million things going on.
The beer is the best on the area. The food is dangerously delicious. The seats are comfy and the crowd is cool.
I resisted reviewing TDA because I wanted it to be my little secret but the word is out, so no point in hoarding.
1,101 characters
4.95
/5
rDev
+10.2%
vibe: 4.5 | quality: 5 | service: 5 | selection: 5 | food: 5
Beer bars are a hard to find blessing in the Los Angeles area, but Tony's Darts Away is one of a kind.
Tony's features amazing service, happy customers, helpful and beer-savoy regulars, great food, and most importantly outstanding beer. The bar's beer selection changes daily, some days more drastically then others. As kegs pop the diligent and dedicated staff of Tony's Darts Away quickly replace them with some of the rare gems hidden away in the bars cramped and packed-full cold box.
For being a bar that is less then 3 months old, officially having its grand opening May 10, its astonishing to see such beers as Russian Rivers Damnation, Consecration, and most recently Blind Pig available on draught.
What is equally astonishing is the wide selection of vegan food offed. Regardless whether you are a vegan or not the vegan sausages are to die for. Tony's also offers pork and chicken for those who just can't live with out it, as well as several salads and appetizers, including the tantalizing sweet potato fries.
Tony's offers a relaxed, peaceful, coffee house-esque atmosphere during the day while having a feverish and hip night life. The bartenders are more of beer historians then just people who pour beer, and will gladly explain and assist any need. But if your looking to expand your beer knowledge and palette get there before 5pm. Tony's gets busy fast.
Tony's has great beer, great people, and is always a great experience. If you live in the Los Angeles area there is no excuse not to pay Tony's a visit. If your not in the mood for a surprise check out their website to see an up-to-date beer list.
1,630 characters

4.95
/5
rDev
+10.2%
vibe: 5 | quality: 5 | service: 5 | selection: 5 | food: 4.5
As a Burbank resident, I've been hoping for, at the very least, a halfway decent beer bar to come to town. Tony's Dart's Away blew any expectations I had clear into the stratosphere. The place is amazing. Not only is the beer selection superb, but Tony only pours California brew, ensuring that what comes out of the kegs is fresh because it's local. The frankfurter I had was also delicious and the fresh chips are great.
I got a chance to talk with Tony on my visit and he's very down to earth. He took time to talk to me about his philosophy and what he's trying to accomplish with this bar and the one about to open in Echo Park. Cool dude for sure.
Back to the bar, it has a pool table, dart board, a few tv's showing sports, and one of my favorite things, the internet jukebox, allowing me to play some of my favorite hip hop tunes as I enjoy my brew. The place is also chock full of brewing/beer books for those wishing to catch up on the latest in beer.
Overall, this place hits the nail on the head, big time. Quickly becoming a go-to beer spot in L.A.
1,064 characters
4.95
/5
rDev
+10.2%
vibe: 4.5 | quality: 5 | service: 5 | selection: 5 | food: 5
As a Portland native and long time beer lover, I can without
hesitation, suggest Tony's Darts Away as the top beer bar between San Francisco and San Diego. And I put it up against any SF or SD place too.
Where do I start? How about the beer... They have 39 beers on tap including two beer engines and three nitro taps. All of the beer is on draft. It is all from California and it is all incredible. No concession Bud Light in bottles or Guiness on tap.
The sign prominently reads: All craft, all draught, all California and this place delivers. Honest Pint certified, beautiful large pours, super cheap prices, rotating selection to keep the beer geeks swarming and about 10 resident taps that keep regulars happy.
There is nothing wrong and everything right about this neighborhood pub.
Food is very good and has a ton of vegan stuff. Atmosphere is beer bar
perfect. Simple, easy to relax, comfortable, games, jukebox.
The best thing about this place might be the vibe. Staff is well
trained and passionate about beer without being pretentious or pushy at all.
Mwah - I heart Tony's.
ps. just got a private message from a fan of this bar asking why I had given them $$$$. My mistake, Tony's is very inexpensive.
1,215 characters
4.95
/5
rDev
+10.2%
vibe: 4.75 | quality: 5 | service: 5 | selection: 5 | food: 4.75
Fantastic craft beer bar. It's the perfect place to spend an afternoon or evening. Even if you stop in for a short time its still is a pleasant experience. Only downfall is that it is a smaller place so it can be crowded. Just means it's popular which isn't a downfall just something to keep in mind if your wanting a place to sit on a friday night. This bar is pretty much my go to bar for craft beer and relaxation.
417 characters
5
/5
rDev
+11.4%
vibe: 5 | quality: 5 | service: 5 | selection: 5 | food: 5
I think enough has been said on this place and the reviews speak for themselves, but if I could add one thing regarding the service. The service makes this place, the passion and love for craft been makes this place what it is and with that everything else follows. Would not change a thing about this place other than move it to my neighborhood back east (HA!), but since that is not possible I will just continue to enjoy this place on my West Coast trips.
458 characters
5
/5
rDev
+11.4%
vibe: 5 | quality: 5 | service: 5 | selection: 5 | food: 5
I've been to Tony's a lot lately and I can say I've been seriously impressed every single time.
Bar staff is super friendly, always willing to help you find what you might like to try. The food is AWESOME. I've gone in there and literally ordered 3 or 4 different things because I could not stop eating (and I'm not a big eater). The fact that they have a Vegan menu is pretty awesome, and though I'm not vegan, it's actually really really good versus some of the "fancy upscale" vegan places.
Great price, great bar staff, by far the cleanest bathroom facility I've ever seen in a bar (seriously, some bars have the gnarliest bathrooms in L.A).
Seriously, you need to go here if you live in L.A, are visiting, or want to visit. Make this one a bucket list. Because you'll feel like you've died and gone to heaven, especially if you love beer.
The menu is broken down between IPA and Non-IPA, they have wine on the menu but if you're going to go to Tony's, you go for the Beer!
981 characters
Tony's Darts Away in Burbank, CA
4.49
out of
5
based on
81
ratings.