Instigator IPA
| Odd Side Ales
BA SCORE
84
good
13
Reviews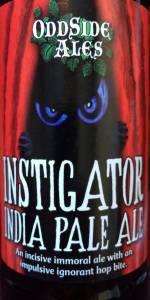 BEER INFO
Brewed by:
Odd Side Ales
Michigan
,
United States
oddsideales.com
Style:
American IPA
Alcohol by volume (ABV):
8.50%
Availability:
Rotating
Notes / Commercial Description:
No notes at this time.
Added by alex021224 on 02-16-2014
Reviews: 13 | Ratings: 119

3.77
/5
rDev
+1.3%
look: 4.25 | smell: 4 | taste: 3.5 | feel: 4 | overall: 3.75
Pours into a small tulip glass a orange infused medium golden with a tight creamy half finger white head atop.A mix of citrus fruit and dank weed in the nose.Everything doesn't quite come together like it should on the palate,resinious hops and some fruity maltiness don't seem to come together like they could,some doughy malt is there in the finish as well.All the components are there but something is lacking for me.
★
421 characters

3.72
/5
rDev 0%
look: 3.75 | smell: 3.5 | taste: 3.75 | feel: 4 | overall: 3.75
Not the wickedest awesome looking beer in the world without its deep copperness and vague cream colored head, with it's mostly malty nose, but we have some payback on the tongue when the onion dank pine spiked bitter meets up with the sweet ass malts.
★
251 characters
3.36
/5
rDev
-9.7%
look: 3.75 | smell: 3.25 | taste: 3.25 | feel: 3.5 | overall: 3.5
I was worried this was an old bottle based on where I bought it but didn't have time to look it up.
Now that it's open, definately old. Very malty and hops have faded. Would like to try again fresh.
★
199 characters
2.65
/5
rDev
-28.8%
look: 3 | smell: 3 | taste: 2.5 | feel: 2.5 | overall: 2.5
Poured into a pint glass at Odd Side.
Somewhat expected for a double IPA - relatively high alcohol content and strong malt content. However, it missed the key feature that I look for in a good IPA, some bitterness. This was overly sweet with caramel and malt dominance. My wife liked it for this reason, but definitely not my style.
★
333 characters
3.96
/5
rDev
+6.5%
look: 4.5 | smell: 3.5 | taste: 4 | feel: 4 | overall: 4.25
12 oz bottle poured into pint glass
A- pours dark apricot, little visibility, foamy thick rocky head with superb lacing
S- floral hops, malt, citrus fruits
T- sweet malts, brown sugar, honey, floral hops, grapefruit, pine, and orange peel
M- creamy medium body medium carbonation with lingering bitterness
O- enjoyable double IPA that is surprisingly sweet and not to hoppy. Very nice
Balance. I'm a big fan of Oddsides beers!
★
432 characters

3.97
/5
rDev
+6.7%
look: 4 | smell: 3.75 | taste: 4 | feel: 4.25 | overall: 4
A - Pours a golden orange with a one-finger foamy white head. Heavy sticky lacing.
S - Aroma of citrus, pine, and floral hops.
T - Starts with a nice amount of sweetness followed by a resinous piney hop punch. There is a nice amount of orange rind and grapefruit present in the flavor. Finish has a light cracker malt taste with a lingering ho bitterness.
M - Medium bodied with medium carbonation. Smooth creamy mouthfeel.
O - Another nice beer from Odd Side. Recommnded for anyone looking for a DIPA on the bitter side.
★
526 characters
3.54
/5
rDev
-4.8%
look: 3.75 | smell: 3.5 | taste: 3.5 | feel: 3.75 | overall: 3.5
12 FL. OZ. bottle
Served in a tulip glass
A - It is amber bodied with golden highlights. It is topped with four inches of beige head.
S - When I first opened it I noticed grapefruit and pine. Then I got that candy corn smell I have been noticing in some DIPA's. The pine seems to dominate though.
T - I get that same weird combination. I really need to figure out why I get this buttery, candy corn flavor and smell.
M - Medium
O - The sweetness is not as bad as War Mullet and Citra Ninja for me. This is a decent beer, but I need to figure out what is creating this weird sensory perception for me.
★
608 characters
4.1
/5
rDev
+10.2%
look: 4 | smell: 4 | taste: 4 | feel: 4 | overall: 4.5
12 ounce bottle into tulip glass, bottled on 2/11/2014. Pours lightly hazy pale orange amber color with a 2 finger dense off white head with good retention, that reduces to a nice cap that lingers. Spotty soapy lacing clings around the glass. Aromas of big tangerine, strawberry, peach, mango, passion fruit, orange peel, lemon zest, caramel, bread, floral, grass, light pine, and floral/grassy earthiness. Very nice aromas with good complexity of citrus/tropical hops with a good amount of malt balance; with good strength. Taste of big tangerine, strawberry, peach, mango, passion fruit, orange peel, lemon zest, floral, grass, light pine, caramel, bread, and floral/grassy earthiness. Moderate amount of floral/pine bitterness on the finish; with lingering notes of tangerine, strawberry, peach, mango, passion fruit, orange peel, lemon zest, floral, grass, light pine, caramel, bread, and floral/grassy earthiness on the finish for a good bit. Damn nice complexity of big citrus/tropical hops with a good amount of malt sweetness; with a great malt/bitterness balance and zero cloying flavors after the finish. Medium carbonation and body; with a lightly creamy, smooth, and fairly crisp/sticky mouthfeel that is nice. Alcohol is very well hidden with only a small warming present after the finish. Overall this is an excellent DIPA! All around great complexity of citrus/tropical hops and balanced malt sweetness; and very smooth to sip on. A very enjoyable offering.
★
1,472 characters
3.31
/5
rDev
-11%
look: 3.75 | smell: 3.25 | taste: 3.25 | feel: 3.5 | overall: 3.25
Appearance: a reddish orange color. fairly hazy but not quite opaque. a finger of a foamy white head that leaves a sticky lacing.
Smell: crystal malts. resiny hops. some pine and citrus as well
Taste: opens up with a little bit of sweetness followed by a good bite of resin and hop juice. not a whole lot of hop character but some pine and citrus. lots of crystal malt character
Mouthfeel: fairly light and a little sticky. some hop bite but nothing too crazy
Overall: a fairly boring beer in the odd sides line up. too much crystal character for me.
★
554 characters
4.01
/5
rDev
+7.8%
look: 4.75 | smell: 3.75 | taste: 4 | feel: 4.25 | overall: 4
Bottling date is scratched away on this one. I believe a single bottle was $2.29. Poured into a Sam Adams Perfect Pint (ah, my favorite).
Appearance: The bottle art is less appealing than some of Odd Side's others, but it's still interesting -- some mystery creature behind a curtain with glowing blue/purple eyes. The beer pours a beautiful rusty orange sort of color with only a slight haze. A thin layer of head floats on top for most of the drink, and there's some pretty heavy lacing on the glass. Beautiful looking IIPA.
Smell: Interesting. The smell at first turned me off, because it had "that smell" that I got in another beer and really disliked. I still don't know if it's a variety of malt or particular yeast. It smells like it's a yeast, but it'd probably make more sense if it's a malt. Anyway, it punches with a bit of funk. One reviewer mentioned sour cheese or something, and I can actually get where he's coming from. There's also a strawberry/cherry aroma overlying that. I know, sounds incredibly unappealing, but it works. Funky and strange. Not exactly a beer that'll make your mouth water, but it's still good.
Taste/feel: Moderate thickness on this beer with a medium, prickly bitterness is the first thing I notice as it glides across my tongue (ooo, sexy). The flavor maintains some of that funkiness, with a lot of sweetness, but even more bitterness -- this is a bitter beer, to be sure. More bitter than your average DIPA. Strawberry/cherry sort of fruitiness on the start turns into bitter pine on the aftertaste with a very dry finish. The crystal malts (presumably... it tastes like they're here) add a sharp sort of sweetness to combat the sharp bitterness as well. Actually a quite unique beer from a DIPA category that seems to go one of two ways -- piney as hell, or tropical as hell. This one offers a sort of funky strawberry and cherry vibe with a dry, piney aftertaste.
Instigator IPA is actually a really good beer. Should I be surprised? Odd Side is constantly killing it. I can for sure see the mixed reviews on this one, as it may not be what you're expecting. As usual, Odd Side changed things up a little bit with this one and went off the beaten path. The price is a bit high, but if you're looking for a DIPA that's a bit different, this would be a nice choice... assuming you like a bitter beer.
★
2,349 characters

3.41
/5
rDev
-8.3%
look: 3.5 | smell: 3.75 | taste: 3.25 | feel: 3.5 | overall: 3.25
A - Amber brown with excellent clarity. White head quickly clears to a thin ring around the glass. Not much stick.
S - Piney, floral and citrus notes, bread dough, crackers.
T - Fruity with citrus peel / zest up front, balanced by malts and heavy wheat, yeast, and bread characteristics. Finishes extremely bitter on the back end.
O - For this style, this brew doesn't really do it for me considering all of the great options in this class. It was underwhelming in almost every way.
★
485 characters

4.19
/5
rDev
+12.6%
look: 4.25 | smell: 4.5 | taste: 4 | feel: 4 | overall: 4.25
I picked up a bottle of Oddsides's Instigator IPA a few days ago for $2.39 at The Lager Mill. This one just showed up and since I'm always down to try a new beer from Oddside's I'm interested too see how this one compares to their other hoppy beers, so lets see how it goes. No visible bottling date, but I know it's fresh. Poured from a brown 12oz bottle poured into a large snifter.
A- The label looks ok, it's a little different looking for Oddsides, and it's not too eye catching. It poured a fairly clear darker orange color that took on more of a amber/copper hue when held to the light with two fingers worth of off white head that died down to a thick ring that stayed till the end and it left some nice sheets of lacing behind. This is a very nice looking IPA, I have no complaints.
S- The aroma starts off with a higher amount of medium sweetness that has a slight creamy aroma to it and it's followed by the hops being the first to show up and they impart a light floral aroma with the fruity hops seeming to stick out the most, there's some great citrus rind aromas and tropical fruit like aromas showing up along with a very nice and unique berry aromas that has an aroma similar to a strawberry. Up next comes a light pale and cracker like malt aroma with a very slight piney aroma at the end. This beer had a very good aroma, it was full of fruity hops aromas and a i really liked it.
T- The taste seems to be fairly similar to the aroma and it starts off with a medium amount of sweetness followed by the hops being the first to show up and they impart a light floral and piney flavor with some nice rind flavors showing up with a light fruity flavor. In the middle comes a higher amount of medium bitterness that lingers just for a little bit. On the finish come some grainy, pale malt, and cracker malt like flavors with a piney, citrus, and grainy malt aftertaste. This was a pretty good tasting beer, it had good balance and just enough bitterness.
M- Fairly smooth, clean, crisp, medium bodied with a medium amount of carbonation. The mouthfeel was pretty good and it worked well with this beer.
Overall I thought this was a pretty good beer and a good example of an IPA, it's listed right now as DIPA and even though it has a DIPA like alcohol percentage, it's hidden very well and flavor wise I think this is more IPA like, so it's kind of right in the middle between the two. This beer had pretty good drinkability, it was smooth, clean, crisp, not to filling, the alcohol was hidden very well and the taste did a good job at holding my attention, I think I could drink a couple of these but the ABV might start to catch up to me after that so that would probably be my limit. What I like the most about this beer is the aroma. it's very good and pretty unique, that berry aspect takes it to a new level. What I liked the least about this beer was that some of that berry aspect from the aroma didn't show up in the flavor, but it wasn't that bid of deal. I would for sure buy this beer again, I'm pretty sure I'll be getting at least another six pack and I would for sure get it again if they release it again. I would recommend this to any IPA, DIPA, or hoppy beer lover. All in all I was pretty happy with this beer, I know Oddsides has some skills when it comes to hoppy beers and they sure didn't disappoint, it offered a nice hop profile with just the right amount of balance. This one just climbed up there as one of the better IPA's I've had from Oddsides and it's one of the better IPA's I've had. Great job guys, I really enjoyed this beer, keep up the good work.
★
3,603 characters
3.77
/5
rDev
+1.3%
look: 4 | smell: 3.75 | taste: 3.75 | feel: 3.75 | overall: 3.75
Bottle into tulip
Appearance - Golden orange, a mixture of pale orange, amber and yellow. 1 finger slightly off white head, nice lacing.
Smell - Pungent, you get citrus, but there is this underlying smell of sourness. Like smelly cheese.
Taste - Tatse follows the nose very much. You get bitter citrus grapefruit, resins, but there is also more pungent, smelly cheese kinda flavor, or yogurt.
Mouthfeel - Medium body, lightly carbonated, tangy bitterness
Overall - Thought I'd give this one a try, and also bought a Java Chip Mint Stout. This beer is okay. There is a unique tangy ness from the hops that gives this beer it's character.
★
644 characters
Instigator IPA from Odd Side Ales
3.72
out of
5
based on
119
ratings.