Oh, Me So Hoppy To Wheat You
| Odd Side Ales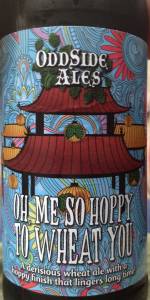 BEER INFO
Brewed by:
Odd Side Ales
Michigan
,
United States
oddsideales.com
Style:
American Pale Wheat Ale
Alcohol by volume (ABV):
4.50%
Availability:
Rotating
Notes / Commercial Description:
No notes at this time.
Added by TheBrewo on 07-16-2013
Reviews: 13 | Ratings: 94
3.41
/5
rDev
-9.5%
look: 4 | smell: 3.5 | taste: 3.25 | feel: 3.75 | overall: 3.25
12 FL. OZ. bottle
Served in a perfect pint glass
A - This beer is amber with golden highlights. It is topped with three inches of beige head.
S - The first thing I smell is caramel malt. This is a sweet smelling beer. Disappointing given the "hoppy' in the name. I do get some floral hops as it warms.
T - The taste is sweeter than I care for. I get little as far as hops goes. It has some toffee and caramel taste along with the wheat.
M - Smooth. The wheat makes for a smooth transition down my throat.
O - This is a disappointing beer. I have loved all the Odd Side Ales I have tried so far. This beer was way off the others. I will have to grab a Citra Pale Ale to cleanse my palate.
694 characters
3.52
/5
rDev
-6.6%
look: 3.75 | smell: 3.5 | taste: 3.5 | feel: 3.5 | overall: 3.5
12oz Bottle
$1.69 Single
Odd Side -Grand Haven, Mi
"A derisious wheat ale with a hoppy finish that lingers long time"
Chill haze runs throughout the burnt orange body but when backlit shades of sunset orange take over. The dirty white head grows to a finger in height and becomes incredibly dense as it slowly settles to a thick cap. Sticky lacing decorates the glass.
There is a lot more caramel in the nose than I expected. I'm afraid this one is past it's prime. Tea leaf hoppiness and a squeeze of lemon join a more pronounced jammy orange but like I said, there is a lot of malt present in the nose of this beer, although the sugary jammy notes smell solid.
Tea leaf hoppiness hits right off the bat as well, too bad. For such a low alcohol beer there is a heavy dose of caramel, it's not overly sweet but the flavor is there. Orange marmalade comes through mid-palate and adds a nice touch. There's a decent bitterness on the finish.
The body has a nice softness and sits just below moderate in weight. It feels a little to light at times. The bitterness hits in the middle and lingers after each drink growing to a nice firmness toward the end of the glass.
This beer is past it's prime, which is a shame because I can see the flavor profile being inviting if it were fresh. Jammy, bitter, caramel, and easy drinking would make for a solid beer. Unfortunately, this particular bottle is a shell of its former self.
1,430 characters

3.65
/5
rDev
-3.2%
look: 4 | smell: 4 | taste: 3.5 | feel: 3.5 | overall: 3.5
I picked up a six pack of Oh, Me So Hoppy To Wheat You a couple days ago for $10.89 at The Lager Mill. So far I haven't had a beer from OddSide that I haven't liked so i'm interested to see how this one turns out, so lets see how it goes. No visible bottling date, which sucks since the last two distributed beers from Oddside have had bottling dates, but it just showed up so I know it's pretty fresh. Poured from a brown 12oz bottle into an imperial pint glass.
A- The label is a little outrageous, it has a Japanese like pagoda on the label and combined with the name and the quote "A derisious Wheat Ale with a hoppy finish that lingers long time" I could see how some people might find it a little offensive, I don't think it's bad, but it does push the boundary for appropriate labels, but I do like the new custom caps. It poured a fairly clear burnt orange color that took on some darker amber hues when held to the light with three fingers worth of creamy off white head that died down to a thick layer that stayed till the end and it left lots of nice lacing behind. This is a pretty good looking beer, I have no complaints.
S- The aroma starts off with a higher amount of medium sweetness followed by loads of fruity hop aromas, it seems like it's a 50/50 split of citrus and tropical fruits, with grapefruit, orange rinds, and pineapple seeming to stick out the most with a little bit of peach and mango in the background. Up next comes some light malt aromas with some bready and grainy aromas coming through and maybe a little bit of wheat, but I don't think I could guess this was a wheat beer by the aroma alone and there was also a slight doughy yeast aroma in the background. This beer had a pretty good aroma, I really like the hop profile and how fruity it was, but I wish the wheat came through much more in the aroma.
T- The taste seems to be not all that similar to the aroma and it starts off with a slightly lighter amount of medium sweetness followed by loads of hops that have a sharp piney flavor to them with a really light amount of citrus fruit hops in the background that barely show up. Up next comes a light malt flavor with just a slight grainy flavor to it and not much else with a light amount of doughy yeast in the background and no wheat flavors showing up. On the finish there's a slightly lower amount of high bitterness that really lingers just like the label states and it's right on the verge of being too much for this beer to handle and it had a bitter piney aftertaste,. I thought the taste was nice, but I wish the fruity aspects from the aroma showed up and i wish the wheat was at least a little noticeable, it's nice, but there's room for improvement.
M- Somewhat smooth, lingering bitterness, crisp, dry, slightly refreshing, a little watery, light bodied, with a medium amount of carbonation. The mouthfeel was nice and sessionable, but it was a little watery and the bitterness prevented it from being as smooth as it could be.
This was a nice beer, but I don't think it was the best example of a hoppy wheat ale simply because the wheat wasn't really that noticeable, and if I didn't read the label it would be pretty hard from me to pick out any wheat in any aspect of this beer. This beer didn't have the best drinkability, it was fairly smooth, not filling, a little refreshing and the flavors did a decent job at holding my attention, but the bitterness was just too high for me to session this beer, one would be about enough for me. What I liked the most about this beer was the aroma and appearance they were both pretty good with the aroma being my favorite because of the juicy and fruity hop profile. What I liked the least about this beer was how little the wheat showed up and how bitter the hops were, if those two were balanced out then I think this would be a pretty good beer. I might buy this beer again, but I'll for sure be getting Citra Pale Ale, and Simcoe Sensation much more than this beer and I would recommend this to anyone who likes bitter session IPA's. All in all I didn't mind this beer, but it was far from my favorite Oddside beer and favorite of the style, I think it needs a little work, but it still has the potential to be a good beer and I appreciate the effort. So far this is my least favorite Oddside beer, better luck next time guys.
4,335 characters

3.65
/5
rDev
-3.2%
look: 4 | smell: 4 | taste: 3.5 | feel: 3.5 | overall: 3.5
Beautiful, 1 inch head of foam upon the pour.
Piney hop aroma with a little bit of something else...something slightly sweet, maybe a bit wheaty?
The hops are the most pronounced thing in the taste as well. It's mostly piney, with just a small hint in the middle of something a little fuller, a little richer, and a little wheatier than a traditional IPA. The bitterness stays in the mouth for a long lasting finish.
As it warms I get a bit more of the bubblegum/banana/clove I expect from a wheat beer, but the characteristics of the wheat are definitely muted and overpowered by the hops. It's there, but it's faint.
621 characters

3.73
/5
rDev
-1.1%
look: 3.75 | smell: 3.75 | taste: 3.75 | feel: 3.5 | overall: 3.75
A pours a golden brownish color with goos clarity and a nice head that reduces to a thin white cap.
S citrus notes, orange peel, piney, caramel malts.
T big hop punch full of citrus flavor balanced by a faint sweet caramel malt tastes and finishes with a nice bitter snap.
O this is a real solid ipa that is worth a shot.
327 characters
3.74
/5
rDev
-0.8%
look: 4 | smell: 3.75 | taste: 3.75 | feel: 3.5 | overall: 3.75
Bottle poured into a weizen glass.
A- Purchased as a single without the pretty blatantly racist label. It initially pours a clean copper body. A swirl and yeast dump clouds things quite nicely. 1-1/2 finger , khaki head. Light-moderate carbonation. Awesome stick looks like a tightly wound web or lace. Pretty good head retention.
S- Very hoppy during the pour. Grapefruit mostly. A sugary-sweet backbone gives the impression of candied grapefruit zest, those citrus chews that are shaped like fruit slices, or even juicy fruit gum.
T- It drinks much like an IPA. Tons of grapefruit, though on the sweet side. I always added sugar to a morning grapefruit as a kid. This brings me back there.
M- medium carbonation. A lot of hop bite. Quite dry.
O- Another difficult to rate beer, because it's so outside of the general style guidelines. Not bad, but not a real American wheat either. I'd put it up there with a Gumballhead or Lagunitas. Those seem to rate higher for most users, but I'm kind of an American Pale Wheat traditionalist, for better or worse.
1,059 characters

3.78
/5
rDev
+0.3%
look: 4 | smell: 4 | taste: 3.75 | feel: 3.75 | overall: 3.5
Oh, Me So Hoppy To Wheat You looks like a red sun; it has a fiery amber tone and heavily blistered complexion. Clarity is compromised despite the bright highlights. It also has a head with a soapy lather the likes of which would give the health inspector an erection.
The beer certainly smells 'derisious'. It's full of hoppiness of all sorts: piny, citric, herbal. If the dark colour didn't give it away this "Wheat ale" is really more of an IPA. The bouquet includes lots of mandarin orange notes (part of the Asian theme?) as well as tree resins.
Wheat is overlooked on the palate as well; thick, toasty, biscuity notes of barley malt dominate the flavour, though grass clippings and citrus fruits fade slowly into the aftertaste. It's bready and toasty enough (with just enough marmalade) to spawn a different type of "breakfast" beer.
All this hoppiness does indeed give it a finish that 'lingers long time'. The texture is resiny and has a dry, pithy quality like that of a citrus peel. OddSide Ales doesn't list the level of IBUs but it's got to be up there - it's bitter enough you'd think the beer was trying to punish you for drinking it. That's OK - I'm a glutton for this kind of punishment.
'Oh, Me So Hoppy To Wheat You' is indeed a beer I'm "hoppy" to have tried. It is definitely more of an IPA than Wheat Ale; the wheat ensures an ultra-fluffy, super-resilient head but that's about the extent of its influence. If you're a hophead who wants to expand their portfolio (at least superficially) then a purchase of this beer will surely result in a 'happy ending'.
1,585 characters
3.8
/5
rDev
+0.8%
look: 3.5 | smell: 4 | taste: 3.75 | feel: 3.75 | overall: 3.75
Slightly cloudy, amber-colored, with a heavy lacing that sticks to the side of the glass. Smells fruity and citrusy. Even some bubble gum. Taste has citrus hits and is slightly bitter. This could pass as a sessionable IPA. Finishes clean and dry with some sweetness. Mouthfeel is light and well carbonated. This is a great lake beer. Overall, the label is a bit offensive, but this is a good beer.
397 characters
3.8
/5
rDev
+0.8%
look: 4 | smell: 4 | taste: 3.5 | feel: 4 | overall: 4
12 ounce bottle into pint glass; no bottle dating, but should be fairly fresh. Pours hazy orange amber color with a 2 finger dense and fluffy off white head with inedible retention, that reduces to a nice cap that lasts. Nice soapy lacing clings down the glass. Aromas of big grapefruit, tangerine, orange zest, lemon zest, peach, light pine, floral, grass, wheat, light caramel, and floral earthiness. Very nice aromas with good balance of hop and malt notes; and good strength. Taste of grapefruit, tangerine, orange zest, orange rind, lemon zest, pine resin, floral, grass, wheat, light caramel, and floral earthiness. Good amount of spicy pine bitterness on the finish; with lingering notes of citrus, citrus zest, pine resin, floral, grass, wheat, light caramel, and floral earthiness on the finish for a while. Good balance and complexity of citrus hop flavors; with a light-moderate malt balance and some light cloying pine bitterness after the finish. Medium carbonation and body; with a smooth, crisp, and sticky mouthfeel that is good. Alcohol is well hidden with minimal warming noticed after the finish as expected of 4.5%. Overall this is a very good hoppy wheat ale. Good balance of citrus/pine hops with a light-moderate malt balance; very smooth and crisp to drink. A very enjoyable offering.
1,308 characters

3.82
/5
rDev
+1.3%
look: 4.25 | smell: 3.5 | taste: 4 | feel: 3.25 | overall: 4
A- orange/amber in low indoor light. semi-transparent a bit hazy. Nice creamy head
S- Sweet citrus, light hops
T- Floral, hop flavor. floral, perfume/hop aftertaste that ain't bad and lasts a while. or as they say "lingers long time"
M- A little foamy, malty.
O- Usually like wheat beers. This is no exception. Floral hop flavor dominates and I have a thing for hops.
372 characters
3.96
/5
rDev
+5%
look: 3.75 | smell: 4 | taste: 4 | feel: 3.75 | overall: 4
Appearance: a deep brownish orange. fairly hazy. about a finger of an off white head that leaves a bit of a lacing behind
Smell: bold citrusy hop. some minor wheat notes. very hoppy
Taste: a slight wheat start up quickly overtaken by a strong hoppy bite. the hop flavor is citrusy and resinous. very bitter
Mouthfeel: medium body. strong bitter lingering. not as refreshing as I prefer wheat beers mostly but definitely good hoppy bite
Overall: a very hoppy wheat ale. the wheat definitely takes the back seat. but in terms of a hoppy beer its a strong one and a drinkable one. Keep rocking out the bottles Odd Side!
620 characters
4.08
/5
rDev
+8.2%
look: 4.25 | smell: 4.25 | taste: 4 | feel: 4 | overall: 4
We crack the tops on a pair of bottles, pour a brew of rich golden copper into our Bell's Weizen glasses. It holds a two finger head of pillowy French vanilla colored bubbles, showing great retention. At thick sheet of lacing is left around the glasses as it slowly dissipates. No haze or sediment is noted until the dregs of the bottle throw a bit of murk into it, while carbonation appears to be active. The nose gives brown, pale, and clean wheaty maltiness, along with freshly tart citric hops, florals, and nectary hop sugars as the base. With warmth things blend, and include further notes of tannic teas, lemonade sugars, metallic yeast, light boozy wisps, and lighter caramel hues. Our first impression is that it isn't as sweet as you would expect from the nose, or as tart with citric puck, but it is well balanced throughout and highly refreshing. As we sip, the taste opens with pale and powdered wheatiness, cane sugar sweetness, Smarties candy zing, bitterly earthy and citric hops, herbal root, bitter lemon rind, phenolic plastics, and honeysuckle florals. The middle peaks with coppery metallics, smoother herbal hops, biting yeast, oregano spiciness, green twig sappiness, bready yeastiness and toast, chalked wheatiness, and green tea leafiness. The end shows a nice blend of toasty brown, caramel, and bitterly wheaty malts, blending with soy sauce, lemony citric hop juiciness, bittering herbal and earthy hops, surprising boozy burn to the tongue, and general planty freshness. The aftertaste breathes bitterly, with tree sap, green grass, muddy mineral, wheat bread crust, raw sunflower seed, biting citric and earthy hops, baker's yeast, light pale toast, and distant mallow sweetness. The body is solidly medium, and carbonation is medium, but froths up quite a bit when swirled around the mouth. Each sip gives nice slurp, cream, smack, foam, and pop, and the mouth is coated evenly, only to dry into a light and chalky pucker, with astringency streaking across the hard palate and tongue. The abv is appropriate, and the beer drinks excellently.
Overall, what we enjoyed most about this beer was its fresh and zesty aroma, and its ease of drinkability. Here, the hops are forward enough to pass as your typically sticky session IPA, but with warmth the wheat and complexity start to boil out and settle in. This remains true through the flavoring as well, with a surprisingly intense hop profile that moves between citric bitterness and metallic herbal and earthy bite. They seem at odds with one another through the entire glass, but do find harmony independently with the hearty grain base. This beer certainly delivers on the hops, but almost so much so that you lose a bit of that wheat by the end. Odd Side delivers yet another refreshing and sessionable ale that certainly does linger a long time on both the mind and the palate.
2,871 characters
4.27
/5
rDev
+13.3%
look: 4.5 | smell: 4.25 | taste: 4.25 | feel: 4.25 | overall: 4.25
$2.19 single. Bottle date is scratched away, but I'd go out on a limb and say this isn't more than 2 months old. Poured into a shaker pint.
Appearance: A really hazy dark orange color -- darker than I was expecting. A light, soapy-ish tan head floats on top and is about two-fingers for awhile before staying at one. Very nice lacing.
Smell: Decidedly hoppy, but with some malty character to not make it overwhelming. Earthy hops with a sort of sweet citrus smell as well.
Taste/feel: Outstanding beer. I tend to dislike most beers that are under 5% because I tend to find that they lack much flavor/character, but this one is fantastic. A wave of sweetness and juiciness on the front of each sip, with a nice hop bite on the finish to make this drink like a wheaty IPA. The wheat character isn't gushing in this one, which I like, because too much of a wheat flavor often times turns me off on a beer.
A session beer if there ever was one.. I love the sweetness on the front and then the smack of bitterness almost immediately after. This may actually be my favorite from Odd Side.
1,087 characters
Oh, Me So Hoppy To Wheat You from Odd Side Ales
3.77
out of
5
based on
94
ratings.