Whistle Stop Ale House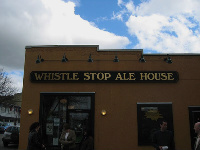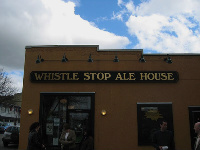 PLACE INFO
Type:
Bar, Eatery
809 South 4th Street
Renton
,
Washington
, 98055
United States
(425) 277-3039 |
map
Notes:
No notes at this time.
Added by jreitman
PLACE STATS
Reviews:

9

Ratings:

pDev:

8.75%
HISTOGRAM
View: Place Reviews
Ratings: 9 | Reviews: 9
Reviews by snaotheus:

4.06
/5
rDev
+7.7%
vibe: 4.5 | quality: 4 | service: 4 | selection: 4
I really like the Whistle stop because of its laid back atmosphere. The employees are really into beer and most of them can answer any question you have about the selection.
I don't know how many of their taps rotate, but their selection has varied pretty widely every time I've been in there, and they always have a quality-only stance, even though they don't have a huge number of taps.
Service was prompt, helpful, and friendly. I've never tried the food.
They need more parking space, though.
499 characters
More User Reviews:

4.05
/5
rDev
+7.4%
vibe: 4 | quality: 4 | service: 4 | selection: 4 | food: 4.5
As a local I can tell you that this place is known for their burgers and they usually don't disappoint. Decent beer selection. Watch out for the $8 import pint( I think it was Belgian). That was an unpleasant surprise but was good. Wife and I have been here several times and we always go for the burgers.
Like a previous poster commented parking is lacking but street parking is available at least at the times we've been there.Also ditto on the remodel. Nice Job!! Since I'm a noob here, can't comment on the beer selection except it could be a bit more adventurous.
569 characters

3.66
/5
rDev
-2.9%
vibe: 3.5 | quality: 4 | service: 3 | selection: 4
I stopped in based on the BA review while in the Seattle area on business (I was staying in Renton).
The Whistle Stop is a simple but comfortable pub. They have a fairly large bar with a copper top and a nice, vintage unit behind it. They also had lots of booths and tables. The room has a fairly high ceiling and lots of windows so it's very well lit. The crowd seemed a mix of singles, couples and families.
They had about 15 beers on tap and two on cask and most of them were locals. They included offerings from Ninkasi, Pike, Glacier, Mac & Jack's, Northern Lights, Old Chub and Lazy Boy. They also had several Belgians and lots of BMC in the bottle. I went with a Ninkasi Tricerihops DIPA.
I've seen several reviews comparing the Whistle Stop and the Dog & Pony. Based on atmosphere and beer selection, I prefer the Dog & Pony but the Whistle Stop isn't a bad alternative.
881 characters

4.03
/5
rDev
+6.9%
vibe: 4 | quality: 3.5 | service: 4 | selection: 4.5 | food: 4.5
IMPORTANT: The location/address of this establishment has moved: It is now at 809 S. Fourth Street. Refer to their web site.
Newly remodeled in an older building. Antique back bar and front bar with several multi-tap stations. About 10 seats at the bar and maybe another 40 in the restaurant area. As one of the other patrons informed me, the Whistle Stop is primarily a restaurant with craft brews.
Nice selection of mainly Northwest craft brews. Unfortunately, two of my choices had run out. Since my visit was a Monday afternoon, perhaps a big weekend had drained some of the kegs and the distributor hadn't delivered the weeks supply.
I had the Obsidian Stout and Snoqualmie Wildcat IPA. Both were excellent.
Service was quietly efficient. The bartender/proprieter was very knowledgable and quiet friendly, especially to the "regulars".
For dinner, I tried the cheese ravioli in sausage marinara sauce. It was quite good. The food here is several steps above pub grub.
Value was reasonable $4.50 pints and $14 entree. Discounts at happy hour.
I look forward to another vist at the Whistle Stop.
1,117 characters
3.9
/5
rDev
+3.4%
vibe: 3.5 | quality: 4 | service: 4 | selection: 4 | food: 3.5
A good friend of mine has been talking about this place for some time. A recent working trip to Seattle and Vancouver gave me an excellent opportunity to stop by and have a few beers and a burger. Good location in an old part of Renton, close to the intersection of I405 and WA169. Decent parking out on the street. Not a huge place. Maybe a 20ft bar, with tables for perhaps 40 or so people directly behind. Simple decor, nothing about the place was too flashy.
There are 16 or so taps. All good quality beers. While there, I had a Hefeweizen from Baron, a Boundary Bay IPA, and a Whistle Stop Dry Hopped Ale. All were fresh, and well served (although I did get a lemon with the Hefe, lose it).
The food is relatively simple pub fare. I split some Calamari with my friend, then opted for one of the burgers. It was nicely done. Prices for sandwiches and burgers seemed a little high. Entrees were reasonably priced.
I usually stay at a hotel about 5 minutes away when I need to fly in and out of Seattle, so I think this will be the first of many visits.
1,067 characters

2.93
/5
rDev
-22.3%
vibe: 3.5 | quality: 3 | service: 2 | selection: 3.5 | food: 3
We went there yesterday. I was not impressed. They have two chalkboards with the listings of what they have on tap (on one, the handwriting was nearly illegible). Both were different and both were incorrect. Even the promotional signage is out-of-date. We had to go up to the bar and read the tap handles to find out what was really available. When we asked the server what they had, she asked us what we like. My husband told her we knew beer and just to let us know what was on tap. She insisted on asking what we liked and didn't even list off what was available. That's when hubby got grumpy and read the handles.
I got the rogue mocha porter and he had the great white witte. They were both good and fresh. The food was pretty good, we ordered chips & salsa and the mediterrean plate. Good food value. The beer was $4.50 a pint.
The service was okay...we had to stop the waitress from taking a half-full plate because we slowed down to just picking at the food and were talking but not done with the food yet. The parking around the place is horrible. Mostly street and the streets around there are one-ways.
The atmosphere is nice--the place is nicely done, but the booth we sat in had the seat taped together with black duct tape. There are obvious signs of wear and tear but it is clean.
All in all, I'd rather go to the Dog & Pony. Too many strikes against the Whistle Stop.
1,387 characters
3.88
/5
rDev
+2.9%
vibe: 4 | quality: 4 | service: 3.5 | selection: 4 | food: 4
This place used to be the regular kick of my friends FirstMan and darlinclementine, back when they lived on the South Side (ok, I'm making that last part up. No one in Seattle calls Renton the 'South Side'. But it would be way bitchin' if they did). Anyway, I finally got to visit there a short while ago, and could see what they liked about it. It's a very homey place located about a block away from where the Spirit of Washington Dinner Train loads up, in what appears to be a renovated auto shop or some damn thing. Lots of open space, lots of natural light, and a gorgeous bar and bar back that apparently has been around since the dawn of time.
Atmosphere: This is a family place, and they make pains to ensure that everyone knows their kids are welcome. As a father of two, I always appreciate that. They have plenty of board games and puzzles to keep kids occupied, as well as a decent enough kids menu for them to choose from.
Quality: The renovation of the building was done with great care, and it shows. Also, the beers are very carefully selected, and the menu has been very carefully crafted. It's definitely designed to appeal more to the blue collar nature of most Renton residents (it's actually still possible to afford a house in Renton on a lesser salary, so many blue collar workers gravitate here) with it's burgers, fries and sandwiches.
Service: This is, as I've read in other reviews, a spotty issue of long standing. The problem appears to be too few people on the floor to handle the crowd, and it was no different when we were there. One person behind the bar, one person on the floor, and there were 8-10 tables occupied on the floor, several with parties of five or more.
Selection: I didn't count the taps, but I want to say there are 12-15. When I was there, they were all IPAs, reds, etc. save for the lone Guinness tap. I really wish bars would stop using Guinness as their default stout, as it isn't terribly stout at all. Bring me some Steam Train Porter, etc. Variety, baby.
Food: Again, the menu wasn't terribly adventurous, but the food was all very, very good. And they had a vegetarian option or two, so my dad wasn't left out in the cold.
All in all, the Whistle Stop is worth a visit. If you're down in Renton, punishing yourself with yet another chaotic IKEA visit, stop in after you're done for a pint and a breather. You'll be glad you did.
2,405 characters
3.65
/5
rDev
-3.2%
vibe: 4 | quality: 4 | service: 3 | selection: 4 | food: 3
This was my local watering hole until a recent move to the east coast. The owner Jeff - aside from just being a nice guy - is really dedicated to the local breweries in the Puget Sound area. There are usually about 16 or so taps strictly dedicated to local brew. At least once a month the Stop has a local brewery night where they bring in a brewer and feature several of their creations. Living nearby, this gave me a great opportunity to get to know the different breweries in the area.
While I never had any, I believe the standard Guiness tap exists and there are several bottled choices - although those tend toward the dark side of beer with Amstel, Corona and the like.
Before they moved to their new, larger location, the menu used to be exclusively sandwiches, but now they offer a pretty decent menu. That said, my favorite thing on the menu is still the seared Tuna sandwich. Try the mashed potatoes too - those are good.
The inside is spacious somewhat modern, although the antique turn-of-the-century bar that they got from the Klondike territories fits in well with the rest of the decor. I also really like the fact that they feature local artwork on the walls. And best of all NO SMOKING. Love it.
So, if you are stuck in traffic trying to get on 405 from 167 (you know what I mean if you've ever been there) stop by. It's a great place to get to know NW brew.
1,389 characters
3.78
/5
rDev
+0.3%
vibe: 3.5 | quality: 4 | service: 3 | selection: 4.5 | food: 3.5
When I was here they were remodeling the outside but the inside was just finished. As you walk in you walk into the small restaurant part of the ale house, further on you will find the bar with about 10 seats and about 7 tables located in the bar. The atmosphere was full of workers from around the area and couples out to eat. The quality of the place was nice, great artwork was pleasant and the offering of games while you sit was cool, yahtzee, cribbage etc all for your enjoymant. The service was slow and took a good 10 minutes to get a beer. Good thing the beer is top notch, they have about 20 beers on tap as well as ciders and cask conditioned ales as well. Full Sail ale was the cask at this visit. Bottled beers total about 10. The selection of beers is a great selection of northwest everything from IPA's to lagers to tripels you will find. IPA's had a nice showing with 4 IPA's on tap. The food was respectable, I had a rye pastrami sandwich that was good but rather small, the wife had a penne pasta with white wine sauce that was great. A nice place to visit, the happy hour is nothing special but from 3:30 to 6:30 you will get .50 cents off a draft beer Not bad. Pints during normal hours go for 4 bucks.
1,223 characters
Whistle Stop Ale House in Renton, WA
Place rating:
3.77
out of
5
with
9
ratings