The Prodigal Son Brewery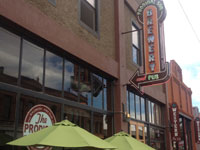 PLACE INFO
Type:
Brewery, Bar, Eatery
230 SE Court Ave
Pendleton
,
Oregon
, 97801
United States
(541) 276-6090 |
map
prodigalsonbrewery.com
Notes:
PUB HOURS
Tues - Thurs, 11am - 10pm
Fri - Sat, 11am - 11pm
Sun, 12pm - 9pm
Added by jdense on 04-19-2010
Ratings: 14 | Reviews: 7
Reviews by Elimination:
3.05
/5
rDev
-15%
vibe: 4 | quality: 3 | service: 3 | selection: 3 | food: 2.5
Went in recently on a west oregon brewery trip.
The place is located in what was once a car dealership, the building itself is fun to walk in, look around and take it in. Everything else on the other hand is lacking. Beer selection was only 3 currently, and no guest taps. Food was a bit overpriced and not that amazing. Service, even though our waitress only had us and another table was almost non existent.
If this place really ramped up how many beers they had, got a bigger menu, and really made an emphasis on service it would do great. A town like pendelton needs something like this, and it will do well, only if they make necessary changes. We may be back again to see if things have switched for the better, because we hope they will
746 characters
More User Reviews:
3.98
/5
rDev
+10.9%
vibe: 4 | quality: 4 | service: 4.25 | selection: 3.75 | food: 3.75
3.66
/5
rDev
+1.9%
vibe: 3.75 | quality: 3.75 | service: 3.75 | selection: 3.5 | food: 3.5



3.81
/5
rDev
+6.1%
vibe: 4.25 | quality: 3.5 | service: 4 | selection: 3.75 | food: 4
Stumbled upon this place on the way to Seattle... A caravan of 6 TV dudes were hungry and thirsty... One of my coworkers hit this place earlier this summer and suggested it as a stop for lunch.
The building is perfect for a small town brewpub... I was told it was originally a Packard Car dealership.. I guess that sounds about right, big and open and tons of exposed brick... It screams historical.
Seriously great service despite us being a pretty loud and obnoxious group.
I had the Bruce Lee porter and a seasonal saison... both were very tasty and right on par for the course. I tasted the pale and an IPA and thought they were pretty good too.
The food is pubfare that seems to push local ingredients.. I had the Scotch Egg and a mountain of sweet potato fries (both perfect).... Others had great looking sandwiches/burgers/wings... The Parmesan wings were fantastic... The onion rings were great too.
Six of us got out of there for about $100ish.... Certainly very reasonable for picky business travelers... I will come back EVERY time I travel through the Blues.
I bought a T-shirt for me and a few stickers for extras in trades.. Check this place out, you will not be disappointed.
1,196 characters

1.7
/5
rDev
-52.6%
vibe: 3 | quality: 1 | service: 1 | selection: 3 | food: 1
Do not go to this place for the food. I ordered a Blue cheese hamburger. Not only was it served cold, the meat was cooked to death. If I had not asked to speak to the manager, they would not have known how disgusting the food was. Shame on you for serving substandard food, and keeping a waitress that charges the customer and does not tell the manager. Shame on you manager on not insisting I get my money back.
Stay away from this place unless you just want to go drink...then it is okay. The shame is I was prepared to really rate this place excellent...not now.
566 characters
3.68
/5
rDev
+2.5%
vibe: 4.5 | quality: 4 | service: 3.5 | selection: 3 | food: 4
We stopped here for a late lunch on our way from Portland to Baker City. If I owned a brewpub, I would want it to look and feel like this place. It's in a great space within a historic building on the main drag through town. You almost have the feeling of stepping into an "Old West" saloon. They only have three or four beers on tap at any given time, but that's OK because they are all great. On this particular occasion they had their Bruce Lee Porter (scrumptious and hard-hitting at 7.4% abv), their Hefeweizen, and the Velocirapture Amber (brewed with rye malt). I had a little taster of all three and opted for the hefe which, I was told, had been brewed using yeast from a batch of the porter (ergo it was quite dark). Also filled my growler with the amber. Pretty hoppy for that style of beer, but the rye spiciness and nutty sweetness made for a great brew. Their food is good and made with quality ingredients. I was in heaven with their fries alone: thick and dark-brown with a copious amount of seasoned salt. I could see myself ordering a plate of those and a couple of brews next time we pass through there. That would really hit the spot.
On another visit (once again driving from Portland to Baker City), I stopped in for a growler fill. They only had ONE of their own beers on tap and it was their 9% abv winter beer. Well, I wasn't going to fill it with another brewery's beer, so I had to go for it even though it was $5 more than their standard abv beers. Fortunately, it was a FANTASTIC beer which my father-in-law and I finished off that evening.
One negative, though, the waitress I ordered the beer from needs to be educated on beer. I asked her what kind of beer it was and she didn't really know. When I tasted it, I thought I detected saffron, so I asked her if they had put that in the beer. She said, "Yeah, probably." Come on, lady, give a shit.
1,879 characters

4.28
/5
rDev
+19.2%
vibe: 4 | quality: 4.5 | service: 4.5 | selection: 4 | food: 4
Visited three times before and during Cycle Oregon 2010. One visit was just before the Pendleton Round-Up started, the other two were during the Round-Up. Reviews a blend from all three visits.
Brewpub is located in a former enclosed automobile dealership. The one wall has old murals painted on it (the former exterior of the adjacent building). The open beam and tall (2-story) ceiling gives the place a large, open feeling. The bar is towards the back and separated from the dining area, although the bar is a little small. There are a couple side rooms and a sitting area in the back right for just enjoying a pint. There's also a large window looking into the brew area.
On first visit, they had four beers on tap. Their Splendor in the Glass was out, but a fresh batch was scheduled to be on tap by the next day. They generously gave us each (my wife and I) at least a four-oz taste of each beer for free on our first visit. The place was quiet at the time and the bartender was more than happy to chat with us about their beers along with other pubs/breweries in the area.
The second and third visits were a little more hectic as the town was packed with people. To their credit, The Prodigal Son was staffed appropriately and had implemented a very limited menu that included only a dozen or so items. Service was friendly and relatively responsive, all things considered. I had a chicken club sandwich and my wife and fish n chips. Both were solid pub grub, although nothing outstanding. The fries were seasoned nicely and I wouldn't have an issue ordering either dish again.
Overall, I was pleasantly surprised with our visit to The Prodigal Son. Beer was very good, food decent, service good (considering the circumstances), and overall, we very much enjoyed all three of our visits. I would definitely check it out on any trip to NE Oregon. Out of the five breweries we visited, this was our favorite.
1,917 characters
4.28
/5
rDev
+19.2%
vibe: 3.5 | quality: 4.5 | service: 4.5 | selection: 4 | food: 4.5
A little quiet for a Saturday when I went in, but they've only opened recently. Food was great, only three beers on tap but again new opening, and the two we tried (Ella IPA and their Heifer Weizen) were excellent. Really friendly service, and a relief from the other bars in the center of town. Beware their current google/411 directions - they are actually two blocks off the main drag. Call ahead to check where they are for now (June 2010). A really nice feel to the place. Now why I have to add thirteen words to make this legitimate I don't know.
552 characters
3.86
/5
rDev
+7.5%
vibe: 4 | quality: 4 | service: 4 | selection: 3.5
The newest addition to the Eastern Oregon beer scene, The Prodigal Son is located in downtown Pendleton, home of the world famous Round-Up every September. The brewpub is located in an old restored building with 15-20 tables in the loud and boisterous front room, a couple small meeting size rooms, and a comfy lounge in the back near the brew room. At this early juncture (3rd day after opening) there still weren't any stools at the well crafted wooden bar. Street parking is available, no dedicated lot, but you shouldn't have to walk more than a block or two.
Given the relatively recent approval by the feds, the brewer hasn't had much time to produce, but what he had done was impressed. I had an (Imperial) Porter which has a distinctive flavor profile. A Hefeweizen was also available (with grapefruit) and an IPA was in the fermenter. I expect once they are up to full capacity 6-8 house brews. They also had one guest tap during my visit (Lompoc Proletariat Red) available. Imperial Pints were $4, a pretty good deal. I saw the brewer/bartender pull out a tall boy of Rainier, now that's old school!
While I didn't have any food while I was there, they had a well-developed and chosen menu of traditional pub fare (burgers, fish and chips, ploughman's plate, salads fries) to chose from. The menu wasn't extensive, but what I saw coming out of the kitchen (located hard against the brew room, a potential contamination issue) looked quite good.
While Beervana serves as the center of the PNW brew universe, even the most astute BAs recognize that Eastern Oregon brews some superlative beer. Terminal Gravity, Barley Brown's are always craved in PDX. Off to a good beginning, The Prodigal Son is a brewery to watch in the future, and worthy of a stop for the traveling BA.
1,784 characters
The Prodigal Son Brewery in Pendleton, OR
3.7
out of
5
based on
50
ratings.