T.J. Slough
| Cismontane Brewing Company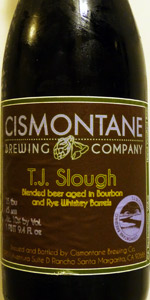 BEER INFO
Brewed by:
Cismontane Brewing Company
California
,
United States
cismontanebrewing.blogspot.com
Style:
American Strong Ale
Alcohol by volume (ABV):
10.00%
Availability:
Rotating
Notes / Commercial Description:
No notes at this time.
Added by kojevergas on 06-25-2013
Reviews: 6 | Ratings: 24

4.16
/5
rDev
+14%
look: 4 | smell: 4.25 | taste: 4 | feel: 4.5 | overall: 4.25
750mL bottle from j47paco (thanks!). No identifiable bottling date. Served in a Bruery snifter.
Pours a deep, dark chocolate brown with a finger and a half ecrue head. The sturdy halo that persists leaves several small islands of lace.
Smells of whiskey tinged vanilla, rye, chocolate, burnt caramel and faint berries. The aromas open up nicely and lure me increasingly as it reaches room temperature.
Flavors are smooth and blend well together, coming accross at once as both soft and rich. Rye whiskey, charred barrel, spicy rye malt, baking cocoa, grain, molasses, dark berries, black coffee, caramel, oak and a fairly assertive nip of alcohol. While it is a tad surprising how noticeable the booze is, it in no way detracts from the experience. I'm not sure how old this bottle is but the flavors flow together as if it has some age on it.
Medium, creamy, almost velvety feel with a soft pillow of carbonation and just a little cooling booze. Aftertaste mixes rye whiskey, spicy grain and some dark chocolate.
TJ Slough warms up to become some quite good stuff. It says blended beer on the label and my guess would be that the mixture includes both stout and rye beer. Whatever the blend, this was an enjoyable quaff that I'm happy to have tried.
1,259 characters
3.9
/5
rDev
+6.8%
look: 3.25 | smell: 3.75 | taste: 4 | feel: 4 | overall: 4
Pours an almost opaque super dark brown with a foamy khaki head that settles to wisps of film on top of the beer. Tiny dots of lace slowly drip into the remaining beer on the drink down. Smell is of dark roasted malt, caramel, toffee, vanilla, bourbon, rye, and wood aromas. Taste is much the same with dark roasted malt, cocoa, vanilla, bourbon, and rye flavors on the finish. There is a mild amount of roast bitterness and an alcohol kick on the palate with each sip. This beer has a lower level of carbonation with a slightly crisp and medium bodied mouthfeel. Overall, this is good beer with a nice mix of bourbon and rye barrel aged aspects.
Serving type: bottle.
669 characters
4.06
/5
rDev
+11.2%
look: 4 | smell: 4.25 | taste: 4 | feel: 4 | overall: 4
creamy chocolate-milk head silenced into nothing more than a white ring around the glass.
smell of bourbon barrel; I kind of like this smell more and more. kind of a syrup-y smell.
taste is thicker up front and a little bitter, but finishes sweeter. some chocolate, some vanilla. not especially great, but decent. the smell is very nice, better than the taste, in my opinion.
overall a decent brew. still want to try the black's nocturne.
438 characters
3.81
/5
rDev
+4.4%
look: 3.75 | smell: 4 | taste: 3.75 | feel: 3.75 | overall: 3.75
750ml, Spring '13
Hill Farmstead wine glass
A: Pours a deep dark brown. Looks nearly black in the glass. Initially a full finger of tight bubbles fluffy head. Leaves some sticky lacing layers on glass.
S: Smells fabulous. Lots of caramel and toffee. Really pulling a lot of barrel character. Some roasty notes. Some spice, possibly from the rye. Some booze as well.
T: Up front, you get a touch of spice. Getting some dark chocolate. Then caramel and toffee and vanilla. Some if the spice notes. Maybe a slight infection drifting in? On the finish, you get lingering oak notes. Very tannic.
M: Full bodied. Not stout-like in fullness.
638 characters

3.26
/5
rDev
-10.7%
look: 3.25 | smell: 3.5 | taste: 3.25 | feel: 3.25 | overall: 3
Dark brown with some amber highlights in the St. Bernardus globe. Modest head with just a few swirls left in the glass after awhile. Seems to dissipate the carbonation rather than freshen it up when you splash or sip from the glass. Promising smells of booze and barrels. Big nose of alcohol.
A bitter mouthful that keeps getting more so. It tastes more like a Rye IPA than the alleged blend of stout and lager. A little licorice in the mix and plenty of dark malt. It tastes more burnt than roasted. Quite dry, but there is that hint of malty sweetness on the lips. Quite grainy with an undertone of the woody barrel taste. Or else this is just brewed with some of that dark shredded landscaping bark. I imagine it would taste just like this.
Interesting, but not so appealing. I keep thinking of diluted whisky with a splash of Imperial stout. From the 750 ml bottle bought for a silly price at Bottlecraft in San Diego.
926 characters

3.05
/5
rDev
-16.4%
look: 3.25 | smell: 3.25 | taste: 3 | feel: 2.75 | overall: 3
Throwing this under the rubbish catch-all "American Strong Ale" category - the style under which we shove high-alcohol beers that don't fit conveniently into another category. It's a blend of three different Cismontane beers with barrel aging in Bourbon and Rye Whiskey barrels thrown in for shits and gigs.
25 IBU. 15 srm. 10.00% ABV.
1 pint 9.4 fl oz brown glass bottle with straightforward no-nonsense label and unbranded silver pry-off cap acquired at a local SoCal beer store for $18.00 USD and served into a Mitchells of Lancaster flared stem-tulip in me gaff in low altitude Los Feliz, Los Angeles, California. Reviewed live. Expectations are actually high; I enjoyed the other barrel aged beer I had from Cismontane.
Served cold, straight from the freezer, and allowed to warm over the course of consumption. Side-poured with standard vigor as no carbonation issues are anticipated.
A: Pours a one finger milky khaki colour head of somewhat disappointing thin consistency. Bubbly and off. Nice creaminess, though. Above average (~3-4 minute) retention for the high ABV. No bubble show. Little lacing as the head recedes; what little there is is inconsistent and uneven.
Body colour is a dark solid black; not quite a jet black. No yeast particles are visible. Opaque.
Overall, it's typical for the style and isn't unique or special. No overt flaws are obvious.
The head retention and body colour are far from in line with the best beers I've seen in the style. It looks mainly like an imperial stout.
Sm: Molasses, licorice, anise, fennel. Dark malts, chocolate malt. Caramel. Somewhat artificial vanilla notes; certainly comes off more as a vanillicin than it does as legitimate vanilla bean or oak-imparted vanilla.
Actually, the oak/wood/barrel character is surprisingly absent here.
I do get some subtle, refined bourbon and rye whiskey character; the whiskey is definitely more prevalent. Some spicy rye whiskey notes. Some tame bourbon-y chocolate notes.
Light cream. Hints of vague dark fruit; perhaps plum? Caramel. Burnt malts. Light toffee hints. Cocoa.
A moderate strength aroma. I do get some alcohol, but it's not boozy or hot. no yeast character is detectable. There's a fair amount going on here, and I'm already concerned about the balance. I hope the flavour profile is better put together than the aroma.
T: Vanilla hits me first, lending a strange artificial sweetness to the entirety of the beer. Certainly feels like vanillicin extract and not legitimate vanilla bean or subtle oak-imparted flavour.
Dark malts, caramel, chocolate malt, molasses. Indistinct dark fruits - crappy plum extract and some dark cherry. Cream. Raisin. Dark grape - blech. Not really having this beer. It's got definite balance issues, and comes off syrupy and overbearing.
There's a lot happening here, so I guess it's complex. But subtlety and balance are lost on it. Neither a well executed beer nor a well executed blend.
Hopping isn't really noticeable at all. No yeast character comes through either. I do get some alcohol.
I really wish the barrel notes were better. I do get cheap bourbon. Rye whiskey is nowhere to be found; I don't get spiciness or heat or booze or anything. Feels like a missed opportunity.
Flavour intensity is typical for the style, which is to say it's fairly high. Flavour duration - similarly - is long and yet typical.
Lacks cohesion; the blending is rough around the edges. Needs work.
Mf: Syrupy, thick, and viscous. Smooth and wet. Heavy and overbearing on the palate. Slightly overcarbonated. Doesn't feel at all custom-tailored to the flavour profile. I think it suffers from the blending; they tried to put too much in where a more masterful brewer would recognize the elegence of simplicity.
Dr: Hm. I guess it's drinkable. The alcohol is noticeable; make no mistake - this will put you on your ass if consumed alone. I certainly wouldn't bother with this again - especially at its high price point. I expected better based on my first beer from Cismontane, but this didn't fit the bill. The barrel notes in particular aren't that evocative and don't seem to improve the base beer(s). A pricey experimental blend beer that doesn't warrant purchasing. I wouldn't recommend it to friends. A disappointment from Cismontane. I think I'll re-cap this with my homebrew capper; I really don't feel like finishing the bottle.
Low C+
4,414 characters
T.J. Slough from Cismontane Brewing Company
3.65
out of
5
based on
24
ratings.