Imperial Stout
| Nashoba Valley Brewery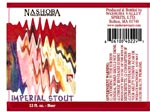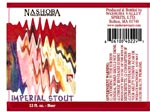 BEER INFO
Brewed by:
Nashoba Valley Brewery
Massachusetts
,
United States
nashobawinery.com
Style:
Russian Imperial Stout
Alcohol by volume (ABV):
8.20%
Availability:
Fall
Notes / Commercial Description:
No notes at this time.
Added by Todd on 01-02-2005
HISTOGRAM
Ratings: 34 | Reviews: 26
4.11
/5
rDev
+10.5%
look: 4.5 | smell: 3.5 | taste: 4.5 | feel: 4 | overall: 4
(0006) Reviewed: 02/11/06.
On-tap, sampled during lunch at G's restaurant, located at the winery/brewery. Pour temp: unknown, but served very cold (I had to just SIT there, LOOKING at it, while it warmed. This, then, is the definition of "torture").
Appearance: slightly rocky, light brown head to start, which slowly recedes to leave a ring and wisps of foam across the top. Color a midnight black; very little light penetration, a little reddish and the edges. Decent lace at the start (upper 2 inches of the glass held lace right through to the last mouthful), but seemed to lose the ability to cling as the beverage was consumed (was I observing this correctly?).
Smell: Fairly intense malt sweet; limited molasses, but none of the coffee notes touted in the tasting room blurb (or, maybe, I need to recalibrate the ol' Mark 1 Nose).
Taste: Heavy roastiness, sweet malt. There is just a taste of hop bitterness at the beginning which quickly leaves, to be replaced by roasted malt through the middle. Bitterness makes a comeback at the end, though. Alcohol warmth is apparent throughout the flavor arc. Overall nicely balanced.
Mouthfeel: Overall smooth and creamy, but you know the beer is there – and its big!
Drinkability: Excellent drinkabillity. This is definitely a sipping (as opposed to a quaffing) beer; good for cold days, and colder nights, sitting snug in front of the fire.
Overall: This beer is not a perfect representation of the style, but it comes dang close (besides, if one reached perfection, the journey is over, and we can't have that). I liked this so much that I bought a sixer on the way out.
1,650 characters
3.53
/5
rDev
-5.1%
look: 4 | smell: 3.5 | taste: 3.5 | feel: 3.5 | overall: 3.5
12oz bottle purchased as a single at Julio's, Westboro, MA.
Poured into an imperial pint glass, formed a 1/2" tan head over the opaque dark brown/black brew. Head holds steady, with average lacing. Aroma is fruity and vinous foremost, with some dark grains in there as well. Taste starts with dark fruits, and then fills out with some dark maltiness, and closes dryly over the tongue. Mouthfeel is okay, but seems to be lacking in the chewiness/malt bill area, and drinkability is not bad either. Certainly not a bad brew, just not what I exactly look for in the style. Could be your bag, try it and find out.
613 characters
3.58
/5
rDev
-3.8%
look: 4 | smell: 3.5 | taste: 3.5 | feel: 4 | overall: 3.5
Pours black as the flipside of a colon with a butterscotch tan head sitting fluffy on the midnight liquid. Rorschach lacing is rather pretty, but the head quickly thins out.
The aroma is like dark chocolate still in the foil wrapper (note the foil), and it is a bit more acidic in the aroma than the typical Impy Stout.
The first thing upon entry, this is really thin tasting for an Imperial Stout. Deep espresso and choco are somewhere in the taste, but are super subdued and give way to a more generic tasting sweetness. The finish is very metallic. On the plus side, the alcohol is hidden really well, can't taste it at all.
The mouthfeel is velvet smooth and lush, but once again, this is far too thin for the style and feel oily instead of rich.
Even though the alcohol is very well hidden and the mouthfeel is cream, the drinkability is rendered only so so because of the taste, which is also just so so.
A different take on the style, and a very very competitive style at that. I do prefer the richness and burnt to hell espresso that is absent here, but it was a good experience all around. Thanks for the bottle Carmen!
1,145 characters

3.65
/5
rDev
-1.9%
look: 4 | smell: 4 | taste: 3.5 | feel: 3.5 | overall: 3.5
Pours with a one-finger light tan head that leaves some lace. Totally opaque black color. Light-medium bodied and medium carbonation. Nose is coffee/chocolate. Starts on the sweet side but roasted/burnt coffee is there, finish is slightly dry and on the thin side. The 7.5% abv (their site) is hidden. $1.45 for a 12oz bottle from Colonial Spirits Acton, Ma.
358 characters
4.23
/5
rDev
+13.7%
look: 4.5 | smell: 4 | taste: 4.5 | feel: 4 | overall: 4
I wanted to give this local brewery a try and picked up this along with the Bolt 117. While not as impressed by the Bolt, this offering was a true hidden jewel.
It poured with a substantial coffee colored head that is just a wonder to look at. The body is charcoal black and opaque and it just leaves you wondering what lurks inside. The nose could be described as roasty and certainly coffee-ish. Wow, the mouthfeel is so thick and chewy its like having a meal. Even more pleasant is the silky smoothness to it. The main velvet chocolate flavoring is accompanied by a short but intense hoppy essence. Very impressive. As we head for the finish, I noticed a little more of the coffee taste that was apparent in the nose and its gently surrounded by some high alcohol presence. And yes, it will knock you on your ass after one bottle. This is a winner.
854 characters

4.15
/5
rDev
+11.6%
look: 4 | smell: 4 | taste: 4.5 | feel: 3.5 | overall: 4
Cool label-pours black with a thick brown head.
Head dissapates revealing a thin ring of fine bubbles and black liquid with crimson edging.
Black malt and bitter chocolate in the nose with red wine and ripe fruit following through.
First sip raises one's eyebrow.
A moment of typical Imperial Stout character quickly gives way to lush fruit from the vine.
Roasted barley,burnt malts,dark chocolate,a smidge of espresso-all clearing the way for a rich blueberry wine and oakey finish.
Mild tannins and drying, woody finish. The vineous nature lingers with hints of dark raisins and a warming quality.
Medium bodied, a bit on the thin side,with alcohol well hidden.
The brewer-"Jimbo" informed me that this beer was aged in American oak casks that had previously held 5 different batches of Blueberry wine.
A Nashoba hidden gem.
839 characters

4.02
/5
rDev
+8.1%
look: 4 | smell: 4.5 | taste: 4 | feel: 3 | overall: 4
I'll admit that I had rather modest expectations for this brew. It's prepared by a winery that seems to brew more as an afterthought, or a hobby, than a craft or profession. Yes their fruit wines seemed good, but who would have thought they'd craft a smooth, light bodied imperial stout. Black in appearance, with a surprisingly sustainable head, for the style, the brew was quite enticing. The aroma of chocolate, coffee, and dark fruit was enticing and balanced. The brew didn't hint at its alcohol. In fact, I would have guessed that the beer was a bit low for the style - maybe 7%. The highly vinous stout, was smooth, and light in body. Its one of the most drinkable high ABV brews that I've had the pleasure to sample.
724 characters
3.72
/5
rDev 0%
look: 3.5 | smell: 4 | taste: 3.5 | feel: 3.5 | overall: 4
Thought I would give this brew a try last evening while at Mahars. First time I have had anything from Nashoba. The brew poured to a dark black color with some slight highlights of ruby. Did not have much of a head to it and what it did have broke down quickly and left no lacing. The aroma is carried with thoughts of dark fruit, caramel and some essence of chocolate. No hop aromas at all that I could pick up. It also has a slight alcohol aroma, over all it is a good smelling brew! The taste when along with the aroma but I can notice a more pronounced roasted malt flavor that comes out. It is a pretty good tasting brew and one that I would have again in the future. Another note, according to the brewer the ABV is 7.5 not 9.1.
734 characters
3.66
/5
rDev
-1.6%
look: 4 | smell: 3 | taste: 3.5 | feel: 4 | overall: 4.5
holy smoothness batman. it is hard to beleive this is an imperial stout with 9% alcohol. dark ruby black in color with a liberla frothy tan/brown head. smells sweet, not at all hoppy like you might expect. also missing chocolate/coffee notes that would expect, instead just a simple sweetness pulling through the nostrils. the chocolate/coffee notes are also absent from the taste, but fret not, this is so smooth, you wont beleive it. seems to lean more towards a milk stout with it's sweet taste, a milk stout with out that acidity. caramel notes as it warms ups, as well as a bit of plum taste, perhaps, something in their i cant put my finger on. simpler then most imperial stouts, but so smooth it more then makes up for it, and i think the 9% is a joke casue i dont taste it anywhere. dangerous! doesnt drink like meal so you could have a few, and you might just want to.
877 characters
Imperial Stout from Nashoba Valley Brewery
Beer rating:
3.72
out of
5
with
34
ratings