Dismiss Notice
Belgian Pale Ale
| Nashoba Valley Brewery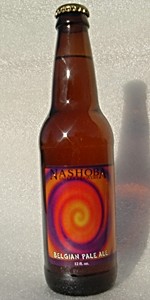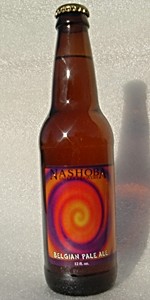 BEER INFO
Brewed by:
Nashoba Valley Brewery
Massachusetts
,
United States
nashobawinery.com
Style:
Belgian Pale Ale
Alcohol by volume (ABV):
5.70%
Availability:
Rotating
Notes / Commercial Description:
No notes at this time.
Added by MuddyFeet on 10-16-2005
HISTOGRAM
Ratings: 13 | Reviews: 12
Reviews by Marty:
3.62
/5
rDev
-1.1%
look: 3.5 | smell: 4 | taste: 3.5 | feel: 3.5 | overall: 3.5
Pours a very hazy, wheat beer-esque golden orange with a lively head and nice little streams of bubbles running up the inside of the pint.
Smells a bit citric/yeasty. Hops are pretty mild. There's a bit of yeasty sediment on the bottom of the glass.
Overall, an above average pale ale. Not particuarly complex, but certainly worth checking out if you're in the Bolton area.
379 characters
More User Reviews:

4
/5
rDev
+9.3%
look: 4 | smell: 4 | taste: 4 | feel: 4 | overall: 4
Poured a golden blonde that is clear and inviting. It leaves a thick off white lace that is bubbly. The aroma is typical Belgian ale, musty, fruity esters, and finishes like pale wheat in the nose. The taste is smooth, starts dry and tart on the palate, it then moves to a balance of sweetness dominated by honey and cloves and then finishes bitter but balanced with that honey sweetness. This is another great style from a underrated brewery in Nashoba, keep up the great work!
478 characters
4.27
/5
rDev
+16.7%
look: 3.5 | smell: 4 | taste: 4.5 | feel: 4 | overall: 4.5
Poured from a 12oz bottle into a US tumbler pint glass.
A: The beer is a cloudy yellow color with a very thin white head that fades quickly and leaves very thin lace on the glass.
S: The aroma is very strong with Belgian yeast backed up by banana, some spices and a little bit of hops.
T: The taste has more of the same Belgian yeast and banana flavors. The malt character is very thin and the hops presence is significant and provides more balance as the beer warms. The after-taste is a little bready and slightly sweet.
M: Smooth and very crisp, light-to-medium body, medium carbonation, clean and dry finish.
D: Tasty, goes down very easily, not very filling, good representation of style, I likes this beer a hell of a lot more than I thought I would and I can see myself polishing off a sixer of this beer quickly and enjoying every minute of it.
862 characters
4.35
/5
rDev
+18.9%
look: 4 | smell: 4 | taste: 4.5 | feel: 4.5 | overall: 4.5
12ozer bought as part of mized 12-pack from the brewery.
Poured into an imperial pint glass, formed a 1/2" white head over the slightly cloudy golden amber brew. Head holds on nicely, with plenty of lacing. Aroma is spices and hops. Taste is spicy malts up front, with a nicely-rounded bitterness taking over and closing out the flavor profile. Mouthfeel is smooth, and drinkability is very nice as well. Very impressed with this offering from Nashoba.
456 characters
3.23
/5
rDev
-11.7%
look: 3.5 | smell: 3 | taste: 3.5 | feel: 4 | overall: 2.5
A: Very light head with pale orange with very hazy color
N: Nose is a light wheat with some Belgian qualities, citrus, orange, corriander and other spices, and slight yeast
T: Taste starts with a light wheat taste and some citrus and orange peel, slight bitterness, lots of citrus and orange peel, some corriander and other bitter nagging spices also stick right out a little too much
M: Its very light on the tongue, not much carbonation
F: Finish is a little bitter from orange peel and not hops, but it dries off the tongue very quickly leaving you ready to drink more, except the thought of the spices make you think twice
Final thoughts: This is a very light summer beer but still hard to drink from all the spices, I remember this being better, as well as many of their other beers. I think they have been changing their beers a lot over the past year or two for the worse IMO.
888 characters
3.87
/5
rDev
+5.7%
look: 4 | smell: 4.5 | taste: 4 | feel: 2.5 | overall: 3.5
Slight haze; great head and lace that lasts. Golden in color
Wow, smells like a real Belgian Pale Ale...authentic, nuttiness, cloves, etc. Great start.
Great taste, unfortunately, the body betrays the flavor. This beer is way under-bodied. Too bad, because this could have been a homerun with a little more chew to it.
324 characters
4
/5
rDev
+9.3%
look: 4 | smell: 4 | taste: 4 | feel: 4 | overall: 4
A: Pours a very clean and clear looking golden straw-like color. Nice frothy two finger initial head that has decent retention. Lots of action going on in there with bubbles rising ot th etop.
S: Sweet honey notes with a champagne like body. Yeasty banana and lemon notes tickle the nostrils. Pretty damn good smelling.
T/M: That champagnesque body comes through in the taste. Yeasty notes also are noticeable but reserved. Sweet honey, cloves, and lemon zest are abundant. Bitterness is there, but not overpowering. Slightly chalky in the finish. Light body with a good level of carbonation.
D: Damn drinkable offering from Nashoba. One of the better ones I've had from them lately.
687 characters
4
/5
rDev
+9.3%
look: 4 | smell: 4 | taste: 4 | feel: 4 | overall: 4
This beer poured an opaque bright orange yellow body with a small off-white head.
Nose is very fruity with a strong golden ripe fruit smell. Touches of fresh herbs, potpouri and spices.
Taste is medium boded and very smooth. A mild wheat ruffness around the edges. Ripe fruits a strong funky rotting citric peel taste. Like the white funk on citrus. Lots of strong bitter fruit juices. Peach, apricot, schnapps, pears, grapefruit and nectarines.
I support Nashoba, winery but have never been crazy about their beers, however this is really interesting. Belgian beers are much more fitting for a winery. Good stuff.
617 characters

2.84
/5
rDev
-22.4%
look: 2 | smell: 3 | taste: 2.5 | feel: 2 | overall: 4
Color was a orangy gold. Very weak head (and I poured aggressivly). What head was there was sudsy, not frothy, and it didn't stay long. No lacing either.
Aroma was herby with faint clove, coriander, bready yeast, and faint lemon.
Taste is agreeable. BUT, seeing as this is a "Belgian" pale ale, I can't help but notice it tastes like a barely decent knockoff. The ingredients of a belgian style pale ale are all in there, but they don't quite sing all together. Needs refining.
Mouthfeel is thin, fairly flat, and lifeless.
Drinkabilty is decent. It's easy to drink, but I think only because the ABV isn't high. It's thirst quenching enough...I'll give it that.
Overall this comes across like a first draft of that belgian style we all know and love. I can't help but think that if you can't nail the style, then why bother? We can all get our hands on the real thing pretty easily. The brewer shouldn't abondon this, just work on it. It needs some TLC.
963 characters
1.12
/5
rDev
-69.4%
look: 1.25 | smell: 1 | taste: 1.25 | feel: 1 | overall: 1
3.8
/5
rDev
+3.8%
look: 3.5 | smell: 3.5 | taste: 4 | feel: 3.5 | overall: 4
Enjoyed at Nashoba's Oktoberfest at 10/16/05.
Poured a nice burnished gold. Kind of like old jewelery that was just refinished. No head, but that was probably because of the lass who poured.
Nose is very sweet and malty. Little bits of citrus and sugars.
Flavor has little bit of wheat that is at forst most noticeable but is replaced by very sweet Belgain sugars. Very much like eating sugar candy but on a much smaller less rotting-teeth scale. Some cloves and ctirus as well. Perhaps served a bit on the cold side because I have a feeling mroe flavors would have come out if not so cold.
Mouthfeel was fairly low carbonation and a fairly full body.
Nice and drinkable. Walked around the orchard picking apples with my glass in hand. Very nice.
761 characters

4.3
/5
rDev
+17.5%
look: 4 | smell: 4 | taste: 4.5 | feel: 4 | overall: 4.5
Sampled on-tap at the brewery during their Oktoberfest.
This pale ale poured a clear, golden color with white foam that settled. The smell was Belgian pale malt with a hint off yeast and a bit of hops. The taste was very nice: Belgian malt with a touch of fruitiness and a good hop balance. The mouthfeel was smooth with medium body and good carbonation. The malt and hops lingered in the aftertaste. This was a very nice beer, and was one of the best I tried that day at the brewery.
487 characters
4.13
/5
rDev
+12.8%
look: 4.5 | smell: 4 | taste: 4 | feel: 4 | overall: 4.5
I though this beer was one of the more authentic American Belgian Pale Ale's I've had, although the flowery/fruity (estery?) taste and aroma was a bit milder than many Belgians, like Delerium Tremens, for instance. I don't think that is necessarily bad. I enjoyed several during a round of golf without tiring of the taste.
It is clean and refreshing. Nashoba Valley produces some great brews and this is one of the best.
423 characters
Belgian Pale Ale from Nashoba Valley Brewery
Beer rating:
3.66
out of
5
with
13
ratings