Belgian Style Double
| Nashoba Valley Brewery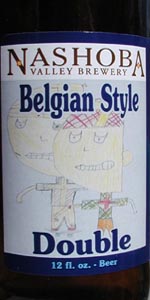 BEER INFO
Brewed by:
Nashoba Valley Brewery
Massachusetts
,
United States
nashobawinery.com
Style:
Dubbel
Alcohol by volume (ABV):
not listed
Availability:
Fall
Notes / Commercial Description:
No notes at this time.
Added by gotbeer on 11-12-2006
Ratings: 13 | Reviews: 11
Reviews by gdrydenc:
3.58
/5
rDev
+8.5%
look: 4 | smell: 3.5 | taste: 3.5 | feel: 4 | overall: 3.5
A - Color is a medium orange color with a little bit of light orange head. As I pour, there's quite a bit of sediment in the bottle.
S- Well, the Belgian yeast is certainly present. There's an interesting little bit of funkiness to it. A little burnt sugar, hazelnutty smell to it.
T - The taste is very similar. Not a ton of Belgian flavor, mostly sugary, similar to the nose. The taste is certainly not bad, it's a very well balanced beer. However, it tastes like a typical American attempt at a Belgian.
M - The mouthfeel of this beer is pretty good. The carbonation is almost spot on. However, the body is a bit thin, so it loses some points there.
Overall, this is a pretty good beer, nothing extraordinary, but it's certainly a good beer.
748 characters
More User Reviews:
3.74
/5
rDev
+13.3%
look: 3 | smell: 4 | taste: 4 | feel: 4 | overall: 3
Poured into a flaired tulip glass from 12oz brown bottle with a crimped cap,recieved on the BA shuttle from Sudsdog.
Very mirky,muddy looking,mahogany color. 1" light tan head dissapated very quick to just a collar around the inside of the glass. Large soda-like bubbles clinging to the bottom of the glass bursting into very tiny strings,very tiny bubbles constantly streaming off the insides of the glass all the way around the glass with large chucks of yeast.
Good complex aroma,baked apple,lots of spiceness, Clovey with hints of cinnamon,good spicey nose with lots of dark fruityness and a hint of boozieness and a bit viniuos.
Complex tastes,fruity,tart and tangy with a prune/raisin fruityness,a touch of chocolate,some overripe bannanas,vinious with a hint of alcohol,spicey notes of clove/nutmeg.
Light mouthfeel for a dubbel,leaves a very dry wine-like feel. Goes down easily enough,but definatily a sipper,two would be my limit on this beer,would drink another if i had one. A good before dinner beer as well as a dessert beer. An interesting beer worth a try,would like to have this one again. Was a pleasing suprize after drinking pilsners on the deck most of the afternoon.
1,200 characters
2.97
/5
rDev
-10%
look: 2.5 | smell: 3 | taste: 3 | feel: 3 | overall: 3
Poured into glass chalice.
Pours slightly hazed mahgony with no head - just a small island. A white ring leaves some vanishing trailing lace.
The smell is of banana, sugar candy, some roasted dark malt. The aroma is closer to a dunkelweiss than a Belgian, but not bad.
The taste is of banana, some clove, sharp alcohol. The spiciness seems to come more frim the alcohol than anything else. A touch of grainy, roasted malt comes through along with peppery alcohol and an almost Band-aid-like medicinal character. Seems like a cross between a Dunkelweiss and a Barleywine, with just a nod of "Belgian-style" (except maybe the medicinal character.) Some of the flavors linger.
Rather thin and watery, though some creaminess to it. Somewhat tedious to drink, it's not all that bad, but pretty much misses the mark on the style, and not very interesting to me. The medicinal character without the usual Belgian-spiciness makes this one middle-of-the-road, at best, for me.
979 characters
3.43
/5
rDev
+3.9%
look: 3.5 | smell: 3 | taste: 3.5 | feel: 4 | overall: 3.5
12ozer bought as a single from Julio's, Westboro, MA.
Poured into an imperial pint glass, 4" of tan foam over 1 1/2" of red brew. Head fades way slowly, resorted to dumping some foam so that I can actually enjoy this brew this century. Average lacing. Aroma is dark sweetness, with plenty of tartness. Taste is nutty maltiness upfront, a controlled amount of fruity tartness in the middle, and closes with a slightly alcoholic chalkiness. Mouthfeel is creamy, and drinkability is good once I can actually find the beer below the head.
537 characters
3.65
/5
rDev
+10.6%
look: 3.5 | smell: 3.5 | taste: 3.5 | feel: 4 | overall: 4
Poured a hazy, opaque copper with a two-finger tan head that dissipated fairly quickly but left plenty of lacing. Very sweet, malty and medicinally spelling. Taste was of ripe, dark fruits -- especially plums, cherries and raisins, with a slightly bitter, not hoppy but medicinal finish with some alcohol warming. Felt full in the mouth and crisply carbonated. I wanted another when I was done -- pretty sessionable for the style.
Not bad. Not the best dubbel I've had, but certainly worth a try.
499 characters
3.11
/5
rDev
-5.8%
look: 4 | smell: 3 | taste: 3 | feel: 3.5 | overall: 3
Light fizzy head orange light rosy tan color semi clear.
Nose sweet belgian like malts, extract syrups, esters, light booze, nutty hazelnut.
Taste sweet syrup extract, hazelnut, sticky, esters, bandaid, lightly phenolic, icky syrup, hints of Belgian yeast med dark fruits, sweet finish, light booze.
Mouth us med bodied, sticky and syrupy, decent carb.
Overall pretty meh, typical for Nashoba these days, very bland half-assed beer with some mild off flavors and very syrupy and extract like tasting.
504 characters
3.68
/5
rDev
+11.5%
look: 4.5 | smell: 4 | taste: 3.5 | feel: 3.5 | overall: 3.5
12 oz. bottle purchased at Colonial Liquors in Acton, MA.
The beer poured a cloudy medium brown with a huge head. I had to wait a while to get all the beer into my glass, but I expect a decent amount of head with any Belgium style beer.
The beer had a nice flavor, but was somewhat on the mild side compared to other Dubbels that I've tried. It almost reminded me of a strong, dark wheat beer; not necessarily a bad thing.
I would certainly try this one again as the price was considerably less than a beer coming all the way from Belgium.
548 characters
3.38
/5
rDev
+2.4%
look: 3.5 | smell: 3 | taste: 3.5 | feel: 3.5 | overall: 3.5
Drinking my Nashoba Belgian Style Double out of a Nashoba Valley Winery Wine Glass. (Thank you free glass with wine tasting)
This beer pours a light brown body with a very small off-white head.
Nose is very subtle with at first some possibly skunked garbage smells, but as it warms some classic sugary dark malt and dark ripe fruits of a dubbel start to peak through. Very mild though without any sharp smells.
Taste is medium bodied and rather malty at first.. Taste has a very bitter raisin and sugary ripe date sort of flavor. Yeast, dark malt, brown bread, some touches of fruit and even banana. Very simple without any big over the top flavors. No stand out hops or bitter, no standout yeast or fruits. Just, double. Very true to style with a very slight wild yeast, wine touch to it..
A session double. Nashoba really does a great job with their Belgian styles, it seems a better fit with their wine. I really wish they would do some bigger 10% abv beers since they do focus mostly on wine I could see some cool cutting edge Belgian style/wine things coming out of here. Maybe some big wine barrel aged scotch ales?? Anyway... :-) A very good session double, nothing crazy but very drinkable..
1,203 characters

3.05
/5
rDev
-7.6%
look: 3 | smell: 3 | taste: 3 | feel: 3.5 | overall: 3
12 fl oz brown bottle, served in a goblet.
Light tea in color with a faint ruby/mahogany hue. Off-white, carbonation-filled head that fades to a broken sheet almost on impact. No lacing to speak of.
Semi-sweet molasses and caramel that are overwhelmed by a stiff, farmhouse must. Tea and a one-dimensional clove/saffron spice. Faint hints of fig and date.
Weak, semi-sweet caramel-based malt with hints of candied sugar. Spicy licorice over a thin tea base; moderate musty quality. Semi-sweet red apple, fig, and raisin.
A light, medium in body; very thin, borderline weak on the palate. At least the carbonation is kept in check.
A very average version of the style. The flavors are just too muted for a second pour.
722 characters

3.16
/5
rDev
-4.2%
look: 3.5 | smell: 2.5 | taste: 3.5 | feel: 3.5 | overall: 3
Poured from a 12oz bottle into a St Bernardus chalice.
A: Disappointing head, body is a nice clear amber color. Lacing is also lackluster.
S: There isn't much there. Slight malt smell, can't detect any yeast aromatics.
T: Taste is interesting, certainly taste better than it smells. It is a bit too sweet, and lacks complexity, but not bad.
M: Thicker because of the sweetness, but otherwise okay.
O: Overall, the beer is average, but below average for the dubbel style. Would I buy it again, no way, but I'd drink it if it was in front of me (which it is, so I am...)
573 characters
4.12
/5
rDev
+24.8%
look: 3.5 | smell: 4 | taste: 4 | feel: 4.5 | overall: 4.5
This Belgian Style Double was bought in a six pack at the Brewery in Bolton, MA.
The label has a cool drawing of a couple of angry looking cartoon characters. It looks like something a kid may have drawn. The beer pours a dark reddish brown with a light head the dissapates somewhat quickly.
The smell is of bread and candy sugar.
The taste is fruit, bubble gum, and some phelonic flavors. There are overly ripe balanas, melon, pear, and other ripe fruit flavors that contribute to the bulk of this beer's flavor. Some sweetness and phelonic notes throughout. It finishes with some spicy herbal and medicinal notes. It is an interesting beer with some complexity.
The mouthfeel is smooth and a little sticky. Satisfying.
The drinkability is great. I could definitely have more than one in a single sitting.
This is a beer that surprised me a little. It's a good example of the style, and quite tasty. I've been hit or miss with Nashoba in the past, but this one is definitely a hit with me. I'm impressed with the way the brewery appears to be maturing, and I hope they have more of these surprise to come. I would reccomend this one for a try.
1,164 characters
Belgian Style Double from Nashoba Valley Brewery
3.3
out of
5
based on
13
ratings.