Dunkelweizen
| Nashoba Valley Brewery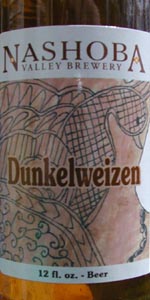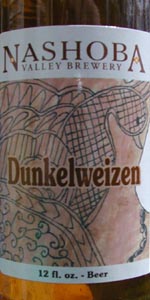 BEER INFO
Brewed by:
Nashoba Valley Brewery
Massachusetts
,
United States
nashobawinery.com
Style:
Dunkelweizen
Alcohol by volume (ABV):
5.30%
Availability:
Rotating
Notes / Commercial Description:
No notes at this time.
Added by Todd on 03-01-2005
HISTOGRAM
Ratings: 9 | Reviews: 9
Reviews by mbrandon2w:
3.8
/5
rDev
+43.4%
look: 3.5 | smell: 3.5 | taste: 4 | feel: 3.5 | overall: 4
12 oz from the brewery
Nice pour, decent head.
Nice hef yeast aroma, more banana than clove. Hints of chocolate malt, and a bit of caramel.
The banana and the chocolate flavors play off each other very well. Could use a little bit more body. Very refreshing.
258 characters
More User Reviews:
2.48
/5
rDev
-6.4%
look: 4 | smell: 3.5 | taste: 2 | feel: 2 | overall: 2
12oz bottle into pint glass. American Dark Wheat Ale.
Slightly cloudy dark brown color with a one finger tan head that slowly settles to a thick cap.
Caramel malts along with a little bit of banana and clove. Somewhat similar to a Dunkelweizen.
The aroma was okay, but the taste is just bland. There is a little bit of spice in there and some malt, but it's so watery it's hardly worth the purchase.
403 characters
2.3
/5
rDev
-13.2%
look: 3 | smell: 3 | taste: 2 | feel: 2 | overall: 2
12ozer bought as part of a 6-pack from Austin Liquors, Shrewsbury, MA. Note that this was purchased within the past couple of weeks.
Poured into an imperial pint glass, formed a minimal tan head over the sort of clear light brown brew. Head is gone in seconds, now just a few small scattered bubbles, with little to no lacing. Aroma is tart fruit, with an undercurrent of wheat. Taste is lightly of dark wheat, with ample sour fruit, and a chalky close. Mouthfeel is flat, low in carbonation, and drinkability is really not that great. Would probably revisit to make sure I'm not missing something here, but this experience wouldn't warrant another.
652 characters
1.56
/5
rDev
-41.1%
look: 3 | smell: 2 | taste: 1.5 | feel: 1 | overall: 1
Well, I remember this beer a couple years ago being great. And I bought a bunch at the "brewery" a couple weeks ago since I thought it still would be. Low and behold, since their new head brewer last year, nothing has been as good, and this doesn't change anything. I had a few of my new purchase at a party recently... and lets just say that I was not impressed. So I decided to review one here and warn... tell... warn tell everyone about it... so here goes.
A: Pretty dark brown somewhat clear tone, can somewhat see through it, but not really, no sediment. Light head fades quickly to just enough foam to cover the beer itself, almost as if it's trying to disguise itself on how bad the beer to follow is. Speaking of which, here it goes...
N: A sweet almost foul stench that adds spices, molasses, and almost pumpkin like fruit aromas. I wouldn't be surprised if they just scraped the bottom of the fermenter after brewing some ale, pumpkin beer, and Budweiser and threw it all together into some strange concoction they tried to pawn off as a beer. Some yeast aromas give me the sense that this really is at least a beer, but it has the stench of raw yeast pack, which is not so pleasing. I have some really dirty things to add to the yeast comment, but let's leave it PG and use your own imagination. There are also some spices, which should be there in a Dunkelweisen, WTF are you doing Nashoba!?!?! Bastardizing beers is not the way to get fans!
T: Eventually it was coming, not matter how much I try to procrastinate with typing lots of useless words... starts with more sweet fruit like tastes and sour bread flavors. ummmm, what? Some spicey earthy tones give it a bit of a kick, but its not the pleasant kind. It has more of those weird yeasty and bleh-y flavors that makes me almost gag trying to force it down. Typically on a review I type almost this entire paragraph while swishing one or two mouthfulls around my mouth, but I had to swallow it almost immediately to prevent having to gag on the putrid flavors. It also has a dominating contamination off flavor I remember so well from my early days of homebrewing. This is almost haunting me of the terrible beers I used to make, except this is on a commercial beer, and on a Dunkelweisen, and one that used to be great!!! I think the entire country of Germany should come over here and sack the "brewery". Oh yeah, forgot to mention the candy flavor that just adds more weird on top of weird and terrible. WOw! its just more and more weird and bad flavors on top of each other.
M: DO I really have to say it. I wish I could say bland, but instead its like that weird bubbly syrup that just sits on the sidewalk in the sun, festering, bubbling, fermenting, and rotting. Imagine that as a liquid. And its pretty flat on top of that. It also leaves a stickiness in my mouth that would often be pleasant, but in this case is just...damn!
F: I wish I hadn't even gotten here, but here I am. Well, lets just say the finish doesn't change anything. A bad sour sweet flavor like mashing rotten peaches and lemons together with partially digested corn syrup. That weird and bad flavor just lingers on the tongue for waaaay too long. After that a slightly metallic bing resonates thought your mouth, like chewing on aluminum foil <shudder>.
Final thoughts: Have you ever reached into that bag of vegetables from the fridge, and found that it had been there waaaay to long and was partial liquid on the bottom, leaving a trail of fermented rotten plant matter decay on the bottom of the floor. Now imaging that was collected, added with various other various year old syrups, partially fermented with bread yeast, then left in the sun for a couple years, and left open top fermented, then you would get something similar to this beer. Now imagine that it used to taste like an awesome dunkelweisen, and imagine that the "brewery" is 10 minutes from where you work and you used to be able to stop in every fall and grab a bunch to enjoy, but instead this time you get the aborted fetus of Hitler's bastard son (OK maybe that's too far). Well, anyways, I have a few left if anyone wants to trade this for a Westy 12 or Black Tuesday. I swear it's totally worth it!
4,232 characters
3.48
/5
rDev
+31.3%
look: 3.5 | smell: 3 | taste: 3.5 | feel: 3.5 | overall: 4
This beer should come off the retirement list; I purchased it onsite on August 4, 2006.
Half-finger head to start, settles to a fine single layer of bubbles; no lace. The color is dark beige/light brown. Cloudy.
Very light aromas, not much darkness to the smell. The wheat smell is not readily noticable--it's there, just search for it.
The flavor profile has more wheat punch. Blindfolded, I think I'd struggle to taste the darker malts. Light bodied, as expected, so it is refreshing.
This is a very easy beer to drink. This is a case of the sum of the parts being greater as a whole. I think my ratings above may be too low for the overall brew. This is a pleasant beer, not exceptional.
702 characters
2.45
/5
rDev
-7.5%
look: 3.5 | smell: 3.5 | taste: 2 | feel: 2 | overall: 2
A: Pours a dark brownish color with ruby highlights. Thin cream colored head that dissipates to a rim around the glass.
S: Nice toasted grain notes with an infusion of sweet caramel. Banana yeasty notes fade in and out. Sweet smelling.
T/M: Initial notes of dried fruit, mostly dark fruits followed by sharp metallic flavors that leaves the mouth bone dry. Not a very pleasant mouthfeel with faint notes of sweet malts. Light and low carbonation. Not impressed.
D: Not a drinkable beer. Flavors seemed to be too sharp to fast, without much body--terrible dry finish almost like a champagne. Initial smell was good, but this just blew up like a bomb.
652 characters
1.76
/5
rDev
-33.6%
look: 3 | smell: 2 | taste: 1.5 | feel: 2 | overall: 1.5
I went to the winery/brewery to get all 5 of the available beers. This beer was absolutely dreadful and undrinkable. It tasted not only flat, but brown sugar, and just not quite ready. The yeast was totally immature and the beer was just off. This was terrible beer and I can't believe that the brewer put this on the shelf as is. The nose on the beer was carboard, and just incredibly off aromas that I couldn't tell what was going on. The taste followed suit. This beer is a mess.
482 characters
3.57
/5
rDev
+34.7%
look: 3 | smell: 3.5 | taste: 3.5 | feel: 3.5 | overall: 4
This beer pours a clear yet full ruby brown soft cola colored body with a thick very slightly off-white head.
Nose is a soft mix of wheat, yeast, bananas, some cocoa, ripe bright fruits and some very new england apple and smoke flavors. Very much a classic dunkel but with a strong Nashoba valley apple type winery smell.
Taste is light to medium bodied with a firm caramel and cocoa mixed with wheat, yeast and ripe fruits. Banana, apples, pears, even some tart cranberries. Bitterness is present and very little in the way of hops poke through other than to give the malt some contrast and backbone. Ends with a lingering dunkelweis yeasty finish.
A very american take on the german dunkel. Sadly the Dunkelweis is relatively unknown style in the US. This is a good beer for sure. Almost an american session dunkelweis. Very yummy, and very drinkable, but in no way a true classic german dunkelweis.
904 characters

2.43
/5
rDev
-8.3%
look: 3.5 | smell: 3 | taste: 2 | feel: 2 | overall: 2.5
12 fl oz brown bottle, served in a weizen glass.
Hazy, light maple in color; tons of noticeable carbonation and floating sediment. Dense, off-white foam of a head that is reminiscent of whipped cream. A few patches of condensed lacing.
Banana and peach fruity esters with a pretty astringent must that takes away from the fruit's natural sweetness. A rather adjunct-scented toasted oat that is rather muddy and medicinal.
Medicinal notes right out of the gate; dried herbs that are rather muddled, especially amid the corn-filled toasted malt base. A bit of lemon solvency in spots which only adds another off-putting flavor.
A light, medium in body; a bit dirty, yet thin in some spots. The carbonation is ridiculously active and heart burn-inducing.
Well, this one is a train wreck from this beginning. A variety of flavors; however, none of them are flattering and are even less appealing when combined.
911 characters
Dunkelweizen from Nashoba Valley Brewery
Beer rating:
2.65
out of
5
with
9
ratings