London Grill Bar & Restaurant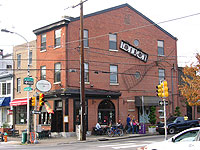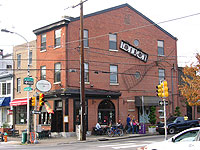 PLACE INFO
Type:
Bar, Eatery
2301 Fairmount Ave
Philadelphia
,
Pennsylvania
, 19130
United States
(215) 978-4545 |
map
londongrill.com
Notes:
No notes at this time.
Added by WilliamPhilaPa
PLACE STATS
Reviews:

11

Ratings:

pDev:

10.22%
HISTOGRAM
View: Place Reviews
Ratings: 13 | Reviews: 11
Reviews by rdrummer:
3.93
/5
rDev
+8.6%
vibe: 4.5 | quality: 4 | service: 4 | selection: 3.5 | food: 4
I had been trying to get here for a while. Every time I was in the neighborhood, it was closed. There was a private party one time, no lunch on Saturdays, and too late one time. I finally got to try the place, and I really like it. The atmosphere is great. The bar is comfortable with a number of taps and a friendly bar tender. A TV for sports events was turned to a Giants-Cubs game, and we got to see Greg Maddux win his 300th.
The selection is not huge and some of it is contract brewed for the place, but they have one beer on the hand pump and about 10 others on tap. The selection is a little heavy on Yuengling and brews that only London carries, but there were some good selections such as the Yard's ESA on the hand pump and Victory Hop Devil. The bottle selection was small but I got a Rogue Dead Guy and was extremely happy. We were limited to the bar selection for food so it was mostly bar food, but the burger on an English muffin was good. I liked the small fries also.
The restaurant food selection looked very good, although very heavily tilted to fish and seafood. They did have to beef dishes. All in all a good experience, and a place that the wife will be comfortable visiting.
8/31 visit: Went to take advantage of their month of lobster before it ended. The food was awesome, including some very fresh tuna tartar. Beer list was solid, but not outstanding. I had to increase the score for food after this visit.
1,438 characters
More User Reviews:

3.03
/5
rDev
-16.3%
vibe: 4 | quality: 3 | service: 2 | selection: 3.5 | food: 3.5
A long running neighborhood favorite known as much as a dinning spot as a beer destination. We tend to go for either/or but never both at the same time. A nice pre-prohibition charachter to the small bar area, but nice comfortable homey vibe to the dinning area (like a nice family run italian restaurant).
When it comes to the food, the overall experience is very hit or miss. The bar food is generally sub-par while the dinner options can range from excellent one night, to incorrectly prepared, bland and overpriced the next - consistency is not a word I can use here. Service tends to be surly at best - from the bar staff to the wait staff. The prices can be, well pricey - $17 for a pasta entre which contained no meat. A recent visit saw us order a small pasta, but served in much greater quantity than the "entree" described above. Another recent visit had an appetizer prepared and served after the entree due to a "backup" at the pizza oven.
Back to the beer. Mostly local craft with a mix of mid range imports and decent domestic crafts. Generally there is a cask on at all times.
All in all, we tend to visit the bar when passing by - rarely making it a destination for that. And after very incosistent service and food over our last few visits, it may be hard to go back for that.
1,297 characters

4.13
/5
rDev
+14.1%
vibe: 4.5 | quality: 4.5 | service: 4 | selection: 3.5 | food: 4.5
I've been to this place a bunch of times and have been going frequently since moving two blocks away. I'm surprised I haven't entered a review yet.
This is a really cool bar/restaurant in the Fairmount section of Philadelphia. The bar area is pretty small but they offer outdoor a bunch of outdoor seating in the warmer months. They have a good gastropub bar menu in addition to their full dining room offerings. They usually have a good selection of local craft beers as well as some west cost stuff and Belgian options. Nothing that exciting but an above average selection.
Their food is very good, offering casual light fare and a full finer dining menu. Everything from burgers(which are served on a toasted English muffin) to gnocchi and pork tenderloin and everything in between. They also have quiches and pizzas including selections of the day. They service is very friendly and attentive. The servers aren't very knowledgeable about beer but are adequate. The bartenders tend to know their beers though.
I really like this place even though the beer selection is that great. They always have a decent selection of good beer, great food and service. The atmosphere is pretty cool as well but can get pretty crowded at times. Perfect for beers and a light meal as ell as a nice night out for dinner. Recommended.
1,323 characters

3
/5
rDev
-17.1%
vibe: 4.5 | quality: 2 | service: 3 | selection: 4 | food: 2
Oh, if only the quality of the food matched up to the decor. The bar is beautiful and homey and the dining room is open and airy (Though don't bother with the outside tables unless you love repeated blasts of bus exhaust in your face). It's worth going to London if only just to sit in the bar. The beer selection is pretty good, mostly local micro brews, and they always have something fun on their hand pump tap, usually Victory's Hop Devil. But the food. Ah, the food. It ranges from the adequate to the terrible. The best bet is the happy hour small plates in the bar, but even they are hardly excellent. Still, a Happy Hour small fish and chips with a couple of pints of something cold can make a late afternoon in the bar near perfect.
741 characters
3.45
/5
rDev
-4.7%
vibe: 3 | quality: 3.5 | service: 3.5 | selection: 3.5 | food: 3.5
So, ho-hum, what to say about a place with a couple of commonly-available craft beers (e.g., Hop Devil, Magic Hat, Anchor Steam, Hoegaarden), decent food, and an atmosphere that feel like a slightly luxiourious Bennigan's? I like London, or at least don't dislike it, but I recommend you look elsewhere in Philly. Just around the corner from London is Bridgid's, which is much better, and the Bishop's Collar is right on the same block if you're up for something crowded, loud, and lively.
Note: Don't try London's nachos...a real disappointment. The burgers are solid, though.
580 characters
3.83
/5
rDev
+5.8%
vibe: 4 | quality: 4 | service: 3.5 | selection: 4 | food: 3.5
Was in the area of Eastern State and decided to stop here for a brew and food. I had read some reviews of the place and about its association with Willie Sutton and wanted to try it out. When you first walk into The London Grill (from Fairmount Ave.) you step up onto well-worn stone stairs, seems a lot of beer drinkers have been here before! The floor is tiled in black and white tiles reminiscent of the 1920s and 30s. The bar is a fairly long wooden one with ample room to sit down and relax. There were sections of the Philadelphia Inquirer laid out on the bar in case you didn't want to watch the two tvs inside the bar area. Oh, there's also a little restaurant part to the London Grill, I chose to eat at the bar. Many bottles of liquor were displayed behind the bar, ranging from the usual vodka, tequila, etc, to exotic liquers like Amarula, Ouzo, and Slivovitz. However, I only came here for the beer. The London Grill has about 25 + beers to chose from with about half of those on tap. Bottles of other beers sit below the liquor behind the bar.
It took me a while to get my first beer. I guess I didn't look thirsty enough, but it was lunchtime so I allowed for that. The lunch selection is very good with choices ranging from soup and salads to entrees and sandwiches--all reasonably priced around $8. I chose a grilled Panini with Italian meats and cheese called the Autostrada. It came with Parmesan fries, which were very good I might add. Originally I wanted to have the Willie Sutton Lager, but the keg needed to be changed so I had a pint of Stoudt's Honey Double Maibock (incidentally, the waitress who was very nice gave me the latter beer for free and obtained a Willie Sutton for me anyway). The London Grill is a pretty swanky joint. They have good specials throughout the week and the place has great atmosphere. I'd definitely go back.
1,865 characters

3.18
/5
rDev
-12.2%
vibe: 4 | quality: 4 | service: 2 | selection: 3
On the corner of 23rd and Fairmount, is London Grill & Restaurant. You MUST enter through the double doors on the 23rd street side. The swank red restaurant area is to the right and the bar (yeah!) is to the left and down a few stairs.
The interior is just turn of the century style to be cool. A giant flatscreen t.v. is immediately behind the bar that shows mostly classic movies or AMC. The bar has about 12 wooden backed stools and there are four elevated pub tables with wrought iron pedestals to hold the overflow in the bar area. Tiled floor, tin paneled ceilings, coat hooks under tha bar and green accountant lamps above the back bar give a real 40's vibe that makes it feel like Humphrey Bogart is going to walk in any minute. This passes the "Could you bring your Mom here" test., despite being a tad smoky. Even the wait staff smokes while you sit there.
The selection is certainly above a prosaic average. One large brass tap has Anchor Porter and Liberty Ale, SNPA, Whitbread, Vic'ry Golden Monkey, Stella Artois, Rolloing Rock, Hoegaarden, Strongbow, their "house beer" Willie Sutton which is Stoudt's Gold Lager and last but not least, Vic'ry Hop De'bil on the hand pump!
Bottle selection was formidable also with Yards ESA, Delirium, La Chouffe and a few Sans Coulottes that the guys next to me bought to scratch the panties off the girl on the label. Extra props goes to the neatly written, up to date chalkboards behind the bar that explain the taps and bottles, even with Ales and Lagers separated.
*** Why don't more bars do this??? ***
My brew du jour was a "Willie Sutton" and a hand pump Vic'ry Hop De'bil.
Service was pretty poor. It started ok with usual pleasantries exchanged and a Vic'ry glass to compliment said choice, but headed South when the 'tender disapeared for 15 minutes and didn't come back after my glass was empty. Other employees just walked by and looked at me. Staff even griped about their jobs right in front of me. F'in lame!
Last call: Pop in for one brew on a crawl and then leave. I'll say that the restaurant looked hip. This would be a good place to drag a date. Having a cask is cool. There is an old prison next door that does great tours too. The Willie Sutton story is worth inquiring about if you order one. London also does a cheap Happy Hour and Blue Monday 11pm movie nite with old movies and $3 for a shot, can of PBR and pork rinds. No joke!
2,427 characters
3.63
/5
rDev
+0.3%
vibe: 4.5 | quality: 3.5 | service: 3.5 | selection: 3.5
Though many agree that Bridgid's or Bishop's is a better place for a beer experience, London Grill just felt right to me. The place is dominated by simple but nice wood work, has a magazine rack (a rarity), has great airflow, and posssesses outdoor space heaters - I guess all the intangibles came together to give a nice feel to the place. Beer selection was pretty good, with about 10 taps ranging from the Interbrew Belgian Trio (Leffe, Hoegaarden, Stella) to locals like Yards, Victory Hop Devil, Yuengling. Bottles included Samuel Smiths, Stone AB, Smuttynose Brown Dog, and a couple other micros that were tough to remember, mainly because they were common but good. Service was mainly the bartender yelling, "hey, watcha want?" Much less crowded than many of the other bars in Fairmount, so check it out if you want a pint but everywhere else is packed.
860 characters
3.75
/5
rDev
+3.6%
vibe: 4 | quality: 4 | service: 3 | selection: 4 | food: 4
If you're hitting Bridgid's or the Bishop's Collar, you might as well walk the extra half block....
Pro- plenty of outdoor seating available (which is hard to come by in Philly).
Con- if you're outside, good luck getting quick service.
Beer list is good (Bridgid's and Bishop's are better) and everything else is pretty much solid, but overall I only go here when the other two are too crowded or I really want to sit outside.
429 characters
3.93
/5
rDev
+8.6%
vibe: 4 | quality: 4 | service: 3.5 | selection: 4 | food: 4.5
The London has a nice interior, when first entering from 23rd St. you'll have to go to your left and step down a couple of stairs to the bar area. The bar area is on the right, and seats about 12-15 patrons, behind that there is three tall top tables.
Bottled brews include, Chimay Cing Cents, Rogue, Anderson Valley, Sam Adams Triple Bock and many other.
The London has a good selection on tap, Yards ESA, Yards Queen's Head, Yuengling Traditional, Yeungling Porter, Bass, Guinness, Sam Adams Winter, Hoegaarden, Bulmers Cider, Anchor Steam, Red Hook, Rogue and Stoudt's Fest which they call the Willie Sutton…
Who is Willie Sutton you say…
From what I hear, the legend goes, Willie Sutton (famous for robbing close to 100 banks from 1920 - 1952) escaped from Philadelphia's Eastern State Penitentiary (only a block away) by digging a tunnel under the prison's walls. After his first breaths of freedom, he got his bearing and headed straight for London - not the city, but the bar named London located at 23rd and Fairmount Streets in Philadelphia. If you're in the area, and you never took a tour of the Eastern State Penitentiary, you should it's cool, those crazy inmates could make a gun out of tooth paste. The Willie Sutton Story is in the basement area along with weapons made by the inmates.
The Sutton story isn't the only history associated with this establishment. The building has housed a drinking establishment since it's inception. Even during prohibition, the caretakers of London blackened out the windows and ran the place as a speakeasy.
Anyway this place is a great stop in the Fairmount area along with The Bishops Collar and Bridgid's.
1,675 characters
3.89
/5
rDev
+7.5%
vibe: 4 | quality: 4.5 | service: 3 | selection: 4
I've never eaten at the London, although I understand it's supposed to be quite good. I have spent some time at the bar, however. The selection is decent with a house beer from Stoudt's (called Willie Sutton? - the guy who escaped from the penitentiary...) as well as another which rotates, a beer or two from Young's, Flying Fish ESB, Yards ESA and a few fairly common European beers (ie. Hoegaarden). The line-up is nowhere near as interesting as what Bridgid's offers just a couple of blocks away, but it's better than most of the other restaurant/bars in the area (Rembrandt's, Jack's Firehouse). My one beefs with this place is that the bartenders seem to think they know everything, but don't. Several times I've been corrected when ordering the proper beer, or just asking about one. (Just one simple and very basic example from amongst the many... I ordered a Flying Fish ESB and was corrected that it was an "ESA... extra special ale". Hmmm, I thought that was from Yard's!) I appreciate that they go to the trouble to pay for their employees to take a beer training class, but not all of them get it. However, some of the bartenders are great so it's a trade-off! If you're looking for dinner in the area give it a try, but if it's beer you want head to Bridgid's, or even the Bishop's Collar.
1,303 characters
London Grill Bar & Restaurant in Philadelphia, PA
Place rating:
3.62
out of
5
with
13
ratings