Auld Knucker IPA
| Mother Earth Brew Co.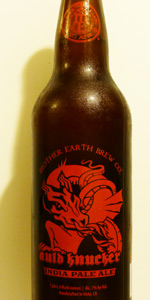 BEER INFO
Brewed by:
Mother Earth Brew Co.
California
,
United States
motherearthbrewco.com
Style:
American IPA
Alcohol by volume (ABV):
6.00%
Availability:
Year-round
Notes / Commercial Description:
No notes at this time.
Added by HopHead84 on 05-19-2010
Reviews: 9 | Ratings: 33

4.18
/5
rDev
+7.5%
look: 4 | smell: 3.5 | taste: 4.5 | feel: 4.5 | overall: 4.25
Really drinkable IPA. You will finish a 22oz bomber faster than you finish most 12oz bottles. REALLY Citrusy, complemented with a very sweet and light malt backbone. Think a symphony of citrus flavor with a light bitterness gently dancing on a light and sweet stage of honey and biscuits.
288 characters

4.1
/5
rDev
+5.4%
look: 4 | smell: 4 | taste: 4 | feel: 4 | overall: 4.5
5/18/2010
On tap at Stone. Mother Earth is a new Nanobrewery located in north county San Diego. I've heard of them but this is the first time I've had their beer.
The beer is a splendid deep orange with a thick pillowy white head, good retention, and scattered lacing. In the aroma I find notes of grapefruit rind with a hint of flesh. Notes of orange flesh and pith are also evident. There's a distinct floral bouquet that I normally associate with Saaz or Sterling hops, though I doubt these were used. Regardless, I do observe such qualities.
The flavor displays the same grapefruit prominence I observed in the aroma and it's to such an extent that this might be construed as simple or one note, but it's quite enjoyable, just not bursting with exotic tropical fruits. There are subtle notes of orange as well. Bitterness is at a pleasantly sessionable moderate level. No alcohol is noticeable. The beer is light medium bodied and the mouthfeel is dry with a restrained stickiness. The more I drink this, the more prominent the orange character becomes, and the more I drink this, the more I enjoy it. I guess it's not really one note. I revoke that statement as the beer has opened up it has waxed in complexity.
An enjoyable and thoroughly drinkable IPA from a new brewery. Recommended. This is sessionable, in a specific sense of the word.
1,350 characters
4.07
/5
rDev
+4.6%
look: 4.75 | smell: 4 | taste: 4 | feel: 3.75 | overall: 4.25
Looks like one of the best ipa's I've seen. Great copper cloudy straw orange with a nice three finger fluffy/frothy cream colored head. Leaves some great lacing behind that is thicker than I've seen in a while.
Smells of fresh peaches/oranges and tropical fruity mango notes. Pineapple and subtle piney character. Hard to tell with the hops being so prominent but there's a touch of sweet malty toffee.
Taste is well balanced and not a supper bitter hop bomb that some west coast ipa's can be. The hops and malts blend very nicely. There's the bready, toffee, sweet malt character that you can actually taste with the slightly bitter but prominent tropical fruity peppery hop character. There is only one detraction, that there is a thin quality in there. It's really nice that it's not a bitter bomb but I feel like that might be why I taste a touch of water.
Mouthfeel is a little too thin. I think it has a mild carbonation but there's a sense of a watery character. It does hints at a great sticky character you can feel on the backend. I just wish I could feel that thickness throughout. But this is feeling sessionable so that's a great quality.
Overall, this is a great ipa that isn't going to wreck your palate. Sessionable and clean, I say can's please!
1,267 characters
3.98
/5
rDev
+2.3%
look: 4.25 | smell: 4.25 | taste: 3.75 | feel: 4 | overall: 4
Poured into a snifter.
Appearance: White head that decently rises. After settling, there is still a light head present. The beer is a beautiful yellow to orange to red color, perfect for an IPA. When put up to the light the ale glows yellow, but as the glass sits on a table appears a deep orange-red.
Aroma: The beer has a nice pine and hops aroma with a hint of citrus. After warming some I believe a bit of a floral tones become present with the brew. Overall it's enjoyable.
Taste: A crisp beginning that turns slightly hoppy/piney towards the middle and ends real clean. There's a piney and slightly citrus aftertaste, but nothing too extreme.
Mouth-feel: Light with some crisp carbonation up front, just the way an IPA should be.
Overall Impression: I might be more recently leaning towards trying imperial/double IPA brews, but this beer feels a little mild on the IPA scale. It's still a definite IPA, but would be a great introductory beer to people who haven't tried many IPAs, especially California style. Overall, very enjoyable, although I still enjoy their Kismet IPA a bit more, as I feel like Mother Earth Brew Company has put their own touch to it. Glad more of their beers are becoming more available in a bottle though.
1,244 characters
3.98
/5
rDev
+2.3%
look: 4.25 | smell: 3.75 | taste: 4 | feel: 4.25 | overall: 4
Pours a crystal clear amber into the glass, vigorous pour will net a huge fluffy three finger head. Decent retention and very attractive loosely piled lacing.
Mild and doughy malt, cookie sweetness equally balanced with a solid pine and generic citrus hop aroma. Oily and resiny but bright. Really need to get your nose in there but really pleasant.
Balanced as it can get for an ipa, graham crackers and cracked wheat, warm biscuit sweetness with an inviting hop push back with pine, resin, tangerine citrus, lemon and grassy notes. Lightly bittering that dries appropriately. Leaves the door slightly open for alcohol to sneak in.
Tame carbonation, very smooth with easy to put down body. Drinkable.
A very balanced ipa, this is Mother Earth's Primodial before it got messed up with the higher alcohol. Very balanced and notably clean and drinkable. Bottle art is fantastic. Not as unique as Kismet IPA but also very well crafted.
936 characters

3.9
/5
rDev
+0.3%
look: 5 | smell: 4.25 | taste: 3.5 | feel: 4.25 | overall: 3.75
A - Bronze body with a creamy, tall, off-white head. Some of the best looking lace I've ever seen! Nice retention too.
S - Sweet and fruity with just a touch of plant bitterness. Honeydew melon is loaded throughout the nose. Edges of cilantro, pine and honey.
T - Green, leafy, waxy fresh hop cone flavor. Strong, resiny bitterness through the back end. Touch of the honeydew from the nose.
M - Bright mouthfeel with lively carbonation and a medium frame.
O - This IPA has some outstanding qualities and a very fresh hop cone flavor, but the hop flavor is a little too raw and imparts a lot of rough, green plant and waxy bitter flavors.
642 characters
3.8
/5
rDev
-2.3%
look: 4 | smell: 4 | taste: 3.5 | feel: 4 | overall: 4
Pours a bright golden orange. Big white sudsy foam head.
Smells like grapefruit, some mandarin orange. A bit of grass/earthiness to it, but it's primarily a citrus-forward beer.
Tastes like it smells. Grapefruit, some pine rinds, a bit of earthy mineral zest. More bitter than I would have expected given the aroma. Pleasant. Not overwhelmingly awesome, but a good solid IPA. I wish more of the citrus/fruit content had carried over to the flavor.
Nice pleasant, fluffy mouthfeel.
486 characters

3.75
/5
rDev
-3.6%
look: 4.25 | smell: 3.5 | taste: 3.75 | feel: 3.5 | overall: 4
Handsome orange amber color in the Peroni lager glass. Big foam that melts slowly to a very nice head. A fullsome mouthfeel with the right amount of carbonation. Lots of malty richness to start, but the big fragrant hoppy flavor rolls out on top. Nice piney nose.
The hops are somewhat earthy, though not offensively so. This has a tangy, fruity taste that goes well with the danker, darker, dirtier side. Plentiful malt provide some balance, but this is still more than bitter enough. A better than average IPA, to my taste. Thoroughly drinkable and on the mellow side. From the 22 oz bottle bought at Liticker's Liquor & Deli in Ocean Beach.
644 characters

3.63
/5
rDev
-6.7%
look: 4 | smell: 3.5 | taste: 3.5 | feel: 4.5 | overall: 3.5
From Growler to pint glass – Thanks Bro!
*Notes taken on 11/17/12
A: Auld Knucker pours a clear light copper caramel color. Nice finger and a half of khaki foam head with ample stay power. Stick leaves a halo upon the glass at each sip throughout the drink.
S: Smell has a real orchard fruit character to it that is reminiscent of ripe apricot and peach. Behind that is a light caramel malt presence. Rather tame nose overall.
T: Taste confirms the aromas with a pronounced stone fruit profile. I get fresh apricot and peach with a light citrus fruit dusting and some lesser notes of earthy herbs. There is a mellow amount of actual bitterness to the palate which is nice and offers balance. Malt brings a gentle dry cracker base with a touch of caramel sweetness. Alcohol seems very well integrated as it is barely noticeable. Smooth drink but nothing incredibly impressive.
M: Light moderate body with a relatively creamy consistency. Crisp carbonation brings a nice drying lift to the finish. There is a reserved amount of hop residue.
D: This is a nice IPA. Sessionable and well crafted with some very clean flavors. Has great balance but a little forgettable for me.
1,180 characters
Auld Knucker IPA from Mother Earth Brew Co.
3.89
out of
5
based on
33
ratings.