Hop Diggity
| Mother Earth Brew Co.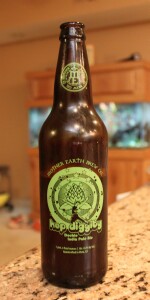 BEER INFO
Brewed by:
Mother Earth Brew Co.
California
,
United States
|
website
Style:
American Double / Imperial IPA
Alcohol by volume (ABV):
8.00%
Availability:
Rotating
Notes / Commercial Description:
No notes at this time.
Added by HopHead84 on 09-11-2011
Reviews: 32 | Ratings: 180
4.18
/5
rDev
+6.1%
look: 3.75 | smell: 4.5 | taste: 4 | feel: 4.25 | overall: 4.25
Pours a reddish amber, into a snifter. The head is very small, barely half a finger, retention is nil. Leaves behind a trail of wispy lacing as you drink though.
Best part of the beer, blasts of dank pine and lemony herbs, strong citrus backing with slight tropical notes of mango, pear and a bit of green onion. Bready caramel base with a bit of grain husk.
Malts lay down a solid foundation of rye bread, whole grains and a hint of cereal. Pine, orange citrus and bright herbal hops. Unlike any other hop profile I've had, pine and darker citrus notes resonate with tobacco, wild flowers, lemon grass and sweet onion. Both floral and earthy. Finish is lightly bittering with some alcohol punch and a raw pine and light grain aftertaste, rather clean.
Alcohol is well hidden and the bitterness is kept to a low knell. The body is perfect, as is the carbonation.
Only good things to say here, a true sensory experience. The silk screened bottle art is amazing just like all the Mother Earth brews, aroma is great and the flavor is unique in that it manages to have both floral and earth tones in the hop flavor.
★
1,116 characters

3.87
/5
rDev
-1.8%
look: 4 | smell: 3.75 | taste: 4 | feel: 3.75 | overall: 3.75
22 oz bottle from Dimension Liquor in Lake Forest
A - Pours a dark amber, reddish brown with a slight haze. Light head which dissipates quickly.
S - Nice citrusy, piney nose without being overwhelming. Floral notes are present with toasted bread.
T - First taste is citrus with mild tangerine flavors and some minor grapefruit. A caramel and resin finish. Not your overly hoppy DIPA. It is unexpected and the alcohol doesn't assert itself.
M - Very light mouthfeel, especially for a DIPA. Doesn't have that bite that you'd expect from a double. Smooth drinking, goes down easy. Almost a pilsner feel to it.
O - I enjoyed this beer even though it was not what I expected from a double IPA. It was recommended to me by the beer expert (Maida) at Dimension. They knows taste and never steer me wrong. I would drink again but not as my first "big IPA". Almost a strong (8.2%) session ale.
★
892 characters
4.19
/5
rDev
+6.3%
look: 4.25 | smell: 4 | taste: 4.25 | feel: 4.25 | overall: 4.25
A - Nice big frothy near white head, tons of cling lace. Murky apricot body.
S - Big citrus nose, malt present as a back up. I think I detect a little pine in there too.
T - Nice big caramel center wrapped well in citrusy hops.
M - Medium body, nice balance, well carbed.
D - I like this one. Not a whale, but a solid tasty IPA.
★
332 characters
3.6
/5
rDev
-8.6%
look: 3.75 | smell: 3 | taste: 3.75 | feel: 4 | overall: 3.75
Poured into a snifter. Began reviewing halfway through bottle, after letting it warm up significantly.
Appearance: Golden yellow, barely fading to amber in color. Light, white head develops and lingers, leaving a thin layer of bubbles on top.
Aroma: Deep piney hop scent. Not overwhelming, and definitely enjoyable, but nothing fantastic. I'm catching a very mild fruit flavor in there as well, peach maybe?
Taste: At first light and citrusy, the heavy taste of the hops hit soon after, leaving a bitter streak down your tongue and slightly in the back of your throat. It's definitely got some power even for a double IPA. The pine and hop taste sit in the back of your throat long after sips. Slight numbing of the tastebuds and roof of the mouth are becoming noticeable.
Mouth-feel: There's a special crisp to it that's enjoyable at first, then the heavy hop flavor comes through right after and washes it away. The lingering of the hops leaves a heavy feeling in your mouth, quite different than the beginning taste.
Overall Impression: I'm guessing when they say 'pilsner-based Imperial IPA' they mean the type of yeast. I'm not usually a huge fan of pilsners at all, so it's interesting to me to finally taste a super hopped up version of it that's actually enjoyable. While it's definitely worth trying, the overall taste is a bit too much. I feel that the beer doesn't evolve over the course of drinking it, it always seems to keep with the hopped flavor, but I did find it worth trying. It definitely really shines once it's warmed up. Don't think I could drink multiples of these in a single night though.
★
1,619 characters

3.95
/5
rDev
+0.3%
look: 4 | smell: 4 | taste: 4 | feel: 3.5 | overall: 4
On tap @ Mother Earth Brewco.
12/08/12
Pint glass
A: Hop Diggity pours a dark caramel color body with some minor haziness to it. Off-white creamy froth with a light trellising of lace.
S: Nice floral aroma of juicy stone fruit, citrus peel, and some pines. Has a real lemony herb note to it. Some light sugary cereals and a bit of caramel sweetness in the nose.
T: Juicy citrus flavors of tangerine and grapefruit. Honeydew melon and young berry. Nelson's assert themselves with a hit of white wine grape. There is a bit of exotic florals mixed in there as well. Grainy malts blend with an overall caramel sweetness and give a graham cracker impression of sorts. There is an upper moderate level of bitterness to the beer that is rather smooth. Definitely resinous through the finish. Alcohol really well masked. A little heavier on the caramels than I prefer but still has a nice balance to those great hoppy flavors.
M: Moderate heft to the body with a smooth feel overall. On the watery side with an honest drying in the finish and a long lasting bitterness that tightens up the palate.
D: A delicious DIPA that touts some caramel malt balance to that tropical hop combo. A touch sweeter and I do think the recipe could use a little more scrutinizing but still pretty good. Comes off a little cluttered at times.
★
1,323 characters
4.15
/5
rDev
+5.3%
look: 4 | smell: 4 | taste: 4 | feel: 4.5 | overall: 4.5
On Tap
Churchill's Pub & Grille
San Marcos, CA
Clear dark orange, nearly amber, with a thin off-white head that eventually leaves spots of lace down the glass.
Very hop-forward aroma, with the aroma exploding with grapefruit and pine aromas combining together nicely.There's a bit of sweetness but it doesn't come off as a major component of the beer's nose.
The flavor is moderately bitter, with big notes of grapefruit and orange, along with some sticky pine. The malt profile is a touch sweet, with a hint of caramel.
Medium bodied with moderate carbonation, though crisp and incredibly drinkable.
Better than Primordial--this stuff is awesome!
★
653 characters

4
/5
rDev
+1.5%
look: 4 | smell: 4 | taste: 4 | feel: 4 | overall: 4
9/11/2011
On tap at Mother Earth.
A: Dark golden orange with good clarity and a big frothy head. Retention is very good and sheets of lacing are left behind.
S: Dank pine and earth with bright citrus notes: tangerine, orange, grapefruit, and mango. There's a hint of onion. Malt is redolent of bread and caramel but it doesn't overpower the hops.
T: The beer opens resinous and moderately bitter. Malt appears as caramel and provides a little balance and sweetness, though the beer is dry overall. Tangerine melds with grapefruit and orange pith. Alcohol is deftly masked in the bitter finish.
M: Medium in body with upper moderate carbonation. The mouthfeel is sticky and dry.
Overall: A good Double IPA, though a bit maltier than I like. Recommended.
★
758 characters
Hop Diggity from Mother Earth Brew Co.
87
out of
100
based on
32
ratings.