Kismet
| Mother Earth Brew Co.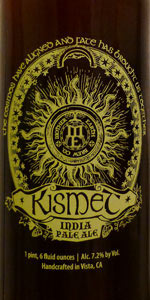 BEER INFO
Brewed by:
Mother Earth Brew Co.
California
,
United States
|
website
Style:
American IPA
Alcohol by volume (ABV):
7.20%
Availability:
Rotating
Notes / Commercial Description:
No notes at this time.
Added by HopHead84 on 11-28-2011
Reviews: 35 | Ratings: 212
3.31
/5
rDev
-16.4%
look: 3.75 | smell: 3.25 | taste: 3.25 | feel: 3.5 | overall: 3.25
Pours cloudy orange with a thin white head. Light lacing forms.
Unusual spicy smell I am attributing to the hops. Is there some rye malt in here? I smell a little pineapple and lemon. No pine smell. A little funk.
Taste is all in the back of the throat. Dry. Bitter. Not at all sour. A slightly grainy mouthfeel. I respect that this beer is very different tasting than sculpin, stone, alesmith and the other well-known west-coast IPA's.
I'd recommend splitting a 22 oz bomber with a buddy. This is not a beer that I could drink a lot of. This is not meant as a criticism, just as a statement of opinion. I enjoyed the first half more than the second.
★
654 characters

3.05
/5
rDev
-23%
look: 4.25 | smell: 4.25 | taste: 2.25 | feel: 3.25 | overall: 2.75
Tasted 17 March 2013.
Pours a medium orange, slightly dusky, faintly hazed, and more light-absorbing than it first appears. One finger of dense off-white head, good retention and excellent lacing sticking all the way up to the top of the foam's reach. Very nice.
Smell is big, juicy pineapple. Wow, I've never encountered a beer that like pineapple in the way that this does. It has that pungent sugary sweetness, the acidic pinch, and the curly twang in between. Very yellow, and quite good.
Taste drops down a notch from the smell. Mostly, it's simple, moderately malty/grainy, with a chalky bitterness that strengthens and floats toward medicinal, aspirin. As it tapers off, I feel more and more like I'm sucking on a Tylenol tablet. Yuck. Go away. Really not enjoying the second half of that taste. There's a tiny hint of pineapple underneath, but that's about the best I can say. If I could cut it off half-way through, I'd be a whole lot happier. Not sure if I'll be finishing this.
Feel is fine. Medium-medium-light body, a little sticky, with medium-high carbonation. Exceedingly persistent, which would sometimes be good, but in this case it just makes the chalky metallic medicinal taste last that much longer. Hmph.
Great smell, disappointing taste. Something that happens to me quite often with IPAs, I find. That seems to be the challenge of them - to boost up the aromatics without introducing off flavors or weirdness. In this case, they hit the first point, but not the second.
★
1,498 characters

3.69
/5
rDev
-6.8%
look: 4.5 | smell: 4.25 | taste: 3.25 | feel: 4 | overall: 3.5
A - A beautiful looking beer. Deep orange amber, relatively creamy mixed-bubbled head with awesome lace and nice retention.
S - Wow, the nose really pops. Bright peat and lemon. Sharp, earthy plant stems.
T - Big plant-like bitterness with an edge that's almost sour. Potpourri center. Dry earthy backend.
M - Bright with a smooth, medium body.
O - The flavor profile is a shade too earthy for my liking, and the plant flavors feel a little raw.
★
451 characters
3.88
/5
rDev
-2%
look: 3.75 | smell: 3.75 | taste: 4 | feel: 4 | overall: 3.75
22oz. Bomber bottle purchased from Fred at Beverages 4 Less. Poured into a CCB Snifter.
A: Pours a deep, dark orange, almost ruby color. Aggressive pour resulted in a nice fizzy head that eventually leaves a nice velvet ring on top of the brew with very nice lacing on the glass. Very cloudy. Not a hint of being translucent.
S: Bready, straw-like grassy notes, definitely some malt character, citrus notes from a the hop aroma.
T: Very lemony. Strong earthy tones and some bready yeast esters coupled with a mild malt character at the beginning. The grassy taste finds it's way out at the finish and is followed instantly by the high hop character and a good amount of bitterness.
M: Medium body and high carbonation. Crispy, oily, and a bit sticky. Very drinkable.
O: This one got better the more I drank it. I was little disappointed at the onset and I just found myself more and more pleased as I continued this review and kept drinking it. Very drinkable, but good hop and flavor profile without being overly malty. A good first Mother Earth experience, and I'd drink again for sure.
★
1,093 characters

3.77
/5
rDev
-4.8%
look: 4 | smell: 4.5 | taste: 3.5 | feel: 3.5 | overall: 3.5
Pours a tawny amber in the tall Peroni glass. Fabulous aroma of flowery hops is the highlight. Plenty of carbonation and chunks of head slip down your throat on the first gulp.
A hint of sugar cookies but quickly buried under the huge hops. Deep pine in the nose. Not so much malt but enough for soft edges and a little sweetness. Fruity and full of citrus, but quite bitter. Great hop flavor and aroma that should be tasted by any San Diego area hophead.
From the 22 oz bottle bought at Liticker's Liquor & Deli in Ocean Beach.
★
530 characters
4.07
/5
rDev
+2.8%
look: 4.75 | smell: 4 | taste: 4 | feel: 4.25 | overall: 4
Awesome silk screen bottle. Pours amber with a mild chill haze, carbonation builds up a nice tight two finger head. Impressive retention and leaves oodles of interesting delicate puzzle piece lacing on the glass, even lacing left in the bottle for goodness sakes.
Floral with musky and pungent herbaceous aromas mixed with pine and wildflowers bits of red berry and orange citrus. Some bready malt dwelling beneath.
Bready malt with a bit of cereal grains in the malt, hops are pine and herbaceous with a medium bitterness that carries through to the next sip. Dries pretty well. Interesting cracked wheat, roasted corn and crispix cereal on the finish.
Medium to low body on this beer, easy to drink, some surges of alcohol here and there and the carbonation is just right. Hops dry out the malt really well.
A down to earth beer and a bit raw. The hop profile gets a little tiresome near the finish and alcohol rears it's head a bit. The malt profile is rather complex and left me smacking my lips a bit to pick out some nuances. Floral aroma, and pretty to view from bottle through the glass.
Going to keep a close eye on this brewery.
★
1,143 characters

4.2
/5
rDev
+6.1%
look: 4 | smell: 4 | taste: 4.5 | feel: 4 | overall: 4
One of a handful of Mother Earth beers I got from my brother for Xmas. Not sure the cost but I know it was purchased at Holiday Wine up in Escondido. Poured from a 22oz bomber into an Odell Brewing branded tulip glass.
Bottle claims 7.2% ABV, not 7.0 as listed above.
A: Pours a fairly clean orange/straw-like hue with a fatty head that lingers a while, leaving ridiculous amounts of lacing that coat the glass from start to finish.
S: Major grassy sativa up front, raw cookie dough batter, crackery malt, some fruity esters, but the hop dominates big time.
T: Massive sweet sativa up front as the nose suggests....lingers for a while giving way to lemon earthiness, herbal tea, and carmel malt but the hop rears its head at every corner and turn - true SD IPA - Fu*k the malt!
M: Straight up medium bodied and well carbonated, which works well for an IPA. Finishes dry with an oily lingering bitterness from the massive amount of hops in this one.
In a market here in SD that is completely over-saturated with mediocre IPA's hitting the shelves each day, Mother Earth clearly states her claim with an insanely well balanced and tasty IPA in the true So-Cal tradition. Love the hop burps from this one as well - like a fresh burst of hop every time!
Good job fellas - keep up the good work!
★
1,299 characters

4.45
/5
rDev
+12.4%
look: 4.5 | smell: 4.5 | taste: 4.5 | feel: 4 | overall: 4.5
Growler share – Thanks bro!
Standard pint glass
A: Kismet pours a golden amber color with orange highlights and good clarity. I get a solid fingers width of khaki cream whip atop that holds some nice retention. Lace just sheets my glass all the way down.
S: Smells are bursting with grapefruit, peach, mango, and tangerines. There are some lesser aromas of Sauvignon Blanc grape and a suggestion of sugary pale malt sweetness. A dash of spice mixes in with the malt. A very pleasant and aromatic nose. Fruity and quite attractive.
T: Taste is an onslaught of pulpy grapefruit juice. There are accompanying notes of mango, melon, and white wine grapes. I get a bit of floral herbs, orange blossom, and honeysuckle. Malt imparts some light graham cracker sweetness with soft notes of spice (Rye?). There is a moderately higher level of bitterness that just saps the palate. Alcohol presence is minimal. Has such a refreshing citrus zing. Super fruity and quite impressive.
M: Medium light body with adequate carbonation. Gives a nice creamy texture with a light crisp towards the end. A bit of dry hoppy astringency lends to a nice pucker. Finish is a touch on the wetter side.
D: A stellar IPA. I really do love Nelson hops and this beer is just another affirmation of that. Super fruity, tropical and refreshingly drinkable.
I wasn't all too impressed with some of ME's initial IPA offerings but Kismet is incredible.
Highly recommended.
★
1,452 characters
3.5
/5
rDev
-11.6%
look: 3.5 | smell: 3.5 | taste: 3.5 | feel: 3.5 | overall: 3.5
On tap at Mother Earth Brew Co. in Vista, CA.
Pours a clear copper with a tan head that settles to a film on top of the beer. Small streaks of lace form around the glass on the drink down. Smell is of herbal and floral hops with some subtle malt aromas. Taste is of spicy herbal hops and citrus zest up front with a slight malt finish. There is a mild bitterness on the palate after each sip. This beer has a lower level of carbonation with a slightly crisp mouthfeel. Overall, this is a pretty good IPA that is pretty tasty.
★
526 characters

4.35
/5
rDev
+9.8%
look: 4 | smell: 4 | taste: 4.5 | feel: 4.5 | overall: 4.5
11/27/2011
On tap at Mother Earth.
A: Burnished golden orange with good clarity and an inch of white foam. Retention is good and lacing is all over the glass.
S: Aromatic orange, grapefruit, peach, and tangerine. I get a little white grape and faint tropical notes. Malt is light and bready.
T: Moderately bitter with bright notes of grapefruit and tangerine. Malt imparts a dash of short lived sweetness and a little cracker. The citrus profile is great. White grape is faint.
M: Upper light body with upper medium carbonation.
Overall: Really good. One of the best I've had from Mother Earth.
★
612 characters
Kismet from Mother Earth Brew Co.
88
out of
100
based on
35
ratings.