Old Burly
| Bridge Brew Works LLC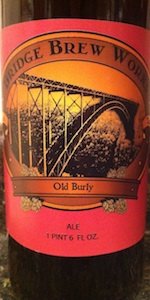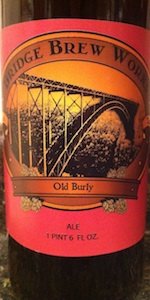 BEER INFO
Brewed by:
Bridge Brew Works LLC
West Virginia
,
United States
bridgebrewworks.com
Style:
American Barleywine
Alcohol by volume (ABV):
9.06%
Availability:
Limited (brewed once)
Notes / Commercial Description:
No notes at this time.
Added by StoutHunter on 01-22-2012
This beer is retired; no longer brewed.
HISTOGRAM
Ratings: 12 | Reviews: 5
Reviews by Arithmeticus:

2.63
/5
rDev
-27.3%
look: 3.5 | smell: 3 | taste: 2 | feel: 3 | overall: 3
Poured chilled in ale glass.
A: very dark, apple cider color; thin head; very cloudy
S: leathery, stale; brown sugar; toasted malt
T: very intense, abrasive flavor, much like a bitter root beer; malt dominates over the hops; not really much of a barleywine-style flavor; alcohol content well masked
It's out of the genre, and even on its own it doesn't have much appeal to me.
378 characters
More User Reviews:

4.17
/5
rDev
+15.2%
look: 4 | smell: 4.5 | taste: 4 | feel: 3.5 | overall: 4.5
I got a bottle of Bridge Brew Works Old Burly from Nate for Christmas this year, thanks a lot Nate. I am a big Barleywine fan, so lets see how it goes. 2011 Vintage. Poured from a brown 22oz bottle into a snifter.
A- The label looks good and the background color catches the eye. It poured a slightly brown copper color that looked mahogany when held to the light, it had a fingers worth of white head that quickly died down to a thin ring that stayed till the end. This beer looks good, the color is really nice.
S- The first thing I pick up are loads of malts that have a medium amount of sweetness to it and impart some nice caramel and dark fruit aromas. In the middle I picked up brown sugar and some spicy yeast. I get some slight boozy aromas towards the end. The aroma was nice. it had everything I look for in the style.
T- The flavor starts off with lots of malts that have a lower amount of sweetness and impart some caramel, dark fruits, and brown bread flavors. Nect comes a real slight molasses flavor along with some of that spicy yeast. On the finish there is a medium amount of booze, after a couple sips it was much milder, it had a medium amount of bitterness and it had a slight caramely aftertaste. A nice tasting Barleywine that was true to style.
M- Smooth, medium bodied, with a medium amount of carbonation. I thought it could be just a little thicker, but the carbonation was spot on.
Overall I thought this was a very good and traditional American Barleywine, it had all the flavors and aromas that I look for in the style, I was pretty impressed. It had decent drinkability, a 22oz bottle is the perfect size for two people.I liked the flavor and aroma the most, they were pretty spot on and showcased the malts nicely, the color was also pretty nice. The only thing that needed some adjustment was the body, if it was just a little thicker it would be perfect. Big Burly isn't that available to me, so when Nate throws a couple bottles my way I really appreciate the chance to try his brews. I recommend this beer, it's a good straightforward American Barleywine. I am glad to give this beer a try, these guys put out some really solid beers. this one is no exception, I am really digging the bigger beers from them, keep up the good work guys.
2,288 characters


3.72
/5
rDev
+2.8%
look: 3.5 | smell: 4 | taste: 3.5 | feel: 3.5 | overall: 4
22oz. bottle served in a Delirium tremens snifter glass. Pours a cloudy, mahogany color with a frothy light tan head that quickly diminishes to a single ring around the glass, good lacing. Aroma is caramel, roasted, and toasted malts; dark fruits, wood, brown sugar, and some spicy phenols from the yeast maybe. Flavor is caramel and roasted malts, wood, dark fruits, earthy hops and a little alcohol bit. Mouthfeel is medium, a little watery, a little bit astringent, and leaves a slight chalky feeling on the tongue at the end. Good beer, decent complexity, warms well. Good job fellow WV'ians!
596 characters

3.2
/5
rDev
-11.6%
look: 3.5 | smell: 3.5 | taste: 3 | feel: 3.5 | overall: 3
1508th Review on BA
Bottle To snifter
22oz
Shared with my brother in law
West Virginia state tick is done
Purchased over the phone from Capitol Market - The Wine And Cheese Shop.
App- The color of rust and mixed with a little bit of a light brown which is then mixed with reds and yellows around edges. Even with a vigorous pour I got a small 1/2 finger of head with 0 cling. Pond layer on top. When swirled about a 1/4" head forms.
Smell- They made this one pretty boozy. Opens with a very rich alcohol burn and then turns into a full malts, with like the rye beer before it a dry grass and caramel note. A highly hoppy Barleywine. Aromatic and unique.
Taste- This was just way too hoppy and bitter on this one. I'm not sure what the brewer was going for on this one but its pretty average and Its a semi good beer. Needs a lot more balance. Just seems off to me. Huge amounts of grassy notes on this one and intermixed is a malty with a caramel flavor. Just kinda meh. Lacks a depth to it.
Mouth- Its got a better than average feel to it. The body is more of a lighter medium with a prickly semi boozy carbonation that pops here and there. Residual grass again, and caramel are all I got. Just a touch better than I was expecting after the other areas of the beer let me down.
Drink- Well I think we have all done it at one point and this was mine. I overpaid for a tick. It was a fair enough offering but the taste was just very off for me. Didnt have a great balance or depth of flavor. Oh well West Virginia is done.
1,528 characters


3.68
/5
rDev
+1.7%
look: 4.5 | smell: 4 | taste: 3.5 | feel: 3.5 | overall: 3.5
A: Pours a hazy dark stained wood with a healthy amount of head that was later just a ring around the edges.
S: Lots of caramel and lightly roasted malts with a sweet malt scent. About par for a barleywine in aroma. Medium hopping, slightly reminded me of a lesser hopped bigfoot in scent.
T: I had a slightly off medicinal flavor on this one, and seem to think it could have been a combination of the hops used and or maybe it took a little longer to get this higher gravity beer going. I have a hard time turning down a new barleywine and when I found this on travel , had to pick one up to bring home. There is a slightly metallic flavor as well in here which again, seems to be an off flavor. Picked up some strong caramel flavors with a healthy dosing of hops, slightly tannic and cloying at the finish.
M: The mouthfeel is pretty good. It is medium bodied with a light carbonation.
O: It was nice to try this from West Virginia, perhaps my first natively brewed from the state. Overall it is tasty and I would drink it again if down there, but I do think that they have some room for improvement.
1,106 characters
Old Burly from Bridge Brew Works LLC
Beer rating:
3.62
out of
5
with
12
ratings