Crazy Train Black IPA
| Mountain Town Brewing Co.
BA SCORE
82
good
12
Reviews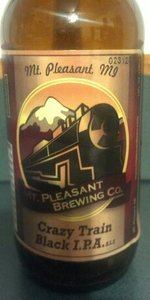 BEER INFO
Brewed by:
Mountain Town Brewing Co.
Michigan
,
United States
mountaintownbrew.com
Style:
American Black Ale
Alcohol by volume (ABV):
6.60%
Availability:
Winter
Notes / Commercial Description:
No notes at this time.
Added by StoutHunter on 01-25-2012
Reviews: 12 | Ratings: 82
3.03
/5
rDev
-14.2%
look: 3.5 | smell: 3 | taste: 3 | feel: 3 | overall: 3
Pours a brilliant dark-mahogany brown with a 2 inch creamy head that persists. Fresh, sour(?) notes in the nose. Chocolate, char, and bitterness on the palate. Medium body. Light lingering with some sour(!)-smoky notes. Quite nice. Well-developed Belgian lace. The bitterness of the hops is somewhat overshadowed by the char notes. More like a Schwartz Bier - Rauch Bier hybrid than a IPA. Most persistent bitterness. Could do well with BBQ, charred, or smoked foods.
467 characters

3.24
/5
rDev
-8.2%
look: 4 | smell: 3 | taste: 3 | feel: 3.75 | overall: 3.5
Undated bottle at 39 degrees into shaker, allowed to warm to 46 degrees
Aroma practically none – very faint malt
Head small (two cm, aggressive pour), light brown, frothy, diminishing to one cm ring and frothy island
Lacing good – complete coverage of inside of glass with tiny bubbles from initial ring, then irregular froth islands and archipelagoes as the level drops.
Body dark brown, nearly opaque
Flavor – again, practically none. Some malt with a slight bitterness. No hops flavor, no alcohol, no diacetyl.
Palate medium, watery, lively carbonation
Appearance 4, Aroma 3, Flavor 3, Palate 3.75, Overall 3.5
624 characters
3.37
/5
rDev
-4.5%
look: 3.25 | smell: 3 | taste: 3.5 | feel: 3.5 | overall: 3.5
Decent beer, but nothing I'd go out of my way to buy again. Doesn't smell like much of anything and not as much flavor as I was expecting/hoping for... I enjoyed the 6-pack, though.
181 characters

3.5
/5
rDev
-0.8%
look: 4 | smell: 4 | taste: 3 | feel: 4 | overall: 3.5
I picked up a bottle of Mt. Pleasant's Crazy Train Black IPA for $1.79 at The Lager Mill. The last beer I had from this brewery wasn't great, but I am a big fan of this style and I thought I should pick one up, so lets see how it goes. No visible bottling date, I know it's fresh. Poured from a short brown 12oz bottle into a imperial pint glass.
A- I don't mind the label on this beer, it looks ok and it's not the same as all the other labels from this brewery. It poured a very dark brown color that was just about pitch black and it had some ruby highlights when held to the light, it had two fingers worth of fluffy off white head that died down to a thin layer that stayed till the end and left some nice lacing. This beer looks pretty good.
S- The aroma starts off with loads of hops, it smells like a half and half mixture of citrus and floral hops, grapefruit sticks out the most. In the middle I pick up a good amount of malts that have a medium amount of sweetness, they have a more pale malt aroma. The aroma was good, but I wish some roast showed up.
T- The taste starts with some malts which have a little roast to them, but it's not much and it imparts some grainy and bready flavors and it had low amount of sweetness. Next comes the hops, they are different then they were in the aroma and impart a milder amount of earthy, grassy and herbal flavors. It had a low amount of medium bitterness and it had a slightly roasty and hoppy aftertaste. The flavor wasn't bad I just wish it had more roast to it and that the hops were more citrus and floral.
M- Smooth, slightly crisp, medium bodied, with a medium amount of carbonation. The mouthfeel was pretty nice, I liked it.
Overall I thought this was a slightly above average Black IPA, there were no off flavors but I wish the flavor was a more intense and robust, if it had more roast, and if the hops in the flavor were more like the hops in the aroma this would be a pretty good American Black Ale. This beer had OK drinkability, I could drink another one. What I liked most about this beer was the appearance and mouthfeel, they were both pretty good. What I liked least about this was the light amount of roast and hops in the flavor. With some other good Black IPA's just as availible i don't think I will get this beer often but I do think it's worth giving a try. I like the fact that this brewery took a chance on this style and this beer is somewhat solid, but with a couple tweaks it could be a very good beer.
2,500 characters
3.51
/5
rDev
-0.6%
look: 4 | smell: 3.5 | taste: 3.5 | feel: 3.25 | overall: 3.5
Bottled coded 079 13 542... no idea what that means. Bottled 79th day of 2013? I hope not, this beer would be about six months old. $2.19 single poured into a Sam Adams Perfect Pint.
Appearance: The highlight. Gigantic four finger head makes it hard to pour the whole thing in the glass. Rocky and creamy on top, with a soapy underlayer. Phenomenal thick and sticky lacing. The beer is a ruby black/brown color with some particles floating around. Slight haze. The label (as seen in the picture) is maroon and gold. Hm.. Mt. Pleasant? Central Michigan University?
Smell: Actually really soapy... I wasn't expecting that at all. Aside from that, I get traces of earthy and herbal hops. Surprisingly, no really noticeable malt aromas to speak of, at least until the beer warms up -- then it comes out a bit.
Taste/feel: I recall ABAs being more pungent than this, with some heavy roast flavors. I get a caramel and sweet malt flavor on the beginning, with a slightly spicy hop finish, with a pretty mild bitterness. A name like "Crazy Train" gives the impression, at least to me, of a really bold beer. This is definitely a tasty beer, but I have to wonder what the age is on this. Not what I was expecting, but easy to drink, and pretty enjoyable. The beer has more depth of flavor as it warms up (imagine that!), which helps the rating a little bit for me.
1,359 characters
3.53
/5
rDev 0%
look: 4 | smell: 3.5 | taste: 3.5 | feel: 3.5 | overall: 3.5
12 ounce bottle into pint glass, bottled on 12/30/2014. Pours lightly hazy/cloudy deep reddish brown color with a 2 finger dense and rocky khaki head with great retention, that reduces to a nice cap that lingers. Nice spotty soapy lacing clings down the glass, with a moderate amount of streaming carbonation. Aromas of grapefruit, tangerine, lemon zest, orange peel, pine, chocolate, cocoa, coffee, caramel, toast, light char, and floral/grassy earthiness. Nice and pleasant aromas with good balance and complexity of citrus/pine hops and dark/roasted malt notes; with solid strength. Taste of big grapefruit, tangerine, lemon zest, orange peel, pine, chocolate, cocoa, coffee, caramel, toast, light char, and floral/grassy earthiness. Good sized pine/citrus rind/roasted bitterness on the finish; with lingering notes of grapefruit, tangerine, lemon/orange peel, citrus rind, pine, chocolate, cocoa, coffee, toast, light char, and floral/roasted earthiness on the finish for a while. Good complexity, robustness, and balance of citrus/pine hops and dark/roasted malt flavors; with a solid bitterness/sweetness balance and minimal cloying flavors after the finish. Medium carbonation and body; with a very smooth, crisp, and resinous/sticky mouthfeel that is good. Alcohol is very well hidden with minimal warming present after the finish. Overall this is a good black IPA. All around good robustness, complexity, and balance of citrus/pine hops and dark/roasted malt flavors; and very smooth and crisp to drink. The bitterness is a bit rough on the finish, but not unbearable. A nicely enjoyable offering.
1,607 characters
3.56
/5
rDev
+0.8%
look: 4 | smell: 3 | taste: 3.5 | feel: 4 | overall: 4
12 oz twist-off bottle poured into a nonic pint
Bottle code 02312870, no idea what it means
A: A relatively easy pour yielded a massive 4-finger gushing head of a light brown color. This dense head soon became quite rocky, and would have looked much more appealing at about half the thickness. The beer itself is extremely dark brown with only slightly lighter accents when held in the light.
S: Only a small amount of piney hops. Can't get a nose on the malts or anything else.
T: Hops are the first thing to show up on the palate, mostly piney with subdued notes of citrus peel and grapefruit. Lightly bitter. Roasted malt follows on the finish, with flavors that just barely approach chocolatey. Good tasting, but I wanted a little bit more from the hops and a lot more from the roasted malt.
M: Smooth, well-carbonated, medium bodied.
O: Surprisingly good. I'll be sure to try this fresh at the brewery, as I'm sure it will be even better.
952 characters

3.68
/5
rDev
+4.2%
look: 4 | smell: 3.5 | taste: 3.5 | feel: 4 | overall: 4
Poured from their 12oz bottle...
Appearance - poured 3 fingers of bumpy mocha cumulus head, body is a transparent mahogany cola brown, left great huge khaki lacing after the session.
Smell - Ripe plims, figs, grapefruit, some meadowy floral hop smells, touch of comb honey.
Taste - Definitely getting some nice spice characters here - starts ruby red grapefruits, then add coriander and anise, then floral meadowy hops prevail long into the finish.
Mouthfeel - Almost medium, carb is on the lower side, mouthfel is very smooth and drinkable.
Overall - Flavors here are very well balanced, there is nice depth and complexity, a very good representation of this style.
671 characters
3.75
/5
rDev
+6.2%
look: 3.75 | smell: 3 | taste: 4 | feel: 4 | overall: 4
Enjoyable brew. Not what I was expecting from a black IPA. Goes more like a session IPA with more body. Pleasant experience and acceptable as a craft brew. Would drink again.
174 characters
3.76
/5
rDev
+6.5%
look: 4.25 | smell: 3.75 | taste: 3.75 | feel: 3.5 | overall: 3.75
Serviceable, drinkable, black IPA twist top from Champane's Cellars. Black colour with lots of lace. Moderate roast aroma. Smooth mouthfeel, though drying finish. Good hops, the roast is somewhat rough. Not the best black IPA, but still a good second tier.
256 characters
4
/5
rDev
+13.3%
look: 4 | smell: 4 | taste: 4 | feel: 4 | overall: 4
There is a touch of roastiness in the aroma, dark chestnut to auburn, 2" fluffy head descends to a root beer float kind of a head. Starts rich, medium bodied with a light touch of Pacific Northwest hops. Dark malts mingle with Pacific Northwest hops, a little roast, excellent lace.
284 characters
4
/5
rDev
+13.3%
Don't typically like IPA's as much as stouts and the like but it's dark and roasty which allows the bitterness of the hops a chance to bring some unique flavor to the table. I feel like theres a little bit of something for everyone in this bottle, its dark but not heavy and its hoppy but not overpoweringly so.
311 characters
Crazy Train Black IPA from Mountain Town Brewing Co.
3.53
out of
5
based on
82
ratings.