Super Conductor
| 8 Wired Brewing Co.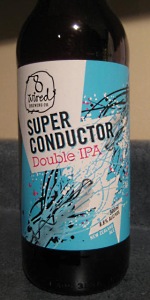 BEER INFO
Brewed by:
8 Wired Brewing Co.
New Zealand (Aotearoa)
8wired.co.nz
Style:
American Double / Imperial IPA
Alcohol by volume (ABV):
8.88%
Availability:
Year-round
Notes / Commercial Description:
Bone dry and ultra hoppy Double IPA. Brewed with 80% more hops than our already extremely hoppy HopWired IPA.
90 IBU
Added by Brad007 on 12-02-2012
Reviews: 33 | Ratings: 101
3.92
/5
rDev
-3.2%
look: 3.75 | smell: 4.25 | taste: 3.75 | feel: 3.75 | overall: 4
Fresh bottle from Premier Gourmet. Generous retained head. Wafting aroma of grapefruit citrus and New Zealand chardonnay smelling hops. Above average mouthfeel. Tangy, tasty.SOme grapefuit. Not the best DIPA but certainly worth a try. Bit of a palate eraser.
258 characters

4.29
/5
rDev
+5.9%
look: 4.25 | smell: 4.5 | taste: 4.25 | feel: 4 | overall: 4.25
500ml bottle poured into tulip 12/2/13
A clear light copper with some bubbles of all sizes feeding a two finger off white head that retains well and leaves a few rings followed by some random patches
S mango, passion fruit, pineapple, lemon, lime and guava round out the tropical fruit notes, there's a fair amount of pine and toffee in there too. pretty solid nose with a nice blend of tropical notes, pine and sugars, about what I look for in a DIPA
T the tropical notes are more focused towards rind and its very piney compared to the nose, there's a little booze but fairly well concealed considering the strength, rind and pine are strong on the finish
M leaning towards full, slightly creamy from the bubbles with a nice bitter bite, slick after the fact with very faint heat
O no complaints from this guy, another great DIPA from the Kiwis, great hop profile with a little tropical twist on a US style West Coast, well done
I could drink another and I probably will, I'm starting to sound like a broken record but this is yet another great addition to the shelves here in Alberta
1,097 characters
3.64
/5
rDev
-10.1%
look: 3 | smell: 4 | taste: 3.5 | feel: 3 | overall: 4
Pours amber with a large, fading head. Nose shows a mix of piny and tropical fruit-like hops, with soft passion fruit and pineapple. Soft clean malt underneath. Very malty flavours, but with a fair whack of pine and grapefruit to balance things out. Finishes with an assertive bitterness. Could use more carbonation.
316 characters

4.08
/5
rDev
+0.7%
look: 3.75 | smell: 3.75 | taste: 4.25 | feel: 4 | overall: 4.25
A - Pours a golden amber that hazy with a one finger eggshell head.
S - Tropical hops with sweet malts in the background.
T - Orange rind joins with piney hops that ends in a floral bitter finish.
M - Medium body & carbonation. Not thin, has a good thickness to it.
O - Impressed... Not overly malted with juicy hops.
325 characters

3.53
/5
rDev
-12.8%
look: 4 | smell: 3.5 | taste: 3.5 | feel: 3.5 | overall: 3.5
Appearance is nice light amber. Good head/lacing.
Smell is nice yummy caramel malt and herbal, US-style hops.
Taste is similar. Herbal hops, caramel malt. Exactly how you do a decent US-style DIPA.
Mouthfeel is equal parts sweet/bitter.
Exactly what you expect in an (East Coast) US-style DIPA. No more, no less.
316 characters
4.2
/5
rDev
+3.7%
look: 4.5 | smell: 4.5 | taste: 4 | feel: 4.5 | overall: 4
500ml bottle purchased from Slowbeer in Melbourne.
Pours a juicy and thick deep orange, turning to amber in the depths, with a frothy, fine and very pronounced head of yellowish off-white. Lacing is spectacular and intricate when it forms, looking like a variety of alien limbs. Body is weighty, and holds powdery carbonation when tilted. All up, it's a damn fine looking beer.
Nose is gorgeously ripe and full, with powerful citrus tones, sweet fruit, peely acidity all sharpened by a green herbal presence which gives characters of basic and pine. Some smooth honeyed malt sweetness provides a counterpoint, and even though it's a lighter-style sweetness it does a good job of holding up its end. But really, this is gorgeous stuff—on the sharper end hop-wise, but the Kiwis do such a good job of that that it's completely understandable.
Taste is also good: big powerful resiny hop characters, solid if muted malt, again with a honey overtone, and a finish of pine and pithy lemon. My only issue is that here the sharpness is dominant, and it seems to push aside some of the more subtle hop flavours: the rounded citrus and those delicate herbal tones are lost amongst the piney bite that roars down the centre of the tongue. It's still a very good DIPA: the aggression is no doubt requisite in the style, but I feel like it could have been a better beer if played with a little more subtlety.
Feel is fluid but chewy and rich. Lovely stuff here, although that hop-bite is almost a feeling in itself.
Don't get me wrong. I love it, despite what I personally might want it to be. 8 Wired do a fantastic line in hopped-to-hell beers, whatever their category, so it shouldn't surprise me that their DIPA is aggressively bitter and brutal. It's completely understandable, forgivable and even perhaps inevitable.
1,817 characters

4.24
/5
rDev
+4.7%
look: 4 | smell: 5 | taste: 4 | feel: 4 | overall: 4
A - Pours a golden sunset colour capped by a half finger of creamy white head, the odd swirl keeps it present. Nice coating of lace.
S - Big tropical fruit hops up front, grapefruit and mango. This is going to be a BIG DIPA me thinks. Sweet sugary malt backing.
T - The fruit platter is joined by hordes of pine, and a dollop of sticky honey, with fudge and caramel. Pretty good balance for such an overloaded brew.
M - Oily, resinous body, just exploding with hop bitterness, the pine resin dominates the finish and aftertaste.
O - Another top quality kiwi hopbomb.
570 characters

4.34
/5
rDev
+7.2%
look: 3.5 | smell: 4.5 | taste: 4.5 | feel: 3.5 | overall: 4.5
I enjoy this brewery's output and I was stoked to see another DIPA to savor.
Pours a mild copper color with a frothy white head in my glass. Color's in the middle of the spectrum but any darker and I'd be suspicious.
I'm going to guess Nelson Sauvin as far as the hops are concerned. "Fruity" with a good whiff of grapefruit and apricot. Pungent.
Very crisp, bitter hop characteristics that start off with a grapefruit/mango/apricot vibe and cascade into what could be piney in a manner.
Lingering alcohol warmth with a strong pine residue and very little of the citrus. The finish could be nicer but it still works.
An adventurous DIPA that incorporates New Zealand hops to create this interpretation of the style. I believe this is another brewery to watch as far as innovation is concerned.
809 characters
Super Conductor from 8 Wired Brewing Co.
4.05
out of
5
based on
101
ratings.