Biergarten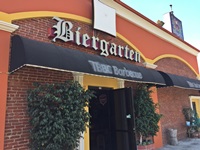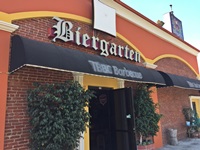 Bar, Eatery
206 N Western Ave
Los Angeles
,
California
, 90004-4108
United States
(323) 466-4860 |
map
biergarten-la.com
Notes:

3.5
/5
rDev
-17.3%
vibe: 3.5 | quality: 3.5 | service: 3.5 | selection: 3.5
Biergarten is located in Koreatown several blocks from Wilshire. They had shared parking by the building and also metered parking on the street. I saw that they had a L shaped bar area with tables and other seating in the back. I think they had about 10 craft beers on tap.
I went in today, the door was open but no one was inside. It was about 11:30 a.m. I could hear people in the kitchen. I yelled "hello" couple times but no one came out. Bummer. I may return and update my review. My review is based on the fact this is a quality establishment, not sure what happened today.
589 characters
4.7
/5
rDev
+11.1%
vibe: 4.5 | quality: 5 | service: 5 | selection: 4 | food: 5
This place is absolutely great! Great eclectic beer selection, great Korean bar food. Yes they also have German sausages, but more important for a foodie like me, they have authentic Korean bar food. I had the Spicy Sea Snail Salad - delicicious. I have been eating from Jonathan Gold's 101 Best LA restaurants list (Maroush, Jitlada, Animal, Mozza, Guelaguetza) and drinking at Blue Palm, Daily Pint & Father's Office. Biergarten is as good as any of those.
Other reviewers have described the beer offerings. I had Reisdorf Kolsch, Hofbrau Oktoberfest, Dogdish Midas Touch and Omegang Three Philosophers. Others on tap include Delerium Tremens, Duvel Single, Erdinger Dunkel, Spaten Optimator, some Belgian whites and several good IPAs. A good ecletic mix.
I will come here whenever I am in LA.
800 characters

4.95
/5
rDev
+17%
vibe: 5 | quality: 5 | service: 5 | selection: 5 | food: 4.5
Arrived at 4pm on a Thursday afternoon, The valet had not setup yet. There are two parking areas and metered street parking. I was greeted by the very gracious Younee (Manager). She advised me of the happy hour pours and the full 24 tap list. Having returned recently from Bavaria, I had pint of Spaten Optimator.
The bar has maybe 15 stools, and room can handle well over a hundred. Since I was there at opening time, Younee was available chat about wide variety on tap. My buddy payed the tab, so I know if we charged for the 1oz. tasters.
The food prices seem reasonable for this area (Western south of Beverly). We snacked on the freshly made potato chips at a happy hour price of $2.50.
Having only visited Blue Palm Brew-house and Beer Belly (two times each) in this part of Los Angeles, I feel this establishment has the most diverse selection on tap. On the other hand, Blue Palm spray cleans the glass before your pour. Their web site http://www.biergarten-la.com/#!menu is worth a glance although it was not up to date with current tap list during my visit.
1,074 characters

4.5
/5
rDev
+6.4%
vibe: 4.5 | quality: 4.5 | service: 5 | selection: 4 | food: 4.5
Biergarten provides a comfortable, visually appealing atmosphere with beer paraphernalia and flat screens on every wall. an aside - they play UFC pay per view events here, requiring that you reserve a table and that everyone at your group spend at least $25 in food and beverage. tables are wide dark wood with cushy leather chairs, making for comfortable seating everywhere.
the food options vary - korean fusion, korean traditional, and german sausage plates. the korean bbq ribs and pb&j sliders were sweet, spicy, smoky and tangy, leaving me excited to try the rest of the menu. all other plates looked and smelled great coming out of their kitchen.
service was attentive and prompt.
value was reasonable to great - for example, about 8 dollars gets you a pint of Speedway Stout while most places would only give you a 8 to 10 oz pour. i also had a pint of Double Bastard for 7 or 8 dollars. they also offer "steins" (mugs that look like they hold 30 oz) and pitchers of most beers.
i seriously can't wait to return. Enjoy!
note - there is street parking, but its a pain and the valet service is ONLY 1.50. Before tip, that's cheaper than most meter parking in LA.
1,173 characters
3.88
/5
rDev
-8.3%
vibe: 4 | quality: 4 | service: 4.5 | selection: 3 | food: 4
Who would have thought Korean food and Belgium beer go together? Well, that's what you get at this establishment. Have a wide array of the appetizers: Fried oysters, boiled squid, sliders, and sausages. Even got to try a new beer to add to my favorite Belgium list.
This is a must try if you're into Korean style food + beer. There's about 25 beers or so that they serve that compliment their Mexican, Korean, German style menu. Cuvee Van de Keizer Blue on tap here! Need to valet park in the plaza as there is no street parking.
531 characters
4.58
/5
rDev
+8.3%
vibe: 4 | quality: 4.5 | service: 5 | selection: 4.5 | food: 4.5
Hey, this place deserves at least another review! Stopped here for a few hours to read and pass the time before a show at the Wiltern a little over a week ago.
Strong bonus points, first off, for being a fusion restaurant in Koreatown named the Biergarten and having a brave beer list. Great combination of American hoppy, Belgians (including some rarities), and other European beers. Clean taps and appropriate glassware. As kegs came off line the beer list was immediately updated and
Food was fusiony, my only regret is that most of the attractive/specialty dishes were for 2-3 people, and I was all alone (sigh). My salad was enormous, filling, and delicious.
Excellent service, very personal attention from multiple servers and management. Atmosphere was fine, spacious, got to hear a few sound checks for (I think their first) music night before I headed off to my own concert.
Walking to the Wiltern? About 20 min one-way. Free parking after 5pm in the neighborhood to the SW of the Biergarten.
1,006 characters
4.16
/5
rDev
-1.7%
vibe: 4 | quality: 4.5 | service: 4 | selection: 4
I feel like I'm jumping the gun on this place because we only had one beer and didn't eat anything, but I would like to get some awareness of the place into the beersphere. Just that it exists is a real good thing and it deserves some attention. They have about 24 taps with approximately a third American, a third German and a third Belgium with a Unibroue and Hobgoblin thrown in for good measure. All we had was a Racer 5 apiece--$6 for 18 oz., $11 for 38 oz. and $22 for a pitcher. Yay for pitchers! That seems pretty fair. Prices for the American and Germans are in that range give or take a dollar and the Belgians are around $1 an ounce. They had stuff like Delirium Tremens, Gouden Carolus, Triple Karmeliet, Spaten Pils and Optimator, Reissdorf Kolsch, Arrogant Bastard and Old Rasputin (18 oz. for $8), but also PBR and Blue Moon. It's not astonsishing but it's a good balance. They are trying to offer something for everyone and you can't fault them for trying to cast a wide net--especially when they are offering PBR but trying to lead that sort of drinker to the next step by offering Kolsch, or Blue Moon drinkers to Allagash White or Chimay. I wish we had tried some food but that will have to wait until next time. It looks like they're doing Korean fusion food. One of the dishes is Drunken Butt Chicken which turned out to be beer can chicken, ha ha. The menu said it needed reservations which turned out to mean it took an hour to prepare, so you should call before you get there to place your order. I saw one coming out of the kitchen and it looked really good and it's $15 for a whole chicken. But we might try the tacos and the bartender is in love with the onion rings. Anyway, even tho the translation might not be quite there, the food and beer are and it is wonderful to see craft beer getting more mainstream and especially because they are reaching out to a more ethnic community. Good to see we're all part of one big world of beer.
1,963 characters
Biergarten in Los Angeles, CA
Place rating:
4.23
out of
5
with
10
ratings