Laika Russian Imperial Stout
| Straight To Ale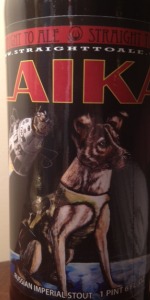 BEER INFO
Brewed by:
Straight To Ale
Alabama
,
United States
straighttoale.com
Style:
Russian Imperial Stout
Alcohol by volume (ABV):
9.75%
Availability:
Rotating
Notes / Commercial Description:
No notes at this time.
Added by sommersb on 12-22-2010
Reviews: 40 | Ratings: 168
4.03
/5
rDev
-0.2%
look: 4 | smell: 4 | taste: 4 | feel: 4.25 | overall: 4
Many thanks to richj1970 for sending this bottle my way.
A - Pours engine oil black with a nice creamy layer of toffee colored foam.
S - Roasted dark chocolate, toffee, booze, cherries, oak, and vanilla.
T - Follows the nose with dark roasted chocolate, espresso, vanilla, dark roasted chocolate, oak, light cherries, vanilla, and ends with an Espresso-like lingering bitterness with noticeable alcohol warming in the back of the throat.
M - Thick, chewy, and viscous.
O - Thick, big, and boozy.
501 characters
4.22
/5
rDev
+4.5%
look: 5 | smell: 4.75 | taste: 3.75 | feel: 4.25 | overall: 4.25
Poured from a 22 ounce bottle into a St. Bernardus goblet.
A: Black as night, pouring with a brilliant crema akin to espresso. The head is thinnish but dark brown. Viscous and completely opaque.
S: Incredible. Simply incredible. Unbelievably rich and sweet. Fruity and bitter. Dry and dark and engaging.
T: After such a smell, it's sadly disappointing. The flavor is thin (though the mouthfeel is thick) with not much going on. Noticeably alcoholic, with hints of orange peel and cacao nibs. Some chocolate, milky. Aftertaste is strongly bitter and lingering. It does improve as it warms.
O: An incredible imperial stout. Highly recommended to everyone. I really, *really* enjoyed this beer.
695 characters
4.29
/5
rDev
+6.2%
look: 4.25 | smell: 4.5 | taste: 4.5 | feel: 3 | overall: 4.25
A-Pours a typical stout color with a vibrant brown colored, one finger width head with almost no retention.
S-Alcohol stings at first followed by subtle notes of cherries, vanilla, burnt sugar and a slight woody char. Very complex
T-Chocolate, vanilla extract, oaky, bitter coffee with a spicy boozed bite.
MF-The least impressive aspect of the beer. A bit too much carb and too airy. Not as rich as an imperial should be.
O-StA is not playing around. Them and GP are by far the best breweries in AL. If the mouthfeel on this one improved, I would stack it up against the classic imperial stouts (Rasputin, Ten Fidy, Yeti)
627 characters
4.05
/5
rDev
+0.2%
look: 4 | smell: 4 | taste: 4 | feel: 4 | overall: 4.25
bottle poured in a 16oz Goose Island Glass
Appearance: Dark Black with a thick black head when poured aggressively. It also looks highly carbonated. The lacing dissipates a ring around the glass.
Smell: Chocolatey malty citrusy,
Taste: Taste follows the smell. Pretty sweet, Caramel, Chocolate, Dark Fruit citrusy, alcohol.
Mouthfeel: syrupy, medium thick bodied with moderate carbonation.
Overall: This is a well balanced RIS. I goes down smooth and it it tastes sweet and not to bitter. This reminds me of Stone's RIS.
528 characters

3.94
/5
rDev
-2.5%
look: 4.5 | smell: 4.25 | taste: 3.75 | feel: 4 | overall: 3.75
750 ml bottle into Duvel glass
appearance: pitch black, with large 2 finger mocha head, lots of lacing
smell: roasted malts, espresso, milk chocolate, dark chocolate, vanilla
taste: rich oak taste, almost like there's the slightest hint of bourbon, the body is a blend of dark roasted coffee/espresso beans and sharp, bitter dark chocolate. A lot of roasted malt flavor througout. Alcohol is present, felt from the warmth and perhaps not as mixed in as other RIS's.
mouthfeel: low carbonation with a creamy, full, thick body
overall: A great RIS, but probably just out of my top 5. Alcohol presence is too much, while it has some great roasted oak and espresso/dark chocolate flavors, the booziness makes it not as enoyajable as say a Stone IRS, Bells Expedition, or ST Choklat. With that said, I would buy again if I found it cheaper than $9.99 for a 750ml, which is hard since they only distribute to TN and AL. Still, a solid RIS that anyone stouthead should add to their palate.
987 characters
4.34
/5
rDev
+7.4%
look: 5 | smell: 4 | taste: 4.25 | feel: 4.75 | overall: 4.5
A - Totally opaque blackness. Awesome deep tan head that is the exact same color as the discontinued "tan" M&M's. No light is able to pass through this beer
S - Roasted grain bill is pretty hard hitting in the nose, you definitely pick up the grass and char of the roasting process. Treacle or, I've always wanted to use this, spotted dick: sugar cane syrupy and bready. Some middle of the road hop oil aroma, and some vinous hints maybe closer to port.
T - Moderately sweet...at the top end of my sweetness threshold...I can't stand RIS like DL or Darkness that just over fucking load on the residual sugars. There is definitely some here, but it is balanced by the strong hop profile and very complex malt and grain bill. The booze swoops down and takes over the finish along with some remaining hop presence. The booze reminds me of Canadian whiskey like Crown Royal. And this shit isn't even BA.
M - Thick and absolutely coating, but very pleasant and chewy. No alcoholic presence except on the palate during the finish.
Great beer made just outside my figurative backdoor. Gotta love it. I think people should stand in line for this beer. But I guess its just not sweet enough. Please, god, STA don't make this any sweeter its just right as is.
1,254 characters

4.45
/5
rDev
+10.1%
look: 5 | smell: 4.25 | taste: 4.5 | feel: 4.25 | overall: 4.5
In Alabama, had to try some locals. The fact its local probably skewed my scoring.
A: Jet black, with a coffee colored head. Dissipates to a ring around the beer.
S: Caramel, dark fruit and lots of booze.
T: Caramel, dark fruit, coffee, booze and nice bitterness couple with a mild sweetness.
M: Silky, full-bodied, and a bit dry at the end.
O: An exceptional imperial stout, if I could get it in California, I would. Any improvement to this would be to throw it in some old bourbon barrels to smooth it out. God this was an excellent imperial stout. Stone could learn something from it.
592 characters

4.33
/5
rDev
+7.2%
look: 4.5 | smell: 4.5 | taste: 4.25 | feel: 4.25 | overall: 4.25
Poured from 22 oz bottle into goblet.
A: Poured pitch black with nice one finger chocolate brown head that dissolved to a thin ring which followed the beer all the way down.
S: The nose of this one is incredible. Lots of roasted malts, chocolates, caramel, expresso, and maybe a bit of hops.
T: Big flavors here as well. Bitter chocolate, coffee, caramel, a bit of fruit undertone.
M: Thick and creamy. Everything you want in a big stout.
O: Pleasantly surprised here. This is definitely a top notch stout, and from a local brewer on top, nice!
550 characters

4
/5
rDev
-1%
look: 4 | smell: 4 | taste: 4 | feel: 4 | overall: 4
a - poured a one finger thick dark brown head into a snifter that left a thin ring throughout. the body was dark black.
s - coffee, roasted chocolate, some caramel sweetness.
t - roasted chocolate, coffee with some hop flavors coming through.
m - medium and creamy.
o - another really solid beer from STA. this reminded me of left hand's imperial stout as it had more hop character than most.
393 characters

4.08
/5
rDev
+1%
look: 3.75 | smell: 3.75 | taste: 4.25 | feel: 4.5 | overall: 4
22oz bottle. Served at cellar temperature.
Pours thick black with barely a finger of very dark brown head that leaves some short-lived lacing and recedes to a wispy cap and ring.
Aroma is coffee, milk chocolate, dark roasted malts, dark fruits, anise, some caramel, hops are there in the background. Good to very good strength.
Flavor is rich coffee & espresso, dark chocolate, roasted malts, anise, molasses, dark fruits, nutty, underlying notes of caramel, fairly sweet, moderate bitterness, moderate alcohol.
Mouthfeel is very thick and creamy, soft carbonation. Really nice.
Very nice Imperial Stout! Straight to Ale is definitely doin' it right in Alabama. Looking forward to trying some more from these guys.
721 characters

4.5
/5
rDev
+11.4%
look: 4.5 | smell: 4.5 | taste: 4.5 | feel: 4.5 | overall: 4.5
Picked up a couple of these while in Nashville recently...
Glugs out into a tulip with a deep black appearance and a slowly forming mocha head... coats the glass with a swirl... looking really good thus far... appears thick and creamy
Very intense aromas of bittersweet chocolate, black coffee, some licorice.... this is extremely pungent... nothing subdued about this beer so far at all... the aromas practically blast out of the glass at me... smallish hints of booze here and there...
Rich, creamy and delicious.... the flavors, like the aromas, are intense and big... licorice, coffee, chocolate... all the usual suspects... done very nicely... maybe even a kiss of hops at the finish... sip after sip, this brew delivers... im very impressed...
I loved this offering from Straight to Ale.... a real sleeper here....
825 characters
4.33
/5
rDev
+7.2%
look: 4.5 | smell: 4 | taste: 4.5 | feel: 4 | overall: 4.5
Serving: On-tap at the Straight To Ale taproom. Served in a snifter-type glass
Date: 12/15/2012
A: Beautiful. Black of night, faint hint of head, ephemeral lacing.
Smell: Coffee notes, heavy breads, faint hops aroma
Taste: Complex taste, hints of coffee, dark chocolate, heavy breads,and an emerging sweetness as the beer warmed up.
Mouthfeel: Faint, lingering bitterness. Good, clean mouth-feel, a bit dry
Overall: An excellent beer. I'm quite impressed with the quality of the beer, which seems to be fairly standardized as I've had this on several occasions. It is good, reliable, and quite enjoyable. I will definitely seek out Laika in the future.
654 characters

3.76
/5
rDev
-6.9%
look: 4 | smell: 3 | taste: 4 | feel: 4 | overall: 4
served on tap into a heavy goblet at Mellow Mushroom in southeast Huntsville, AL
A: classic look of a glass of used motor oil. Not even a hint of either a head or lacing.
S: Faint amount of hops, not much else
T: some bitterness, roasted and burnt taste - begins to taste a little more sugary as the beer warms up. Didn't really taste the alcohol at any time.
M: Very thick and syrupy
O: Another very good beer from Straight to Ale. I'll ask for the beer again
461 characters
4
/5
rDev
-1%
look: 4 | smell: 4 | taste: 4 | feel: 4 | overall: 4
served on-tap into a pint glass @ Suds of the South beerfest
Pours an inky pitch black. Which is, of course, a good thing. A finger and a half of loose but still voluminous dark tan head forms and doesn't go away quietly.
What strikes me most about Laika is how well-crafted it is. This beer is all about balance (albeit in an admittedly extreme style). There's lots of roast here, but it is held in check by sweet malts. There's some hops here (maybe not enough), but they don't take center-stage at any point. There's some dark fruits here (maybe not enough), but they're always quick to share space with the graham crackers and black bread flavors. The aroma is pretty roasty, but the flavor is so balanced. It provides pretty much every type of flavor that imperial stouts should provide.
The mouthfeel is pretty creamy but not chewy or thick in the ways that some imperial stouts are. Your mileage my vary, but I think it makes the beer quite drinkable. Overall, this is a pretty good imperial stout. Probably the best I've had from an Alabama brewery. It isn't a subtle style, but what separates Laika from, say, Good People Fatso (and there isn't much separation) is its sorta' subtle balance.
1,204 characters

4.25
/5
rDev
+5.2%
look: 4 | smell: 4 | taste: 4.5 | feel: 4 | overall: 4.25
On tap at The Nook in Huntsville, AL. Laika was the name of the first animal to orbit the Earth, a Russian dog. Very fitting name considering Huntsville's space history and the Russian Imperial Stout style.
A: Dark black in color, with no visibility through the beer when held to the light. A small amount of dark brown head with little lacing.
S: Rich aromas of coffee, dark chocolate and roasted malts were dominant.
T: Heavy and complex, I picked up flavors of roasted malts with a subtle sweetness, chocolate and coffee flavors. It had some burnt character to it, but not in an unpleasant sense. The balance of malts and hops was done well. Also had a boozy quality to it.
M: Full body and a dry finish with a slight lingering bitterness.
D: This is an intense brew; not one to take lightly. The big flavors are very enjoyable, although this is not a beer I'd drink more than one of at a time.
I updated my score for the appearance after having this in the bottle. The head was a good size with good retention and lacing.
1,031 characters
Laika Russian Imperial Stout from Straight To Ale
4.04
out of
5
based on
168
ratings.