Monkey's Uncle IPA
| Straight To Ale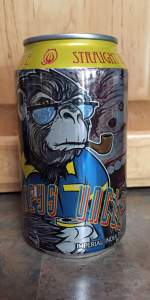 BEER INFO
Brewed by:
Straight To Ale
Alabama
,
United States
|
website
Style:
American Double / Imperial IPA
Alcohol by volume (ABV):
7.75%
Availability:
Rotating
Notes / Commercial Description:
No notes at this time.
Added by ncfranklin on 02-04-2011
Reviews: 13 | Ratings: 55
4.4
/5
rDev
+14.6%
look: 4.5 | smell: 4.5 | taste: 4.25 | feel: 4.5 | overall: 4.5
Poured from a 12 OZ can into a pint glass. The appearance is a great golden yellow with a medium white head. The aroma is mild hops. The taste is a unique creamy hop flavor. Really good.
★
192 characters

4.4
/5
rDev
+14.6%
look: 5 | smell: 4.25 | taste: 4.5 | feel: 4.25 | overall: 4.25
I'll be a Monkey's Uncle! I just opened a box from Uncle JedI & Purple Hat Joan and it was an indulgence of two of my favorite beer-related things: CANned beer & embroidered cloth patches! It is good to have friends nationwide and worldwide to CANnect with.
From the CAN: A serious, pipe-smoking simian stares out from above his reading glasses at me. I do not understand why, as I liked his nephew, Monkeynaut.
Usually, when I Crack! open a CAN of beer, the Crack! is all that I hear, but tonight, it has been animal noises. First it was a lowing cow, now it is a chattering monkey! Did they throw Pleepleus in the CAN?!? I employed an inverted Glug to shut him up and it worked, but I was met with three fingers of massive, rocky, tawny head with such amazing retention that I began to regret my decision to go that route. I'm thirsty and this is getting in my way! Sticky lacing began to form as it fell and I suddenly regretted lending my jackhammer to my neighbor as that was the only way I was removing that sticky mess. Nose was redolent with tropical fruits - pineapple, mango and coconut. My mouth went into overdrive in terms of watering. Color was Deep Amber/Light Copper to Copper (SRM = > 13, < 17) with NE-plus quality clarity. Mouthfeel was full and viscous on my tongue. It was more like a dollop than a draught! Man, but the tropical fruit flavors hit my tastebuds like the landing craft at Normandy. For the fools, I mean, people who eschew hoppy beers at this point in time, you have no idea what you are missing! This was not overly bitter, but it was definitely hoppy. It had a really dank quality to it, like putting your nose in a baggie of a hybrid. Finish was likewise fruity, but not hot, overwhelming or any other CANplaints that I read about DIPAs. Now, at 7.75% ABV, a couple at a time would probably suffice.
★
1,841 characters

4.35
/5
rDev
+13.3%
look: 4 | smell: 4 | taste: 4.5 | feel: 4.5 | overall: 4.5
Tried this one at "The Nook" in Huntsville.
I asked the bartender if he recommended an IIPA and he didn't hesitate, Monkey's Uncle was served in a Pint glass.
The bartender stated that it was a batch that he believed had not reached the ABV for Gorillanaught.
If this was a "goof" by Straight to Ale, I hope they kept this recipe. This was one of the best tasting Imperial IPA's I have tasted this year.
I found this one really Wet Hopped probably with Simcoe, Centennial, and Cascade Hops. Much like the wet hopped Harvest Ale Sierra Nevada did this year but not quite Hoptimum's higher alcohol feel..
This one was balanced on the hop side but a smoothed out ester cut in after the first sip and then finished with a "polite" hop finish.
Really smooth though but not excessively Ester or Alcohol.
I consider this a real winner.
Lacing was ribboned on the glass in a pale - white hue.
This would be a "hopheads" dream.
Not sure of the ABV or IBUs but I will take a guess at 7.5 - 8 on the ABV and the IBU;s must be close to 85 or 90.
Really good product for what appears to be a "one and done."
★
1,106 characters
3.99
/5
rDev
+3.9%
look: 3.25 | smell: 3.5 | taste: 4.25 | feel: 4 | overall: 4.25
Appearance: Burnished gold leading toward red, bright cap with very good lacing.
Aroma: Surprisingly bright, the hops jump out in an earthy, spicy way and malt quickly follows. Very good first impression. Some floral, hint of conifer, solid without being heavy.
Taste: Solid malt here with hop support. This is bigger, bolder and stronger, a true Imperial brew. The website says 8%, no mention I can find of IBUs, hops are there but not intrusive, certainly not the focal point, malt is main and hops play a supporting role. Mid palate hops arrive and sing the way to the finish. Lots of hops but bitterness is noticeable only in the aftertaste where it lingers just slightly.
Texture: Pretty full.
Overall: Now, I can take hops as well as the next guy, I mean when you open the can this one hits you with a hop aroma discernable three feet away, yet that's just part of the picture. As you glass then lift to sip you're thinking hops but no, what presents is rich malt with hops following. Bit of a surprise but a nice one. Full on malt, good hop counterpoint, this one's a winner.
★
1,101 characters
3.93
/5
rDev
+2.3%
look: 4.5 | smell: 4 | taste: 4 | feel: 4 | overall: 3.5
Had on tap at The Nook in Huntsville, Al.
Monkeys Uncle is supposedly a batch of Gorillanaught that didn't hit the right ABV, and thus... created this new beer.
A: Dark orange with a golden tinge. Thick two finger tannish head.
S: Strong pine hop, with just a light citrus note. Malts aren't discernible, but the balance is present.
T: Hop bomb. Wow. Heavy pine. Really a bit overwhelmingly bitter. Malt is barely adding any level of balance that was found in the smell. With a little warming it gets just slightly smoother, but bitter and earthy pine to grass hops dominate the palette.
M: Medium bodied, bitter, and a bit dry on the finish.
D: Do you like hops? Do you like not being able to taste anything after one beer? This is for you. So tongue-twistingly bitter and hoppy that I must say it may be the hoppiest thing I've tasted. Great beer, but not something one could enjoy multiples of.
★
919 characters

3.92
/5
rDev
+2.1%
look: 4 | smell: 3.75 | taste: 4 | feel: 3.75 | overall: 4
Poured from 32 oz growler into tulip glass.
A: Pours a crystal clear light copper color with two finger white head with good retention and decent sticky lacing.
S: Grapefruit and oranges mixed with pine resin and a hint of banana.
T: Mostly citrus and hops up front with a hint of sweetness. Grapefruit, orange. Pretty big hop bitterness, but enough malt backbone to balance it out.
M: Light with good carbonation. Finish is dry and a little bitter.
O: A solid offering from STA. I like this one quite a bit more than their year round IPA, and maybe not as much as Gorillanaut.
★
582 characters

3.79
/5
rDev
-1.3%
look: 4 | smell: 3.75 | taste: 3.75 | feel: 4 | overall: 3.75
Pours a nice clear copper color. The smell is of mango and maybe oranges with a pine aroma. The taste is mainly malty sweet oranges and pine with a nice bitter hoppy ending. Not super complex but a tasty imperial iPod.
★
218 characters

3.73
/5
rDev
-2.9%
look: 4.5 | smell: 4 | taste: 3.5 | feel: 4 | overall: 3.5
Poured from draught into a snifter at the J Clyde in Birmingham, Al. I will say that I drank a Great Divide Old Ruffian and a water before I had this beer.
The Monkey's Uncle is amber brown with a 1/2 inch head. Very nice lacing as well.
The beer has a pungent, funky hop presence in first smell. This gives way to caramel malt and pine and banana and fig and then more caramel malt.
The maltiness is what hits the tongue first - caramel and sugary. This is then overtaken by hop presence, bitter and a little funky with a good bit of pine. Hints of banana and earth, and the finish has slight hoppy bitterness wrapped in more of that caramel, sugary malt.
The mouthfeel for this beer is very, very creamy. It has nice carbonation, a medium-full body, and the finish is long and thick too.
I like this IPA. It is great especially at first. I will say that drinkability diminishes as time passes. The maltiness gets to be a little much as the beer warms. I think I just wish the hop presence were a little bolder, or maybe more bitter. But as is, I do enjoy I this beer a whole lot, appreciating it's roundness and not pure hopbombness, and I will definitely drink it again.
★
1,183 characters
3.67
/5
rDev
-4.4%
look: 4 | smell: 3.75 | taste: 3.5 | feel: 3.75 | overall: 3.75
Poured from a 12 oz. can. Has an orange/copper color with a 1 inch head. Smell is of tropical fruits, malts as well. Taste is the same. lots of tropical fruits, a good bit of malts, some sweetness, dry at the finish. Feels medium/full bodied in the mouth and overall is an enjoyable beer.
★
288 characters
3.43
/5
rDev
-10.7%
look: 3.75 | smell: 3.25 | taste: 3.5 | feel: 3.25 | overall: 3.5
Thanks to RichJ1970 for including this in the box he sent as part of NBS BIF #3. 12oz can poured into 10oz goblet. Canned on date of 3/3/16. Poured a lightly hazy orange-gold color, with 1/3 inch of of off-white head that had good retention and lacing.
There was a lightly grainy malt base in the nose, topped up with a nice blast of brite citrusy hops. A very good taste hits the tongue; low grain base, some light floral tones in front, citrus in the middle, and some grapefruit on the finish.
The body was the typical medium of the style. Drinkability was fairly typical for the style, the beer went down easily enough, and was tasty in doing so. Overall, a very nice example of a standard American style. Certainly worth your time when you see it.
★
754 characters
3.39
/5
rDev
-11.7%
look: 3.5 | smell: 3.25 | taste: 3.5 | feel: 3.5 | overall: 3.25
On tap at the brewery.
Clear gold. Smells vaguely cheesy. Pine hops.
Quite bitter. Perhaps too much. It's earthy-bitter and very deep. Maybe TOO bitter. There are some sweetish malts, but you couldn't call it balanced. The aftertaste is lingering.
★
250 characters
3
/5
rDev
-21.9%
look: 3 | smell: 3 | taste: 3 | feel: 3 | overall: 3
Pours darker tint Amber that's very clear. 1 finger head that stays pretty long time with little lacing. Smells super hoppy and malty. Very bitter right off the bat, finishes earthy and bitter. Good carbonation. Not sure how I feel about this one after the 4 pack is done.
★
272 characters
2.28
/5
rDev
-40.6%
look: 4.25 | smell: 3 | taste: 1.75 | feel: 2 | overall: 2
This was just released in cans. I've had it in draft and cans. Draft is fantastic..
4 pack cans poured in to a pint glass
Look: Looks good. Like a typical DIPA
Smell: Burnt malt/plastic. Really heavy on the hops. Possibly to cover up a mistake?
Taste: Tastes just like it smells. Too much of everything. Hops and malts don't balance. Tastes like the malt was burned in the mash. As far as hops go, I can dig it.
Feel: Thick, lingering after taste of the burning plastic.
Overall: Not a good one they produced in cans. It's a completely different beer on draft. In fact, it's fantastic on draft. Not sure what went wrong here. I still love STA though.
★
669 characters
Monkey's Uncle IPA from Straight To Ale
85
out of
100
based on
13
ratings.